Aug 11, 2020 8:12 AM
Since the end of 2019, the European Commission launched a new settlement - the Green Deal, aimed at transforming the 27-country bloc from a high to a net-zero carbon economy by 2050 and achieving a 50% to 55% cut in emissions from 1990 levels by 2030. At the same time, the EU's ambitious bid implies work towards improving people's quality of life and health through cleaner air and water, as well as a thriving natural world.
In this respect, Europe becomes a leader in the global climate transition as nothing similar has been attempted before. The EU's commission president, Ursula von der Leyen compares it to "Europe's man on the moon moment".
From transport to manufacturing and building, from energy generation to food consumption, every aspect of the EU economy should be overhauled.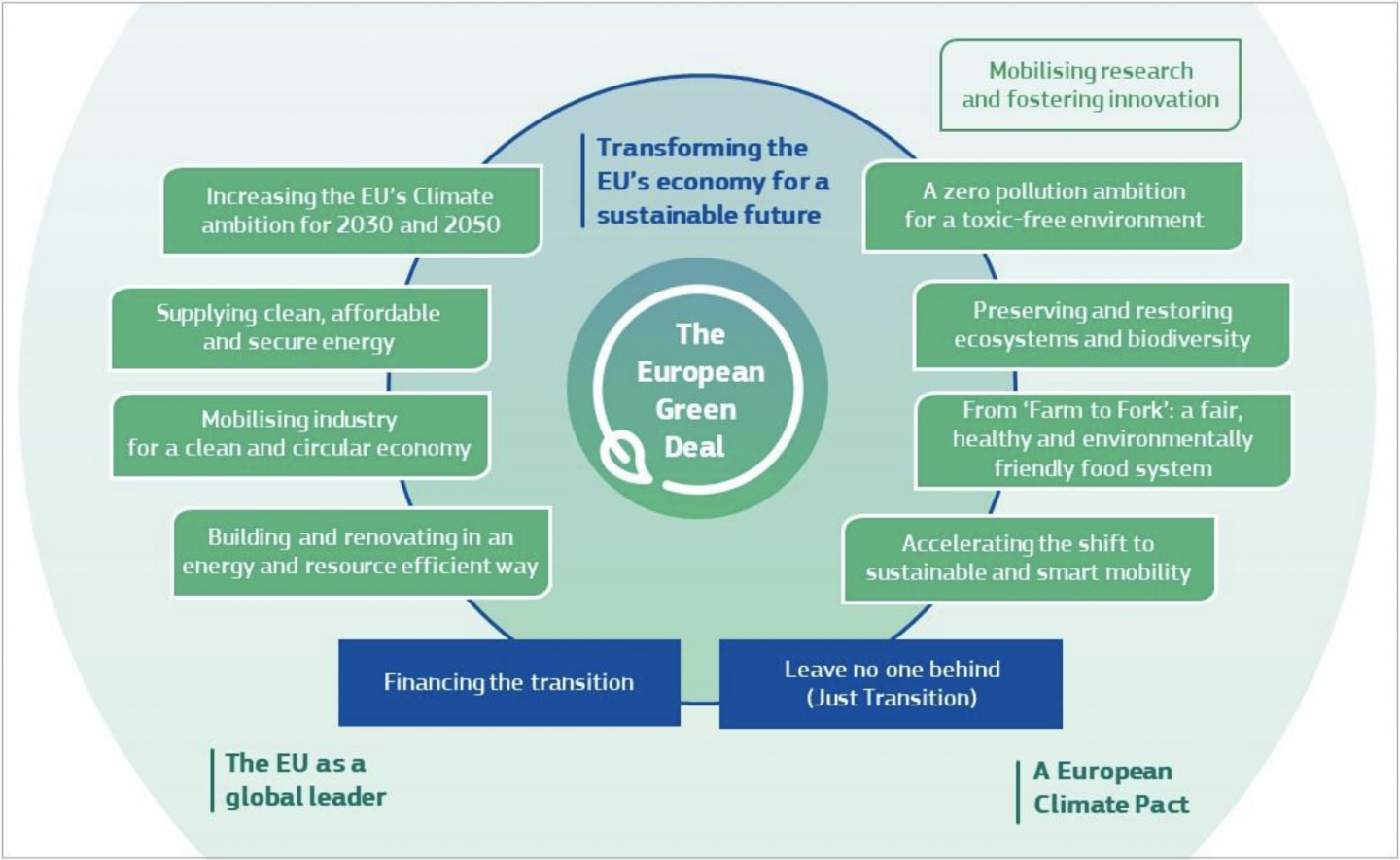 Source: https://ec.europa.eu
"The European green deal is our new growth strategy – a strategy for growth that gives back more than it takes away," noted Ursula von der Leyen.
Yet, such an ambitious climate transition requires at least €1 trillion of public and private investment over the next decade, according to the Commission.
That said, the World Tourism Organization (UNWTO) emphasizes the role of tourism in the new European Green Deal. The latest UNWTO data showed that the EU28 Member States received 577 million international tourists in 2019 and a 3% increase in the previous year. Europe is the leading global region for tourist numbers, representing 51% of all arrivals in 2019.
"The tourism sector has an obligation to use its unique power to lead the response to the climate emergency and ensure responsible growth. UNWTO is committed to accelerating progress towards low carbon emission tourism, and I am delighted to see that, in this regard, UNWTO and the European Commission are on the same page," said Zurab Pololikashvili, UNWTO Secretary-General.
But there is another aspect to consider. 2020 became the year of the coronavirus crisis when governments focused primarily on saving lives, livelihoods, and the economy. That begs a question: what is the future of the Green Deal framework in the times of the post-COVID-19 world and "new normal"? Let's find out below.
The European Green Deal and COVID-19 pandemic
Almost all countries across the world had to enforce lockdowns in response to the coronavirus. However, as many businesses and manufacturers reduced operations or shut down, we also witnessed the drop in traffic, reduced urban noise, reductions in fossil fuel use and CO2 emissions, and cleared skies in polluted and smog-choked mega-cities in India and China. People shared photos of empty streets in calmer towns, a flock of flamingos in Mumbai, or the suddenly visible Himalayas…
The Ipsos MORI, a market research company, decided to examine the latest data on COVID-19 to see the influence of the current pandemic crisis on public attitudes and behaviors regarding climate change. According to it, 71% of people feel climate change is as significant a threat as coronavirus in the long term.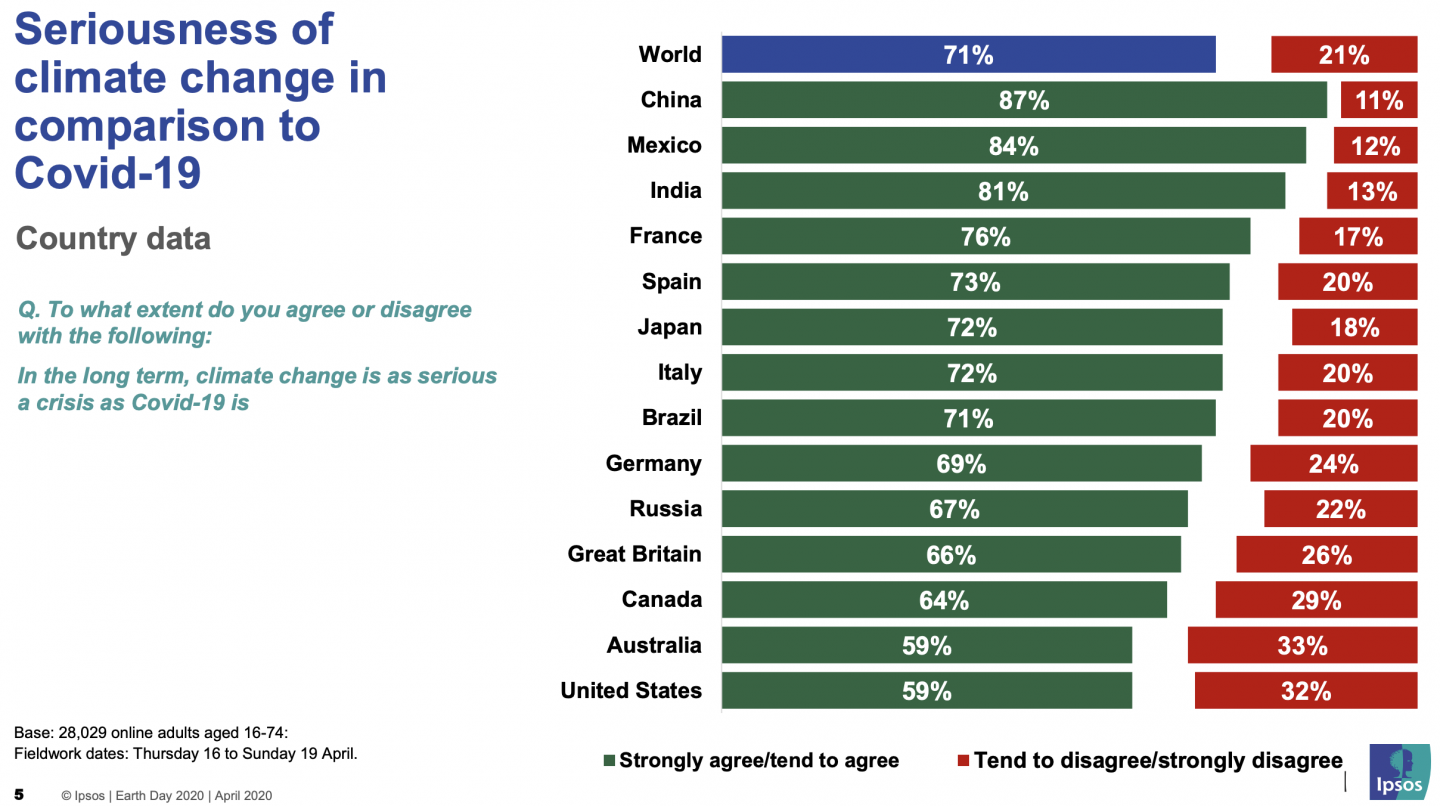 Source: https://www.ipsos.com
In the meantime, governments and businesses consider the COVID-19 crisis recovery as a chance to redesign a sustainable industrial and inclusive economy to preserve vital biodiversity systems and fasten economic growth in Europe. In this context, they are now turning to the European Green Deal and are going to use it as a framework for achieving sustainability goals.
Frans Timmermans, Executive Vice-President for the European Green Deal, European Commission, said, "The European Green Deal must become the cornerstone of Europe's pandemic recovery. Rather than rebuilding the 20th-century economy, we must focus on spending stimulus money wisely and on preparing Europe for a competitive and inclusive 21st century, climate-neutral future."
The Commission is sure that sustainability, technology, and innovation are all influencing the future direction of the EU Member States. Thus, it proposes to adopt an EU industrial strategy to address the twin-challenge of the green and the digital transformation and mainstream sustainability in all EU policies.
In addition, the Commission presents the From Farm to Fork strategy, aimed at designing a fair, healthy, and environmentally-friendly food system where safe, nutritious, and of high-quality food should become the global standard for sustainability.
Also, the Green Deal focuses on eliminating pollution, clean energy, building and renovation, sustainable mobility, and biodiversity.
To sum it up, the COVID-19 pandemic helped us focus on what's truly important and commit to climate action. In the middle of lockdown, the French president Mr. Macron said for the Financial Times, "No one hesitates to make very profound, brutal choices when it's a matter of saving lives. It's the same for climate risk."
How we see it, the objectives of the European Green Deal intertwine with a core value that underpins the "new normal" of the post-coronavirus world.
Hospitality business and the Green Deal
At the FITUR trade fair, UNWTO used the occasion to advocate for tourism to be a central part of the Green Deal.
"Tourism is a significant economic factor in the world GDP, but at the same time, it affects the preservation of cultural heritage, the environment, the labor market, infrastructure, etc. As these challenges are common to all Member States, it is important to address these issues in a systematic manner at both the European and global levels. Implementation and promotion of sustainable development policies are the backbone of Croatia's EU Council Presidency in the field of tourism, and Croatia will, therefore, continue to strengthen its co-operation initiative precisely to ensure tourism's success in the future," said Frano Matusic, Secretary of State for Tourism of Croatia.
In fact, hospitality and travel industries have already begun integrating sustainability and new technologies into their business strategy and operations. For example, Marriott builds energy-efficient hotels and tries to use renewable energy wherever possible and reduce waste and carbon emissions. The company is going to reduce water use by 15% and waste by 45% and to use at least 30% renewable energy by 2025. At the same time, Marriott provides its guests with smart digital tools that follow them from booking to billing.
As of now, we see two major priorities for hoteliers. First, they have to make their operations more resilient and sustainable by taking some actions like shortening their supply chains, achieving higher-energy-efficiency processing, etc. Secondly, hotel businesses should increase the digitization of their hotel management, sales, and marketing. The practices above can become important components of a company-level transformation to the cost-efficiency and digital-transformation efforts in the wake of both tackling climate changes and the pandemic.
In support of these priorities, here are some steps hoteliers can take to achieve the climate-neutral, set out in the policy areas of the European Green Deal:
● From Farm to Fork. According to this strategy, food waste should be reduced by 50% by 2030. There is also a focus on decreasing the use of chemical pesticides and increasing the use of healthy food options. So it's a great time to support local farmers and buy organic food, as well as develop an action plan on how to reduce food waste.
● Biodiversity. Based on the EU Biodiversity Strategy for 2030, 3 billion trees to be planted and nearly 25,000 kilometers of rivers to be restored by this year. For hospitality businesses, biodiversity is also critical. Starting from the food in the restaurant, wood in furniture and the amenities in the spa to plants and animals in public areas and gardens, the products of biodiversity are everywhere. It is what makes the hotel more appealing, as well as provides guests with opportunities for health improvement and enjoyment. Thus, hoteliers should make sustainable purchasing decisions, promote responsible recreation activities and excursions, and manage gardens with natural-style planting, e.g., by using indigenous plants for landscaping in the hotel grounds.
● Environmentally-friendly tech solutions and digital interactions. Every guest can check-in/out, order food and services, as well as pay for them through their smartphones. In this case, there is no need for any additional documents, bills, and papers. In restaurants, it is much better to use digital menus, instead of traditional printed ones. Hoteliers can also benefit from creating travel vouchers and deals as an attractive alternative to cash reimbursement.
● "No harm" policy. Hotels should blend into their natural landscape and use nature as a source of inspiration in design, building, and construction, as well as in daily operations.
Today, healthy ecosystems, wildlife, landscapes, and natural attractions are often the very things that draw guests to hotels and destinations in the first place. Indeed, hoteliers who will manage to embody an effort to match tackling climate change with implementing standards of hygiene and cleanliness, as well as adopting environmentally-friendly digital tools, have more chances to survive and thrive.
Public relations: Stephanie Moench
Would you like to try HotelFriend App?