NEXT GENERATION OF HOTEL STAY
Smart hotel management software improving guest in-hotel experience
Hotel Management System is designed with no APIs, and comprises all products a Hotelier needs in each stage of Hotel Development. It is unique to have no APIs between the products, no hidden costs for updates and support issues.
A seamless process - simple and powerful.
Hotel Management Software, Booking Button, and Channel Manager. But is it really enough?
There is a permanent basis to automate, perform, and manage your hotel. HotelFriend is happy to provide you with such customer journey.
Hospitality is about being welcoming, helpful, and comfortable for your guests.
Customers are getting used to increasing choice and personalization. HotelFriend is here to help you bring excellent hotel stay experience for your guests.
Thats why your hotel needs cloud-based software.
Old processes in a new way
guest can extend
hotel can manage
Check-in, housekeeping, chat and more
Check-in, housekeeping, chat and more
guest can check in
hotel can manage
Seamless guest experience with online orders
guest can order
hotel can manage
Intuitive revenue stream management
Intuitive revenue stream management
guest can request
hotel can manage
Want to become your guest's favorite hotel?
Let us show how HotelFriend can help your hotel to be on the top.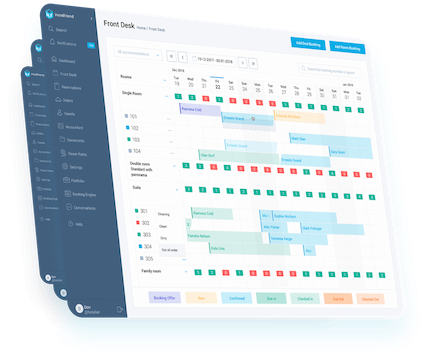 Manage
Manage your rooms and departments in a cloud Hotel Management System.
Guest Management
Keep track of your guests and save all the necessary information, including personal and passport data, contacts, social media profiles and more.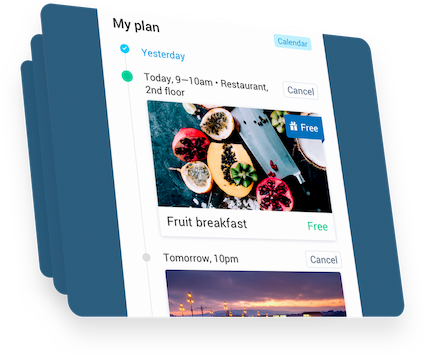 Optimize
Optimize your performance to provide the finest experience travellers haven't seen before.
Fast Check-In
Stay mobile. Simply meet your guests and check them in automatically without the reception desk procedure and a long queue.
Analytics and Reporting
Indispensable module for any hotel to perform better. Clear and concise visualization of your key indicators.
Want to provide your guest with exceptional in-hotel experience?
Request demo for a complete tour of our cloud hotel software
WE ARE MENTIONED














Manage. Grow. Optimize.
Upsell. Provide new level of in-hotel experience.