Aug 26, 2020 2:14 PM
Gone are the days when the hospitality industry was merely a person-to-person sector. Today's coronavirus outbreak has demonstrated how valuable automated technology can be for hoteliers working in a time of crisis. As hotel employees and guests are required to maintain social distancing, digital communication becomes a purposeful segment for them.
In this respect, chatbots and live chats can give both customers and staff what they need – touch-free and contactless interaction similar to the real-life one. However, the key to success lies in the effective implementation of these communication tools.
Below we'll examine these two kinds of assistance to prepare for the new normal and grow in the post-COVID-19 age.
What is a chatbot and can it help to gain a competitive edge?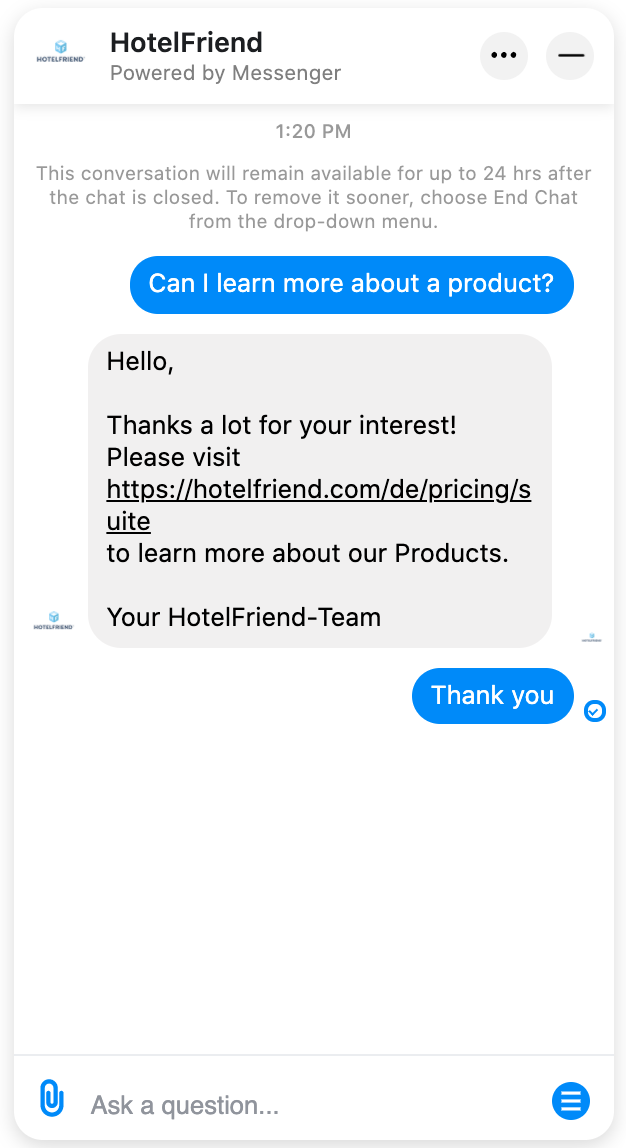 A chatbot is a computer-programmed service designed to simulate conversations with humans. It is built on a set of business logic and often artificial intelligence to help users interact via chat interfaces by matching customer questions with predefined answers.
Hospitality brands have recognized these messaging tools and have been experimenting with them since 2014. The industry started to pay heed to bots thanks to Facebook's Messenger Platform. It allowed to use images and interactive bubbles, as well as calls-to-action within the chat window.
Marriott Hotels have used Facebook Messenger for customer service as well. Yet, Amanda Moore, senior director of social and digital marketing at Marriott, admitted that their "first entry failed miserably". The company reconsidered approaches on the platform and launched its Marriott Rewards chatbot. It helped customers book rooms, manage their booking, and get travel tips for their next travel.
The chatbot proved so efficient that other hotel brands followed the Marriott lead. For example, Radisson Blue Edwardian came up with "Edward" in 2015. The bot helped guests with a number of things including sending SMS text messages throughout their stay and before check-in.
As of now, most hotels have chatbots as they offer many benefits, including the following:
● Providing guests with real-time, on-demand, and custom-tailored information, available 24/7.
● Delivering personalized reminders, recommendations, suggestions, and solutions to customers, starting from pre-arrival to check-out.
● Upselling additional goods or services to existing customers, such as spa, leisure options, etc.
● Reducing the workload on hotel staff.
● Lowering costs via automation.
● Providing contactless communication and engagement that is critical in post-coronavirus times.
Since the beginning of the coronavirus crisis, more and more hotels are expected to start integrating chatbots into their customer service systems. As of now, some hotels have more than one chatbot. Marriott, for instance, has several chatbots, among which are the Aloft's ChatBotlr and MC.
However, when it comes to providing a meaningful response, the chatbots are unable to react to specific issues. In this case, there should be an option to chat with an actual person or a live support agent.
What is a live chat and how can it improve the hotel guest experience?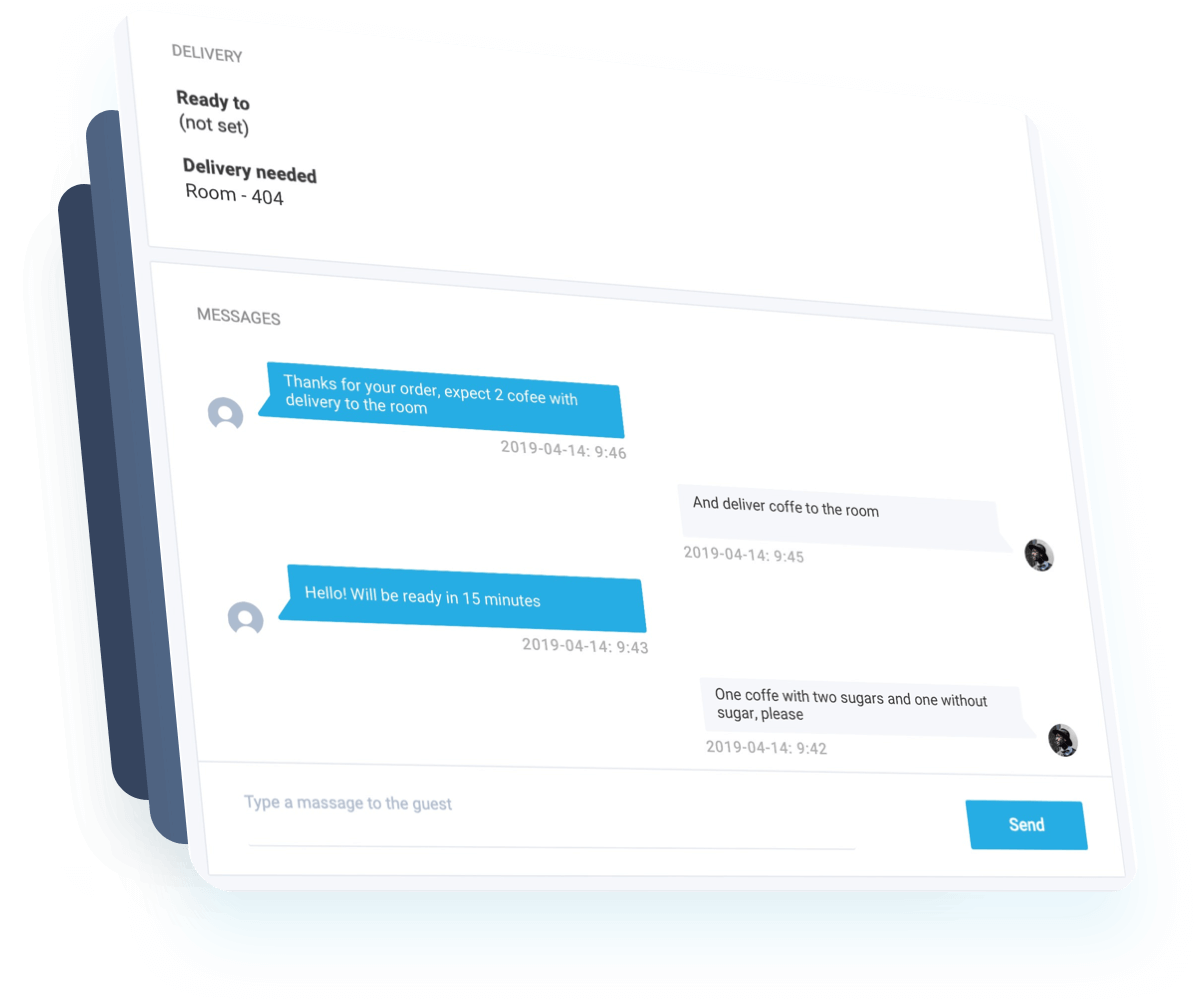 Live chat is a medium that allows hotel guests to communicate with support agents or service representatives in real-time. 57% of customers find live chats with humans to be more effective in solving their issues or handling their needs.
In fact, live chats provide all the benefits covered under chatbots, but also offer some other essential advantages, which are as follows:
● Personal touch. Live chats can add a voice to the hotel's online presence and offer the same experience as offline communication.
● Immediate response to specific questions and crisis situations. Live chat agents are the hotel's first line of defense as they engage with customers immediately, answer guests' specific questions, as well as are able to reduce complaints and stop negative reviews.
● Increase in direct bookings. Potential guests can book a room or buy a product without leaving the live chat.
● Assisted sales. Agents can share documents, menus, floor plans, deals, special offers, etc. in real-time via live chats. It results in an uplift of RFP (Request for Proposal).
● Higher profits. 38% of customers prefer companies that offer live chat support and 63% of consumers were more likely to return again.
True, live chat is a must-have tool for any hotel to keep customers satisfied. Yet, it's even better if the Messaging Software module is a part of the hotel PMS.
To sum it up, both chatbots and live chats are becoming a big hit in the hotel industry, especially in the post-COVID-19 age. Still, hoteliers might wonder what is the best choice for the hotel business: chatbot or live chat? And do we need to choose between the two of them?
Get access to several effective solutions in addition to live chat, namely PMS, Concierge App, CRS features, Booking Engine, and more.
Try free
Chatbots vs live chats: what to choose?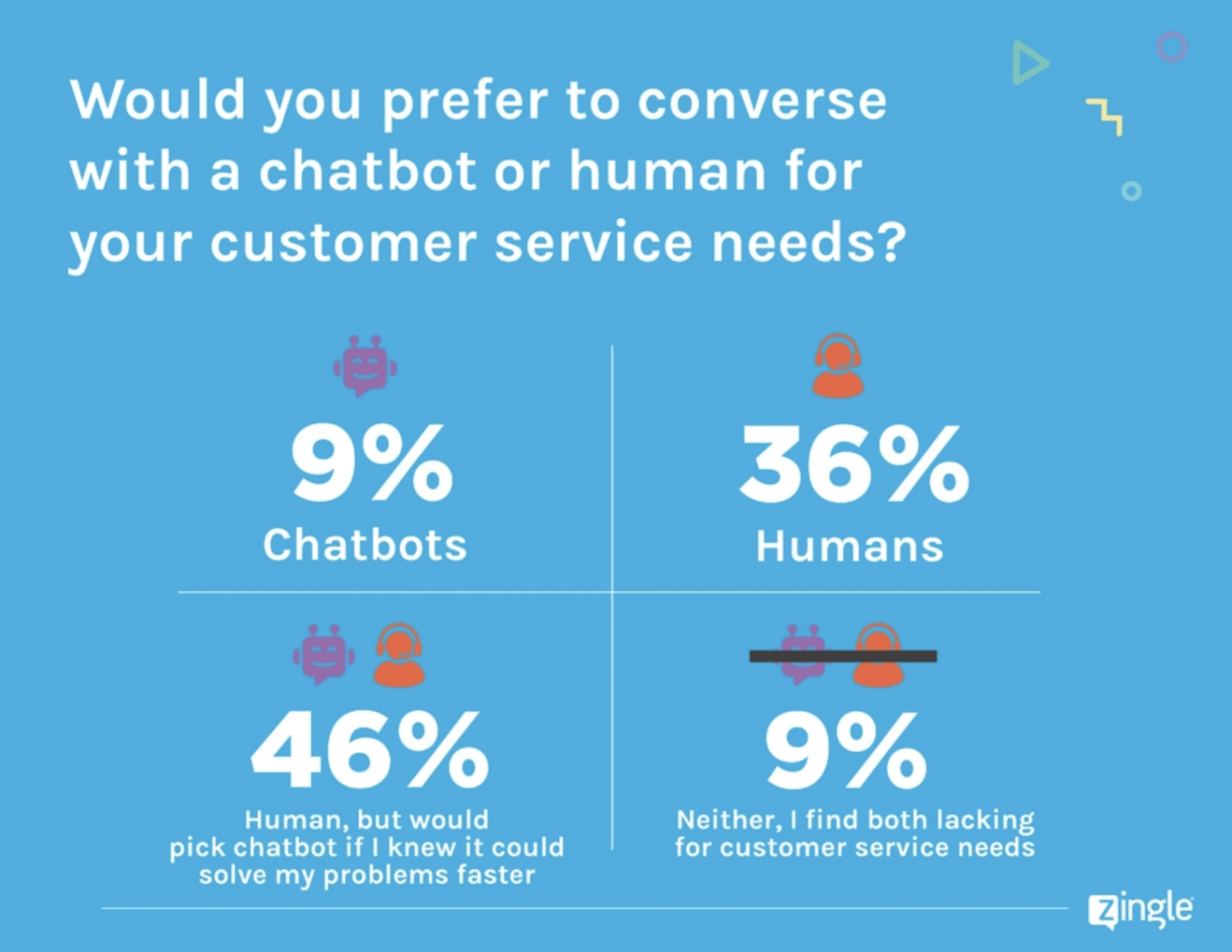 Source: zingle.com
The hotel industry has a strong connection with human service. And the studies confirm this statement: 36% of customers prefer service agents over a bot and 46% reported that they prefer human interaction but would pick a chatbot if it meant they could solve the issue faster.
25% of consumers said they find both chatbots and human agents to be equally time-efficient.
According to Business Insider, 45% of consumers don't care who they interact with—live agent or chatbot—as long as the service is effective, accurate, and handled quickly.
There is no one-size-fits-all solution. While chatbot is a good communication tool, hoteliers still need to have a qualified support team to answer more detailed questions. There are always guests who prefer to speak with an agent. Thus, providing both options can give customers what they want and need.
In today's society, our attention sticks around communication channels and tools that address customers' acute needs of the best experience while maintaining social distancing.
In terms of delivering the best experience, HotelFriend Concierge App is more in demand than ever. Starting from self-check-in to mobile ordering and payment, everything can be done through a smartphone. Besides, the app includes Direct chat. Thanks to it, guests can contact hotel employees at any time and request further information on room reservation, booking, order status, and more.
As hotel guests want to stay connected while practicing social distancing, such a combination of the Concierge app and direct chat can become the win-win solution, as well as the right balance between human-to-human interaction and AI-powered customer service, beneficial for both hoteliers and their customers.
Public relations: Stephanie Moench
Would you like to try HotelFriend Software?
Get Free Trial