Aug 14, 2020 3:14 PM
What is CRS in hospitality and what does it stand for?
Whether you are looking for a new source to increase your bookings or want to optimize all the distribution processes and keep an eye on it, you should definitely pay attention to the Central Reservation System (CRS). It's a great tool to perform different tasks via a single system and take your business to a significantly new level. Let's get it right from the start and cover the basics.
CRS stands for Central Reservation System that can be called a database distribution system as well. It's a software for centralized hotel management that transmits the information from the property management systems (PMS/s) to the hotel's own distribution channels like booking engines, call center, or third-party resources: GDS, IDS/ADS/OTA, metasearch platforms, etc. In turn, the reservations from the third-party resources are transferred via CRS to the hotel PMS so that all the hotel data are synchronized and can be tracked easily.
Why do you need it?
Due to the recent studies, approximately ⅔ of reservations are made via OTAs. Nevertheless, the research also says that 50% of users who have found a hotel via OTA will visit the hotel's website. It significantly increases the chance of direct booking via the booking engine. Considering this fact, you should keep a hold of all distribution channels in order to attract the maximum number of customers. This is exactly what the CRS can help you with. In addition to the significant advantage of providing full control over the booking process, CRS has many other benefits. We list some of them below.
Single synchronized system
The crucial advantage is that all the hotel data including the room rates, hotel occupancy, and available rooms, inventory, etc. are collected in one system and synchronized in all channels. It means that sales or front office managers don't have to set up prices and available rooms in each of the distribution resources manually. They do it via CRS. Thus, changes become visible for travelers in all resources in real-time. Such optimization excludes human errors, overbooking, and double-booking of one room as well as saves time and money.
Dynamic rates and visibility
Hotel managers can be aware of the real marketing situation and adjust pricing strategies, policies as well as dynamic rates and rate plans. Such a tool will help you to be flexible on the market and to adjust your rates for the multiple distribution resources to correspond to actual market conditions. Thus, CRS contributes to the implementation of multi-channel strategies so that it increases the hotel's online global presence and consequently hotel's revenues.
Your website promotion
Besides OTAs and other third-party distribution channels, you can also enjoy the possibility to increase your website conversion by integrating CRS. CRS and booking engine should function as a single organism to boost direct bookings. The CRS can transfer the information like number of current hotel bookings, the number of available rooms left, or comparison of prices on other resources to the website. In this way, the client is persuaded to make an instant booking directly via the booking engine.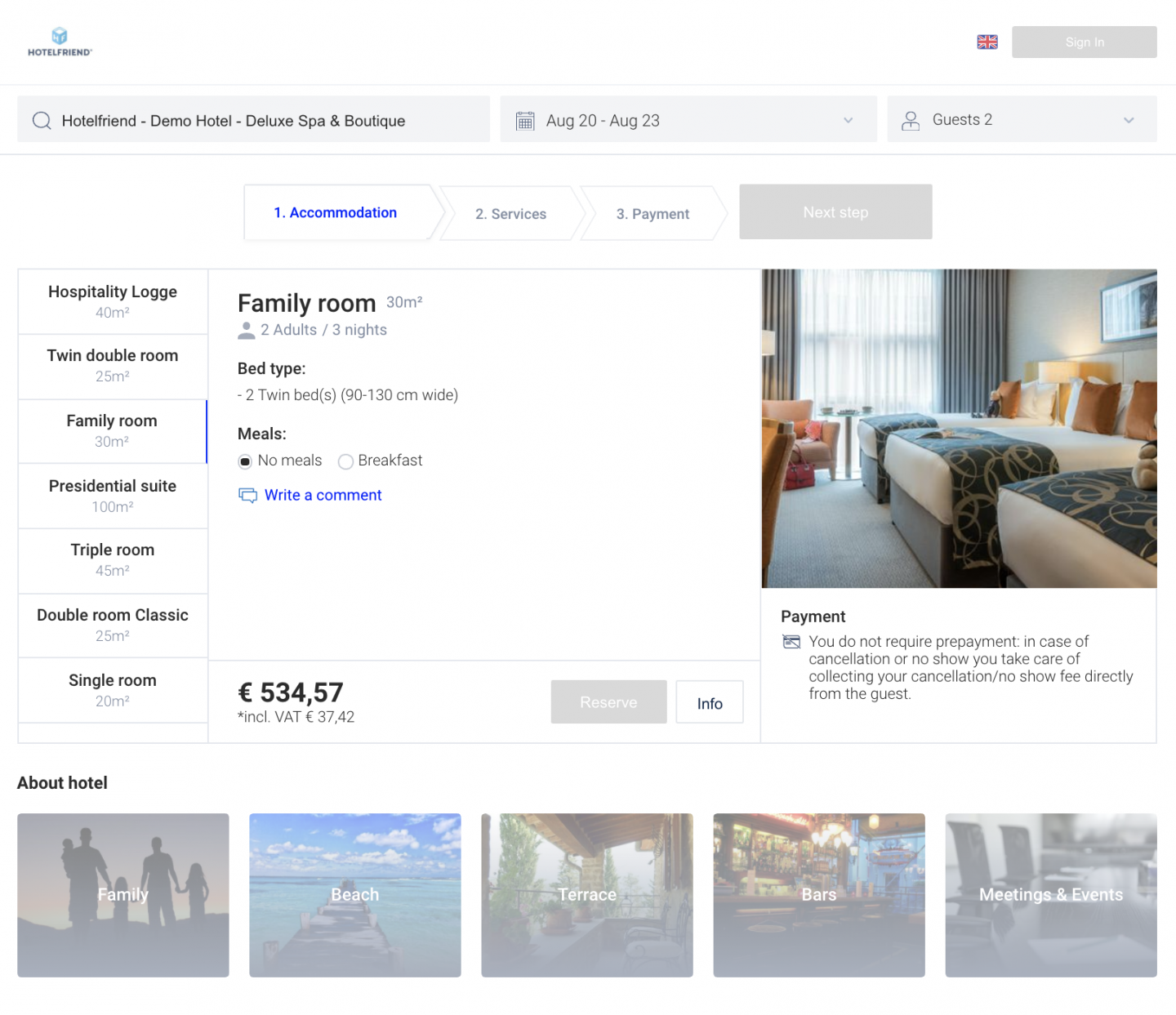 Personalization
CRS enables the hoteliers to adjust additional features like seasonal prices, cancellations policy, meals, and children rates as well as gain more personal contact with the guest. If you use the system, you can enter data about your customers, such as their birthday, personal preferences, and room types, in order to build a long and strong relationship that is highly appreciated by customers.
These are significant but not all the enhancements that your hotel will get by implementing CRS. Here is an overview of some more benefits that you can enjoy:
Other advantages of CRS
● Efficiency: you can reach more distribution channels worldwide without having to adjust hotel data in every single source.
● Time-saving tool: hotel managers don't have to use multiple systems, all your needs can be satisfied by one platform synchronized with PMS.
● Hotel performance and visibility increase: you are able to implement multi-channel strategies and keep an eye on them with CRS.
● Human error excluded: setting up the room rates, availability, and room allocation is automatized so that it isn't to be done manually by the staff.
● Intuitive interface: processes of reservation and adjusting the room rates are managed easily and handy.
● Hotel flexibility on the market: hotel managers are able to constantly update information in real-time to comply with market conditions.
● Keeping track of the hotel marketing situation: with CRS, you can analyze the proficiency of your marketing strategy and adjust it if necessary.
● Adopting the newest hospitality technologies: you can move with the times and benefit from the cutting-edge tools.
● Access to the system anytime and anywhere: hotel chain managers can track reservations worldwide via CRS.
Criteria to consider when choosing CRS
With so many options on the market, it is not always easy to choose the right one. Below, we'll describe some of the most important selection criteria:
● Make sure that CRS operates with metasearch platforms and GDS, since they are the prime sources of income.
● Find out, whether it has a possibility to set up rate plans, private offers, and promotions in order to control occupancy in low-seasons, attract clients with favorable special offers and get more direct bookings.
● Choose CRS with an intuitive and user-friendly interface to enhance the efficiency of your personal and to speed up the process of training new employees.
● Pay attention to a flexible reporting system to analyze your marketing strategy and hotel performance and to adjust it easily.
● Choose the CRS provider that offers the highest level of support.
Some hoteliers tend to save money on starting their business, in particular on the reservation system. However, you should note that this is an investment that will surely pay off in the future, so choose a system that suits your needs and financial capabilities.
How can HotelFriend CRS increase your revenue & guests' satisfaction?
The HotelFriend CRS includes the following features which are designed to meet the expectations of the most exacting customer:
● Intuitive Front Desk that depicts the current hotel occupancy as well as enables the staff to manage the reservations and to customize them.
● Hotel Room Rates is a tool with a handy interface that allows to change the pricing according to room types, seasons, booking channels, etc.
● With the Guest Management module, you can create a personalized experience for your guests by saving significant information after their latest stay.
● Billing and Invoicing provides the possibility to get rid of tiresome paperwork and automize accounting processes.
● Hotel Channel Manager is a tool that enables you to track and manage bookings from different distribution channels.
● Booking Engine can be considered as an integral part of your website to enhance direct reservations.
● Mobile Guest App is a great tool that significantly increases the safety level by avoiding personal contacts that is especially important after COVID-19. Guests can perform all actions during their stay including check-in, ordering, payments, chatting with hotel staff, and check-out with a smartphone. In this way, it's easier to maintain social distance and take care of both your health and those around you.
● Deal Manager is a platform where you can create package deals or vouchers for your hotel by combining some services and then sell it either directly on your website, or our Marketplace.
The CRS was develped by HotelFriend to optimize all administration processes for your hotel, making them intuitive and efficient.
Try free
Conclusion
Summing up, implementing CRS is a great way to boost your hotel revenues and create a much more proficient way of booking tracking. Due to the groundbreaking technologies, you can simplify the reservation process for your guests and staff. This is an excellent investment that will not only pay for itself but also significantly strengthen the conversion rates of your hotel, its position, and flexibility on the market.
Public relations: Stephanie Moench
Would you like to try Central Reservation System?
Get Free Trial