Jan 13, 2022 9:11 AM
For hoteliers
At HotelFriend, we strive to make our software even more hotelier-friendly with every new update. This time we present a new "Early Check-in / Late Check-out" service, a redesigned structure of the invoices, an enhanced Housekeeping module, and much more.
1. Incorporated new extra service of "Early Check-in / Late Check-out"
Now you can offer an "Early Check-in / Late Check-out" service at an extra charge. Provide your guests with more flexibility regarding the established check-in & check-out times. It is possible to create as many Early Check-in / Late Check-out time options as you need.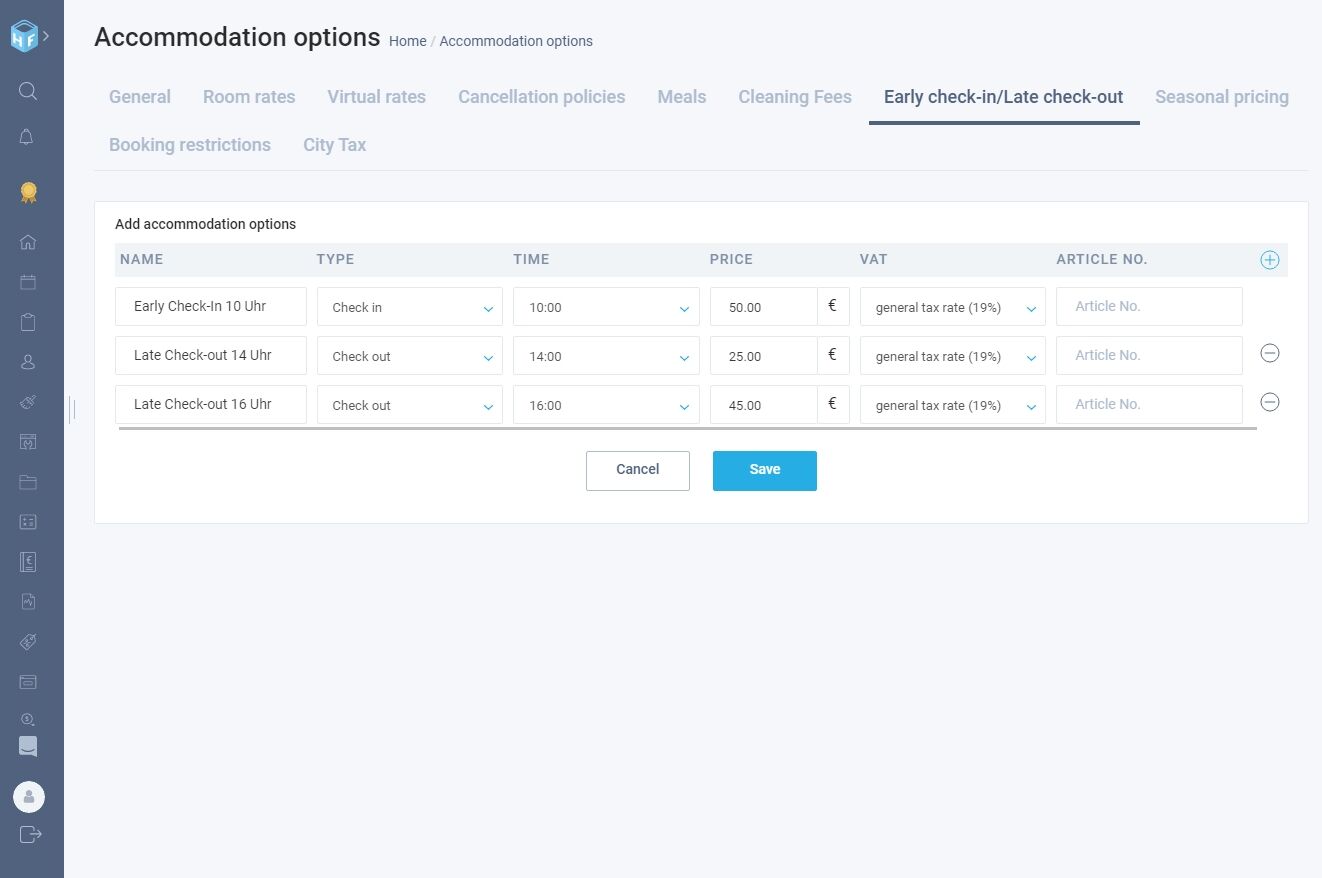 a) "Early Check-in / Late Check-out" bookings are displayed with corresponding icons in the Booking card (Booking Options) and in the Front Desk;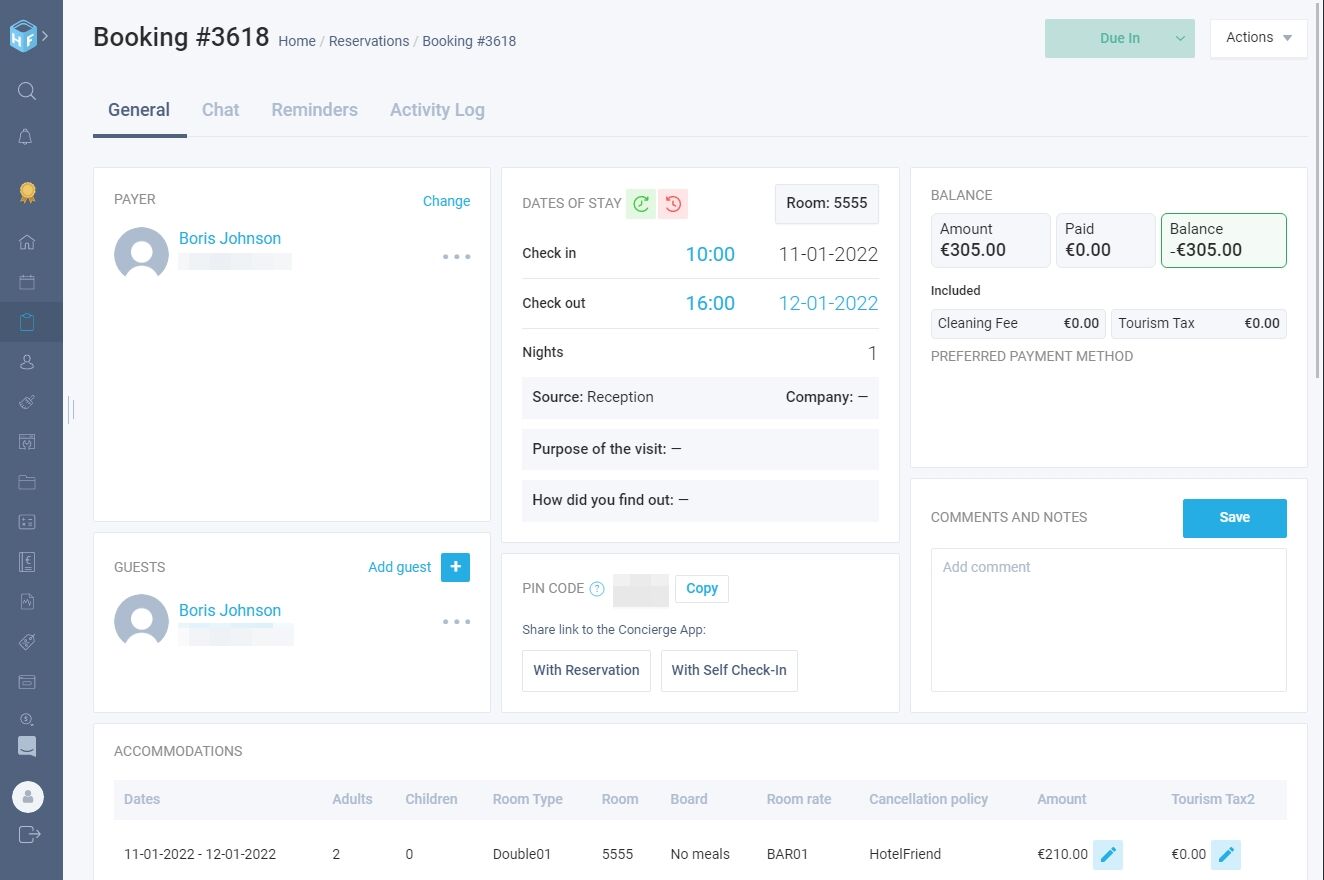 b) In any part of the system and while creating, searching for, or editing a reservation, you can set, view, edit, or delete an "Early Check-in / Late Check-out" service from the booking. The Edit time modal window is the main window for setting Check-in / Check-out time and Early Check-in / Late Check-out time;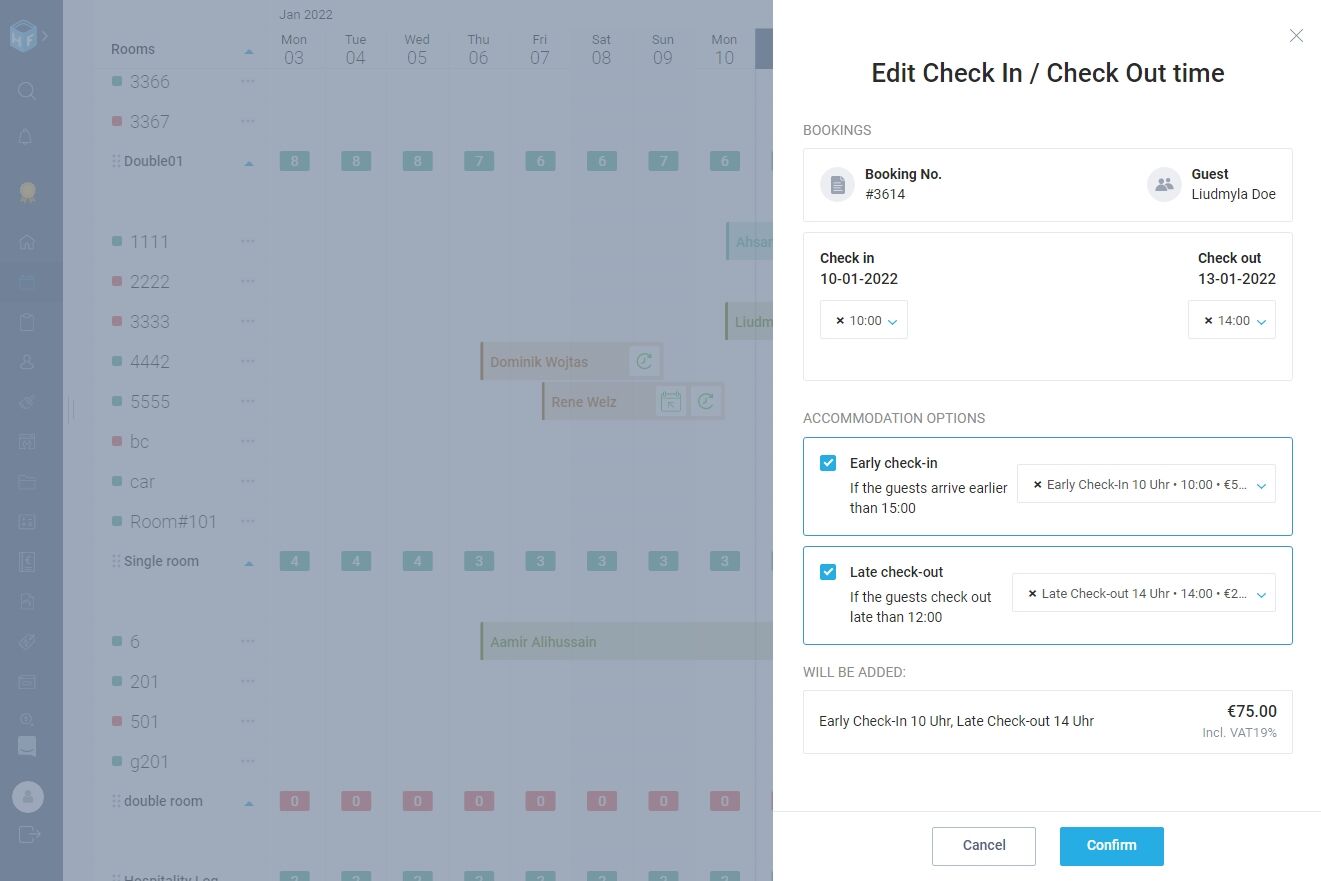 c) Early Check-in / Late Check-out block includes a selection of time options and a fee;
d) Added indicators of the check-in / check-out time;
e) Housekeeping Report and Daily Report now display info about Early Check-in / Late Check-out;
f) New templates and settings have been added to the automated emails.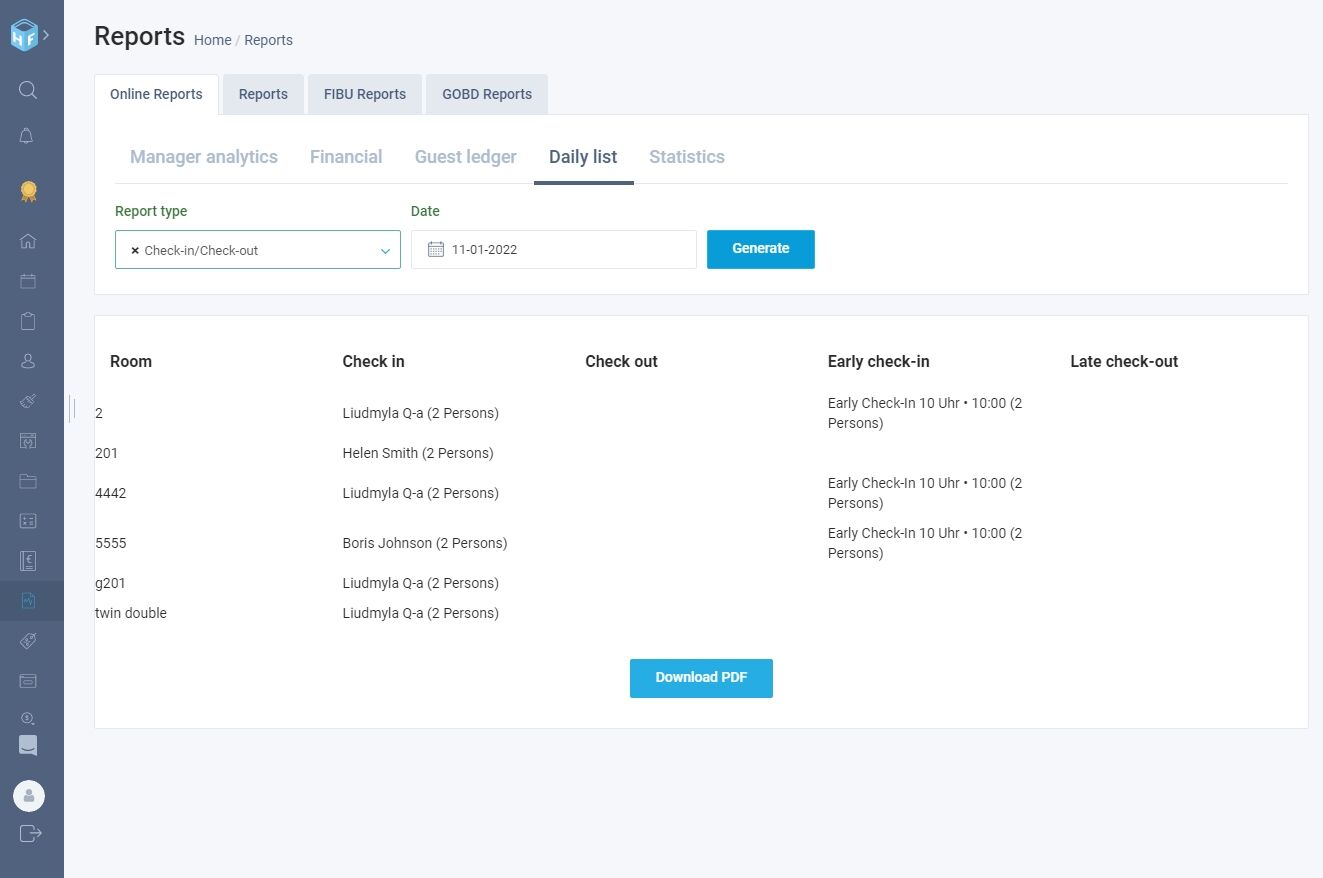 2. Improved Invoices
a) Added a separate "Payments" section to the invoices. If there were any payments, they are shown in this section. If there were no payments, then the Open amount is displayed;
b) Changed the structure of the invoice: the block with VAT is now placed in a separate table, which shows all VAT from the invoice;
c) Added a "Preview" button to the Invoice modal window, and now hoteliers can see how the invoice will look like;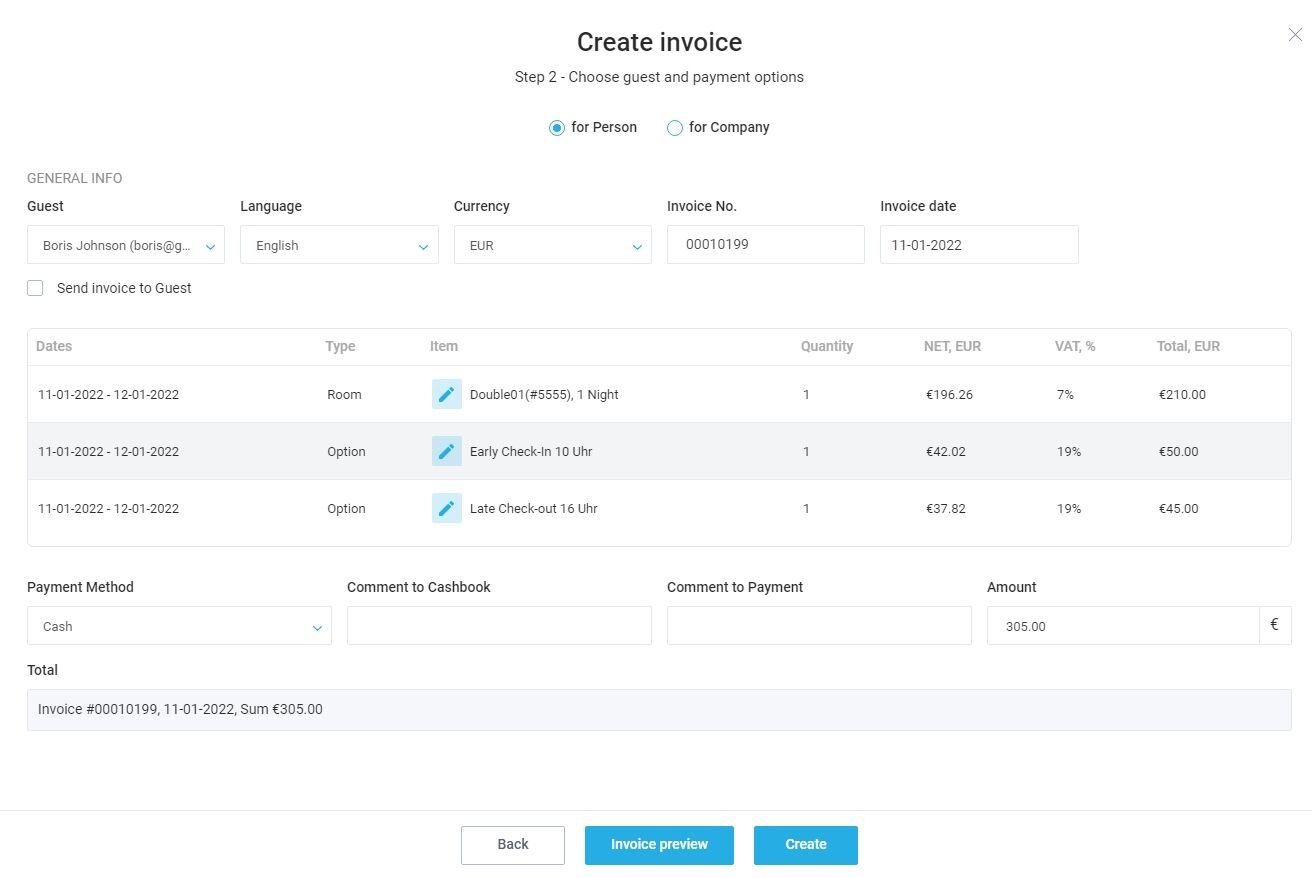 d) Added an ability to edit Amount and the name of billing items in the Create Invoice window;
e) Changed the Amount input in the Create Invoice window.
3. More features and improvements are now available in the Housekeeping module
a) Added ability to read/add/edit comments with Edit Comments modal window;
b) Added group actions for changing status;
c) Moved Housekeeping settings from General to Housekeeping.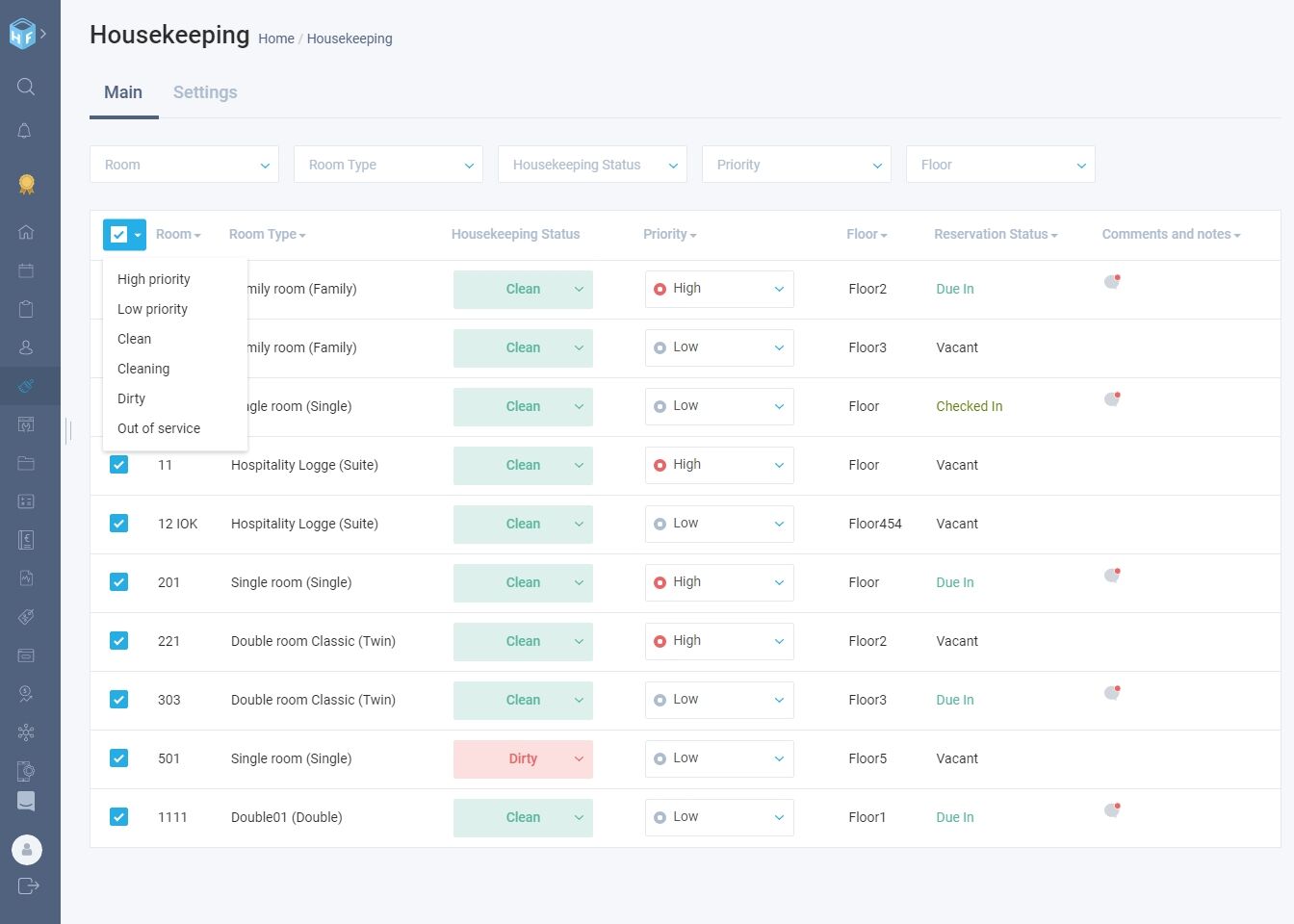 4. Added more widgets to the Dashboard
a) The "Meals Statistics" widget is displayed for bookings that have been created by the hotelier himself or the ones that have been confirmed;
b) The "Visitor purposes" widget in Reservation Types.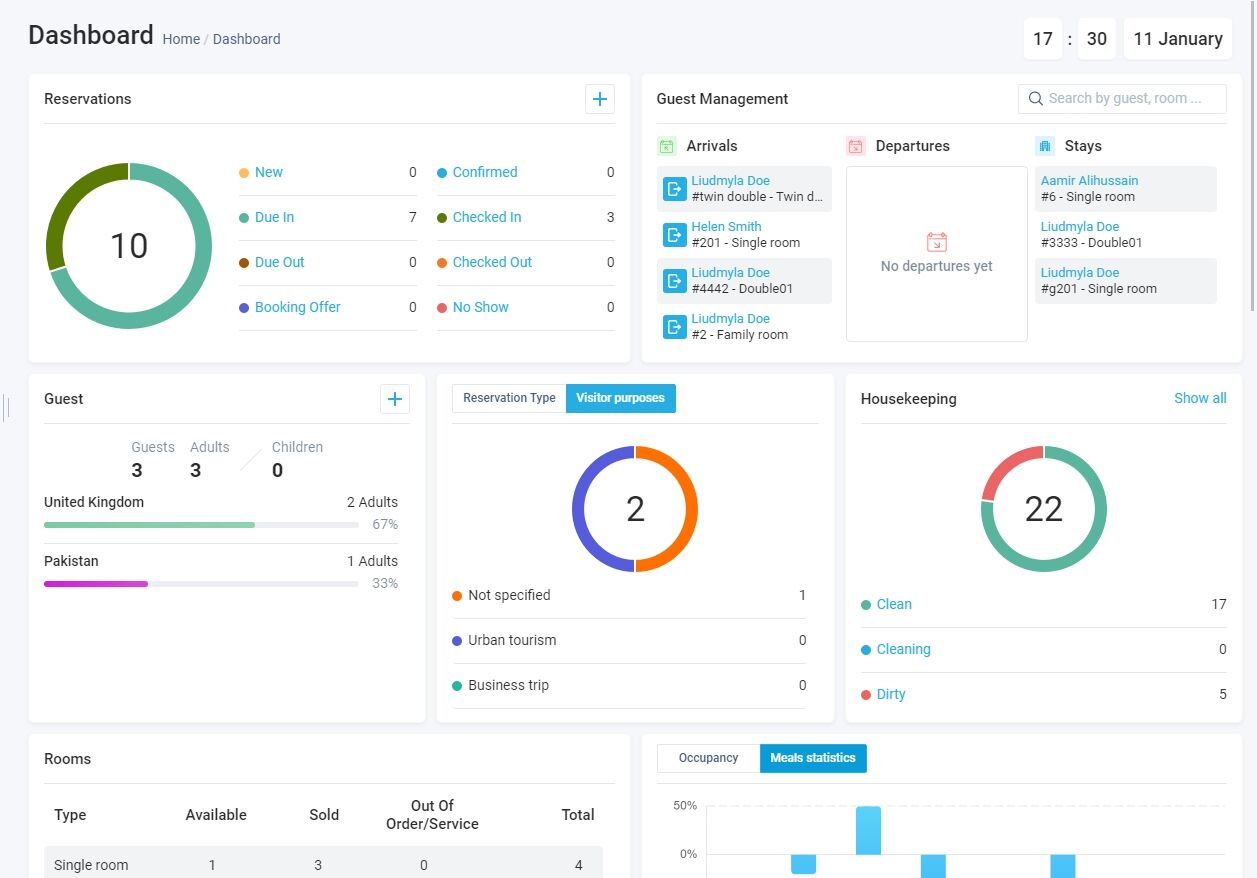 5. Improved Self Check-in / Check-out feature
a) Created automated emails with a link for Self Check-in / Check-out, which can be sent in 24 hours before the guest's arrival;
b) The feature is displayed with corresponding icons in the Front Desk;
c) New templates and settings have been added to the automated emails.
6. Introduced a new type of accounting report: a FIBU Report
We are working on a new type of accounting report for hoteliers and hotel accountants. It allows standardized data export of reservations, orders, payments, that might be used to send to local government authorities. The report will be generated in the background mode, and when it is completed, the pop-up window notifying of successful FIBU export appears.
7. Improvement of GoBD Reports
a) Added generation of the reports in the background mode;
b) Moved GoBD reports to portal/daily-reports/online-reports;
c) When the report is complete, the pop-up window notifies the hotelier about it.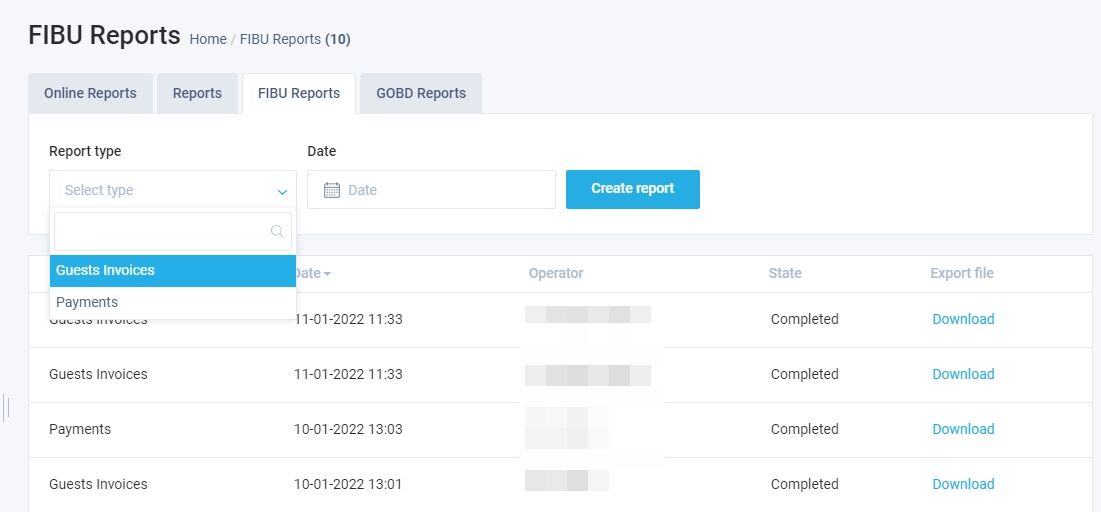 8. A number of general system improvements have also been made
a) Added "Total Amount" to Guest card in pages Bookings / Orders / Invoices / Payments;
b) Added a form in the Booking Engine settings, in which a link with an open calendar will be generated;
c) Improved Department settings: added coordinates and address settings for the department's delivery zone;
d) After check-out, guests will receive an email with some info and a link for their feedback;
e) Added an opportunity to indicate a Hotel Representative;
f) Added horizontal scrolling in Booking Groups;
g) Improved Password reset;
h) Added "Sort by bookings and nights" on the Guests and Company grids;
i) Added toast messages to verify that the user wants to proceed with an action (e.g., "cancel" or "delete");
j) Added display of date and time at Hotel Dashboard;
k) Added a new tab to the Guest Card in which all billing items that were transferred to other guests or to paymaster are logged;
l) Updated API to create a Group order from Booking Engine;m) Added Tasks by Delivery CSV Export;
m) Added Tasks by Delivery CSV Export;
n) Every order item in Orders in the reservation card is now displayed with the ability to see the comment to order by mouse hover. Added ability for hoteliers to add comments when creating the order;
o) Password reset: added Back to the login link after the hotelier restored the password;
p) Renamed tab Accommodation options to "Early check-in / Late check-out" in the Room rates module.
9. Made some major fixes
a) Reworked export of the Task list to CSV: now all articles count;
b) Fixed layout of Company grid for small screen resolution;
c) Fixed layout for Expired status;
d) Improved Layout for Deals;
e) Fixed all remaining places which had the wrong date format.
Have any questions or want to share your feedback? Please, let us know so that we can make our software as neat as possible. And stay tuned!
For website users
HotelFriend's latest updates are built keeping your convenience and need for embracing remote work in hotel management in mind. This week, we're introducing the Concierge Remote Reception solution. Thanks to it, your guests can easily self check in with a tablet at the hotel reception.
We're also made some minor bug fixes and general enhancements. Below, you will find all the details on everything new across HotelFriend software.
1. Concierge Remote Reception
At the hotel reception, guests can make self check-in with a tablet. Self check-in procedure consists of several steps:
a) PIN code page: The guest needs to pull PIN in a PIN code window to start the Self Check-in procedure. The PIN will be sent to the guest's e-mail. After entering the PIN, the guest needs to click on the "Make Self Check-in" button. There is also a hint where the guest can find the PIN.
b) Guest Information page: In this step, the guest should fill in custom fields with information and add a signature. The hotel decides for itself which fields are required (can be configured in hotel custom options settings for Booking Engine).
c) Scan documents page: In this step, the guest should take a picture of the documents and upload these photos: the guest holds a tablet, points it at the passport, and takes a photo of his document, one photo per page.
d) Success page: Notification informs that check-in has been completed. The guest also sees the hotel's logo, photo, and the name of the hotel's representative. Thirty seconds after the guest moves to this page, the form will close and the Pin code page will automatically open.
2. Website updates
a) Added search to B2B - in By coincidence in the body of the pages.
b) Showed top-5 records & 5 subrecords from the Help center.
c) Added the ability to enlarge the image in the Help center.
d) Added animations to static pages.
3. We've also fixed some issues
a) Self check-out page in My trip at Booking Engine.
b) The layout of filters in rooms and deals at Booking Engine.
c) Cancelation of a reservation at Booking Engine:
• when it is free of charge;
• when it comes at an extra cost.
d) The display of the hotel booking price in the user's currency.
e) Adding several services to the cart.
If you have any comments, suggestions, or questions, please let us know. And stay tuned for more updates!
Learn more about the System Get free trial
Author: