Aug 11, 2023 1:42 PM
Meet a new Cancellation Policy to charge guests for as many nights as you need, benefit from longer stay limits and get more control over your bookings with other features from this update.
What's new for hoteliers?
1. New cancellation policy added to Room Rates
We've introduced a new option for Cancellation Policies called "Nights of Reservation." Now, you can tailor your cancellation policies more precisely, providing better flexibility in managing reservation changes. This update adds a layer of control that ensures your cancellation fees align perfectly with your business needs.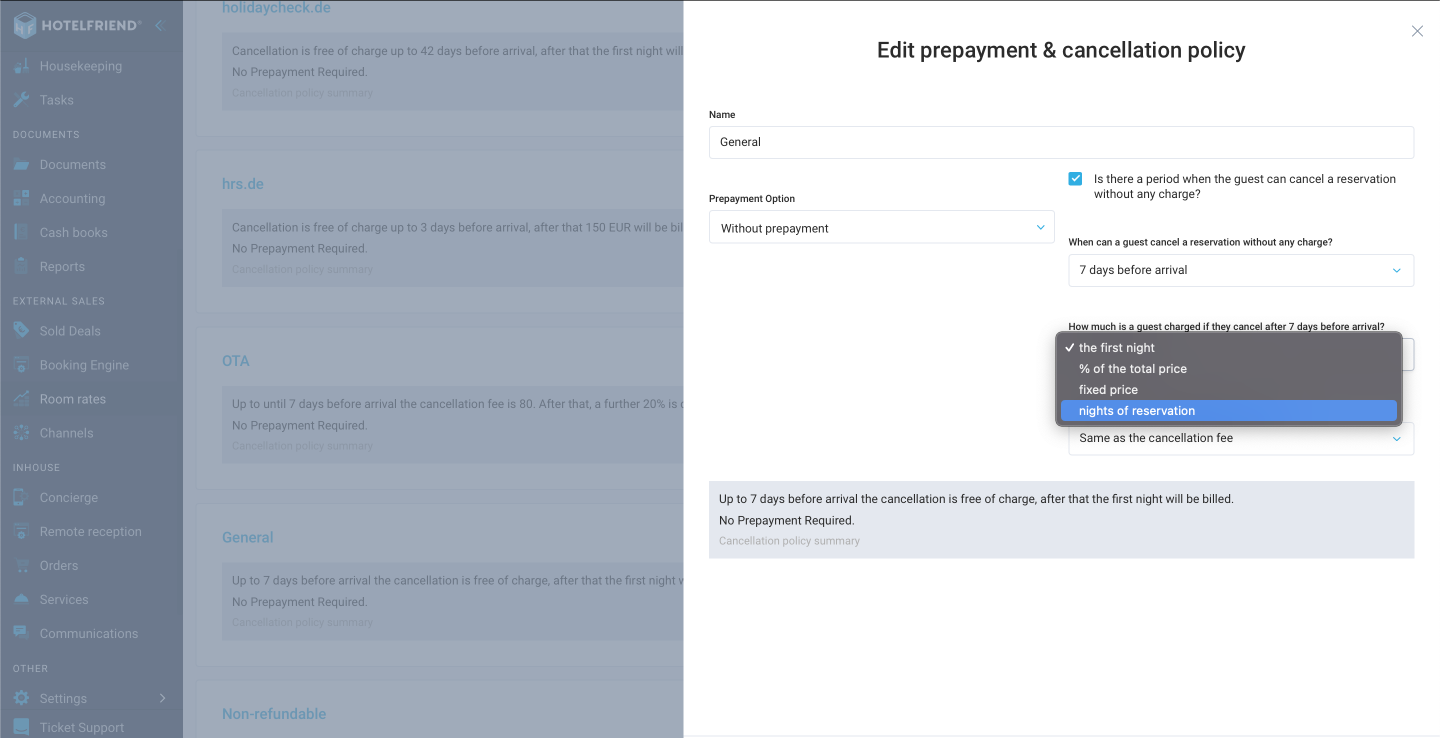 2. Enhanced Booking Restrictions by adding longer stay limits
We've expanded the "Min stay" and "Max stay" settings to cover stays of up to 365 days. This update provides more flexibility for longer bookings. Just note, if you choose a "Min stay" or "Max stay" over 90 days, a friendly yellow alert will remind you of platform-specific limits.
Note that these extended settings apply to the Booking Engine and Reception sources, while the Channel Manager remains at 90 days. Enjoy improved control over your booking policies!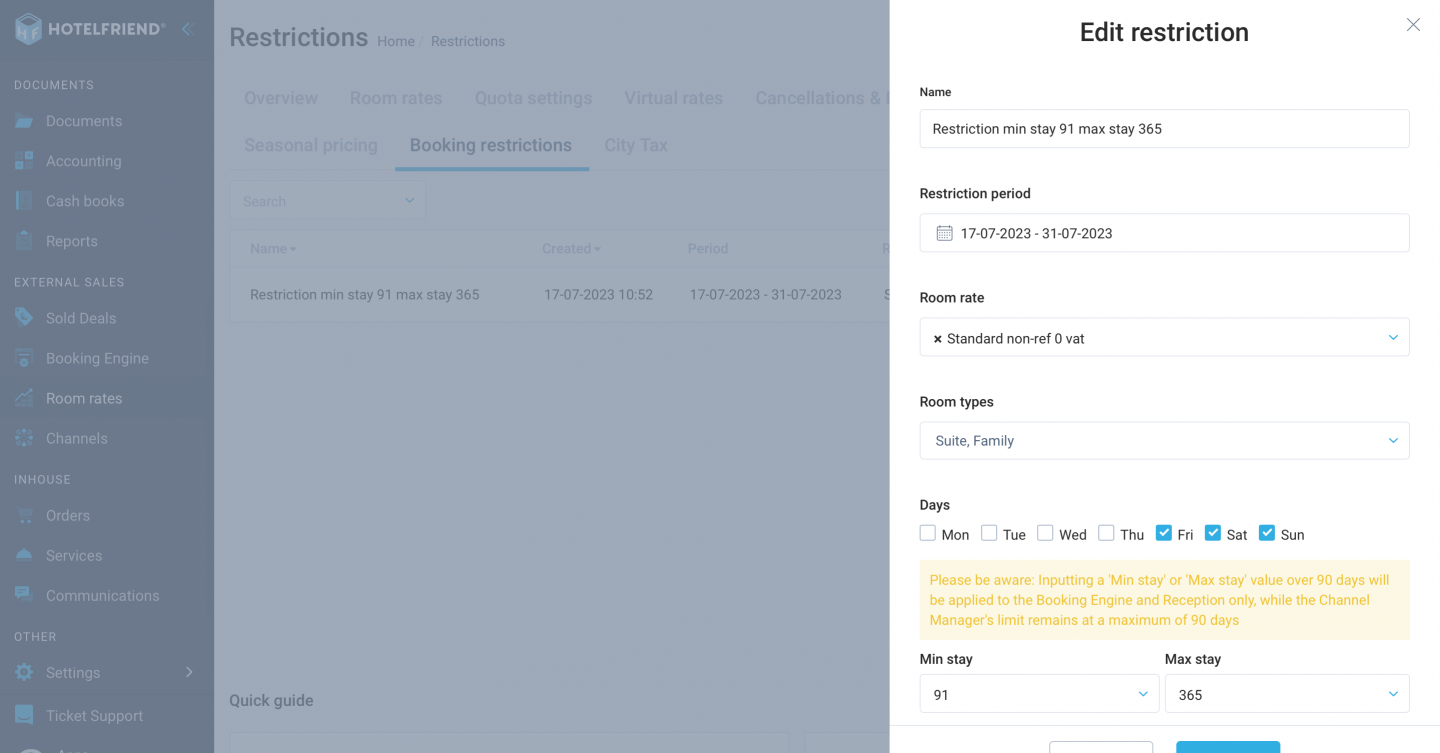 3. Improved booking management with a dedicated Cancellation Policy field
We've refined the "Edit Booking" and "Move Booking" modal windows by adding a dedicated Cancellation Policy field next to the room rate selector. By default, the system will automatically display the cancellation policy tied to the selected rate without the option to modify it. But if you decide to go for a Custom price, you can effortlessly pick a different policy that aligns with your specific requirements.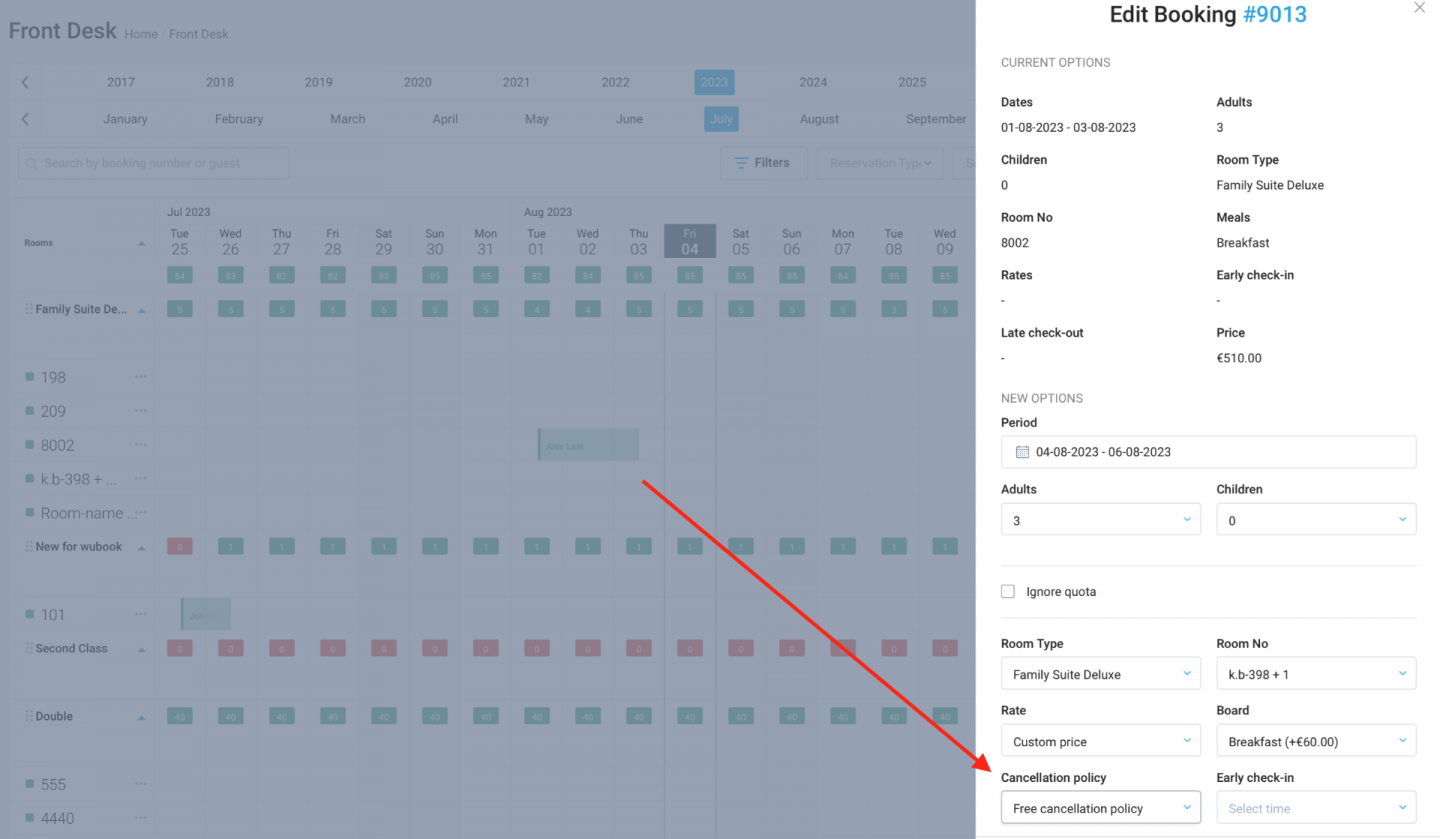 4. Introducing the "Service Overview" report
Meet our new "Service Overview" report! This PDF document presents a comprehensive summary of service usage, neatly organized by inventory types and dates. Now you'll have a clear picture of who's using your services and when, all in one glance.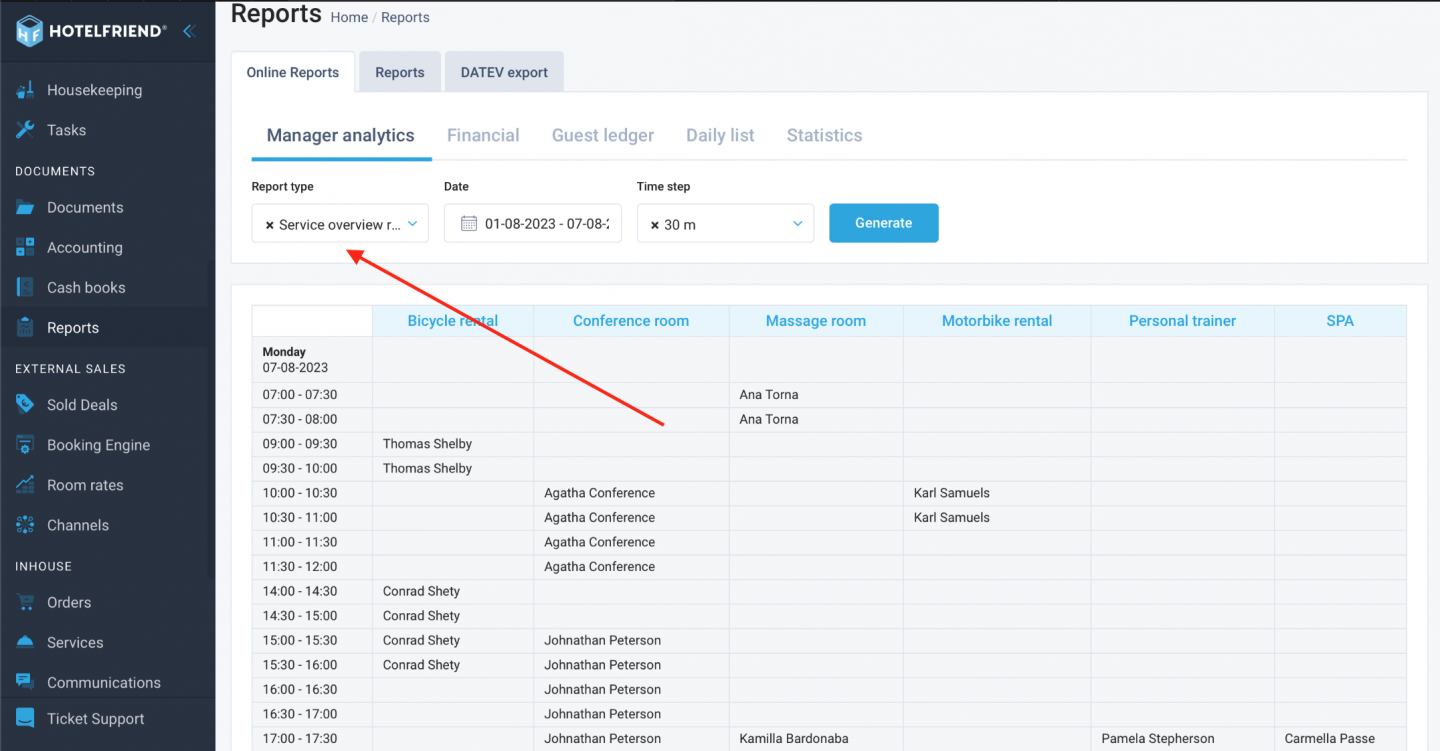 5. Creating an unlimited number of custom VATs
This update empowers you with better control and organization over your VAT settings. Whether it's regional variations, specific services, or unique tax scenarios, you can now set up and add as many VAT options as you need. That's right, no more stopping at just 10!
6. Streamlined handling of bookings with discounts
Bookings from channels that offer discounts will now be created in our system with a custom price – no room rate will be associated with the booking. Assigning a room or booking modification will not change the original price until you manually adjust it. This change brings you more control over your pricing strategies and simplifies the handling of discounted reservations.
7. More control over the reservation statuses
You can now change a reservation's status from "Check-out" to "Canceled" if the reservation doesn't have an invoice yet, giving you more flexibility in managing bookings.
8. Preview of the guest's salutation in the Booking Confirmation Email
This new feature lets you take a sneak peek at your booking confirmation email before sending it out. When you're in the "Add Booking" modal, you'll notice a "Preview email" option.
This option allows you to see precisely how the guest's salutation will be presented in the booking confirmation email. Ensure that every bit of your communication is finely tuned to match the guest, resulting in truly personalized and polished communication.
9. Bug fixes and visual improvements
a) Fixed minor layout issues for better usability.
b) Fixed the "No" selector in Meals.
c) Fixed the bug related to deal creation and limited deal accommodation by the room type settings.
d) Fixed the bug in the Booking confirmation email to guests, ensuring that the prepayment policy is displayed accurately.
We've been hard at work fine-tuning your property management system to ensure it's not just good, but exceptional. But here's the thing – your insights matter even more. If you've got ideas or suggestions, share your thoughts, and let's create something remarkable together!
Learn more about the System Get free trial
Author: