Oct 9, 2023 6:34 PM
Meet new automated report schedules, enhanced settings for the Bookings Engine, and various automation features that aim to enhance your overall experience and optimize your daily operations. Let's dive right in!
What's new for hoteliers?
1. Introducing a new Reports Automation feature
Now you can effortlessly create automated schedules for report generation and seamlessly send them to your employees' emails. There is no need to manually select, generate, and download reports in the Reports module. With our new "Reports Automation" tab, you can set up automated report schedules of your choice.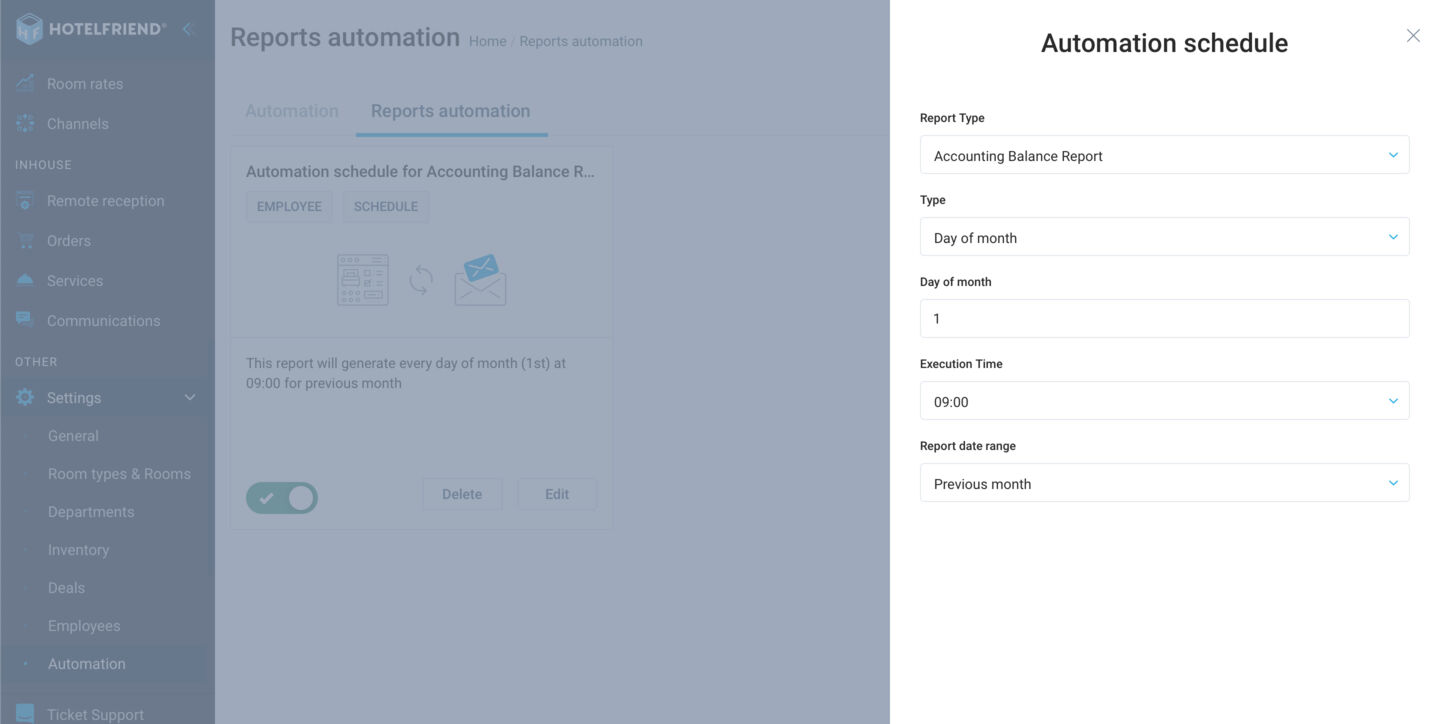 Choose the specific day for report generation, define the precise time, and select the date range for each report. This new functionality allows you to tailor automated schedules to your specific needs, ensuring that reports are generated and distributed with ease.
2. Enhanced "After self-check-out" automation for invoices
Our "After self-check-out" automation has received a significant upgrade and is now known as "Send Invoice after Check-Out."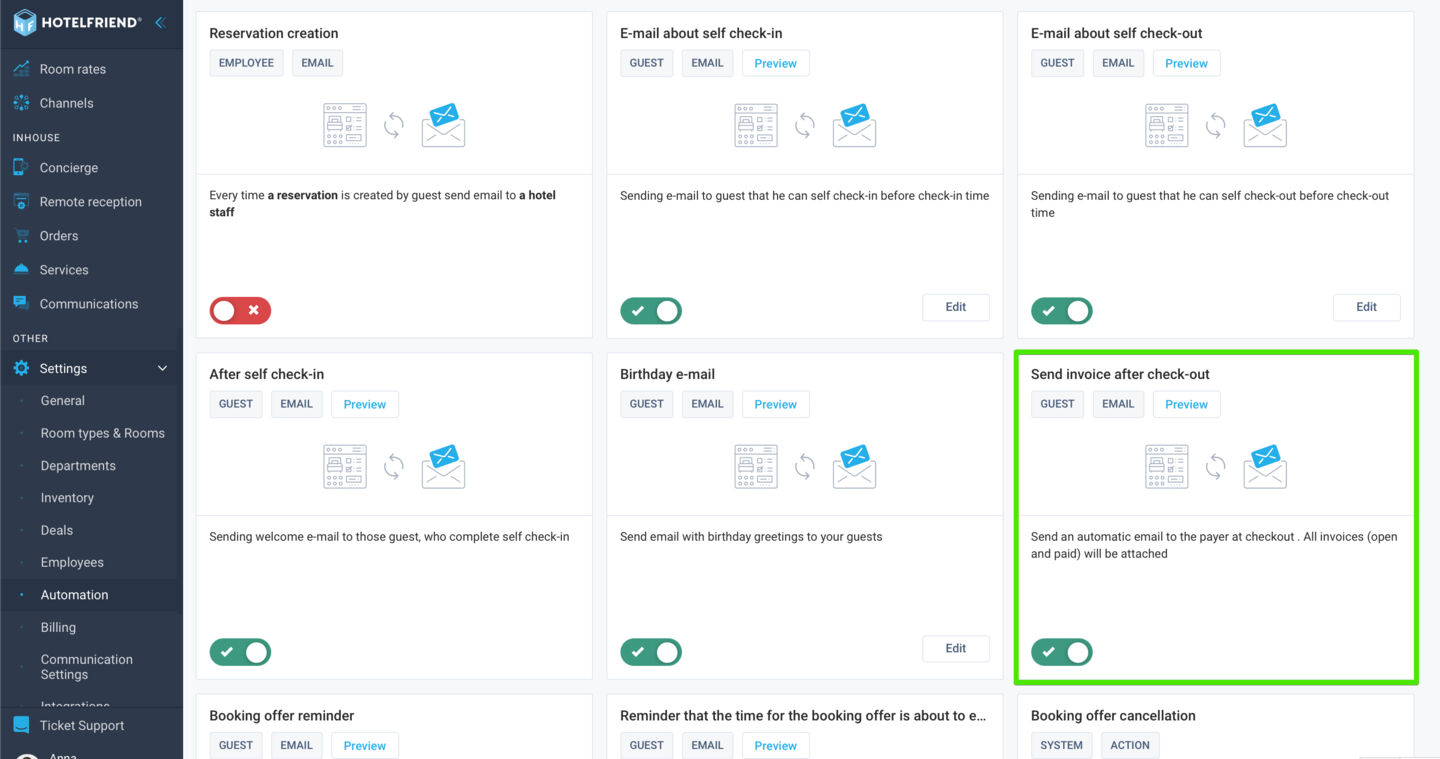 With this improvement, whenever a reservation status changes to "Checked Out," the system will automatically send an email to guests, including invoices for payments made during check-out, whether the guest or the hotel initiated the process. These invoices will be conveniently attached to the confirmation of your checkout and invoice email, ensuring a smoother and more efficient guest experience.
3. Added "Door Lock Pin Code" automation
The "Door Lock Pin Code automation" is the new automation feature available in our system. This new functionality is designed to cater to clients without integrated door lock systems, yet who seek to provide their guests with the convenience of door lock pin codes.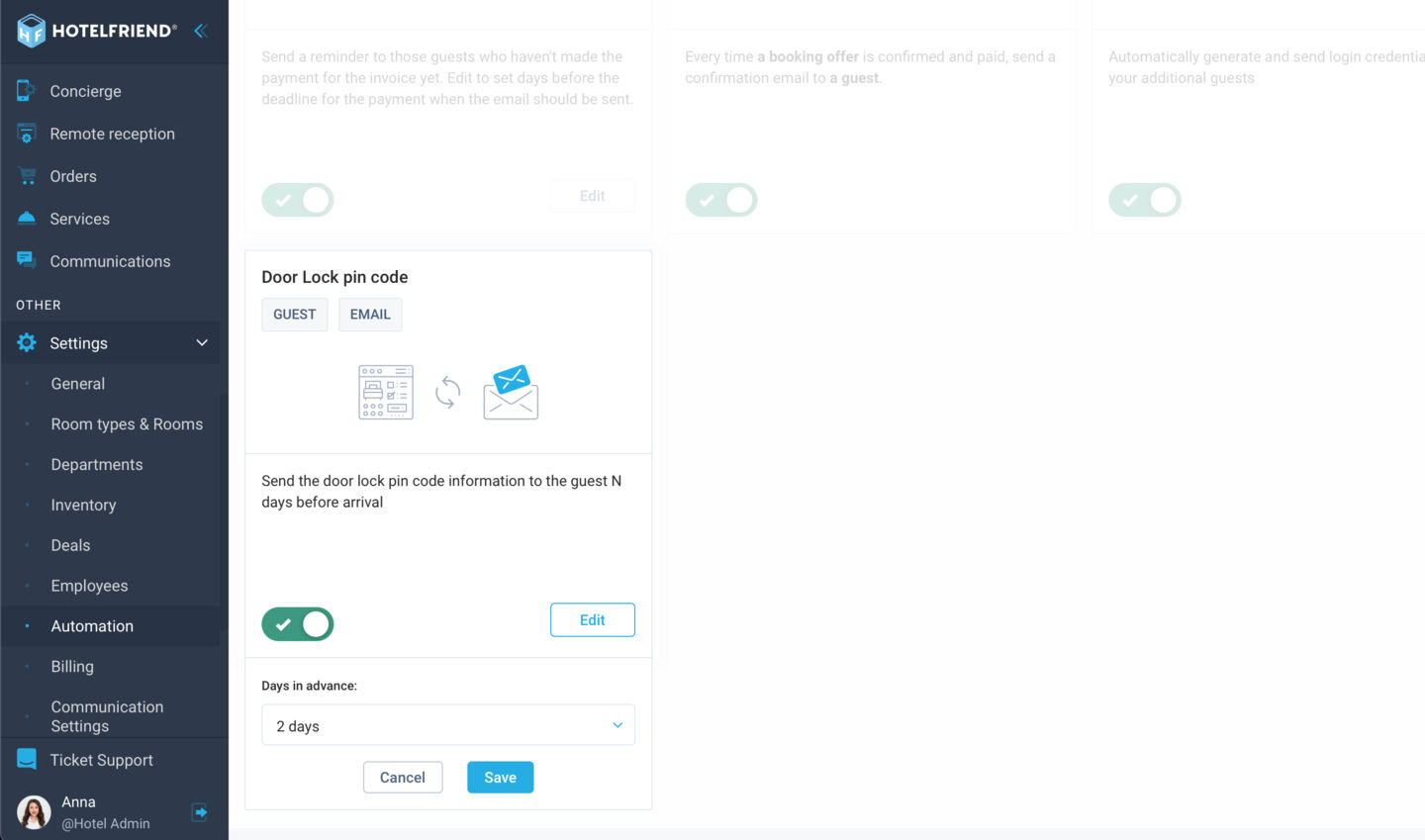 With this automation, you can effortlessly send a PIN code to your guests either a few days prior to their arrival or on the day of their check-in. All it takes is inputting the PIN into the booking card. This feature enhances guest satisfaction and offers a seamless and secure access experience without the need for integrating door lock system providers.
4. Customizable check-in and check-out timeframes
We've added an expansion of our Check-in & Check-out settings with the introduction of two new fields: "Check-in Time Till" and "Check-out Time From."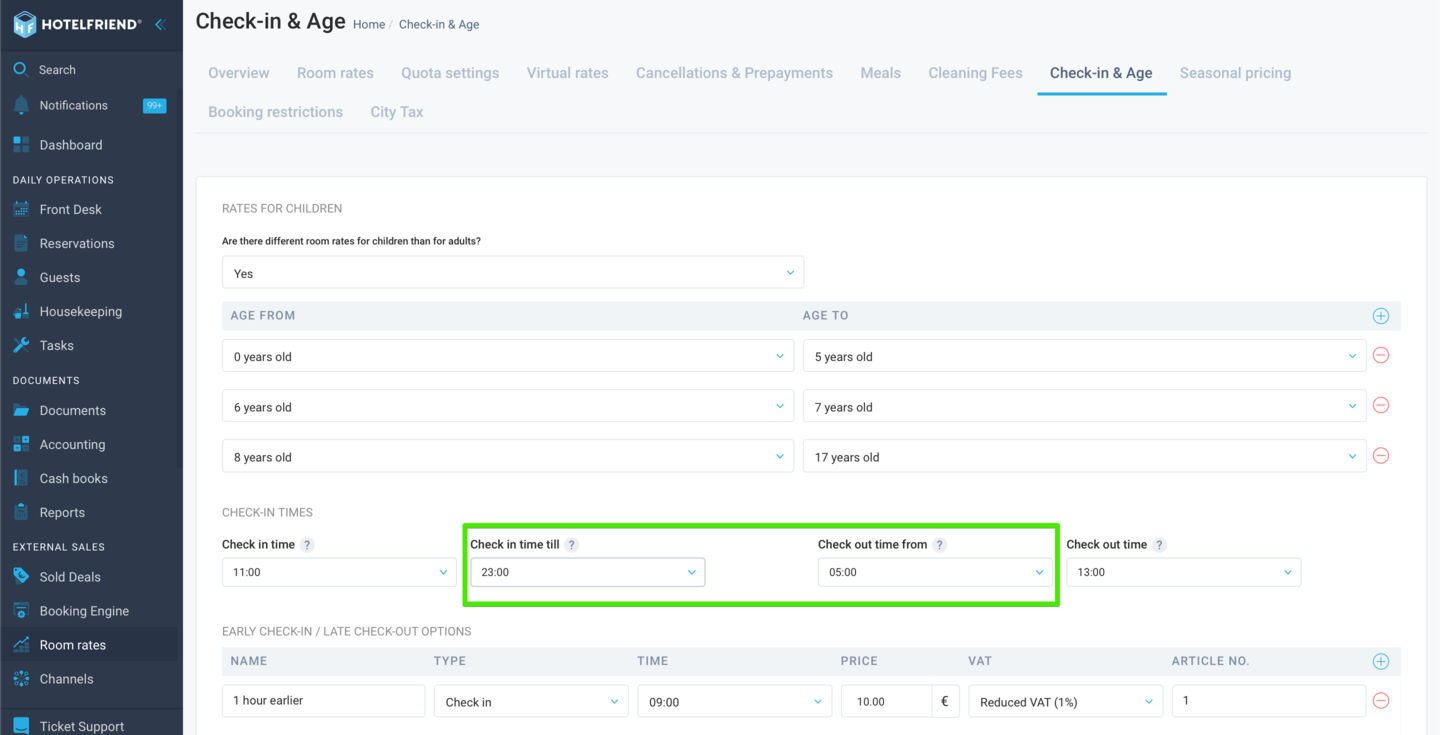 These fields grant you the flexibility to define precise timeframes for check-in and check-out, and this information will be seamlessly incorporated into your check-out confirmation and invoice emails in a clear "from-till" format. Your guests will appreciate the added convenience and clarity in their booking experience.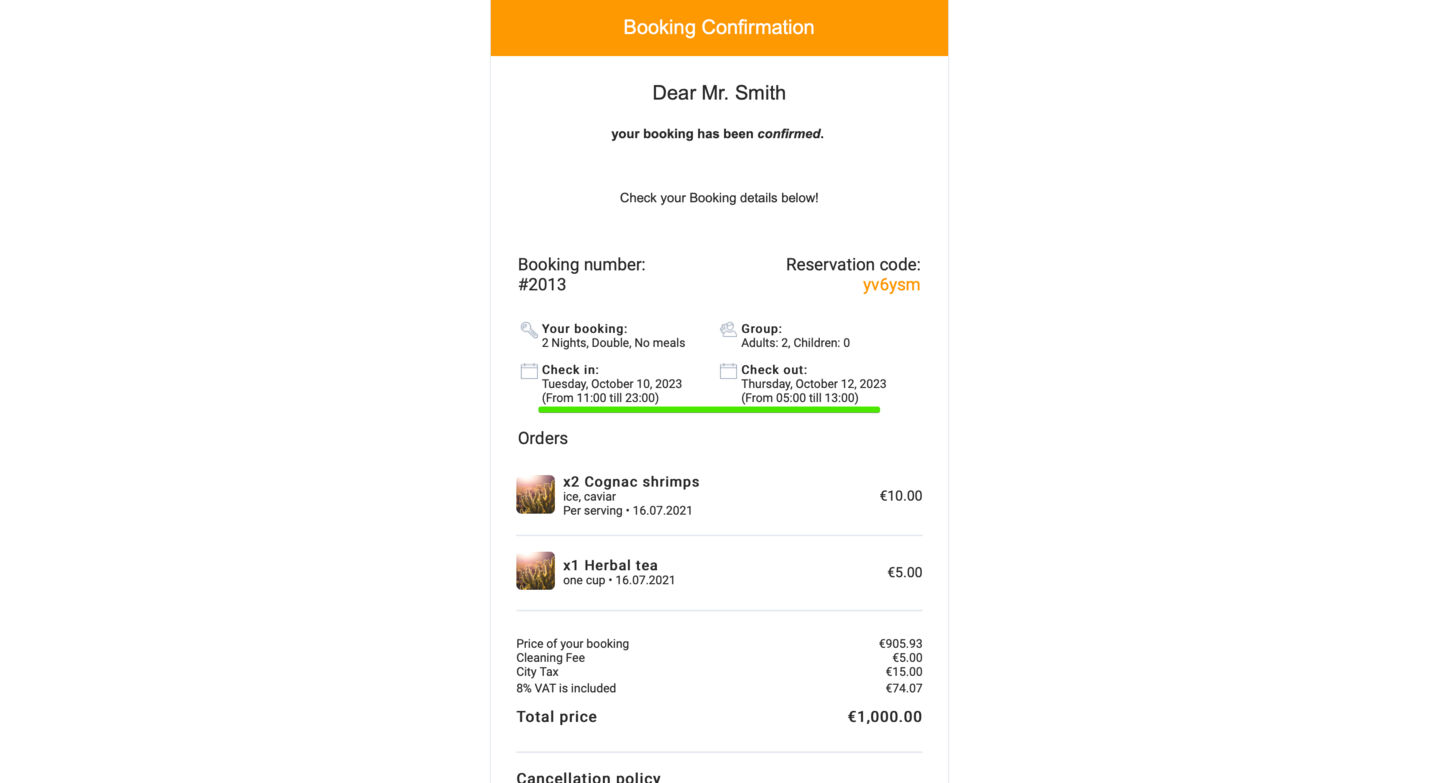 5. VAT settings enhancement
Meet an enhancement to our VAT settings within the General settings. We've introduced Discount Account ID fields to the VAT section, which are essential for many of our clients who rely on meticulous accounting and reporting.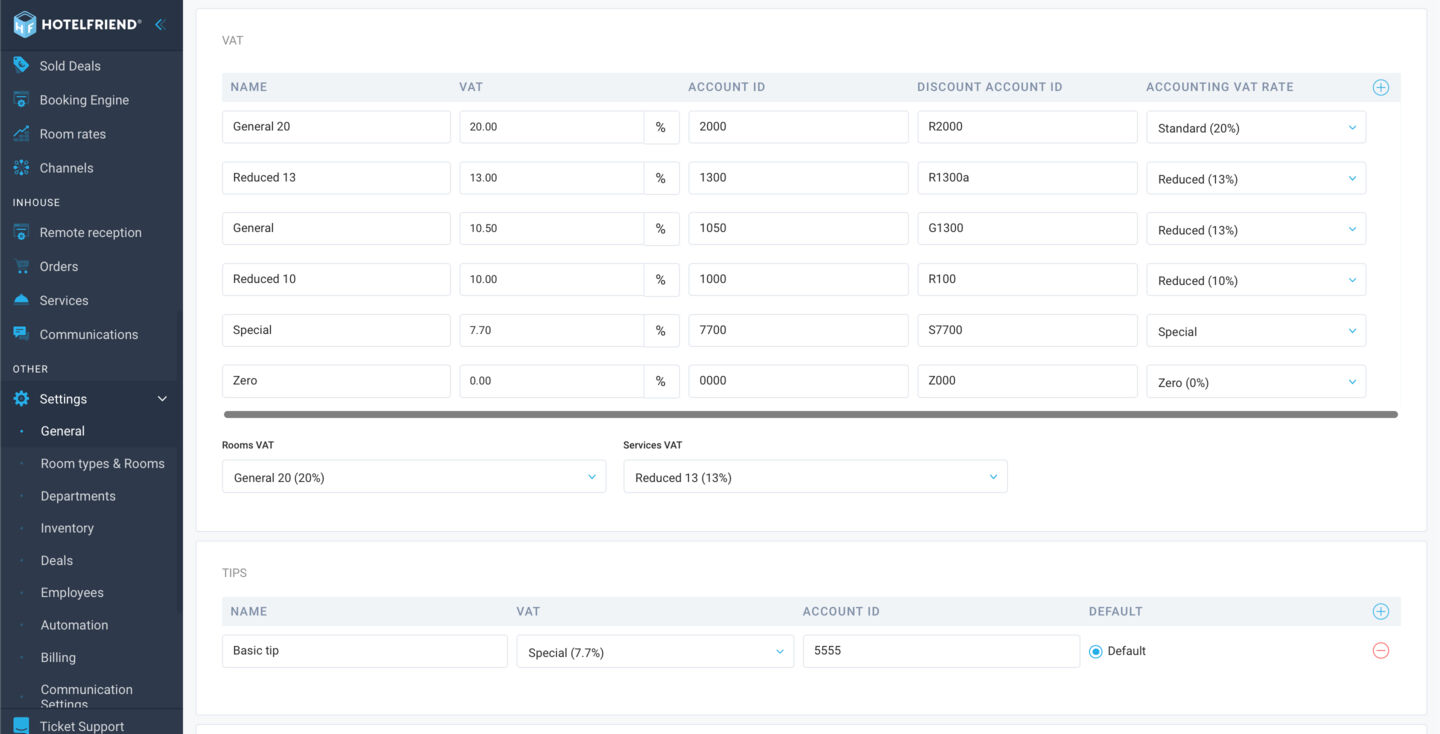 These fields enable you to seamlessly link specific Discount Account IDs with the corresponding accounting VAT rates, ensuring that this vital data is readily available and displayed precisely where you need it. This enhancement streamlines your financial processes, providing you with greater control and accuracy in your accounting and reporting tasks.
6. Improved DATEV format report
We're pleased to announce an improvement to our DATEV format report, ensuring greater accuracy in your financial reporting. This refinement now accurately displays tips and discounts, providing you with a more comprehensive and precise overview of your financial data.
7. More customization for the Booking Engine
This update empowers you with greater control over your Booking Engine settings. We've introduced a new level of customization, allowing you to decide whether to display the hotel location map on the Booking Engine according to your specific preferences. The choice is in your hands: the hotel location map can seamlessly appear or disappear on your Booking Engine, tailored to your unique needs.
8. Enhanced Info blocks in Concierge settings
We're introducing a series of enhancements to our Info blocks and Info pages in the Concierge settings. Designed to elevate the user experience and offer greater flexibility, they help to remove the need to set all translations at once and greatly improve user experience.
9. Improved "Connecting door" action
The "Connecting door" action is now improved. Now, when a hotelier connects one room to another, this connection will be reflected in both rooms for a seamless guest experience.
10. Fixes and visual improvements
We've addressed several issues to improve the system's usability:
a) Fixed issues causing overbooking after quota recalculation and corrected problems with room quotas related to "Out of service".
b) Accounting Reports: Fixed the Accounting Balance Report and F&B Management PDF downloading issue.
c) General UI: Fixed minor layout issues for improved usability and improved date selection in the built-in calendar.
d) Language Support: Resolved German translations in some email titles.
e) Modal Windows: Resolved validation issues in Cash Count and Create Invoice modal windows. Also, fixed Safari-specific issues in Create Invoice modal.
f) Fixed issues related to service creation, booking restrictions, and reservations import with the "Cancelled (Guest)" status.
If you have any suggestions or ideas on how we can further improve our offerings to better suit your needs, please don't hesitate to share them with us. Thank you for your trust and support!
Learn more about the System Get free trial
Author: