Time-limited special offer
A professional Bundle of must-have Hotel Property Management Tools that will simplify daily operations of any hotel.
Hotel Digitalization Offensive
Time-limited special offer
untill 25.05
Next Generation of Hotel Stay
Smart hotel software improving guest in-hotel experience
What software does a hotel need today?
Property Management System, Booking Button, and Channel Manager. But is it really enough?
There is a permanent basis to automate, perform, and manage your hotel. HotelFriend is happy to provide you with such customer journey.
Hospitality is about being welcoming, helpful, and comfortable for your guests.
Customers are getting used to increasing choice and personalization. HotelFriend is here to help you bring excellent hotel stay experience for your guests.
Thats why your hotel needs HotelFriend
Old processes in a new way
guest can extend
hotel can manage
Check-in, housekeeping, chat and more
Check-in, housekeeping, chat and more
guest can check in
hotel can manage
Seamless guest experience with online orders
guest can order
hotel can manage
Intuitive revenue stream management
Intuitive revenue stream management
guest can request
hotel can manage
Want to become your guest's favorite hotel?
Let us show how HotelFriend can help your hotel to be on the top.
Manage
Manage your rooms and departments in a cloud Property Management System.
Front-Desk Office
Empower your hotel with easy-to-use intuitive cloud technology. Manage your reservations, services rates, taxes, reports check ins/check outs at ease.
Guest Management
Keep track of your guests and save all the necessary information, including personal and passport data, contacts, social media profiles and more.
Department Management
All the departments at your hotel are in full view with HotelFriend. Manage and connect units in a real-time mode.
Housekeeping
Make your housekeeping more streamlined and regularized. Your staff will immediately know which rooms need to be cleaned.
Grow
Grow your hotel with the instruments to focus on what really matters.
Booking Engine
Just one button changes the strategy of your business. Sell rooms and services directly from your website.
Channel Manager
Seamless integration of Channel Manager to synchronize with all the major OTAs eliminates the risk of overbooking.
Central Reservation System
Combine personal reservations and the reservations from all existing sales channels. No need to duplicate information in every online sales channel.
Deal Manager
Unique deal constructor, which helps hotel to sell all services and rooms online by creating special travel packages for the guests.
Optimize
Optimize your performance to provide the finest experience travellers haven't seen before
Concierge
Concierge to give your guests everything they want in their smartphone — from a cup of tea to SPA or a concert ticket.
Fast Check-In
Stay mobile. Simply meet your guests and check them in automatically without the reception desk procedure and a long queue.
Analytics and Reporting
Indispensable module for any hotel to perform better. Clear and concise visualization of your key indicators.
Want to provide your guest with exceptional in-hotel experience?
Request demo for a complete tour of Hotelfriend
Hotel is not just a room...
but a service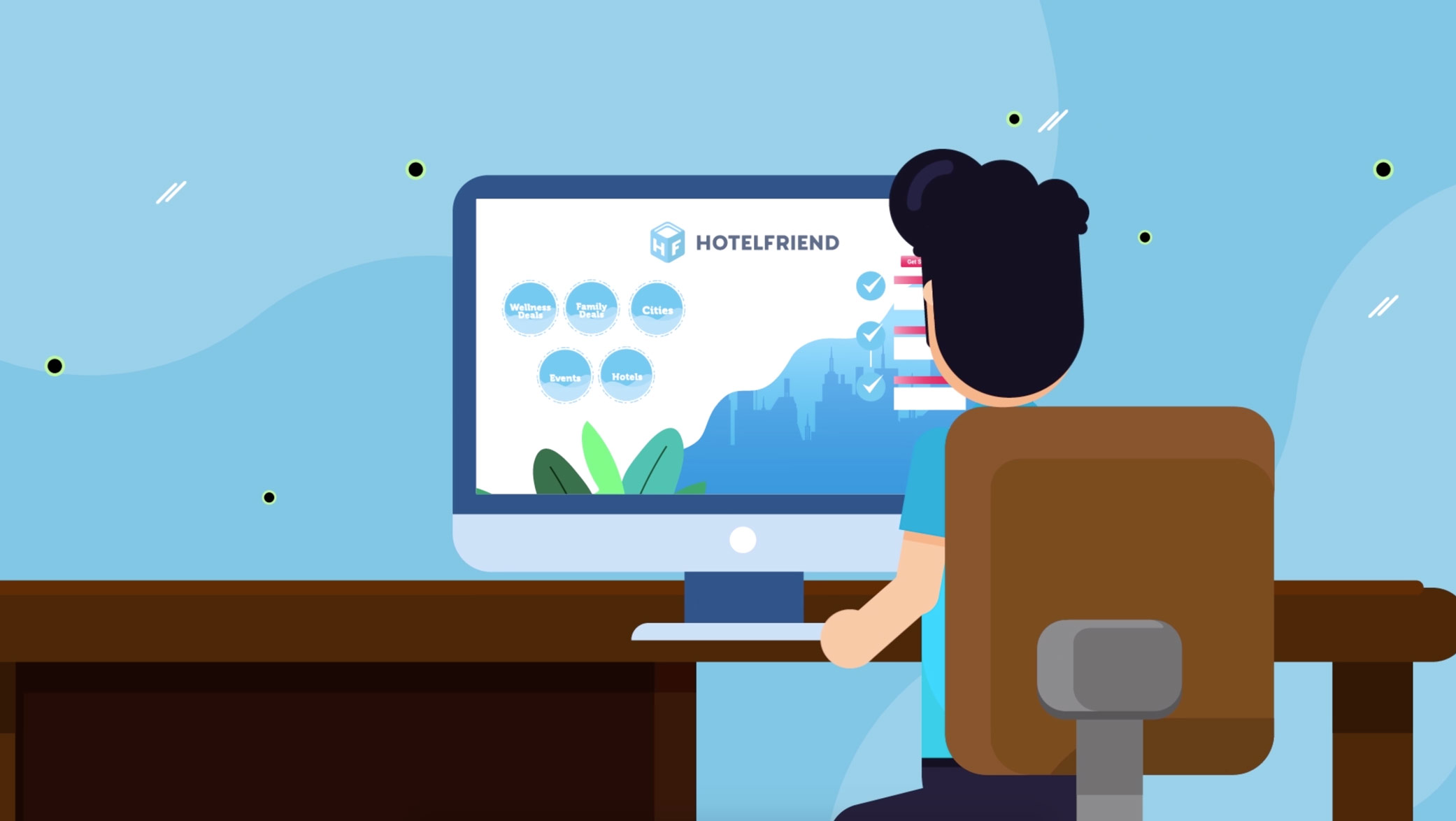 We are mentioned
Pricing
FrontDesk
Reservation Management
Rooms Management
Central Reservation System
Guest Management
Daily Reports
Concierge Portfolio
Light
Multiple Property Support
Invoice Management
Payments Management
Direct Chat
Department Management
Housekeeping Basic
Room Booking Engine
Booking Offer
Service Booking Engine
Concierge Room Service
Department Chat
Enterprise
from €699
per month
Pro
Company Booking
Fast Check-In/Check-out
Room Upgrade
Deal Booking Engine
Voucher Extranet
Manage. Grow. Optimize.
Upsell. Provide new level of in-hotel experience.
HotelFriend solutions
Features
Channel Manager
Service Manager
Fast Check-In / Out
Analytics & Reporting Hotel Portfolio