Digitalization Offensive: Core Management Tools for small & medium hotels
A professional Bundle of must-have Hotel Property Management Tools that will simplify daily operations of any hotel. Join now for a unique opportunity.
12 essential PMS features
regular price €99
Booking Engine
regular price €39
Package Composer
regular price €50
Hotel Guestbook App
regular price €49
• FREE ticket support and knowledge base • FREE 30 min. onboarding • ALL future updates included
We are launching a time-limited promotional offer as part of our Digitalization offensive for small and medium hotels up to 100 rooms, so they can manage and grow their business easily with effective instruments at an affordable and competitive price.
HotelFriend AG provides more than 10 ready-to-use products for Hoteliers on one platform developed by the same company.
Hotel Management Software is designed with no APIs, and comprises all products a Hotelier needs in each stage of Hotel Development. It is unique to have no APIs between the products, no hidden costs for updates and support issues.
A seamless process - simple and powerful.
Next Generation Of Hotel Stay
We provide software solutions starting from the opening of a hotel to its final digitalization.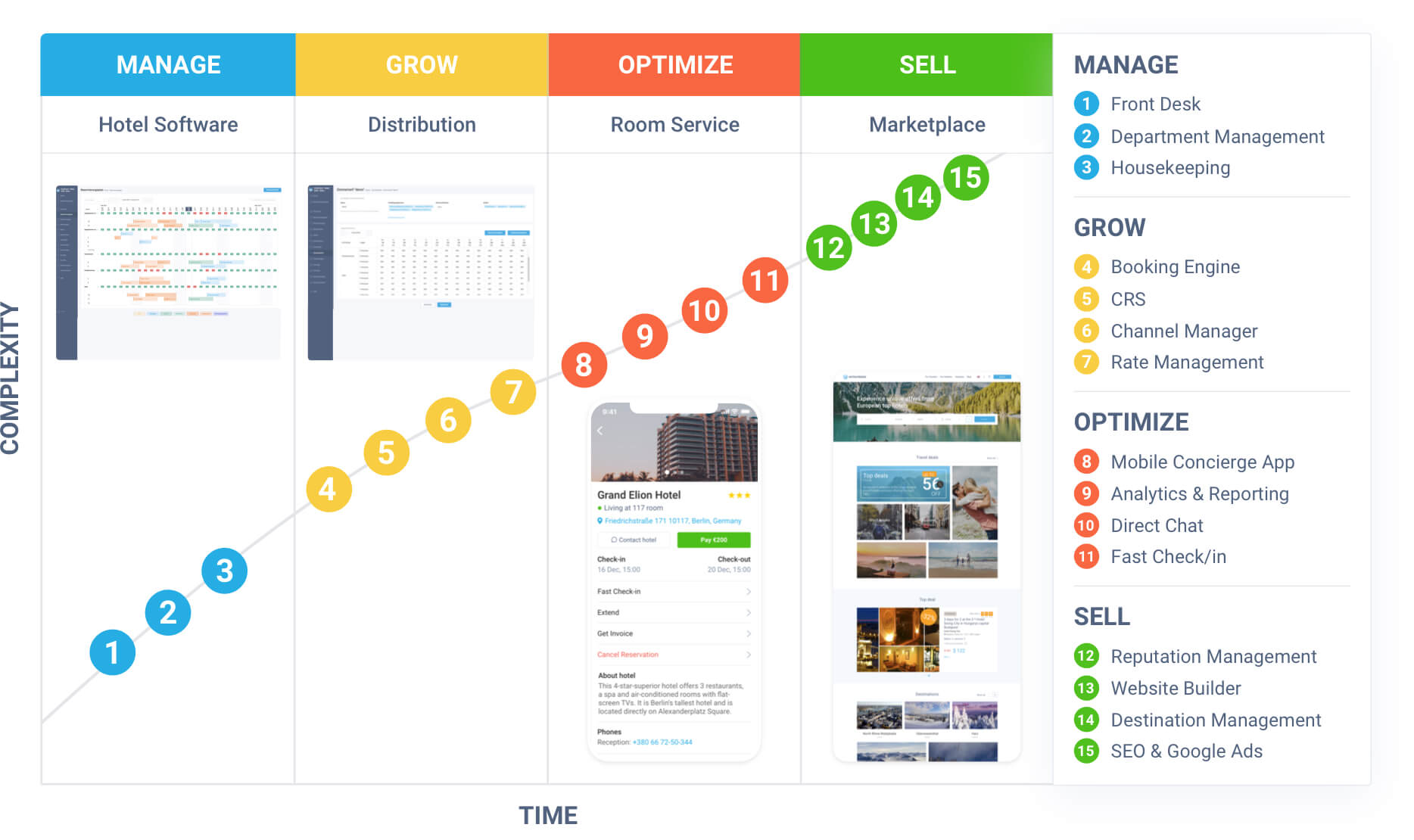 You can use HotelFriend products on every stage of the hotel development.
Smart hotel software improving guest in-hotel experience
Guest-oriented
Let your guests manage the whole hotel stay via smartphone - optimize your costs (live chats with reception, room/service booking, fast check-in/out, etc.).
Cloud
Easy access from any device and any location to the whole hotel ecosystem powered by Amazon. No sophisticated hardware needed.
Ecosystem
All-in-one solution that allows managing the whole business with 1 vendor instead of numerous.
Automation
Don't keep your guests waiting at the reception desk: use fast check-in feature, in-app guest payments, send invoices by email and much more.
No other software partners needed to satisfy hoteliers' key requirements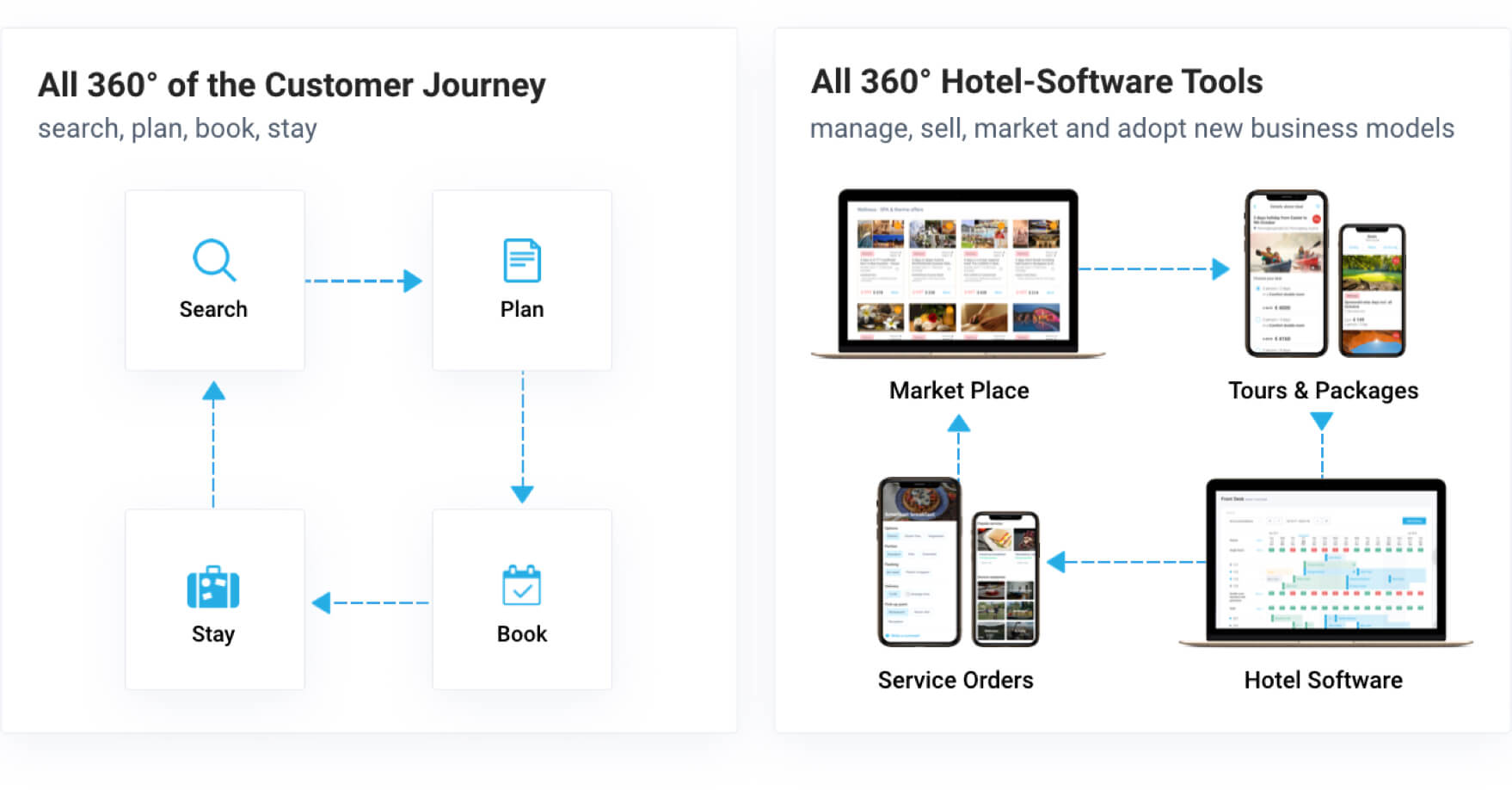 You do not necessarily have to change the management system you are currently using. You can also use HotelFriend products as building blocks and modules and close gaps in the digitization process.
It's simple and easy, the setting won't take longer than 10 minutes, and your guest will be satisfied.
What is included in the package
We offer cutting-edge Hotel Management features that any hotel needs on a daily basis.
12 essential PMS modules
• Front Desk
• Housekeeping
• Reservation Management
• Room Management
• Rate Management
• Employees Management
• Guest Management
• Reservation Form (+ Fast Check-In)
• Daily Reports
• Invoice Management
• Web Hotel info
• Booking Offer
Booking Engine
Simplifies direct reservation process and makes it more comfortable for visitors. The client can check available rooms in a special calendar, book accommodation just in several clicks, and also order services of the hotel and deals in advance.
It's a neatly designed button on your hotel's website encouraging your future guests to not only make a reservation but order various services to boot.
Package Composer
• Access to the Property Management System
• Full-fledged deal management
• Payments management by the hotel
• Direct booking
• Payment gateway
• Reservation Management
Hotel Guestbook App
• Be closer to your guests by premium level communications via App
• Reach guests faster and easier with your facilities, services and offers
• Reduce your telecom, IT, paper and POS costs
Fast editing and information updates independent of technologies used, third parties.
• FREE ticket support and knowledge base
• FREE 30 min. onboarding
• ALL future updates included
The purchase process does not take much time - just a minute and you will be able to use the platform establishing your hotel. You will be required:
1. Click "Buy now" button.
2. Enter your e-mail address and accept Terms & Conditions.
3. Enter the card details and make payment* (€49 or €99 - depends on your special offer).
4. When the payment is confirmed you will receive a message with the unique link to your new system on the specified e-mail address.
5. Use the link from the email, enter your credentials to log into the system.
6. Once you are logged in, you have full access to the tools from your special offer.
7. Set-up the system in according to your requirements and business requirements.
8. Enjoy your new hotel management experience.
Designed for hotels with guest experience in mind
WE ARE MENTIONED