Sep 18, 2023 6:28 PM
Recording payment transactions between a company and its customers has always been an essential part of doing business. To ensure that all transactions and information are stored in one central location, the point of sale system, also known as the POS system, has been used successfully.
POS systems are used today to streamline a variety of operations including cashless transactions, tracking sales and inventory levels, improving sales strategy through the use of analytics in hospitality establishments and restaurants, etc.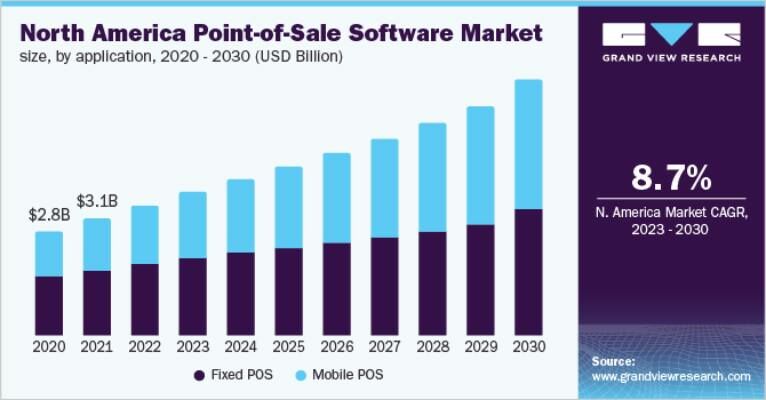 There are many POS options on the market right now, which can be confusing. However, to make your choice easier, we have compiled the most important information about the most popular point of sale systems in the hotel industry today.
What is POS software for hotels?
A point of sale (POS) system is a tool that allows your customers to pay for products or services while your hotel can accept payments. Every time they pay, they complete a POS transaction.
In general, they fall into two categories: traditional (traditional) POS systems and cloud-based POS systems, which we will focus on below.
What should be included in an effective digital POS?
A point of sale system usually consists of software and hardware components. The presence of certain parts or features in POS systems is usually conditioned by the needs of a certain business.
For example, a credit card reader is enough for a coffee shop, but a retail store will also need a barcode scanner and inventory management system. In the case of a hotel, payments can be accepted online via the Booking engine. And PMS synchronization with POS will help to store all the necessary information about the guests' preferences.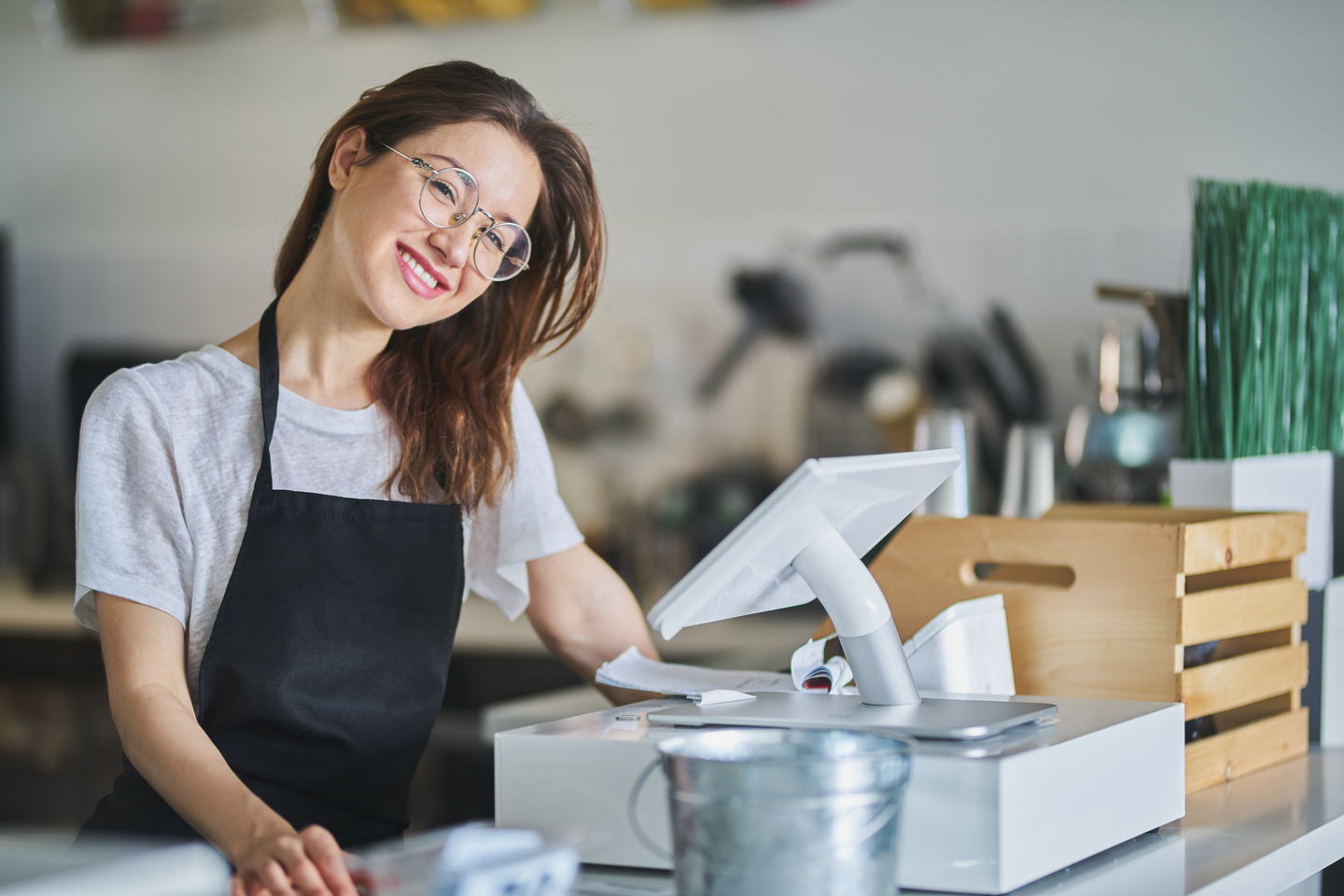 The most common POS hardware components include:
● Barcode or QR code scanner
● Touchscreen
● Keyboard
● POS terminal display (PC screen, tablets, or app for mobile)
● Credit/debit card reader
● Receipt printer
● Cash drawer
As POS technology has evolved, the functionality of traditional cash registers has expanded beyond just accepting payments.
The main features of efficient POS software today include, for example:
● access at any time;
● business growth;
● return policy;
● inventory control;
● quick checkout.
Today it is widely used in retail stores, but also in restaurants and hotels. In the hospitality industry, point-of-sale systems can be used to track sales and simplify bookkeeping. In addition, they are characterized by a number of advantages, such as increased efficiency, a high-quality inventory control system, and significant optimization of cashier operations. Numerous hotel owners emphasize that POS systems are beneficial for customer acquisition and accounting accuracy.
●

Billing and reporting functionality

so you can keep track of your sales, generate reports, and create quick overviews and charts of your performance.
●

Inventory management features

to keep track of all products so you can order or cancel the ordering of products on time, manage stock levels, track stock levels in different locations, etc.
●

Customer management features

to build close relationships with your guests and create business continuity, track all customer details, attribute a sale/transaction to a customer, track your guests' purchase history, and use email marketing to connect with customers, to keep in touch, and to create a loyalty program.
●

Employee management flow

to improve the performance of your employees, set sales targets and analyze who your top performers are, create and change schedules for employees based on forecast activity, and send closeouts to employees, their weekly and overtime hours to pursue.
●

Add-ons and integrations

to have a range of features to ensure you are not limited as your hospitality business grows.
Traditional vs Cloud-based POS Systems: Which to Choose?
Conventional POS systems usually store information in a local database and work on the basis of a closed network. Currently, they make up the largest part of the market with more than 70%.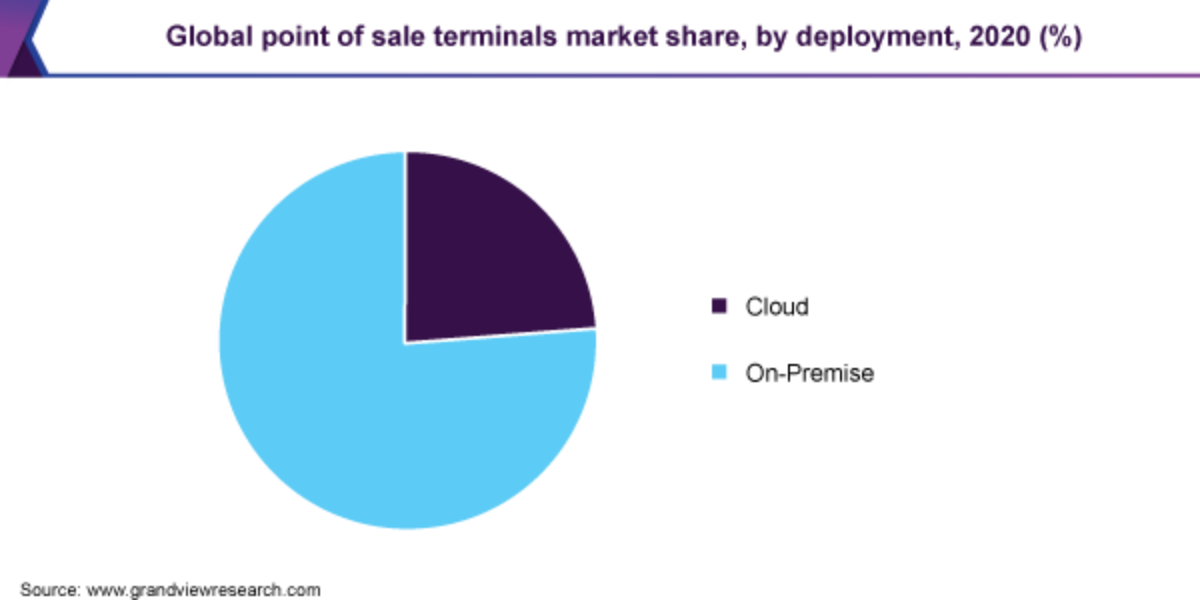 Source: grandviewresearch.com
At the same time, these systems are showing signs of obsolescence, which means that they can no longer meet some current requirements such as flexibility and accessibility anytime, anywhere. The latter two advantages are the main reasons for moving to the cloud.
Since the cloud-based POS software stores the data on an online server, there is an opportunity to access the information you need from different devices. Additionally, this type of POS systems comes with easier inventory management and a high level of security.
| | | |
| --- | --- | --- |
| | Traditional POS | Cloud-based POS |
| Where is information stored? | ❌ On certain computers | ✅ In the cloud |
| Access to the information | ❌ From a local computer | ✅ From any device |
| Costs | ❌ High one-time payment | ✅ Low payments once a month/several months/year |
When choosing a POS system, it is important to learn about the common characteristics that are listed below.
The Best POS Software: Which Hotel POS System to Choose in 2023
The best hotel POS systems can turn your everyday activities into seamless tasks. Here are different types of software you should know about:
Eucasoft
Website: www.eucasoft.de
Whether you run a small bar or a chain of restaurants in different locations, EUCASOFT can be a great POS system for your business. In addition to supporting the ordering process, the German software offers the opportunity to improve the catering system as well as the information and administration systems.
Nowadays there are several versions of this POS system that you can use for your business. It is recommended to analyze your daily needs to determine the most suitable software for you.
Originally, this POS system was developed by a German provider called Itas to meet the needs of the hospitality industry. If you choose a specific version of EUCASOFT, you can also take advantage of this software with the help of additional modules, that offer support for:
● Bar code readers
● Terminals (Android or iOS devices with access to Google Play or App Store)
● Wireless ordering terminals (with an optional belt printer and card reader)
● Cash book module with DATEV accounting
● Cashless payments via EMV-compliant electronic reader
● Receipt printers
● In-house customer loyalty system
● Hotel management software integrations (HotelFriend, Micros Fidelio (min. Suite 8), Velox, Protel, Hope, ASA)
● Kitchen monitor
● Coffee machines & electronic dispencing systems (WMF, Trippen, Hogaton, Reisenzaun)
It is also possible to centrally manage several branches with EUCASOFT Backoffice. By switching user interfaces, you only access the key fields that are actually needed for a specific task. The clear design of the interface avoids sources of error that can significantly impair the quality of the services provided.
As an innovative booking and information system, EUCASOFT is known across Europe for a mix of different benefits, including:
Simple entry via touch display
Intuitive and simple operating concept
Remote maintenance
Warehouse management (RopIT and others)
The opportunity to save valuable time for your staff through the short training period
GoBD compliance
As Itas has competence centers throughout Europe, this company successfully serves the international market.
Vectron
Website: www.vectron-systems.com
From the point of view of the German-speaking region, Vectron is one of the best European manufacturers of POS systems. In fact, almost all sectors and company sizes can fall back on an extensive range of POS systems and peripheral devices from Vectron. For example, UK cinema chain Odeon Cinemas and Prague Airport rely on this system to keep momentum going and generate quick sales.
As the market leader for the hospitality and bakery trades, Vectron has hired almost 180 employees at its Münster headquarters to improve research and development. This means that numerous highly qualified professionals regularly take appropriate measures to improve this system.
A total of 25 years of experience has helped Vectron develop the ability to increase sales, make operations more efficient and simplify control. In addition, this system is known for other benefits, such as:
● Accurate hourly reporting
● Multiple layers of cashier security
● Low failure rate
● Reduced paperwork (receipts can be issued digitally)
● Custom program and faster operations
● Improved customer care and satisfaction
● Native hardware
● Possibility to launch it on any device
● Special POS solution tailored to Apple devices (posmatic)
● Support of cash and card payments
● Connection to various software interfaces (hotel management, event management, ERP, etc.)
At the same time, it is important to note the main features of Vectron before choosing it as the POS system for your company. For example:
Vectron has multiple terminals including waterproof and handheld terminals.
This system's mobile app can be used by both Android and IOS owners.
There is a wide range of prices depending on the type of subscription you choose. If you have a small business, you can save money by choosing a basic package of services.
Whether you work in a bakery, hospitality or hotel, you can use Vectron in different areas.
If you want a direct line to the company's support network, you can use the bonVito loyalty program.
Gastronovi
Website: www.gastronovi.com
If you are looking for a flexible cloud-based POS system that is intuitive to use and quick to manage, you should definitely look into Gastronovi. Today, this system stores all required information with daily backups on servers located in certified German data centers. The company, headquartered in Bremen, has been fulfilling its tasks since 2008.
The major features of Gastonovi POS include:
● Checkout system for service and kitchen
● Real-time table reservation overview
● Automatic generation of multilingual food and drink menus
● Employee time tracking module
● Digital kitchen monitor
● Daily analysis of cash register data
● Real-time overview of sales per location/branch
● Individual voucher and discount card creation
● Self-ordering system extension
● Central administration of multi-sized businesses
If you choose Gastronovi as the main POS system for your company, you can benefit from the following advantages:
Intuitive operation, which can help you reduce staff training time as the interface of this cloud-based POS system is very user-friendly. Therefore, your staff can take the order and forward it directly to the appropriate unit without additional help.
Flexible billing processes as the system can be used to improve billing software. For example, with this POS system it is very easy to work with cancellations and invoice splitting.
Efficient installation as it can be easily installed and integrated into your existing system. Also, there is no limit to the number of devices that can be connected. This means that you can access your company's data from anywhere and at any time.
In the hotel industry, this cloud-based system can be used to settle all charges directly in the guest's room. This improves the quality of all operational processes.
Hotel POS systems compared
Based on information from SoftwareSuggest.com, Hotelhero.tech and the companies' websites, we have created a comparison matrix of the above POS systems:
HotelFriend

EUCASOFT

Vectron

Gastronovi

Features

-ISO-certified
-In-built TSE interface
-GDPR-compliant
-Export to DsFinVK
-Reservations Management
-Booking Engine
-Billing & Invoicing
-Employee Management
-Order Management
-Multilingual Digital Menu
-Deal Manager
-Reporting & Analytics
-GoBD Accounting
-Online Ordering
-Mobile Access
-Multi-currency support
-Split function
-Transfer function
-Built-in marketing and promotion tools
-Third party integrations

The list of features depends on the package you choose.
The basic package includes:
-Waiter identification
-Waiter time recording
-Split function
-Transfer function
-Change of supplements
-Many payment methods
-Statistics
-Currency control
-Multilingualism
-Print forms
-Back office connection
-PLU/tandem items

-Reporting
-Web reports & analytics
-Specials and combos
-Automated inventory control
-All payment types supported
-Bar tab setup
-One-click bill splitting
-Remote printout to bar/kitchen/barista
-Mobile POS tablets for orders
-Loyalty card management
-Built-in marketing and promotion tools
-Third party integrations
-High level of security

-Stock Management
-Stock Control
-Table Management
-Delivery Management
-Employee Management
-Point of Sale (POS)
-Billing & Invoicing
-Reservation Management
-Gift Card Management
-Kitchen Management
-Menu Management
-Waiting List Management
-Built-in Accounting
-Online Ordering
-Mobile Access
-Separate Checks
-Split Checks
-Tips Management
-Reporting/Analytics
-Loyalty Program
-Cash Drawer Management

Support

-Email -Phone -Zoom call -Ticket Support -Ongoing Staff Training -Coaching Events -Personal Marketing & Sales Assistance

-Email -Telephone -Training

-Email -Telephone -Live Support -Ongoing Training

-Email -Telephone -Live Support

Type

Cloud-based

cloud

cloud

cloud based

Languages

English, German, French, Spanish, Georgian, Italian, Polish, Chinese, Romanian, Thai, Ukrainian, Russian, Czech

-English -French -German -Spanish

-Spanish -German -French -Dutch -English

-English -French -German -Italian

Free demo

✅

❌

❌

✅

Supported
hardware

✅ Barcode scanners
✅ Touchscreens
✅ Customer displays
✅ Cashless payment infrastructure
✅ Keyboards
✅ Receipt printers

*via integrations

✅ Barcode scanners
✅ Touchscreens
✅ Customer displays
✅ Cashless payment infrastructure (Europay, Mastercard, Visa)
✅ Keyboards
✅ Receipt printers

✅ Barcode scanners
✅ Touchscreens
✅ Customer displays
✅ Cashless payment infrastructure (Europay, Mastercard, Visa)
✅ Keyboards
✅ Receipt printers

✅ Barcode scanners
✅ Touchscreens
✅ Customer displays
✅ Cashless payment infrastructure (Europay, Mastercard, Visa)
✅ Keyboards
❌ Receipt printers

Portable version

✅

✅

✅

✅

Offline mode

On demand

Available: all important data is stored locally on the device

Available: 100% offline capability

Available: has an integrated offline mode, stores data centrally

Supported devices

PC, tablets, terminals, smartphones

PC, tablets, terminals, smartphones

PC, tablets, terminals, smartphones

PC, tablets, terminals, smartphones

Operating system

PC: Windows, Linux, macOS
Mobile: Android, iOS

PC: Windows 10 Mobile: Android, iOS

PC: Windows 7 or higher
Mobile: Android, iOS

PC: Windows 11/10/8/7, Linux, macOS
Mobile: Android, iOS

iPad, iPhone connection

iPad and iPhone connections are available

iPad and iPhone connections are available

Provides POS software (posmatic) designed specifically for Apple devices such as iPad and iPod

Runs on iPad, iPhone, MacBook

Export to Excel

Import & export to Microsoft Excel is available

Export to Microsoft Excel is available

Vectron Commander allows processing data into clear performance graphics via an interface to Microsoft Excel


Import & export to Microsoft Excel is available

Inventory management system connection

HotelFriend supports connection to inventory management software

EUCASOFT supports connection to inventory management software (RopIT) and provides free interface for other merchandise management systems

Vectron has a fully integrated inventory management module

Native Gastronovi Office MeMa extension helps to keep track of articles and inventory in restaurants

GoBD compliance

✅

✅

✅

✅

Specs

The HotelFriend POS allows users to receive payments instantly, process them and return them in a few clicks.

Keep under control all the documents concerning the consolidated reporting (daily balance, sales report, cash flow report, check-in / check-out list, account balance, etc.).

Individually expandable via optional modules

Remote maintenance via Teamviewer
Cash register friendly

Provides various software interfaces matching specific business needs, including ERP

Possibility to issue digital receipts via Mobile App

Offers a keyboard-optimized interface and various modules tailored to the catering industry

Mobile App allows to accept all common cashless payments and supports voucher management

Payment

Monthly / yearly subscription (20% annual payment discount)

One-time payment for each module or version (with a possibility to upgrade from basic package to full license)

Monthly / yearly subscription

Monthly / yearly subscription
Each of the above POS systems offers a wide range of features to help your hotel meet all hotel management challenges. Still, it is better to opt for a system that is part of the Property Management Software (PMS) or that easily integrates with a third-party PMS.
The benefits of the Mobile POS System by HotelFriend
The HotelFriend Mobile POS is software for accepting transactions, seamlessly integrated into a native PMS. Thanks to the perfect connection between the point of sale and a hotel management system, guests can quickly and easily pay for anything in the hotel.
Reservations, drinks, or massage services – all this can be purchased at any time and directly from the client's smartphone. The guest can also pay the ultimate bill during check-out without having to spend any second of their precious time at the reception.
Since Mobile POS uses cloud technology, what you need to get started with fast payments is a smartphone and a stable Internet connection. In addition, Mobile POS by HotelFriend has a number of other advantages, such as:
It requires minimal costs
The best feature of mobile POS is that it works on portable devices like smartphones or tablets. In the meantime, for traditional point of sale, you need to get a full hardware infrastructure, which includes receipt printers, customer displays, swipe machines, etc. All this involves high costs for both the installation and maintenance of software and hardware components.
When it comes to HotelFriend, the costs for software usage are minimal due to subscription-based pricing. In addition, there is no need to worry whether it will comply with the brand new requirements, such as the latest GoBD principles. You can update the system over Wi-Fi, adapting it to new regulations in the field of taxation without any extra fees.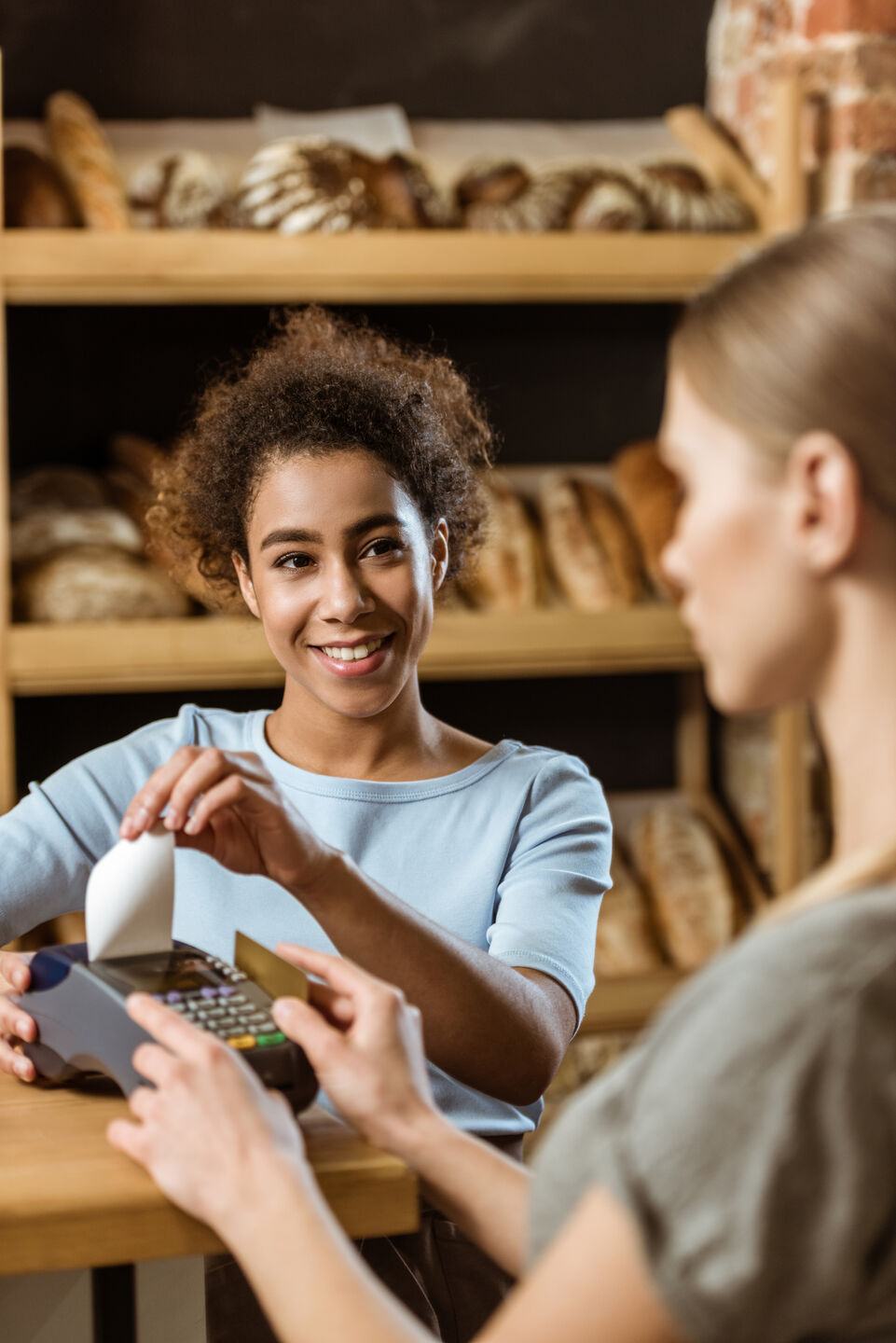 It is easy to install
One of the main benefits is that implementing a mobile point of sale in a hotel does not require much time and effort. All you need to set everything up and running is to suggest your customers download the Concierge app and let them enjoy all perks of instant payments.
In addition, the app allows guests to take full control of their stay, as they will be able to order food delivery, reserve a table in a restaurant, extend a booking, or communicate with staff – all that is possible with HotelFriend App.
It has a smooth integration with existing POS
In case you already have a traditional POS in place but want to enhance its functionality, the HotelFriend POS-PMS bundle is compatible with the options listed above in our comparison. Thus, you can expand the capabilities of existing software without a tiring and time-consuming switch from one provider to another.
It can backup sensitive data safely
All information about payments and sensitive customer info is securely protected with encryption and can only be accessed by you. This way of storing data is safe not only from possible third-party access but also from hardware failure. With all the data stored in the cloud, there will always be a backup, which you can access at any time from any computer, phone, or tablet.
It is tailored to the hospitality industry
Unlike many other popular POSs, HotelFriend's solution was developed specifically for the hotel and restaurant industry. It integrates with accounting software and also helps you to provide guests with personalized service.
In addition to payments, the application has a built-in ability to make an independent check-in, extend the stay or contact the staff. All this improves the speed of service in the hotel and increases the number of sales.
Mobile POS by HotelFriend makes it easy for hotels to accept cashless payments on the go. However, it also goes above and beyond that, providing enhanced customer service, security, and even successful upselling.
What you need to know if you want to implement a POS system
Having tools like a POS system lets your hotel stay competitive. Thus, the purchase of a cutting-edge point of sale is one of the most important investments for your business development.
Once you've decided on the type of software you need, the suitable price, and the provider, the next step is to properly connect it to your hotel ecosystem. Here are the two scenarios of how this might happen:
1. Setting up the POS system from scratch
Are you setting up a point of sale system in your hotel for the first time and have not had such software before? In this case, choose a provider that ensures integration with your Property Management System, as you already know that it needs a flawless connection to your billing and accounting modules.
The absence of a seamless connection between POS and PMS will most likely result in billing errors, lost invoices, and delayed payments. All this can lead to unnecessary hassle. In this case, the best option will be to choose the hotel management system with a built-in POS software that supports contactless payments both via website and app.
2. Switching from one POS system to another
In case you are switching from one POS system to another, things are getting a bit more tricky. The following options are possible here::
● If you're switching from a legacy system to a cloud-based system
Despite the fact that you've probably put a lot of money and effort into your legacy POS, sooner or later there will be a moment when you'll need to change it. Most often, the reason for this will be that the system is difficult to use, that your digital assets need a cloud backup, or that the system has become too expensive to maintain.
If you realized that your business needs to upgrade an outdated POS system to a more advanced version, here is a general description of how it can be done:
1. Export data from legacy POS and save it locally
Most vendors allow you to export important data such as inventory, customer information, and invoices. As a result of data export, you will receive a file in XML, CSV, Excel, or any other format that is usually supported by POS software. After saving such files on your computer or cloud, make sure that no one except you has access to them.
2. Import data to cloud-based POS
Install and run your new POS software. After you register an account, you will be able to upload the data that you previously saved in one of the file formats.
3. Reach out to the support team to get assistance
In any case, the most correct and efficient option would be to contact the customer support of the provider you are switching to. Experts will help you at any stage of connecting the system and importing data. You can get help both in live chat and through a direct call.
● Switching from one modern system to another
In this case, before installing a new cloud-based system, check if the new and old POSs are compatible. Usually, the transition from one cloud system to another is fairly painless. However, before choosing the new software, consider what integrations you need, how much you are willing to invest, what hardware it is compatible with, and make a checklist of necessary features to make the right decision.
Some other things to keep in mind:
● Decide on POS payment methods that you need
When creating a list of required POS features, you'll also need to consider what payment methods it should support. Here are the main types of payments that your business may need:
Cash – this is a classic form of payment accepted by any business. It is quite convenient in situations where clients need to pay a relatively small amount of money for several goods. This payment method is suitable for small businesses and may be convenient for the customer, as it doesn't involve any commissions from the bank.
However, it does not offer great flexibility, leads to a higher risk of theft, and can be involved in the transmission of diseases such as Covid.
Contactless payments (credit/debit cards, digital wallets) – this type of payment is one of the most popular today and is used in restaurants, supermarkets, online stores, hotels, etc. All thanks to its flexibility, since the contactless payment can be made both at the hotel on the spot, as well as on the website or through the application.
This type of payment is safe, secure, and convenient. But it does not work offline, and sometimes there might be situations when hardware malfunctions are possible.
Split payments – this type of payment is related to both electronic and cash payments. It can be possible if the program provides the ability to split one invoice for different guests and for different types of payment.
Loyalty program vouchers – this method allows guests to pay for services or stays within the framework of loyalty programs. It's not as popular as other payment methods, but it can encourage customers to spend more and transform more of them into repeat clients.
● Search for the POS system with a trial version
To make sure your new POS software is right for you, look for providers that offer a free trial. During the trial period, you will be able to understand whether all the functionality suits you, and you'll not risk your money. In case the system doesn't turn out to be what you expected, you can end your trial without sacrificing business continuity.
● Follow the main POS maintenance rules
In order for the POS system you have chosen to serve you longer, follow the basic rules of maintenance:
✅ Train your staff on proper usage of the chosen system
✅ Run system scans regularly
✅ Back up all important data
✅ Update your software daily
✅ Wipe down and clean hardware components
✅ Only use fingers to input the information via touchscreens
✅ Keep track of cables and power cords for wear and tear
Conclusion
POS systems play an essential role in business development as they contribute to better customer service and reduce revenue loss. With the many POS systems currently on the market, you should make sure you choose the best POS system to grow your business in terms of the accessibility, analytics, and integration that each system offers.
Regardless of which system you choose, the HotelFriend software can be connected to any of these systems if required. In addition, we offer Mobile POS for hotels, which is compatible with any portable or desktop device and requires no installation. Other than that, you don't need any equipment, special gadgets or POS terminals whatsoever.
With our software you can sell to a large target audience, improve their sales streams, eliminate missed orders, gain full control over the ordering or delivery processes and much more. Meanwhile, your customers can instantly access any of your services or offers and pay for them without registration and lots of hassle.
We hope the above will help you make informed decisions!
Author: