May 25, 2022 9:40 AM
Keeping track of the technology trends may be a challenging task for hoteliers. There are too many things that require your attention on a daily basis. From hiring staff to resolving guests' issues, you typically have a lot on your plate.
Yet, knowing which technology to use can really help to reduce huge amounts of workload. This leads to operational efficiency, which, in its turn, will get you a higher income. If this is your goal, we're here to explain all the ins and outs of the core tools for hotel management.
We've already covered the topic of choosing the best POS system for your hotel. Now it's time to find out how to make them work as one with the PMS.
This will allow you to accept payments both online and in cash, providing your guests with an impeccable buying experience. Want to increase your average guest check? Let's see how to boost it with technology!
Understanding the difference between POS and PMS
Such acronyms as PMS and POS may already sound familiar to you. While they appear to be alike, there is a huge difference between them. One is responsible for the smooth running of your property. The other takes care of the financial side of your business.
There is no need to be a tech guru to figure it all out. This general info will be enough for you to get started:
● PMS stands for "Property Management System" and its main role is to help manage reservations in hospitality businesses, such as hotels, hostels, B&B's, etc.
This is a whole set of programs that allows you to receive bookings and organize daily operations. It helps to manage check-ins, housekeeping, guest information, accounting, billing, and more. Basically, this is the heart of all your hotel operations.
The key features of a good PMS include:
• Front desk and back-office management
• Inventory & listings management
• Rate management, marketing, and so on
● POS stands for "Point-Of-Sale" system and its main function is to help you receive payments for products or services you provide. This is a combination of software and hardware that is used to centralize your financial operations.
Each time your guests make a purchase, they complete a POS transaction. You can let your guests pay for their SPA treatment via a terminal with a credit card. You can also receive money in cash or as an online transfer. All these kinds of payments are POS transactions.
The main features of any efficient POS system include:
• Billing & order processing
• Generation of invoices (digital or in print)
• Sales monitoring & real-time reporting
As you see, these are two different systems that complement each other in your daily workflow. While PMS is what helps your business to run with no disruptions, Point-Of-Sale is the means of obtaining profit.
There are many types of POS on the market. But we'll mainly focus on flexible cloud-based solutions that can easily integrate with your hotel management system.
What value for your business do they have
There is a high chance that you already have both a property management system and POS system in your hotel. There is an even higher chance that they don't really work together. Why is it important?
Well, successful integration between your Hotel Property Management System (PMS) and Point-Of-Sale system (POS) has deeper value than just managing transactions. It helps you make the process of keeping track of guests' payments streamlined and accurate. If these systems work separately, both you and your clients are at risk of losing time and finances.
Among the top benefits of seamless integration between POS and PMS, there are:
✅ Enhanced guest experience
✅ Accurate reporting
✅ High security standards
✅ Improved payment control
✅ More upselling opportunities
When your guests pay at multiple touchpoints like a gift shop, a spa, a bar, or a restaurant, you definitely want to have a clear picture of your overall business performance. Seamlessly integrated systems ensure connectivity between numerous departments, improve performance and provide the ultimate experience to your guests.
This connectivity between the restaurant, room service, and wellness department will allow you to form a complete invoice with all the purchases made by guests. Without a need to always have their credit card with them, your guest will feel more freedom. At the same time, they will have an impression of spending less, which is a good prerequisite for upselling.
Making POS and PMS "talk" to each other
Why do we think that cloud-based POS is your best fit? That's because, in 2021, the Cloud Point of Sale (POS) Market exceed $3 billion. And it is expected to reach over 20% of a compound annual growth rate from 2022 to 2028 across all industries including hospitality.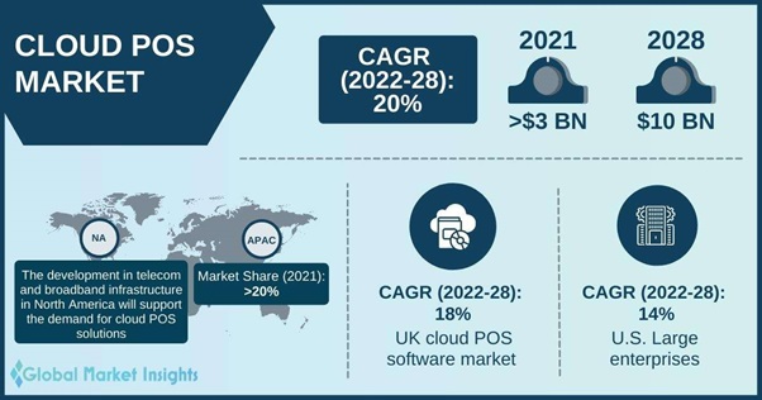 Source: bit.ly
The cloud-based and mobile POS solutions have gained this traction as they are cost-effective and don't require installation. Other advantages include remote access, affordable pricing, security, and sales management.
Cloud-based systems are flexible and can be used even with your existing software such as a computer, tablet, or smartphone. This way, you get more functionality for less money, and integration with third-party software allows you to meet your specific business needs.
Let's see how PMS and POS are meant to work together. There are three main action points:
1. First, your POS "asks" PMS to make a charge.
2. Then, the PMS system matches the guest card with the room number in the database.
3. Finally, PMS assigns the charge to the respective guest account. The guest will have to pay for all the services with one transaction during checkout.
If these two solutions are not integrated with each other in your system, prepare for chaos. Each of your departments will have to manually send invoices to the front desk. This leads to a high risk of mishandled charges and a spoiled guest experience.
With HotelFriend, you don't have to worry about how to connect POS and PMS or sync your PMS with outside software by developing API connectivity between all digital tools. Our all-in-one products and integrations work perfectly from the start supporting your daily operations and eliminating connection problems.
How it works in HotelFriend
It is traditionally thought that connecting legal PMS and POS systems is complex and expensive. However, in HotelFriend, we've already taken care of that for you. Thanks to our in-built mobile POS and ready-to-go integration with Gastronovi and fiskaly, it became easy to keep your hotel's transactions correct, protected, and legally compliant.
Here are more details on integrations that work best with our system:
1. HotelFriend's in-built Mobile POS – a solution that turns guest smartphones into portable points of sale
Mobile Point of Sale software (mPOS) has become a huge trend in the hospitality and retail industry. According to Statista, the average mobile transaction value in the US is expected to grow from $7,000 in 2020 to $11,755 in 2025. The possibility to pay with a smartphone is now considered a "new normal" across the industries.
HotelFriend's Mobile POS allows your guests to place orders and pay via an App from any device. You can accept online payments from customers and process them with our cloud-based POS. This is a native solution that flawlessly works with a property management system. You can be sure that your daily operations will be fast and smooth.
Here is how you can improve your income flow with mPOS:
● Process payments on the go. Offer your customers an opportunity to pay with PayPal, mobile wallets, or any major credit card. Accept payments anytime, no matter where you are.
● Engage customers with cross-sell suggestions. Encourage your guests to spend more by offering them useful complementary products in the App. Watch your revenue grow!
● Eliminate lines with virtual checkout. Create faster checkout experiences with online payments. Let your guests avoid exhausting queues and relieve your staff during busy holiday seasons.
2. Integration with Gastronovi – an all-in-one purchasing system for bars, restaurants & hotels
Gastronovi is a cloud-based POS mainly used in hotel restaurants and bars. It was designed to streamline the connection between service and the kitchen. This solution goes above and beyond, enabling you to create a digital menu, receive online orders, and issue discounts to your most loyal guests.
Integration with Gastronovi turns your restaurant POS into one more opportunity to increase revenue. Your visitors will be able to book a table and place orders directly from the cash register. In the meantime, your staff will be able to view current guests, keep invoices and reports organized and transfer them from the cash register.
Here is how you can empower your hotel & restaurant with Gastronovi integration:
● Accept all kinds of cashless payments. You will be able to accept all the major credit cards, special vouchers, and mobile transactions completed via Apple Pay, Google Pay, or PayPal.
● Become more flexible in billing and cancellations. Gastronovi allows you to easily manage order cancellations and split any bill between several guests.
● View all reservations, statistics, and sales. Make informed decisions based on the up-to-date analytics and export your accounting data to PMS in one click.
This checkout system is GoBD-certified and complies with all tax office requirements. All the sensitive data is stored in certified German data centers, which guarantees security and peace of mind.
3. Integration with Fiskaly – a trusted financial records system for cash registers
Here, we need to clarify the term "fiscalization". Fiscalization is a fiscal law designed to avoid retailer fraud. It is related to cash registers and mandatory transaction reporting to the authorities.
Integration with fiskaly Cloud TSS is what makes your POS legally compliant without any hardware. It helps you to work according to the tax requirements in Germany, Austria, and other countries. In simple words, fiskaly guarantees that your digital financial records are protected against any discrepancies.
With fiskaly Cloud TSS you will be able to:
● Enable trusted financial records in your hotel. Integration with fiskaly Cloud TSS helps you to ensure the legitimacy of your invoices by storing data in an unchangeable log.
● Become compliant with legal requirements in Germany and Austria. This integration enables fully automated and legally compliant fiscalization at your Point Of Sale.
● Gain independence from hardware components. You don't need any physical cash registers: all hotel data is exchanged automatically in the system. Without additional hardware, you can save time and money on maintenance and on-site installations.
Such solutions have to be certified by the Federal Cyber Security Authority of Germany to meet the requirements of KassenSichV. In its turn, fiskaly is not only compatible with any portable or desktop device but also TSS certified until 2029.
The advantages of ideal POS-PMS integration are obvious. In addition to streamlining daily payment processing, it allows you to reward your guests with an impeccable hotel stay. We hope you found this short guide useful and that these technologies will help your business to thrive!
Get 30-day free trial
Author: