Jun 9, 2022 8:40 AM
Countries all over the world are lifting COVID restrictions. Both Europe and the U.S. decided to relax measures, even though the pandemic is not over yet. According to Bloomberg, 55 countries all over the world now have no COVID-19 entry requirements.
These restrictions that have been dropped also include rules related to socializing, self-isolation, and, of course, mask-wearing. The latter has always been a subject of debate. Should employees of hotels and restaurants still wear masks? Are there other effective ways to protect your guests from contracting the disease? Let's find out.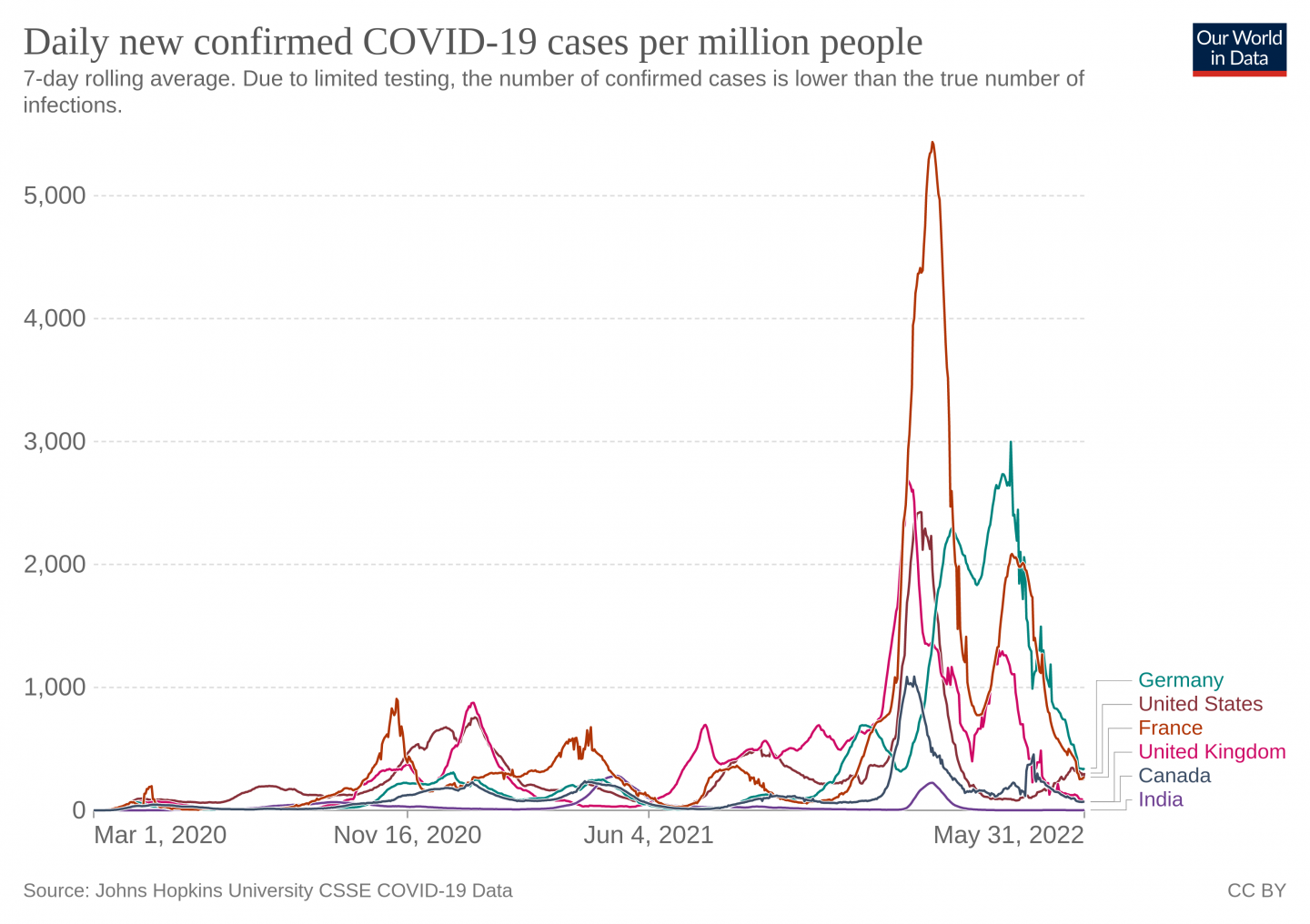 Source: Our World In Data
Insights on the current COVID situation
According to the WHO, as of 26 May 2022, more than 524 million cases of COVID-19 have been registered worldwide. However, the number of weekly cases continues to decrease after the peak that was in January 2022.
In the period from 16 through 22 May 2022, over 3.7 million new cases were reported globally. This accounts for a 3% decline as compared to the preceding week. The number of weekly deaths also tends to fall, with an 11% decline as compared to the previous week.
This graph clearly shows the decline of cases in the U.S. and Europe in the last month:
Some countries began to slowly remove restrictions even when the incidence was high. But the positive downward trend in the number of new cases that is happening now urged more countries to rush with the return to a "pre-pandemic" way of life.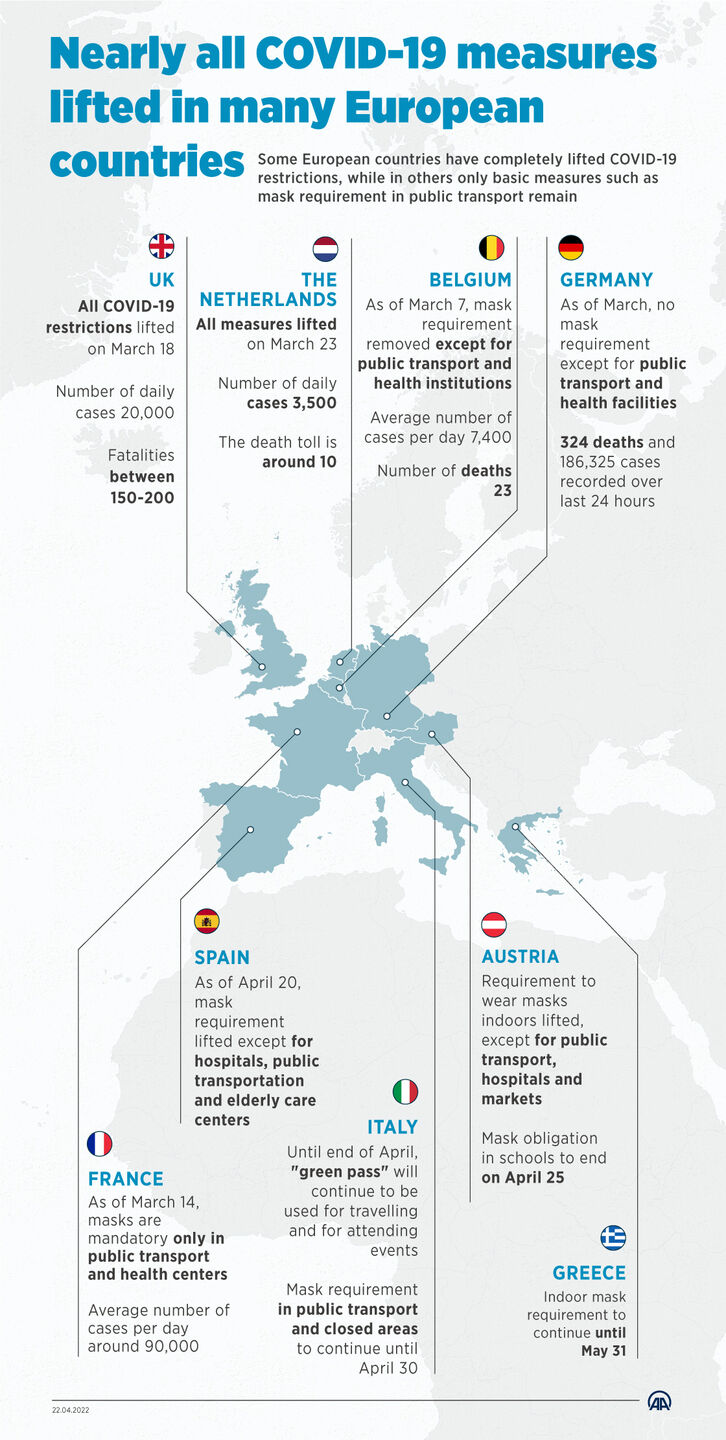 Source: AA.com
Here's what now happening with mask mandates in different parts of the world:
● In the U.S., the nationwide mask order is now not in effect. Wearing masks in public places, including airports, train stations, and hotels, is not mandatory anymore. Several states still stick to this measure in high-risk settings, such as healthcare facilities.
Although now it's not an obligation, the U.S. Centers for Disease Control and Prevention (CDC) still recommends that everyone aged 2 and older wear masks while on public transportation. Businesses may develop their own mask policies based on their choice.
● In Europe, many countries lifted all or most of the pandemic-related restrictions. This summer, you can travel to Austria, Belgium, Czechia, Greece, Ireland, Switzerland, Scandinavia, and other countries without the need to show any COVID documents. Mask mandates have also been lifted and now, with a few exceptions, it's up to travelers whether to wear them or not.
From 16 May, face masks are no longer required at airports and on planes according to the change in European Union guidance. Nevertheless, Spain, Italy, and Cyprus decided to keep them in place.
Despite the high COVID incidence rate, nationwide mask requirements have been removed entirely in Germany. This means no more masks in most hotels, restaurants, and shops.
● In several Asian countries, where the population immunity is lower than in Europe, the number of cases is still high but is slowly declining as well. In China, which has just survived a two-year high peak, cases have decreased by 52%.
An average of 3,574 cases per day were reported there in the last week. However, as the country is sticking to a "zero COVID" policy, it has reinforced mask mandates and all COVID-related measures, implementing testing and quarantines on a massive scale.
Is this the end of mask-wearing requirements?
However, we cannot be sure yet that the end of COVID is near. While Omicron is considered to be a less severe variant, experts are still concerned about it. People infected with Omicron are still prone to a full spectrum of symptoms and hospitalization. In general, it may be less severe than Delta but that doesn't mean that it is mild.
The Omicron variant BA2.12.1 is very efficiently transmitted between people. In January, there was a massive surge in cases around the world. The decline that we are seeing now is seasonal and may not last for long. Even though the vaccination rates are now higher than ever, vaccines are not 100% perfect in terms of preventing transmission and severe disease. Experts still recommend people protect themselves against virus exposure.
While COVID cases and hospitalization rates are declining, governments all over the world are hurrying to drop the last remaining measures. Now we can mostly rely on an individual risk assessment, and easing mask rules for a while may be a reasonable decision. However, it is important to remember that masks could be required again in the future in case there is another surge in cases.
Response of large hotel chains
With more countries reopening, traveling to Europe and the U.S. is now starting to look like something safe and normal again. Some hotels are trying to provide a "back-to-normal" atmosphere, and others decided to stick to official guidelines and contactless solutions.
Let's see how the big hotel chains responded to relaxed COVID restrictions and mask requirements.
● Marriott
According to the latest update, fully vaccinated guests are no longer required to wear face masks in the indoor or outdoor hotel settings in the U.S. unless the local law requires it. Social distancing is now not an obligation as well. For Canada, wearing a mask is optional for guests in jurisdictions where masks are not required to be worn indoors.
The chain continues to follow its Commitment to Clean program, ensuring a rigorous approach to cleaning and disinfecting. To reduce unnecessary contact on the premises, the chain offers an opportunity to complete pre-check-in via the Marriott Bonvoy app. In some cases, you may get a digital Mobile Key for contactless room access.
● Hyatt
At Hyatt properties in the U.S., masks are no longer required for guests and employees regardless of their vaccination status. However, this is only valid for hotels in areas with low or medium COVID-19 levels. In general, wearing face coverings on the premises is still encouraged. Hotels outside of the U.S. are to follow local requirements.
Guests arriving at Hyatt hotels can check-in through the World of Hyatt app on their smartphones. Other precautions include easy access to sanitizing stations for guests, regular cleaning and disinfecting of frequently touched areas, and enhanced food safety and hygiene protocols.
● Hilton
The guests of the Hilton hotels are encouraged to follow local recommendations and requirements related to face coverings. The chain is asking future guests to check with regional health authorities about current guidelines that may be in place.
Hilton is famous for its meticulous approach to safety measures, that were introduced in the early days of COVID. To safeguard guests, the company has partnered with the Lysol & Dettol maker to develop its own CleanStay program. The specific cleaning practices, such as "cleaned and sealed" rooms, are still in place. Contactless check-in via the Hilton Honors app is possible at more than 4,800 hotels in the chain.
● Radisson
Despite the latest CDC update on masks, Radisson will continue sticking to mask and safety guidance from the American Hotel and Lodging Association (AHLA) and their Stay Safe guidelines.
The chain is committed to keeping guests safe on the premises, meaning that health screening for employees and protective barriers at the front desk will remain. Increased cleaning and disinfection frequency, contactless communication options and team training will continue as well. Unlike other chains, the company does not offer mobile check-in solutions, but an express checkout option is available.
● Accor
Accor is another hotel chain that decided not to drop all the additional safety measures. Masks are no longer required for fully vaccinated guests. Unvaccinated guests will still need to wear face coverings. If the customer doesn't have one, the hotel can provide a mask on request.
The company has launched the ALLSAFE label, which represents its commitment to strict cleaning & safety standards. Reinforced cleaning in guest rooms and public areas will continue. At arrival, guests will need to complete health screenings, including a temperature check. In the U.S. and Canada, it is possible to buy a PreCheck PCR testing kit to complete a test before check-in, but this service is optional.
So, should we still wear masks in hotels?
Well, it seems like now it's up to hoteliers to decide. In general, experts don't seem to have a consensus on the necessity of wearing face coverings. Masks are indeed effective in containing the virus, but they actually work in conjunction with other safety measures.
Several CDC studies emphasize the importance of wearing masks in stopping the spread of the COVID-19. The results show that schools that did not have a universal masking policy, were more likely to have COVID-19 outbreaks. However, it is worth mentioning that this measure was combined with vaccination and social distancing, so it's hard to objectively assess its effectiveness.
Another study suggests that masks protect the wearer even when others around them are not wearing one. The effectiveness of protection depends on the quality of the masks, the time that the person spent in contact with an infected person, and how well the space is ventilated.
While now mask-wearing is down to individual guests' choice, it's highly recommended for hotel team members to stick with the policy. Whether you decide to add this extra layer of protection or not, you will need to think through other ways of keeping your guests safe.
Here, the approach of large hotel chains may come in handy. The top three measures that can help you to protect your guests include:
1. Adopting contactless and self-service technology
The majority of hotel chains mentioned above offer some sort of touchless technology to reduce close contact between guests and staff. From mobile check-in to digital room keys, there are many sources for your tech inspiration. By using these solutions, you can not only instill a sense of security but also boost guest satisfaction scores.
HotelFriend offers a full stack of contactless solutions that will help your clients avoid the front desk altogether.
● The self-check-in kiosk allows to check in quickly and seamlessly via a tablet placed in the reception area. The guests will be able to check in on their own, with no face-to-face communication involved. Such a feature is a great asset for your hotel lobby, especially in times of severe staff shortage.
● HotelFriend's Concierge App is a solution that helps you to always be there for guests throughout their stay. With a digital concierge, you can handle multiple guest activities from online check-in to room service. Let your clients enjoy personalized attention and enhanced hotel service at their fingertips.
● Contactless room opening helps your guests to keep maintaining distance on the premises. The advantages include less personal contact, no lost keys, and no plastic key cards that are not environmentally friendly. This solution also contributes to guests' relief when they arrive at your hotel and can access their room immediately.
2. Showing elevated standards of cleanliness
Another important aspect is maintaining perfect cleanliness and demonstrating this to the client. You do not have to develop your own specific program to meet the ideal cleanliness standards. The main thing is that the rooms must be visibly clean, and the guests should regularly see housekeeping staff wiping all the main high-touch surfaces such as escalator handrails or equipment in gyms and spas. It is also important to use high-quality detergents and disinfect the surface after cleaning it.
3. Installing a good ventilation system
Quality ventilation systems play a crucial role in minimizing the spread of COVID. As the virus is mainly transmitted through droplets in the air, HVAC systems must provide adequate air exchange and filtration in indoor environments. The risk of infection can be significantly reduced by increasing fresh air flow and diluting pathogens in the air. For that, Marriott properties are using air-purifying systems that are effective against viruses in the air and on surfaces.
Whatever decision you make regarding the wearing of masks in your hotel, do not forget to think through other safety measures. The pandemic is not over yet, and the lull in the incidence is likely to be with us just for a short time. We hope this article was useful and has given you some clarity on protecting guests in the times of relaxed mask mandates.
Get 30-day free trial
Author: