Oct 22, 2021 2:33 PM
Over the last two years, we are seeing a huge shift to virtual hospitality. Hotel owners are actively implementing digital solutions that allow them and their staff to work remotely and automate all daily operations and administrative tasks, including reservations, distribution, inventory, and much more.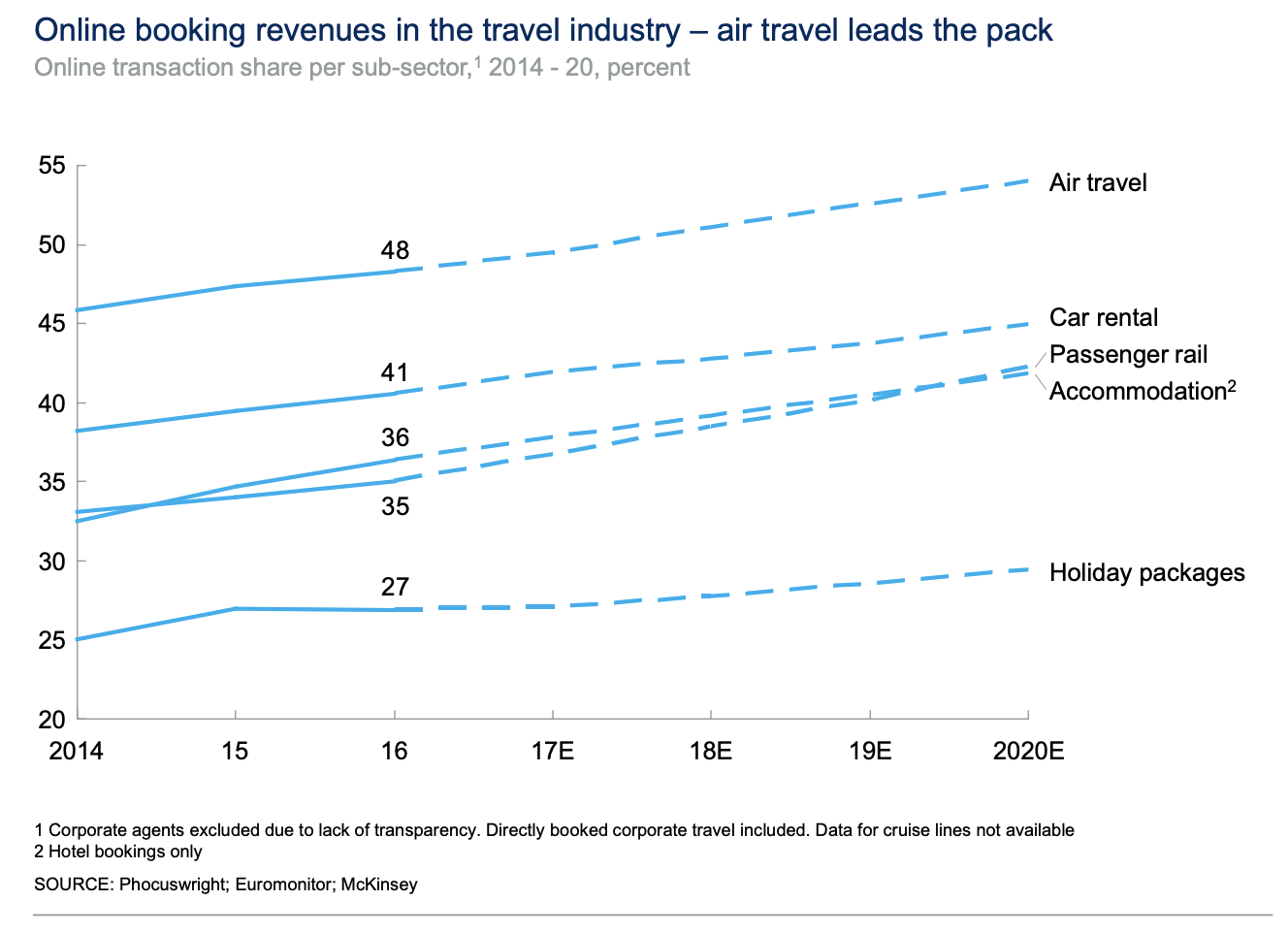 Source: https://www.mckinsey.com
In the meantime, guests are also becoming more and more tech-savvy choosing hotels that provide self-service options. They plan holidays, book their trips online, and order services in advance from home instead of visiting traditional brick-and-mortar travel agencies. As of now, most bookings in terms of revenue are made online.
According to Statista.com, the revenue share of online sales in the global travel and tourism market crossed 65% in 2020 and is projected to grow to $833 billion by 2025.
It is hard to believe now that there was a time when the bookings were made by telephone or post, and the hotel staff used paper books to keep track of reservations and guests who were checking in.
Today, hoteliers use reservation software like GDS and CRS to manage online reservations and distribution. These systems have similar functions, yet there is still a difference. Below, we'll explore GDS and CRS in more detail and discuss which system is right for your hotel business.
What is GDS in hospitality?
The Global Distribution System (GDS) is an online network that connects travel agents directly with hotels' or airlines' central reservation systems (CRS). The major examples of GDS are Sabre, Travelport, and Amadeus. The GDS allows travel agents to view rates and inventory for a given hotel in real-time. It provides access to the hotel's system showing available room types, rates, and restrictions. Once a travel agent books a room, the GDS transfers this information to the hotel's system and removes that room from the inventory. Thus, there is no need for a travel agent to talk to anyone from the hotel, as well as for the hotel's front desk staff to enter any data manually.
The GDS has a number of benefits like time savings as a travel agent can make a complete reservation that includes renting cars, rail tickets, hotel rooms, and tours in just a few clicks, and additional marketing opportunities as both chains and independent hotels get the same visibility on the GDS. However, hotels should pay a commission per booking to use the GDS.
Hospitality business owners keep pace with the times and adopt new technologies that help reduce expenses and increase revenue. For example, the modern Hotel Management System may include the CRS that enables hoteliers to manage room availability and rates, synchronize online distribution channels, and manage all of the bookings from one place without having a GDS. Let's dig deeper into what a CRS is.
What is CRS in hospitality?
The Central Reservation System (CRS) is designed for the hotel sector and used to manage room rates and availability, as well as share this information across various distribution channels, like the GDS or online travel agencies (OTAs). When there is a change in a booking or rates, the CRS adjusts new data about rates and availability on all channels accordingly, including the hotel's own website booking engine, direct (call center) and indirect channels (channel managers, third-party channels).
The CRS helps to eliminate overbookings and maintain data accuracy across different channels. When a customer books a hotel room on the hotel's website, the CRS sends this information to the PMS and automatically updates hotel reservation data on the hotel's website and third-party channels like OTAs, GDS, or metasearch.
GDS vs CRS: Understanding the difference
It is clear that GDS and CRS have similar functionality: they keep track of availability and rates across different channels and connect hotels to business travel planners and agent networks.
While talking about the global distribution systems, it seems the GDS loses value and may not be suited to every hotel. It is still used by airlines and corporate travelers as the system brings additional operational revenue with last-minute inventory disposal and facilitates global reach using the existing network and low marginal costs. Also, the GDS providers negotiate with clients for content and distribution charges and work on reducing costs and improving profit margins through investing and establishing significant offshore capability.
With CRS, the hotel becomes more visible on lots of booking platforms and distribution channels like Booking.com or Expedia increasing revenue and occupancy. Besides, the system allows to attract more direct customers through the Booking Engine. Given the fact that 82% of bookings are made online via a website or mobile app, the CRS wins the competition over GDS.
That said, the HotelFriend Central Reservation System will help handle multichannel bookings from tens of platforms, track cancellations and other changes to bookings, get fast and accurate information on room availability, prices, products, service bookings, and more.
In addition, hoteliers will enjoy some extra benefits that are as follows:
● Management of all bookings from one place Hoteliers can receive bookings from 200+ OTAs thanks to Channel Manager, as well as direct bookings from their website with an integrated Booking Engine.
● Maximized guest engagement and interaction with prospective customers. Customers can book a room, services, deals, check-in and -out faster, and communicate through Direct chat without personal contact: everything they may need is now in their pocket thanks to the Concierge Mobile App.
● Enhanced staff collaboration. The hotel staff can easily collaborate across various properties and departments, get full control over the operations thanks to the Task Management module.
● Automated routine bookkeeping processes. The billing processes become faster and more secure. Digital Cash Book helps keep accounting organized, record cash receipts, find any transaction, and review the history of cash flow, reduce the chances of frauds and discrepancies.
● Services upselling and powerful marketing campaigns. Hoteliers can offer their guests not only rooms but also services and attractive deals. Also, they can send a detailed Booking Offer to potential guests' email within minutes after they hang up.
We hope the takeaways above will help identify which reservation software is right for your hotel.
Get Free Trial
Author: