May 10, 2022 12:35 PM
Employee turnover rates in the hospitality industry have always been high. According to the Bureau of Labor Statistics, while being one of the largest sources of jobs, this sector had a turnover rate of 77.1% in 2018. In 2020, this percentage has increased to an astonishing 129,8%!
There are many reasons for that. The work is often seasonal. Young people don't take it seriously due to a lack of career advancement opportunities. And sometimes the demands are too high and the wages are too low.
After the pandemic, the turnover rates only continue to climb. Many businesses were forced to close their doors forever. Consequently, a lot of staff left for other sectors such as retail. With both reopening and staff shortage in full swing, the competition for talented employees is real.
Constantly finding, hiring, and onboarding new workers will only exhaust your business resources. So, how do you regain staffing stability in turbulent times? Let's figure it out!
Why is reducing turnover important?
You may doubt the need to invest in turnover reduction. If it's always so high across the industry, why should you bother? However, here are some reasons why this must be among your top priorities:
● It costs too much. According to Employee Benefit News, hiring a replacement costs employers 33% of a worker's annual salary. However, Gallup states that it could take from a half to two times the annual salary of one employee.
With an average US income of $45,000, the losses may count from $15,000 to $90,000. These costs include hiring, training, and onboarding of each new team member.
● It affects your business performance. When you hire a new person, it usually takes them from 3 months to 1 year to become fully productive.
This time lag directly influences your revenue and KPIs. And if people come and go, you're just throwing your money down the drain.
●It has a bad influence on your brand image. Well, people don't leave businesses with strong workplace culture and good conditions.
If you have problems with retaining workers, your potential new hires may start thinking that your hotel is not the best place to work. And make sure to resolve any conflicts on time before they tell about it on social media.
With that said, you definitely don't want to lose your best talents. While labor shortage is on the rise, retaining reliable professionals is crucial for the survival of your business. When they leave, it affects both the team morale and guest experience.
The main reasons why staff leave
The answer to the question of why workers leave is pretty much the same regardless of the industry. This infographic by AIHR displays some of the factors that influence voluntary turnover: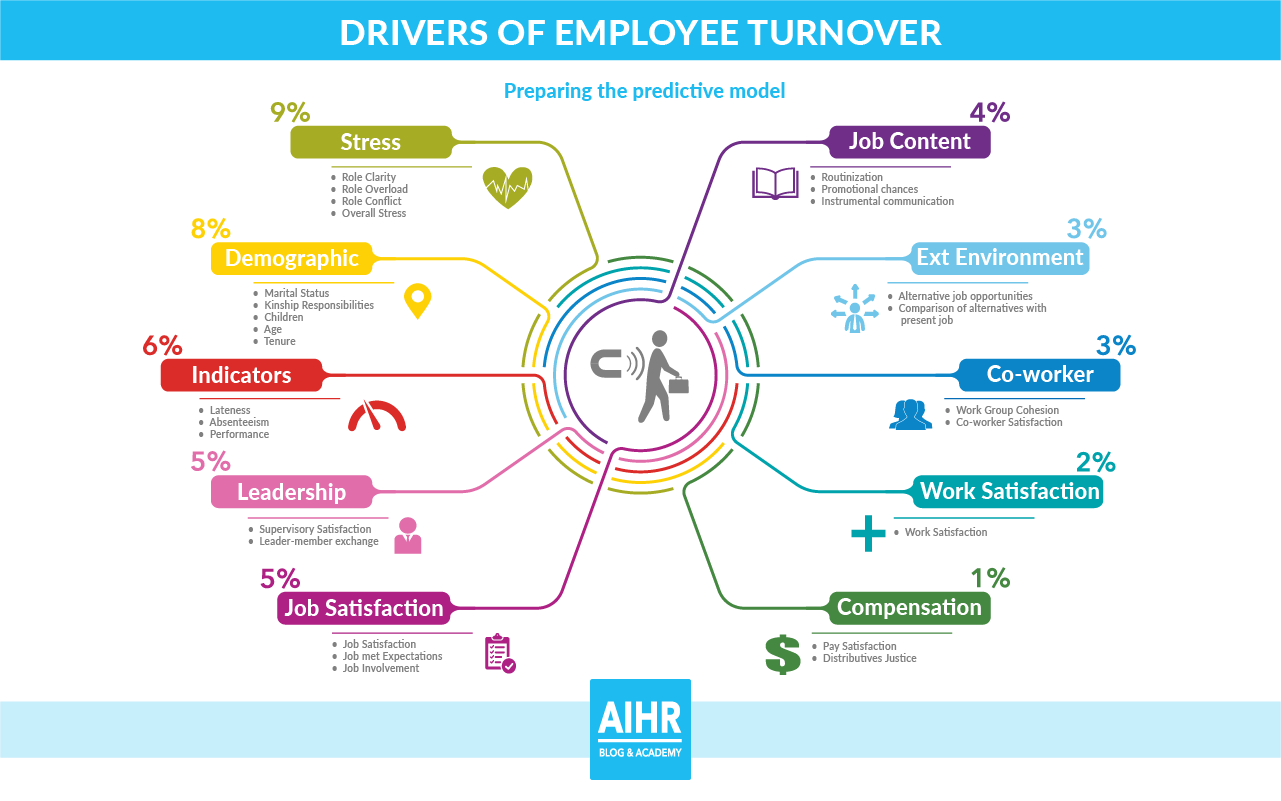 Source: aihr.com
Among these factors, stress is definitely the most characteristic of the hospitality industry. Hospitality workers experience a high amount of pressure on a daily basis. The human factor is decisive: these jobs involve a lot of interaction with often demanding customers.
Moreover, these jobs can be physically tough, and scheduling is most likely irregular. Some other reasons for high employee turnover in our sector include manager behavior and a toxic working environment.
In 2021, the Great Resignation attained its peak. According to the Pew Research Center survey, the three major reasons why workers quit that year were:
● Low compensation (37%);
● Lack of advancement opportunities (33%);
● Feeling disrespected at work (35%).
All these reasons, combined with COVID lockdowns stopping and starting over again, have caused a massive burnout in the hospitality workforce. That's what you should keep in mind if you want to attract and retain the brightest talents.
The global burnout epidemic
Now, "burnout" can rightfully be announced as the word of the year. It affects professionals across different occupations, worldwide. Some of them went remote and had to stay connected 24/7. Others had to adapt to great amounts of work paired with tight deadlines.
The labor shortage in hotels and restaurants lasts for about two years. This means that all those who remained in the industry now feel overworked. During the pandemic, they often had to work for two or even three people.
These are waiters who had to take care of both bartending and food running. Or housekeepers who had to help in the kitchen as well. The emotional labor (you always have to put a face on with customers) and wild schedule may take a toll on even your most loyal workers.
Globally, women experience even a higher amount of burnout than men. According to Deloitte's Women @ Work 2022, they are more likely to be looking for a new role than they were a year ago, and burnout is the top driving factor. This fact is important, as women account for 54% of the hospitality workforce.
Work-life balance is one of the biggest challenges for those employed in hospitality. Long working hours and a high workload lead to burnout. Which, in its case, leads to high turnover.
Good thing is, that some of these issues can be tackled with automation. Along with strong strategies for employee retention, it can help reduce day-to-day workload and improve working conditions.
Top-5 strategies for staff retention
All the factors that drive employee turnover can be prevented. Here is what you can do to improve staff retention in your hotel: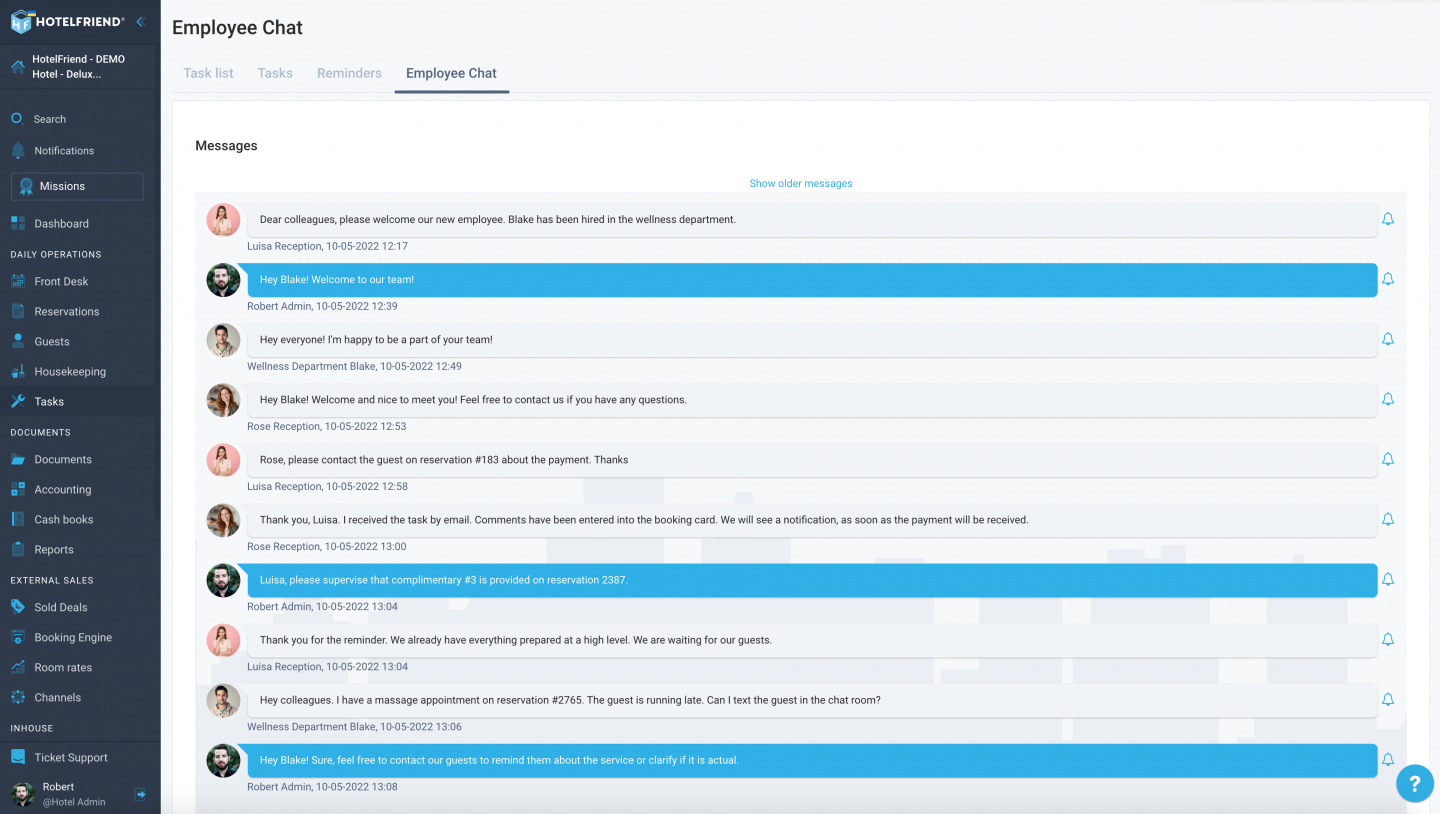 Strategy #1: Enhance your onboarding program to make a good first impression
Effective staff retention begins with smooth onboarding. This first step is crucial if you aim to make your future employee want to stay. Better and longer onboarding increases the chances that your new team member will be fully productive and stay with you for years.
● The recipe for a good onboarding program is simple. Assign them a mentor and establish easy communication between departments through live chat. This way, your new employee will be able to receive feedback from co-workers and get support along the way.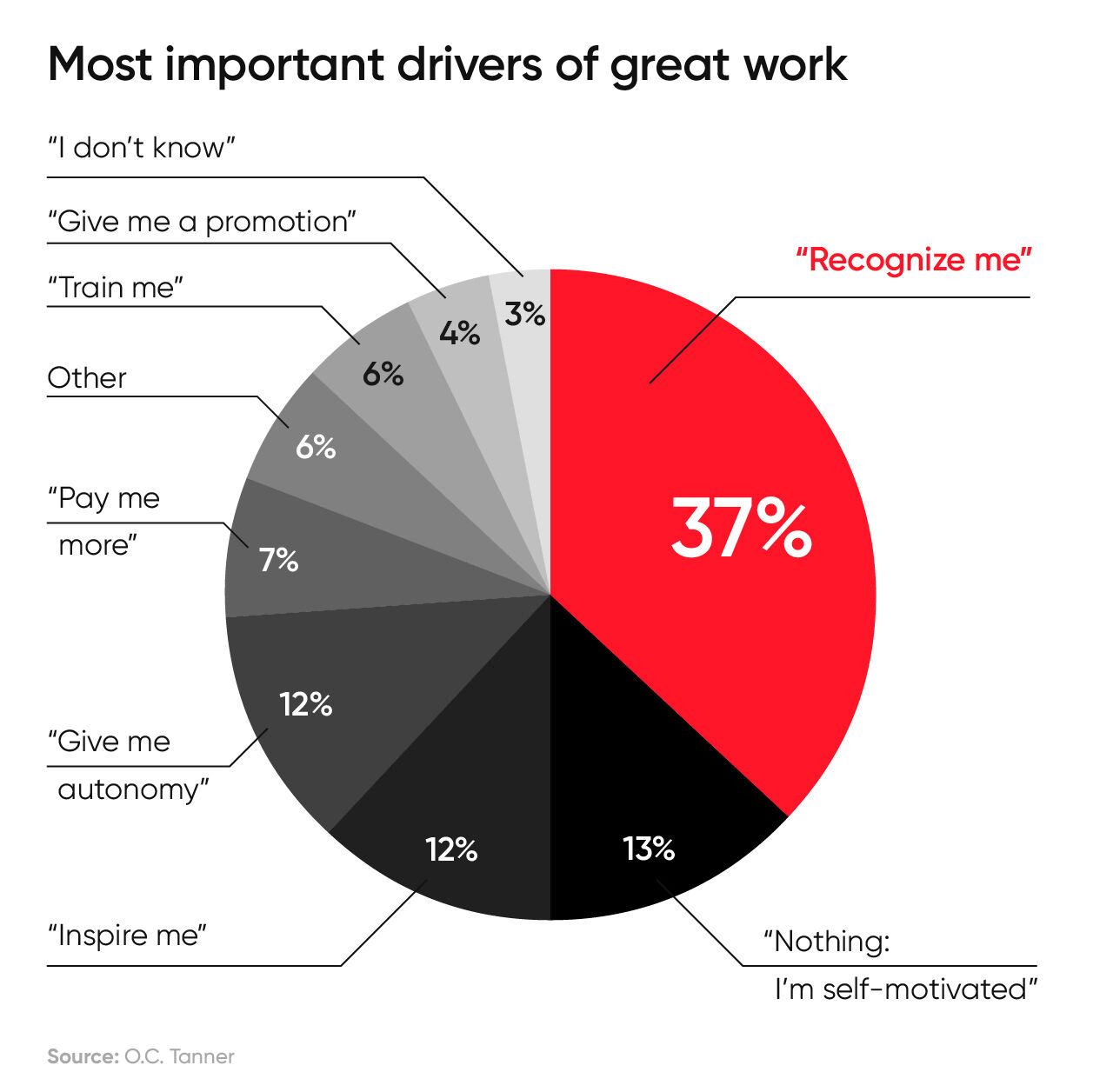 Source: greatplacetowork.com
Strategy #2: Embrace the culture of recognition to keep them motivated
In times of post-pandemic burnout, showing your employees how you value them has become more important than ever. Those who feel valued at work find more meaning in what they do and report a higher level of job satisfaction.
● Incentivizing loyal staff for their achievements both verbally and financially (with a bonus or a raise) will motivate them to keep up the good work. Apart from that, think of some personalized gifts, such as vouchers or wellness certificates.
Strategy #3: Encourage work-life balance to prevent burnout
Please, don't expect your staff to work 24/7, both on the weekdays and on weekends. It won't last for long. To prevent staff burnout, help them maintain work-life balance instead. There is a huge amount of open positions, and now it's easier for workers to compare conditions in different places and choose the best option.
● Let them take time off when they need it, create an equitable schedule during the high season, and encourage them to take breaks during the day.
To save time of your front desk and housekeeping departments, you can facilitate their workflow with the Housekeeping Management system. Your cleaning staff can mark the room as "clean" and front desk staff will instantly know which rooms are ready for check-in.
Strategy #4: Adopt technology for equal workload distribution
If there is a staff shortage at your hotel, your team may have too much on their plates. That means that it's absolutely necessary to organize the fair distribution of daily workload. It will help to avoid unpleasant situations in which some people have to do more than others.
● Streamline the workflow of your team with Task Management Software. Here, you can clearly see the daily agenda, the amount of work that each employee has to perform, and their progress.
Split tasks into smaller manageable bits and assign them to workers from respective departments. There will be no need for huge email threads or time-consuming meetings, as everyone can view their tasks at any time.
Strategy #5: Present a clear scheduling system as your competitive edge
A certain amount of unpredictability is an integral part of hospitality jobs. The non-standard working hours can even be convenient for certain workers. With that said, if your scheduling is transparent and thought-out in advance, you should absolutely list this as your benefit in a job description.
● Establish a clear scheduling system and release new schedules in the Department Management system as early as you can. Decrease unexpected overtimes to the minimum, so that your employees could plan their week.
Create consistent procedures for the days off and be transparent about any changes. All these are great practices that contribute to staff retention.
These are our five core tips on effective staff retention. Apart from that, making your staff feel valued and heard is key to staffing stability. Employers that act on employee feedback regularly are 11 times more likely to report high retention rates.
So, survey your workers, adopt some of the strategies mentioned above and improve your daily workflows with automation. Now you have all the necessary means to make your business a great place to work.
Get 30-day free trial
Author: