Jun 11, 2020 4:38 PM
COVID-19 has significantly changed our lives. However, the current crisis can be described by the following quote, "The more things change, the more they stay the same." This is especially true for our habits, likes, and interests. In this respect, traveling remains the most desired. According to Destination Analysts, 68% of people terribly miss vacations.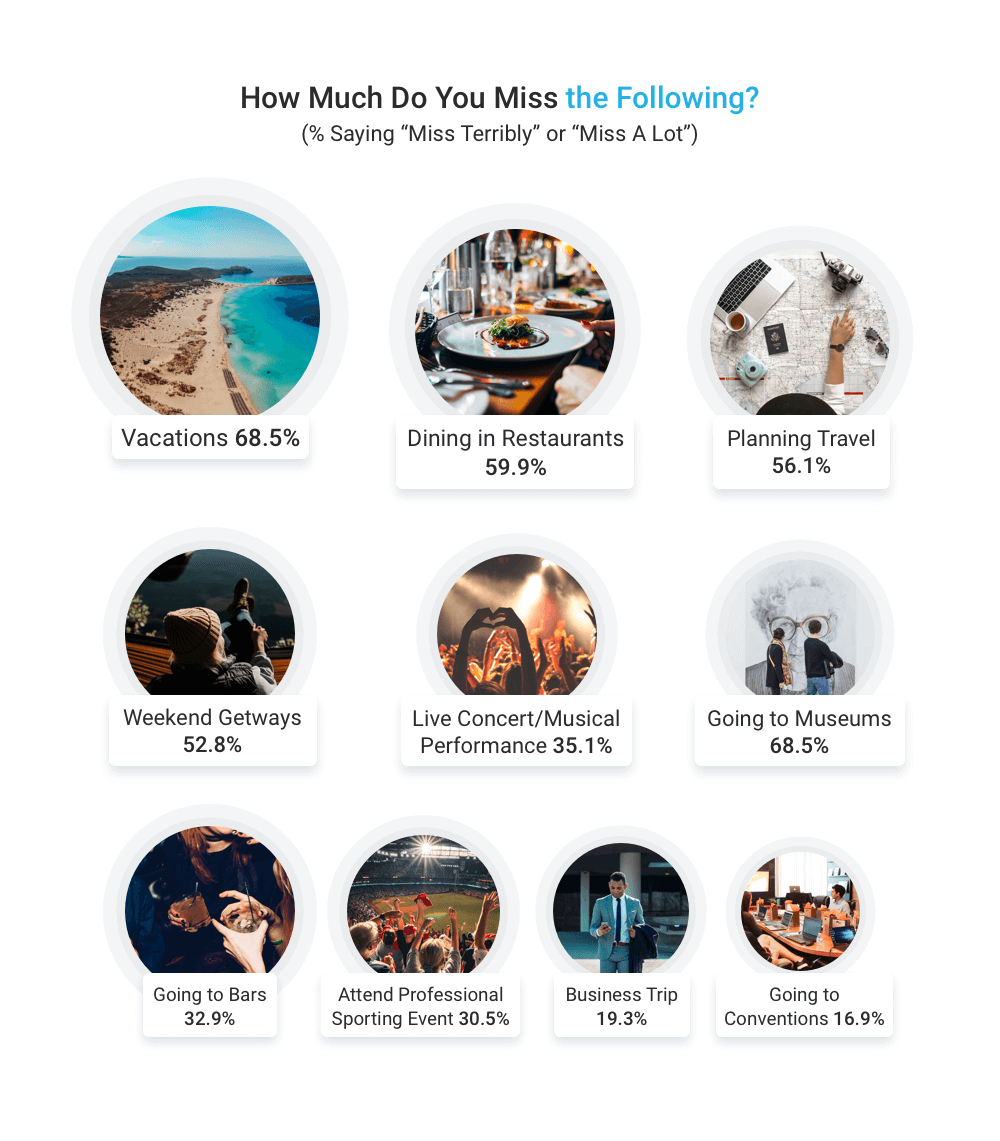 Graphics: HotelFriend. Data source: destinationanalysts.com
We are tired of long Coronavirus lockdown, feel stressed, and all we need is a holiday after this nightmare. We want to take out of daily routine and reset our body and mind.
In addition, tech execs, analysts, and tech company employees are also optimistic about business travel. For example, Jeff Richards, partner at the venture capital firm GGV Capital, said in the interview for FastCompany.com, "I still think we'll see corporate travel [come back], as nothing is better than an in-person meeting with a customer or exec hire candidate."
Most of us dream of the moment when the COVID-19 expansion and restrictions will be over and we can go back to traveling freely again. However, it's hard to say right now how and when exactly travel will come back. Yet, we'll try to find out.
In this guide, we'll provide you with traveling forecasts and statistics, as well as try to navigate you through post-coronavirus passenger transport restoration and hotel reopening.
Also, we'll answer the top questions tourists ask today, namely:
● Will we be able to travel this summer?
● Will it be safe to travel?
● Which countries are open? Which countries have travel bans?
● How to understand, which travel zone is safe?
● How is it safer to fly or drive? What to choose: a plane or a train ride, or waterways?
● Is it safe to stay in a hotel?
● How to choose the safest hotel at the lowest price?
Post-coronavirus traveling forecasts and statistics
With summer fast approaching, families, friends, and solo travelers are getting worried about their vacation. They all don't know whether the world will continue to implement social distancing measures or still remain locked down. So what do we expect? Let's look at some statistics by Destination Analysts, StayNTouch, and CNBC.
● About 44% of travelers who plan to travel this year are confident that travel businesses can open safely. That said, a majority of them are going to carry hand sanitizer, follow social distancing guidelines, avoid crowds, and wear a face mask on their trips.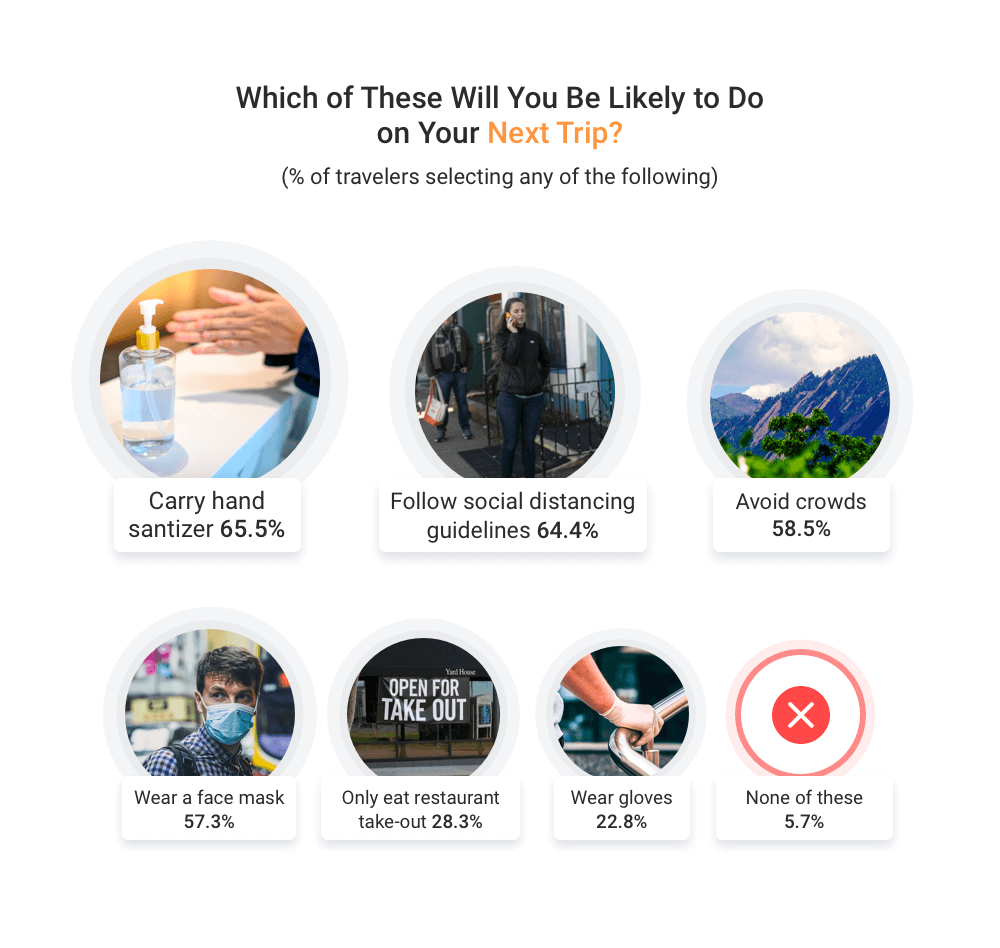 Graphics: HotelFriend. Data source: destinationanalysts.com
● 22.5% said that taking a trip would be in their top 5 activities to do once the shelter-in-place restrictions are lifted.
● Nearly a quarter of those who had changed their travel plans for this year had switched to driving from flying.
● 11% of those who had changed their plans chose domestic travel for this year.
● A quarter of airline travelers consider traveling onboard an airplane as "somewhat unsafe. Yet, they are not so concerned about the boarding gate/waiting areas, and TSA security checkpoints.
● Seven in ten travelers have taken some action towards their very next trip, including researching things to see and do (23.3%) and making hotel/lodging reservations (22.4%).
● The people's reaction to new safety protocols ranges from feelings of personal safety to anxiety.
Travel warning
Starting from June 15, Germany lifts its border controls for EU states, the wider Schengen region, and the UK. Yet, the Foreign Office's travel warnings for "non-essential travel" to more than 160 countries outside Europe have been extended until August 31 due to the risks posed by the COVID-19. In addition, exceptions can be made for individual countries like Spain and Norway as these countries have not lifted their own entry bans.
However, there is good news too. Spain's Government launched a tourist pilot project on Mallorca. According to it, 6000 Germans are among the first foreign tourists to visit the Balearic Islands after June 15, despite the fact that all of Spain opens its borders on July 1.
The non-EU countries listed in the travel warnings include some of the favorite destinations for German travelers, including Turkey or the beaches in Ko Phi Phi (Thailand).
That said, Deputy Foreign Ministry spokesperson Christofer Burger noted that Germany's "travel warning" for non-EU countries is not a "travel ban" for citizens who want to travel to Turkey or other countries. In fact, it is "advice", Germans can make their own decision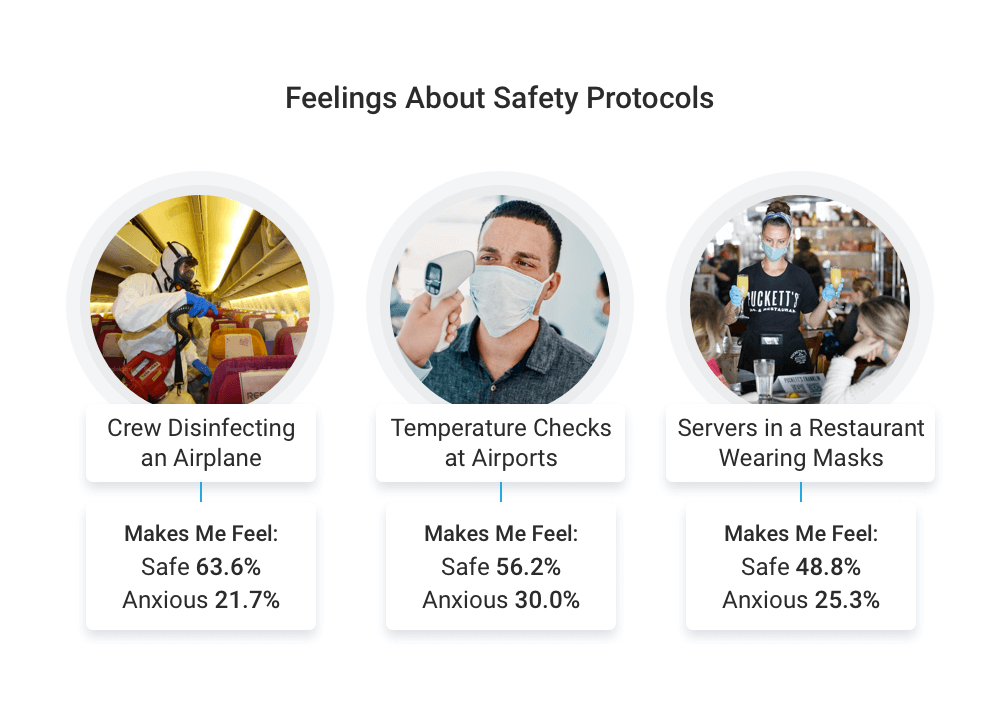 Graphics: HotelFriend. Data source: destinationanalysts.com
To put it briefly, here's how we think traveling will be after Coronavirus ends:
● We will prefer domestic or regional travel instead of an international one.
● Road trips, shorter train-rides, or traveling by automobile will be more favored than flying or cruising. Long flights will be avoided.
● A quick but long weekend will be more favored than the traditional two-week summer vacation.
● National park systems and RV camping will be favored over urban areas.
● We are now hyper-concerned with hygiene and social distancing when choosing hotels.
True, COVID-19 had a direct influence on our travel behavior and preferences. Still, people love and want to travel. Here is an overview of where and how we can safely travel after COVID-19, as well as how tourism and hospitality industries are preparing to resume this year.
Post-coronavirus traveling strategy: how to go back to travel again?
Tourism is part of normal life in almost all societies and people around the world. And for sure, we will be happy to travel again. To what extent we can afford this depends on how hard we are hit by the economic crisis that follows But overall, there will be a lot of loyalty programs, vouchers, and self-service technology services to attract price and health-conscious travelers.
In addition, governments are thinking hard on how to open up to tourism, starting from forming regional alliances designed to minimize the risk of the virus, (e.g., an Australia-New Zealand travel "bubble) and creating a travel "corridor shared by Estonia, Latvia and Lithuania to presenting the Commission's guidelines and recommendations to help the Member States gradually lift travel restrictions.
Ulf Sonntag from NIT, the Institute for Tourism and Spa Research in Northern Europe, in the interview for DW, mentioned that the German Baltic and North Sea resorts are considering occupying only every second hotel bed in order to reduce the masses. In Italy, there is a proposal to separate beach chairs and restaurant tables with plexiglass boxes.
In Germany, there is the classic German wicker beach chair that was invented to protect holidaymakers on the North and Baltic Sea from the cold wind in the north. They are also suitable for use as a distance spacer.
Also, we expect separation between wealthier countries (e.g. Singapore, Taiwan, South Korea, Australia, Japan) that will re-open with very strict travel restrictions and checks and densely populated developing countries (e.g. India, Indonesia) where the virus may create a large and lasting health problem. Travel to and from these countries would be highly restricted.
Although the desire to travel is ever-present, how to understand, which travel zone is safe? The Johns Hopkins Institute offers a real-time interactive Coronavirus map that can be a good resource to regularly check the COVID-19 expansion status and have a visual image of the worldwide situation. Check it out to ensure having a safe trip or vacation.
Real-time interactive Coronavirus map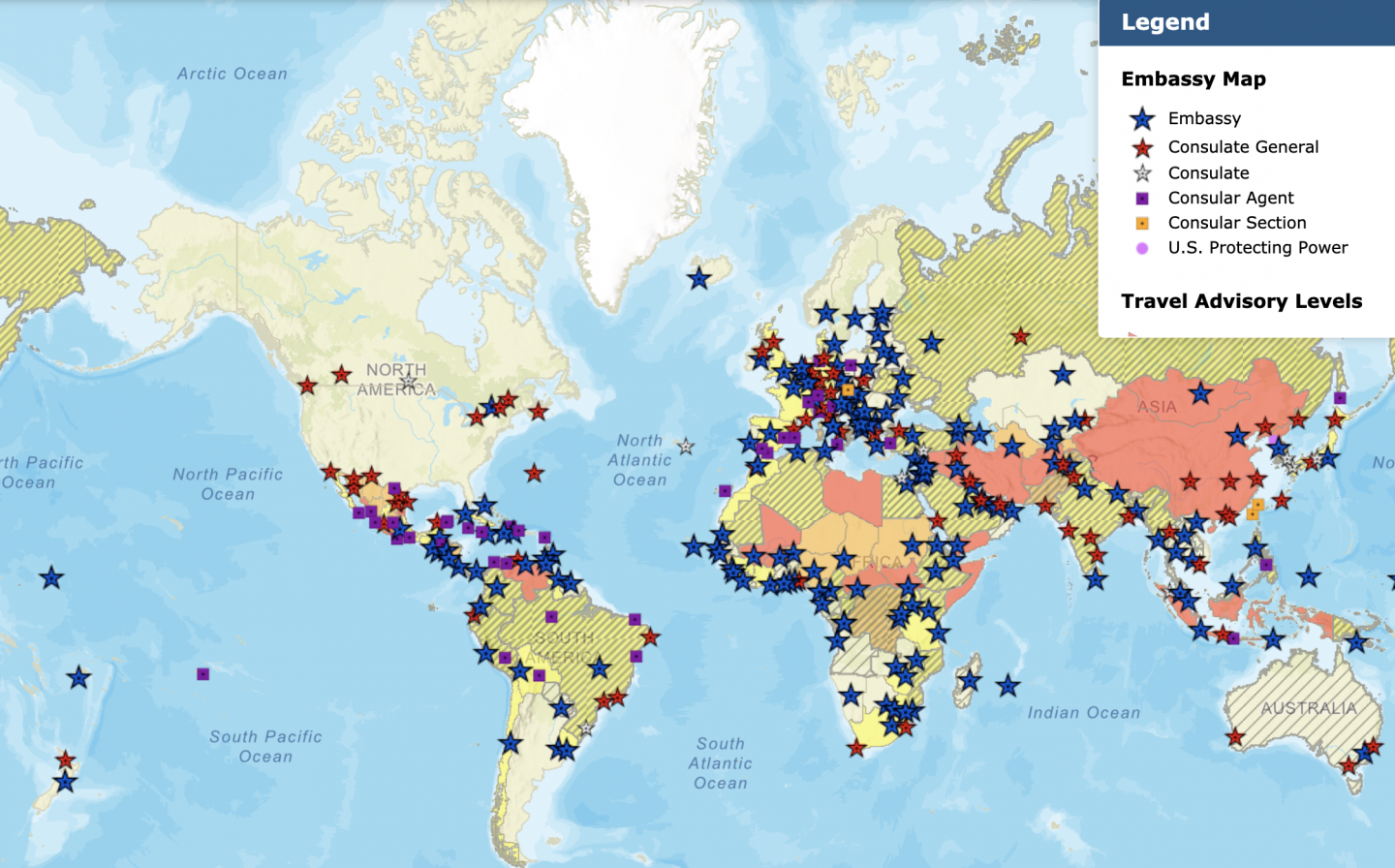 Source: https://travelmaps.state.gov
The Institute uses the color marks as indicators for countries that exercise normal precautions and those ones that you should avoid now.
| | |
| --- | --- |
| Level 1: Blue | – Exercise Normal Precautions |
| Level 2: Yellow | – Exercise Increased Caution |
| Level 3: Orange | – Reconsider Travel |
| Level 4: Red | – Do Not Travel |
Also, check the safe travel website of WHO and practical guidance for people traveling and living overseas offered by the authorities of your home and destination country. The Commission proposes a phased and coordinated approach to restart traveling based on epidemiological situations. It advises visiting areas where the situation is improving. You can check the destinations by using the regional map developed by the ECDC.
Tip: Because policies may change at the last minute in case of a potential risk of an infection rise, be open and ready for a possible change in your plans even if you're already packing your luggage.
Air, rail, waterways, and road travel
Today, we are more risk-averse post-COVID. This means that we will be more conscious of the types of vacations we take. For example, we would probably choose local getaways instead of international travel.
As of now, we see that air travel is massively avoided and only happens between safe corridors. The recent estimates show that air travel will be at 10-30% of 2019 capacity this year, ramping up to 70% throughout 2021 and only get back to pre-coronavirus capacity in 2022.
To make travel by plane safe, passengers are required to wear masks and there are temperature checks before boarding. Airlines are also rethinking how they filter air, clean surfaces, serve food, developing new seating arrangements to promote social distancing. For example, Spirit, Alaska, Delta, and American leave empty middle seats in an effort to keep passengers apart.
Italian Aviointeriors offers to implement new types of seat configuration, namely the Glassafe and the Janus. In the first case, there will be vertical salad bar sneeze guards between seats. In the second one, the middle seat in a three-across configuration is turned the other way and clear barriers surround the seats so you're not in your seatmate airspace.
Brett Snyder, a former airline employee and founder of Cranky Flier, predicts that If social distancing is mandated, it could have an enormous impact on pricing. Thus, it is probably better to buy tickets now than later, subject to lenient cancellation/refund policies.
The International SOS Security Services provides us with information on current travel restrictions, flight operations, and screening. According to it, the European Union/Schengen Area international restrictions include the following:
● While the European Commission (EC) recommends that member states close their external borders to all non-EU citizens until 15 June.
● The ban will affect all non-EU nationals except long-term residents, family members of EU nationals and diplomats, cross-border and healthcare workers, and people transporting goods.
● Iceland, Liechtenstein, Norway, and Switzerland UK citizens will be unaffected.
● The Ireland/Northern Ireland border is not affected.
● Internal travel within the EU remains based upon each countries' respective restrictions.
For further information for any definite country of the world, please visit https://pandemic.internationalsos.com/2019-ncov/ncov-travel-restrictions-flight-operations-and-screening.
As the tourism industry has been opening up again, more people are planning trips within their countries by train. Rail operators are also gearing up to welcome more travelers and ensure safety. For example, Deutsche Bahn adopted an app to warn people about full trains, doubled the cleaning staff, installed disinfection spray systems at stations. All passengers are required to wear protective masks on trains and in the station. Also, the company is going to use double-decker trains instead of single trains for long-distance travel offering.
Cruise lines companies are starting to consult design experts and adopt recovery plans to ensure passenger safety and minimize the risk of COVID-19 infection in the future. For example, Norwegian Cruise Line is going to resume full operations in five to six months. According to the company's earnings report, people are still booking vacations with Norwegian for the period of the fourth quarter of 2020, through 2021 and 2022. The company describes its position for 2021 as "within historical ranges". As of now, it is planning a phased relaunch.
Road travels, such as car and RV travel, are more favored now as they are considered safer than others. However, you may have to stop along the way for the gas, food, bathroom breaks, or stay at RV parks overnight. This may result in close contact with other people and surfaces. Thus, you should bring enough of your medicine for the entire trip, prepare non-perishable food and water in case restaurants and stores are closed, pack alcohol-based hand sanitizers, and wear masks in public places. In addition, think of how you can clean your travel lodgings.
It is also good to stay overnight at a hotel. Travel experts claim that there is a trend to choose vacation homes over hotels. Travelers think that hotels have a lot of people at check-in and check-out and in the dining room. Meanwhile, hosts presented on Airbnb emphasize that they offer contactless and cleaner stays. Are they really safer? Let's find out below.
Hotels and accommodations
Major hotel chains have announced and already started adopting new cleaning policies and protocols. In addition to hygiene measures, these protocols focus on social-distancing and contact-free payments. These new policies are now a branding necessity and a competitive advantage as guests choose their accommodation options with a greater level of scrutiny and hygiene expectations.
Now, hoteliers are investing heavily in self-service technology and Concierge mobile apps. Guests don't have to wait in long and crowded lines to check-in. Customers use a contact-free mobile app to check-in and out, enter their room through a keyless entry, as well as order service or food directly to the room and pay through their smartphone. Guest-staff messaging helps eliminate most person-to-person interactions.
Thus, technology makes the hotel guest journey "crowd-free and allows a hotel to meet the new demands of the post-COVID traveler. That's why hotels have an advantage over hosts on Airbnb.
Assuming the coronavirus crisis is over, don't hesitate to book for summer. But don't focus only on lower prices. Instead, look at the following:
● The overall value of the deal: the services, voucher sales, the security feels provided. For example, HotelFriend offers weekend travel deals in Germany. The discount for hotel stays is up to 59%. Additionally, you can find travel coupons, which include free tickets to aquaparks, spa complexes, guided tours, etc.
● Mobile apps and new technologies the hotel adopts, starting from check-ins to contactless orders and payments.
● Hygiene standards, cleanliness protocols, and rules presented by the hotel. You can learn more about current concepts here.
● Too-good-to-be-true offers. Unknown operators may offer fire sales on the verge of bankruptcy. It might be better to choose well-known brands as they are financially stable.
Conclusion
Both eager tourists and hotel guests understand that the times are difficult. Uncertainty, coupled with health and hygiene concerns, makes us stop from traveling for a while and plan ahead for tomorrow. Yet, we are able to adjust quickly to this new reality, dig in for the relevant information, prepare for the tough road ahead, and gradually take steps to resume normal life and traveling.