May 20, 2020 8:12 PM
Since the beginning of May, Germany has been on course to lift coronavirus restrictions. Yet, responsibility has now been largely handed to the individual federal states which should determine their own path out of coronavirus lockdown. Consequently, this leads to many variations from place to place.
The guidelines below present an overview of the regulations and documents, as well as put forth a series of state recommendations.
Essential requirements to resume hotel operations by the states of Germany
Baden-Württemberg
According to the Corona Ordinance of the Baden-Württemberg state, accommodations, campsites, recreational vehicle sites, as well as restaurants, bars, shisha bars, clubs, discotheques, and pubs continue to remain closed to the public until June 5, 2020.
Even though Prime Minister Winfried Kretschmann accused "a whole row of colleagues of rushing ahead with their own openings", the gradual opening of accommodations can take place from May 29, subject to hygiene requirements. Based on the press release "Gradual opening of restaurants and accommodation" by Baden-wuerttemberg.de, holiday apartments, and campsites, as well as Baden-Württemberg's restaurants, both outdoors and indoors, will reopen on May 18. As a further step, other accommodations, such as hotels and amusement parks to open from May 29.
Schleswig-Holstein
Starting from May 18, 2020, the state is open to tourists again; apartments, hotels, and campsites allowed to reopen with full capacity under certain conditions.
According to Handreichung zur Erarbeitung eines Schutz- und Hygienekonzepts zur Vermeidung des Ansteckungsrisikos mit dem Corona-Virus (Manual for developing a protection and hygiene concept to avoid the risk of infection by the Coronavirus), establishments should take the precautionary measures, which include the following:
1. Organizational measures:

● Reduce social contacts to a minimum
● Avoid business trips and meetings
● Maintain a minimum of 1.5-meters distance
● Place markings on the floor to keep distancing at cash registers, waiting, and reception areas
● Post hygiene rules in a clearly visible place with reference to sanctions
● Set and display the maximum number of customers who are present at one time
● Display posters promoting sitting in outdoor areas and eating the takeout food within a radius of 100 meters
● Wipe down high-touch surfaces at least twice a day
● Disinfect according to the same-day documentation
● Provide mouth and nose protective covering (face masks)
● Provide soap, disinfectants, and paper disposable towels
● Don't allow access for customers with respiratory symptoms
● Register customers infected with COVID-19
● Allow individual use of company vehicles
2. Workplace:

● Keep employees apart at least 1.5 meters and shift operations
● Wear nose and throat protective masks
● Place transparent glass walls for public traffic
● Maintain cleaning intervals in the workplaces and
● Use only personal protective equipment
● Clean/disinfect commonly used objects, such as door handles, handrails, etc.
● Ensure frequent ventilation in the rooms
● Display narrow "one-way streets"
3. Personnel measures:

● Maintain a strict minimum distance of 1.5 to 2 m (also in changing rooms, washrooms, etc.)
● seek medical attention in case of cough, runny nose or sneeze and pay attention to hand hygiene
● Work from home if possible and consider shifts the same people working to minimize social contact
● Stay home with cold symptoms or go home immediately, call your doctor's office or the health provider immediately
Mecklenburg-West Pomerania
From May 25, tourists are allowed to stay in hotels, guest houses, inns, campsites, and holiday homes.
Hotels and apartments, as well as camping, can reopen on May 18, but not under full load and initially only for locals. From May 25, tourists from other federal states may also enter. However, people from German high-risk areas for COVID-19 diseases may not come to Mecklenburg-Western Pomerania even after May 25th.
According to Sicherer Tourismus in Mecklenburg –Vorpommern in Corona-Zeiten (Safe tourism in Mecklenburg -Vorpommern in Corona times), the roadmap for gradual entry into safe tourism includes several phases, namely:

● Phase 1. Careful entry into safe tourism. From May 1, 2020, owners of second homes from other federal states can return to their second homes (secondary homes according to the Federal Act on Registration). Campsites open to permanent campers from Mecklenburg-Western Pomerania. Long-term campers from outside can use their space again if it is registered as a second home.
● Phase 2. Careful entry into safe gastronomy tourism from May 9, 2020. Careful opening of the gastronomy under strict conditions that are based on the current Robert Koch-Institut (RKI) recommendations (see Annex Protection Standards for Gastronomy).
● Phase 3. Cautious start to overnight tourism for residents of Mecklenburg-Western Pomerania from May 18, 2020. Entry into overnight tourism accompanied by overnight tourism is only possible in this phase for residents with a primary or secondary residence in Mecklenburg-Western Pomerania, as well as permanent campers. (Protection standards for overnight tourism are currently being developed).
● Phase 4. Start to overnight tourism for guests from other federal states from May 25, 2020. Tourism by federal citizens under strict conditions based on the current RKI recommendations.
● Phase 5. Day tourism and new normality for guests from other countries. Overnight tourism for guests from other countries (if they are not considered risk areas) and day tourism according to the then-applicable RKI recommendations.
Rhineland-Palatinate
Campsites may reopen from May 13, but only for motorhome parking spaces; hotels, holiday homes, and youth hostels to open to tourists from May 18.
Hotels, holiday homes, family vacation spots, youth hostel, sand campsites for customers with their own sanitary facilities are scheduled to open on May 18. Guests should follow protective measures.
Tourists can visit the state museums from May 15. The same applies to the Roman buildings in Trier, Trifels Castle, Hardenburg in Bad Dürkheim and Ehrenbreitstein Fortress, and Stolzenfels Castle in Koblenz. The concentration camp memorials in Osthofen and Hinzert will be open to the public again from May 12.
To help hoteliers reopen, DEHOGA Rheinland-Pfalz released the Guide to the hospitality industry - hygiene and protective measures (Handreichung Gastgewerbe -Hygiene-und Schutzmaßnahmen Gastronomie und Beherbergung). Let's focus on what's important to the hotel owners. We've put together requirements along with solutions.

● Accommodation companies (hotels, garnish, holiday homes, and holiday flats, camping and motorhome spaces, private accommodation, recreational, holiday and training homes, holiday centers, youth hostels, huts, etc.) are to open from May 18, 2020, 00:00 a.m., it is permitted to resume business operations in strict compliance with the following conditions (exception: permanent camping and mobile home parking spaces from 13.05.2020):
(1) The guests are informed about the protection and hygiene regulations in a clearly visible suitable manner.
Tip: You can provide such an information via Push-message and Hotel-Portfolio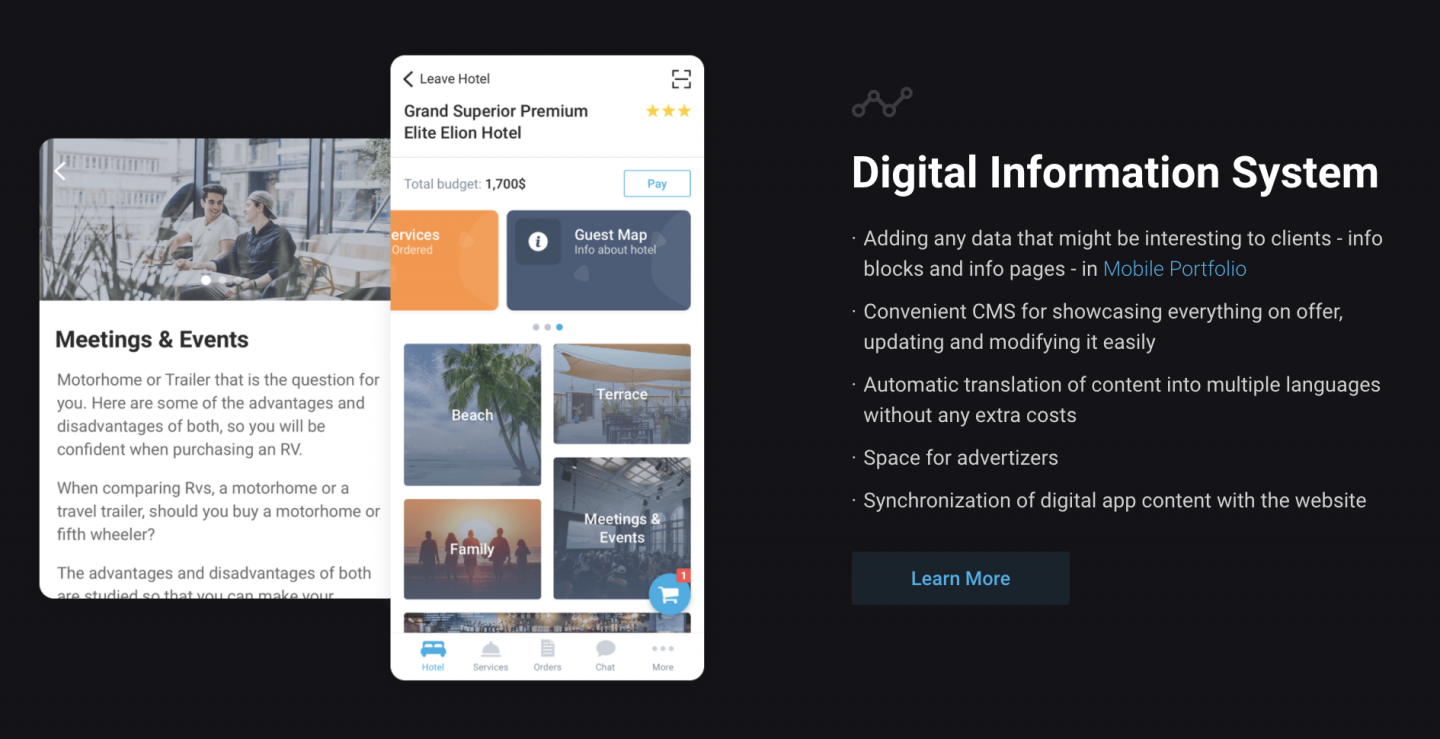 (2) Only people who are allowed to contact each other according to the Corona Control Ordinance Rhineland-Palatinate may go to a room together. A further limitation according to guest groups is not necessary.
(3) There are clearly visible hand disinfection dispenser stands for the guests in the entrance area.
(4) At check-in, contacts between employees and guests and haptic contact with consumer goods are limited. Place distance markings markers on the floor. If necessary, use partitions to guarantee regulated and safe passenger traffic.
Tip: It is safer to check-in with App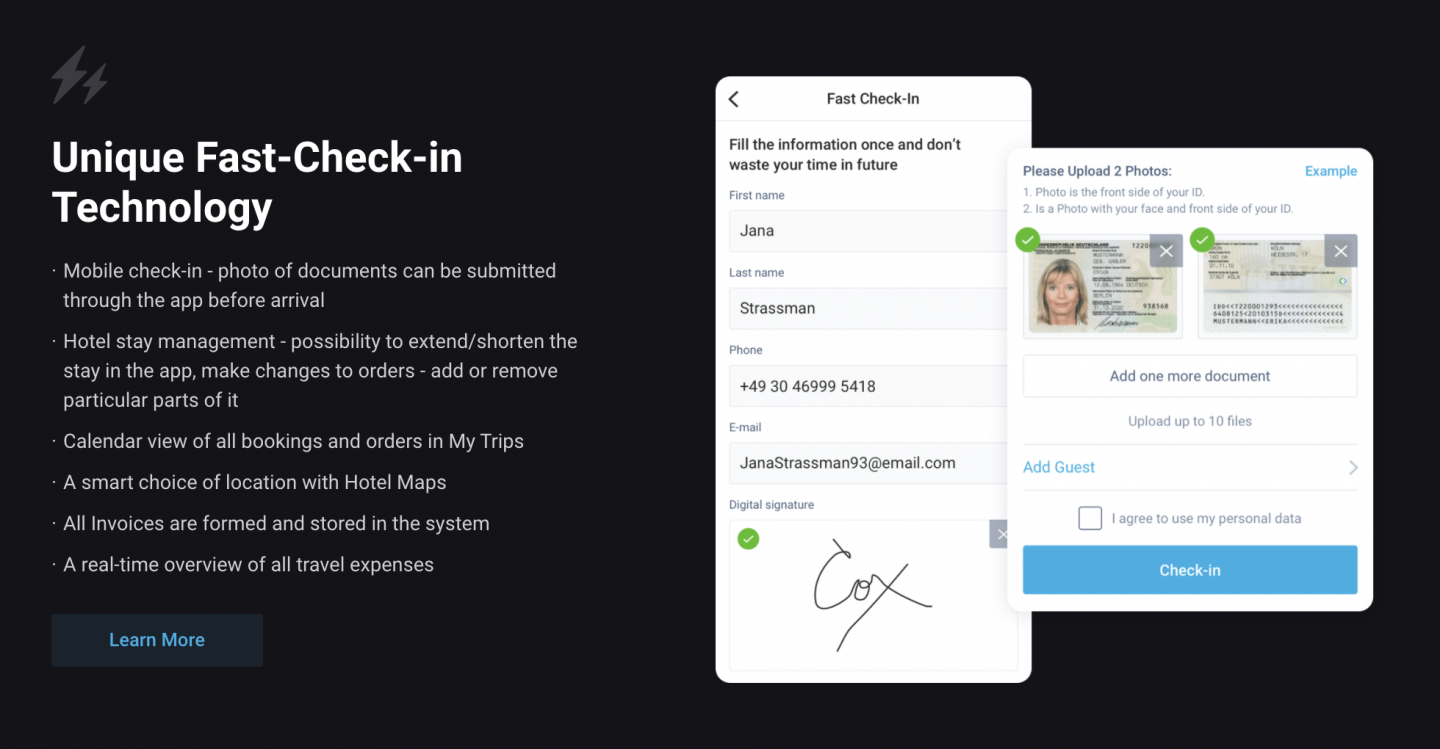 (5) In all public areas (reception, conference rooms, breakfast room, restaurant, bar, outdoor and leisure areas, sanitary areas), guests and employees should observe the distance and hygiene rules. The wearing of face masks in public areas is based on the current Corona Control Ordinance Rhineland-Palatinate.
Tip: Your guests will prefer to order with App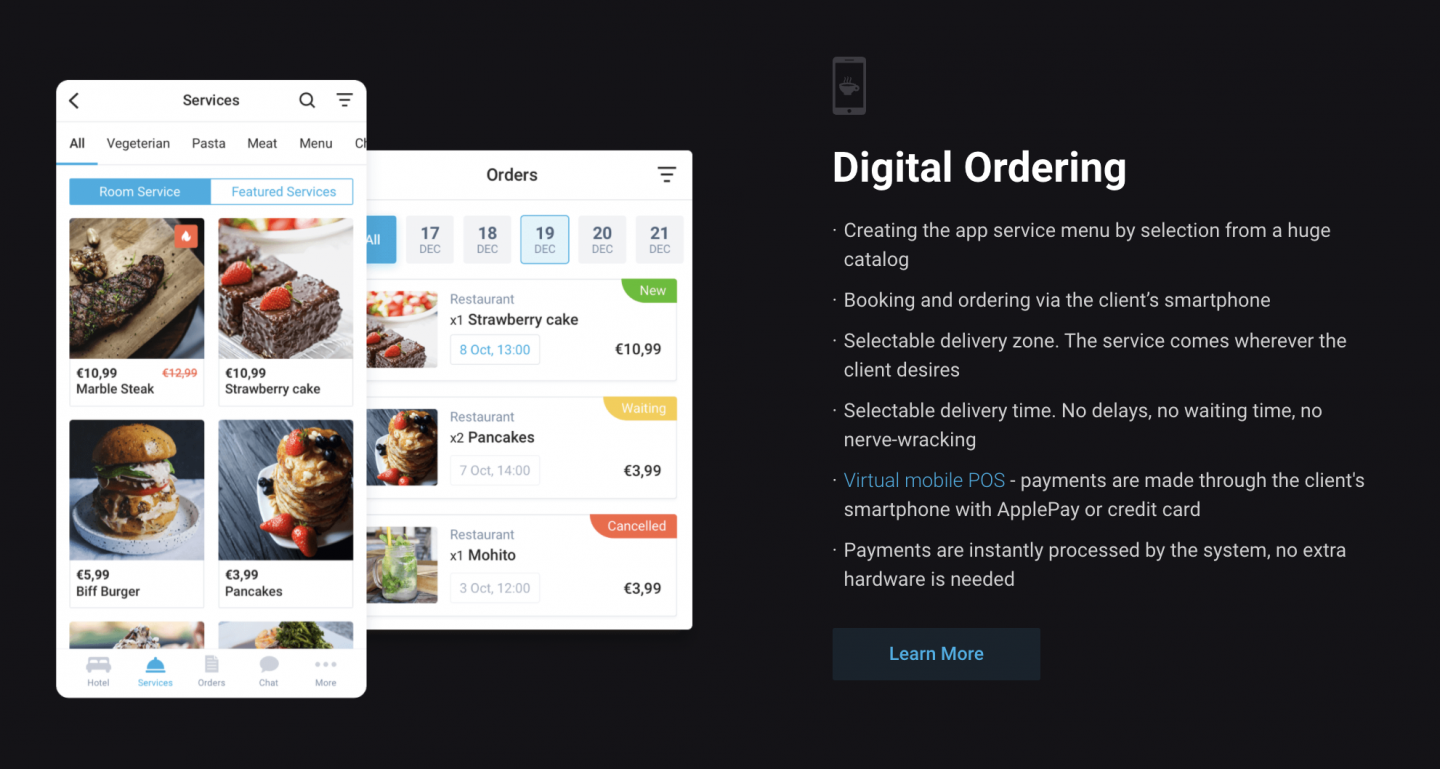 (6) The regulations and stipulations of the current Corona Control Ordinance Rhineland-Palatinate apply to the gastronomic areas (breakfast service, restaurant, bar) for the gastronomic companies.
Tip-> It is faster and safer to order with APP
(7) A suitable access regulation must be created for the use of guest toilets. Depending on the size of the toilet room, the number of people who may stay in the toilet room at the same time must be limited. Distance rules must be observed. If possible, install individual toilets/urinals.
(8) Guest toilets in public areas are cleaned at regular intervals. A notice of the cleaning cycles with the signature of the cleaning staff is required. It is ensured that liquid soap and disposable towels are available for the guests. Guests are also informed about proper handwashing and distance regulations in the sanitary area.
(9) All employees who have direct contact with guests (less than 1.5 meters) wear mouth-nose protective masks.
(10) The simultaneous use of passenger lifts by several people should be restricted according to the size of the lifts to maintain social distances.
(11) Reduce to a minimum the use of frequently touched objects in the room (e.g. pens, magazines/newspapers, bedspreads, pillows). They must be cleaned/replaced after each guest. This also applies to other areas (e.g. conference area).
Tip: Information and offers in the App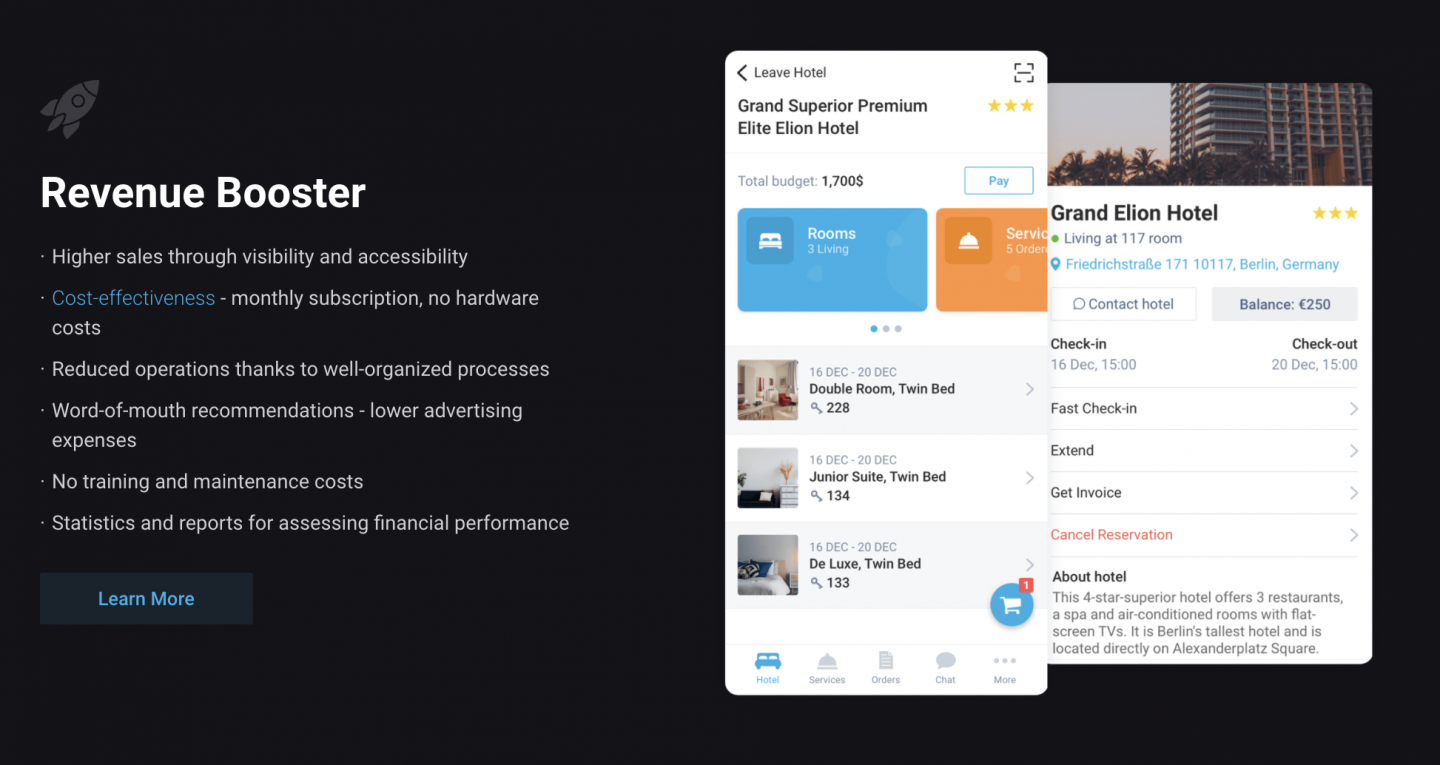 (12) The possibility of using the hotel's own swimming pools, saunas, wellness, and fitness areas is based on the current Corona Control Ordinance Rhineland-Palatinate.
(13) The admissibility of massage treatments and beauty applications is based on the current Corona Control Ordinance Rhineland-Palatinate. The permitted body-hugging services are also allowed in the hotel, subject to the safety measures (e.g. mouth and nose protection and hand protection). Access is controlled via advance scheduling.
(14) The admissibility of the offer of individual and outdoor sports, as well as "stationary" outdoor sports/activities without direct contact (e.g. yoga, Pilates, archery), is based on the current Corona Control Ordinance Rhineland-Palatinate.
(15) Hotels should take into account the action aid "Supplement to the risk assessment in the sense of the SARS - CoV2 occupational safety standard branch: Hospitality" by the Food and Hospitality Insurance Association (BGN).
Saxony
In Saxony, the mask was mandatory first, now the state is at the forefront of the easing.
Accommodation companies such as hotels and holiday apartments should reopen from 15 May. Pubs, beer gardens, and restaurants may also reopen in Saxony from May 15 under strict hygiene requirements.
The Saxon State Ministry for Social Affairs and Social Cohesion released the General decree: Implementation of the Infection Protection Act, which includes the following hygiene rules for hotels and accommodation providers:

● House guests should be in individual rooms. Multiple occupancies of rooms are permitted for partners or people from their own household.
● Guests can use common areas, sanitary rooms, and kitchens only if the minimum distance of 1.5 meters is guaranteed. Contacts between the individual persons should be avoided (e.g. different times of use determined in advance, time breaks, the time spaces between uses, adequate ventilation).
● In dining rooms, ensure a distance of at least 2 meters between the tables. A maximum of 4 people is allowed per table. In the seating and standing room, a distance of at least 1.5 meters between the guests should be guaranteed. Discontinue pre-setting tables with napkins, cutlery, glassware, food ware, etc. These should be supplied individually to customers as needed. Tray and tableware removal points must be protected from guests' sneezing and coughing. Buffets are used to protect food and drinks from guests' sneezing and coughing. Extracting tongs or comparable aids must be used to remove food in self-service mode. Extraction tongs or comparable aids must be cleaned and disinfected regularly at least every hour.
● When handling food, the general rules of food hygiene when preparing and dispensing food and everyday hygiene must be observed. Regular hand-washing must be ensured.
● Frequent hand washing and disinfection, if necessary, should be preferred to wearing disposable gloves.
● Personnel must be trained and instructed on a record of compliance with the hygiene rules during the Corona pandemic.
Saarland
Hotels, holiday apartments, and campsites should reopen from May 18. In Saarland, the catering businesses may open their doors again by May 18 at the latest.
The Saarland state government provides the "Hygiene plan of the Saarland state government for restaurants and accommodation" to help hoteliers reopen after coronavirus.
Employee protection
Adapting working conditions and processes. Suitable technical, organizational, and personal protective measures must be taken for implementation. The following regulations must be observed:

● A minimum distance of 1.50 m. Maintain a safe minimum distance between the employees and the guests. Ensure the distances between guests of different groups. Arrange the seating accordingly, specify protective clearances at the entrance area, stairs, doors, and sanitary rooms. If it's difficult to maintain the minimum distance, install partition walls.
Tip: The easiest and safest way to achieve social distancing is to switch to the Cloud PMS systems which go together with Concierge App for guests

● Contactless payment. Organize money storage, cash tray, and cash desk workplace with appropriate hygiene measures.
Tip: Adopt In-App Payment for your hospitality business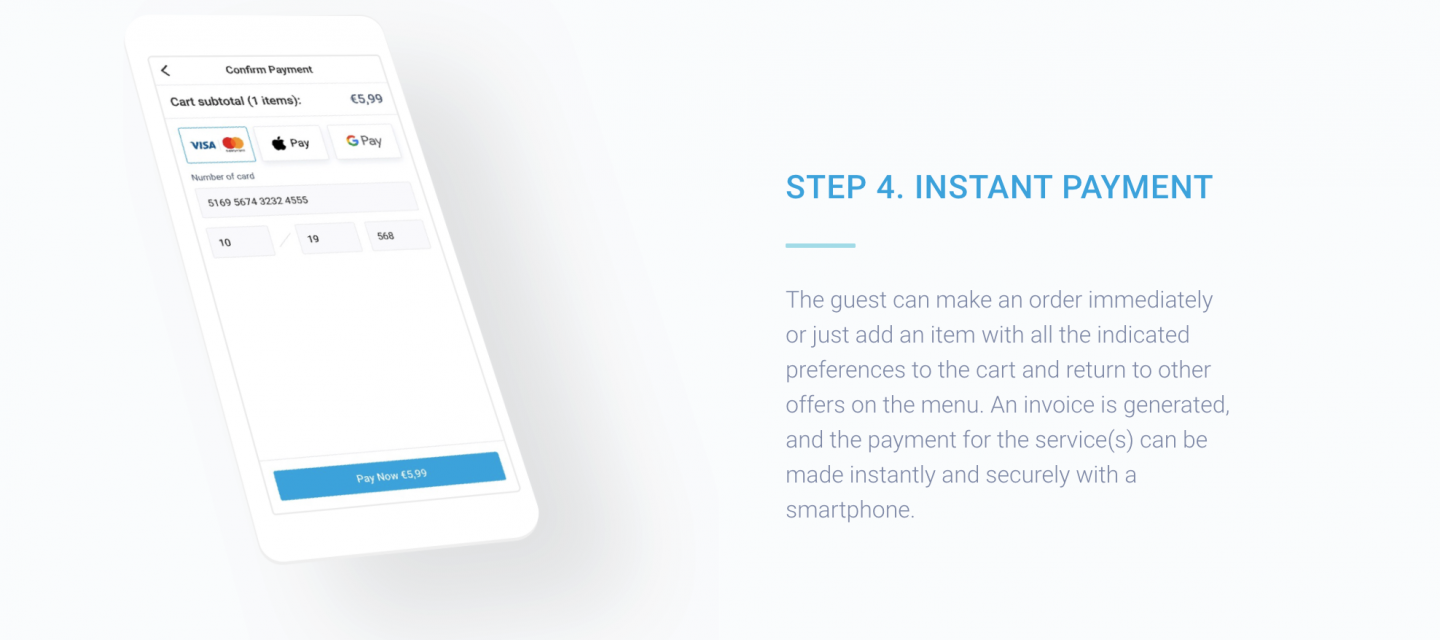 ● Guest-staff contact must be reduced to a minimum when allocating space, taking orders, serving, cashing in, and clearing.
Tip -> It is better to maintain social distancing when receiving orders/payment via App
German Hotel and Restaurant Association (DEHOGA) + IHA
According to the Important information for entrepreneurs in the hotel and catering industry, on the coronavirus (SARS-CoV-2) and the current developments by DEHOGA BUNDESVERBAND, hoteliers should focus on the following:
| | |
| --- | --- |
| I | Focus on precautionary measures and general questions in the company. |
| II | Focus on labor law. |
| III | Focus cancellations. |
| IV | Focus on company closings and insurance protection. |
| V | Focus on grants. |
AHGZ
Hygiene and professional detergent/tools:

● Use only professional, needs-based products.
● Inform both housekeeping staff and guests about all the hygiene measures as guests should feel comfortable and safe in the hotel.
● Cleaning staff should wipe the surfaces, instead of spraying on. Discard the wipes after each use.
● For each room with a bathroom, the staff needs six or seven towels, and even more.
● The staff must wash mops and towels at high temperatures.
● Household washing machines should be replaced by professional washing machines.
For more information, please visit the following:

● The rules applied to hoteliers in the federal states.
● DEHOGA
● General rules for guest protection and occupational safety.
Case-studies and Hygiene Concepts: This is what hoteliers offer in times of crisis
As German states consider the path to reopening hotels and other accommodations, hoteliers in the meantime consider how to meet all those health and safety rules. To help the hospitality businesses adopt and enforce heightened health and sanitation requirements, we've compiled the relevant documents and gathered practical recommendations, techniques, and tools already adopted and utilized by hoteliers.
Leonardo Hotels
At Leonardo Hotels, guests' safety comes first. That's why they follow the recommendations of the World Health Organization (WHO), the Robert Koch Institute, and the regulations of the health authorities to prevent the spread of diseases. Business owners implemented paperless equipment, information retrieval using QR-code in the rooms.
Tip: You can adopt the App/Web App to follow the above-mentioned measures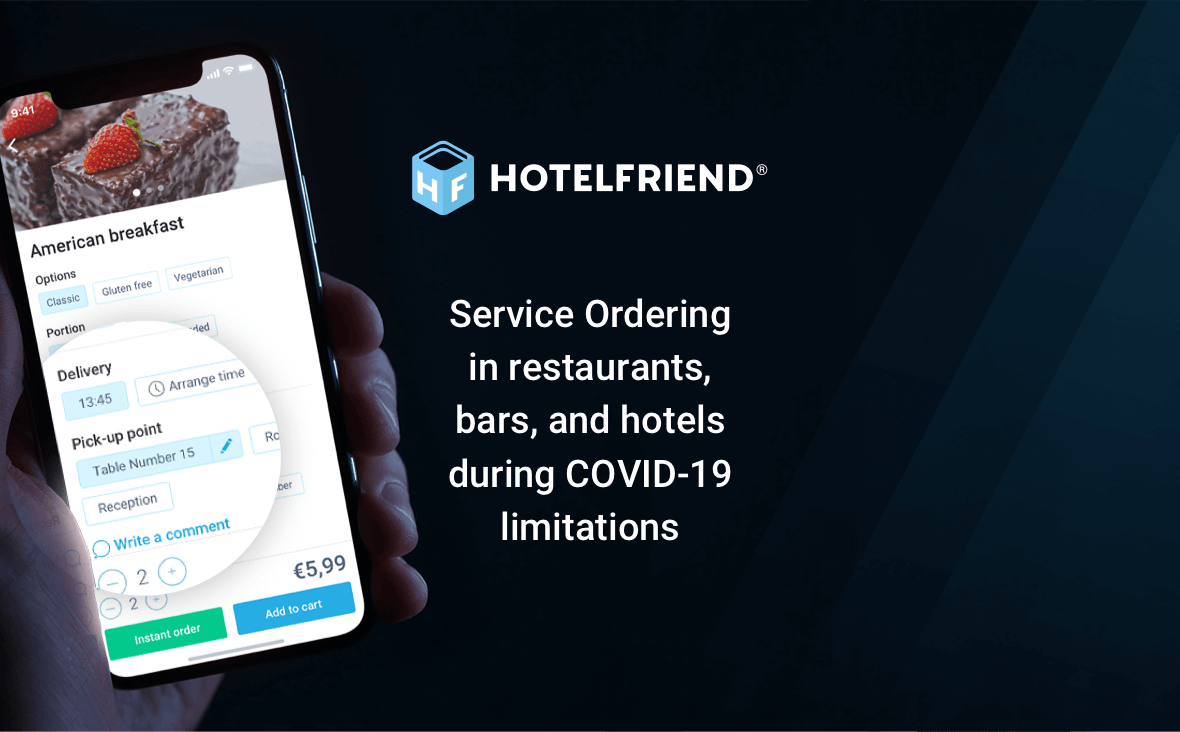 SEETELHOTELS USEDOM
Keeping scientific knowledge and medical advice in mind, the SEETELHOTELS USEDOM developed hygiene standards, created framework conditions, and innovative solutions for all areas of their 16 hotels, some of which are as follows:
Reception, public areas, and rooms:
Our check-in process has been completely redesigned. For example, we introduced mobile vinyl partitions on the reception desk. Check-in documents are now handed over in an envelope. As an additional protective measure, any unnecessary decoration has been removed from the rooms. Disinfection dispensers are also available in all public hotel areas, for example in the entrance area, in the lobby, in the changing rooms, at the elevators, and in all main corridors. Compliance with the new distance rules is supported by spacers and visual markings. We hired additional employees, for example, concierges, who regulate the waiting areas and are available to answer guests' questions.
Food and restaurants:
The breakfast buffet is replaced by a breakfast, which is served individually by a protected hotel employee at your own side table. In the 4 and 5 star hotels, breakfast is also served on a cake stand. We have also extended our breakfast times (until 12 noon) so that fewer people are in the breakfast area at the same time. This helps to ensure more distance. As an additional protective measure, the seats in the restaurant area are thinned out. While the starter and dessert are served by the hotel staff, you can have your main course freshly prepared individually at the buffet, which helps reduce the crossroads with other guests to a minimum.
Wellness sport and sauna areas
The pool area and our cosmetic rooms are open for you again. The sauna and fitness rooms will remain closed for some time. There will be a limit to the number of people in the changing rooms for the wellness, sports, and sauna area. All of our SPA and wellness areas are only used by hotel guests. Out-of-house guests are no longer permitted.
Our new hygiene standards also include stricter cleaning procedures and a much longer cleaning interval to create a safe environment for guests and employees.
Accor Group
To ensure the safety of clients and employees as hotels reopen, Accor Group has elevated hygiene and cleanliness norms further by launching a unique cleanliness and prevention label: ALLSAFE.
Hotellerie Suisse
Hotellerie Suisse developed the PROTECTION CONCEPT FOR HOSPITALITY UNDER COVID-19. This concept must meet the following requirements and appropriate measures:

● All employees should clean their hands regularly.
● The company ensures that the various groups of guests do not mix.
● Employees and other people keep 2 meters distance. In case of an unavoidable distance of less than 2 meters, the employees should shorten the contact time and/or take appropriate protective measures.
● Regular, needs-based cleaning of surfaces and objects after use, especially if they are touched by several people.
● Appropriate protection of vulnerable people.
● Sick people should stay at home. The company instructs them to isolate themselves according to the BAG.
● The company informs employees and other data subjects about the requirements and
measures, the implementation of these measures.

● The guidelines implementation of the protective measures should be adopted in the management efficiently.
● The personal data of the guests are recorded.
Munich Hotel Alliance
The "Munich Hotel Alliance", an association of 27 five-star hotels, has developed the Corona Concept and presented it to Economics Minister Hubert Aiwanger in the "Westin Grand". This concept includes the following:

● There is a plexiglass spit protection in the reception area.
● The conference seats in the hall have been reduced from 300 to 150. Birgit Häffner, spokeswoman for the "Hotel Alliance", said, "We do not know the upcoming regulation. But we expect participants and places to be registered. "
● Directional arrows should ensure that the guests do not get too close.
● Objects that are frequently touched are removed from the rooms: glasses, plates, mugs.
● TV remote control and telephone are cleaned intensively.
Hygiene concepts
Bavarian hoteliers present hygiene concept:

● Mouth-nose protection masks for the staff (sometimes, housekeeping disposable gloves are required),
● Disinfection dispenser at all entrances and exits,
● A set of rules for guests and staff (face masks are compulsory in public areas, 2 people limit in elevators),
● Distance points and spit protection at the reception,
● Walking routes marks (without overlap),
● Contactless payment if possible,
● Breakfast only via room service,
● Packed lunches offer.
Meetings/conferences would be allowed if the minimum distances between people are maintained (2 m). Also, the staff should enforce the "one person per table" rule, up to 50 people involved, only "self-service" in the room, defined a minimum size of the room per participant and at a staggered time (e.g.: from 04.05.20 - up to 30 people; from 15.06.20 - up to 50 people), separate coffee breaks (either in the room or in a separate area).
More hygiene concepts:

● Checklists and sample hygiene concepts for restaurants and hotels reopening. Kostenlose Checklisten und Muster-Hygienekonzepte für Wiedereröffnung von Restaurants und Hotels
● IHK Nürnberg: Die IHK Nürnberg bietet eine Vorlage für das individuelle anzupassenden Hygienekonzept an
● IHK Oberfranken: Die IHK Oberfranken Bayreuth hilft mit Tipps rund um die Wiedereröffnung
● BGN: Die BGN bietet eine umfangreiche Praxishilfe und einen Pandemieplan zum Download an
● SGS: Kostenlose Hygiene-Hinweise des SGS Institut Fresenius
How you see, with so many cleaning standards, documents, and operational protocols, it is not quite clear how exactly meet all those new requirements and which tools to use. In response to current challenges, HotelFriend offers an effective Digitization Package, which provides hoteliers with the following solutions:
| | |
| --- | --- |
| I | Marketplace - commission-free room booking. |
| II | Voucher sales - immediate revenue generation. |
| III | Cloud-based hotel software - every employee can work remotely, including a home office. |
| IV | Information App - everything you need to know about the hotel. |
| V | Service Order App - social distancing is achieved with any customer orders. |
| VI | This Package is FREE for hoteliers for the next 2 years! |
| VII | The claim of 9000 € from the federal government - the assumption of the costs for the provision of this solution. |
Conclusion
Traveling is returning and hotels are opening. And it is not because they have to. It is because people want to. Obviously, travelers have concerns about the coronavirus. Yet, they are still optimistic that the COVID-19 situation will improve soon and demonstrate the readiness to travel again.
In addition, hotel guests and travelers show the need for destination-level information on safety and look for holiday locations where businesses managed to adapt to the coronavirus situation and get ready for the recovery by applying all the above-mentioned standards of hygiene and cleanliness.