12th April 12:36 PM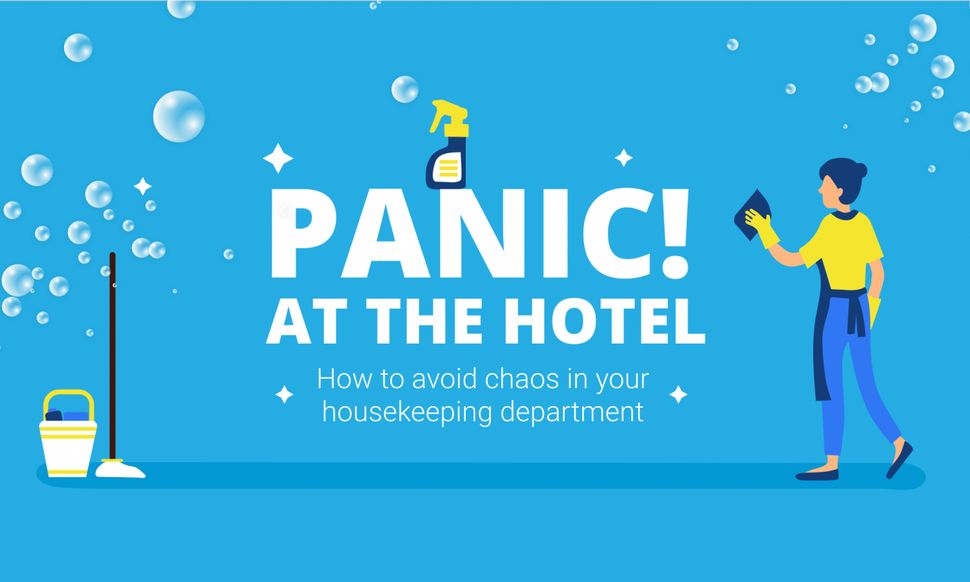 Housekeeping and the everyday work of the cleaning staff takes place behind the scenes of the hotel life. Hoteliers don't usually pay much attention to this process - but we wish they would. In this article, we gathered the most important information about housekeeping in the hospitality industry, some efficient and useful tips for improving the work of your cleaning crew and for optimizing the workflow of the entire department.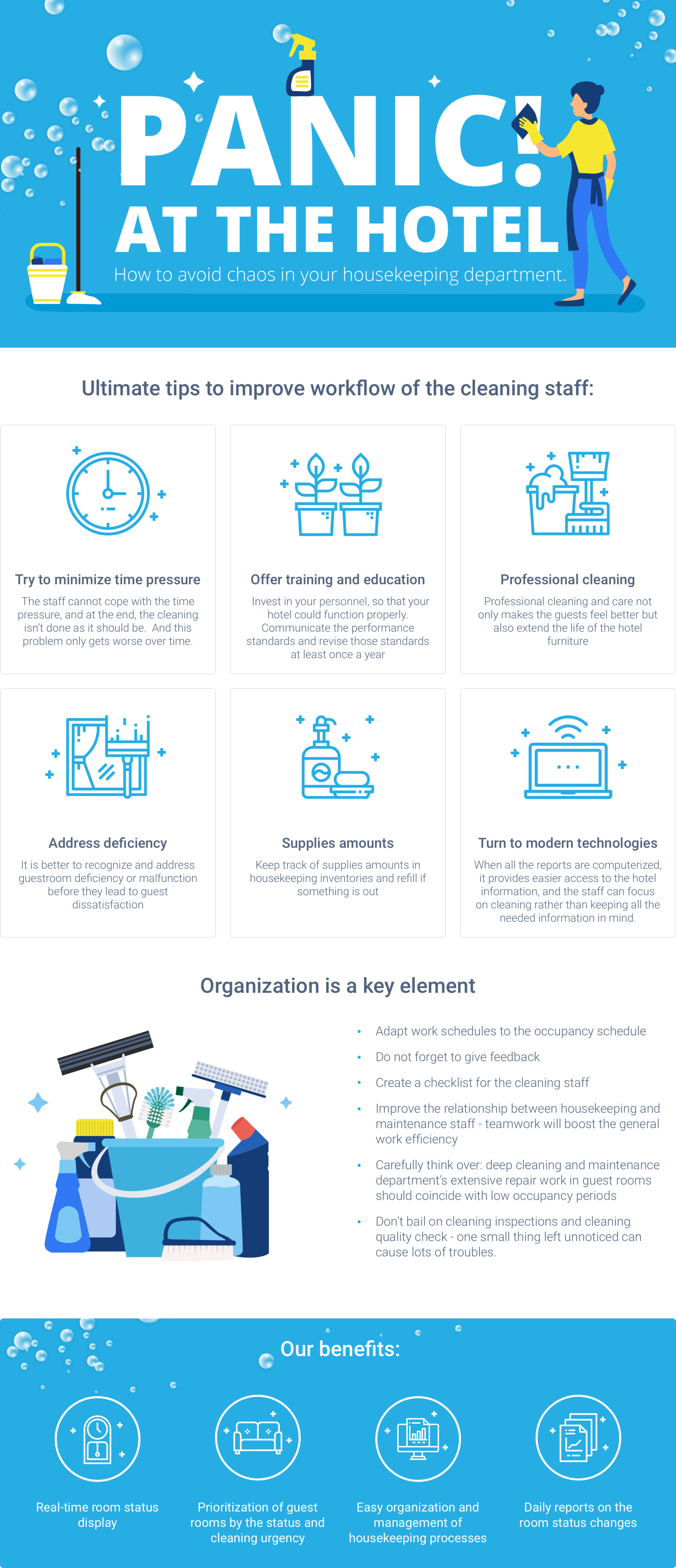 Housekeeping is quite a tough job!
Housekeeping means several working processes united by one aim - to ensure a positive impression about the hotel and establish a reputation for the quality of cleanliness. Moreover, working in this field means working under extreme time pressure, delivering the highest possible quality, and, needless to say, it is hard physical work.
Approximately 300,000 room maids and room boys are currently employed at German hotels. They are undertaking various activities to maintain cleanliness - such as routine and preventive maintenance activities, general upkeep of the property and making sure everything is in working order. On top of that, the main priority for the cleaning staff is to ensure the comfort of the guests, so that they will come again next time.
Not a piece of cake, right?
Everyday work routine of the cleaning staff
On average, the cleaning staff has between 20 and 30 minutes to prepare a room for a new guest. However, only 15 minutes are spent in occupied rooms. Cleaning jobs in hotels are often underappreciated, sometimes even by the hoteliers themselves, not to mention further education or training. This results in overworking, high staff turnover and even maybe damaged hotel property caused by improper handling.
And this whole situation is not helping the hotel business, in the worst case, it entails dissatisfied and grumpy guests.
The standard check-in time for many hotels is 2 p.m., so the cleaning work is in full swing every day, and one staff member is expected to clean approximately 20 rooms in 5 hours (depending on the hotel size and the number of rooms).
At the same time, employees are obligated to adhere to strict regulations. Many factors must be considered: the right knocking on the door, the right placement of the pillowcases, a strict rag separation, the toilet paper is supposed to be regularly replaced as well as soaps and shampoos should be refilled, and much more. The quality of the cleaning in each room will usually be checked, and some rooms will require touch-ups, if nobody cares about real-time management, then the work is simply not on doable.
So we asked ourselves:
How can we improve the workflow of the housekeeping department?
The organization forms the basis. A reasonable structure provides better optimization of the working process. The most common thing eating into cleaning time is reporting and problem fixing, keeping the room and housekeeping status information up-to-date and actually organizing the working schedule. When the system is out of order, there is much more time pressure, it affects the mood of the whole staff and their working ability. And as a consequence - the appearance of the guest rooms.
Guest rooms are the main sales contributor!
Guest rooms can score with nice facilities without question, but it doesn't save the situation when everything is gross and dirty. That's why, as a hotelier, you should pay more attention to the results of housekeeping staff work. Cleanliness is at the top of the visitor's list, and it is the main factor of their satisfaction. It leads to positive reviews and further recommendations.
Sometimes a problem arises because the staff cannot cope with the time pressure, and at the end, the cleaning isn't done properly. And this problem only gets worse over time: hard water stains or even mold are a consequence of constant improper cleaning, and when those start to appear, it is way more difficult to get back to a high level.
We will give you our TOP tips and tricks to solve this problem, so your cleaning personnel will definitely be motivated and satisfied, which will result in notable progress, as well as a higher standard of cleanliness.
Besides:
of all guests' decision to tip is based on the cleanliness of the hotel
Housekeeping tips in hospitality:
Try to minimize the time pressure: Often dirty spots are overlooked or there's not enough time for the staff to clean everything before the guest checks in. This can be avoided if the weight of time pressure will be taken off their shoulders. A realistic and clear schedule will improve the situation.
Offer training sessions and further education: Invest in your personnel, so that your hotel can function properly. Communicate the performance standards through ongoing training programs and revise those standards at least once a year.
Organization is key
🔷 Adapt work schedules to the occupancy schedule
🔷 Do not forget to give feedback
🔷 Be open to feedback, wishes, and problems yourself
🔷 Create a checklist for the cleaning staff
🔷 Improve the relationship between housekeeping and maintenance staff - teamwork will boost the general work efficiency
🔷 Carefully think over: deep cleaning and maintenance department's extensive repair work in guest rooms should coincide with low occupancy periods
🔷 Don't bail on cleaning inspections and cleaning quality checks - one small thing left unnoticed can cause lots of troubles. Besides, it lowers standards of cleanliness
🔷 Balance performance standards with productivity standards
Tips for hotel housekeeping staff:
🔷 Professional cleaning and care not only makes the guests feel better but also extends the life of the hotel furniture.
🔷 It is better to recognize and address guestroom deficiency or malfunction before they lead to guest dissatisfaction.
🔷 Keep track of supply amounts in the housekeeping inventories and report if something is out of stock.
So, how can HotelFriend help you?
It goes without saying that guest satisfaction, which is directly proportional to revenue, is the ultimate desire of any hotelier. It is a mosaic made of many pieces - not only smiley receptionists and polite porters but also such intangible things as the impeccable cleanliness of carpets and mirrors. Only stress-free and happy employees can provide a level of service that distinguishes a just OK hotel from the ones where guests want to return to. Our Housekeeping software module allows organizing the work of housekeeping personnel effectively: cleaning and maintenance of the rooms are done in a timely manner, the workload is distributed properly, and thus, an adequate amount of time is allowed for each room, which influences both the quality of cleaning and the employee stress level.
When a guest leaves a room, its housekeeping status changes in the system. Depending on how soon this room needs to be in use again, the administrator can set a cleaning priority. In the Housekeeping module, it is also possible to assign unlimited housekeeper roles to employees, who will report about the change of the room status in real time with just a few clicks as soon as it is ready for check-in. For instance, to form a list of immediate tasks for a housekeeper, the coordinator can apply a high priority filter to all dirty rooms, adding such filters as floor or type of room. With this approach, when data is instantly updated, nothing can be lost, forgotten or confused, no matter how many housekeepers are working simultaneously, as all the changes are easily tracked on a single interface, with FrontDesk and Housekeeping modules fully synchronized. It is also easy and convenient to generate daily reports about the work completed by each employee, or on each floor, etc. Moreover, you do not need to purchase any additional devices for your housekeepers - all it takes is any smartphone with internet access.
Let HotelFriend contribute to your success!
Our benefits:
🔷 Easy organization and management of housekeeping processes:

🔷 Assigning multiple housekeeper roles to employees in the system:

🔷 Real-time room status display in Housekeeping and FrontDesk:

🔷 Fast and convenient search with a set of filters;

🔷 Prioritization of guest rooms by the status and cleaning urgency;

🔷 Possibility to group-change the cleaning status of rooms;

🔷 Possibility to change room status in Front Desk.
We gave you only a little insight into the possibilities that HotelFriend offers. If you want to learn more, click here.
Public relations: Stephanie Moench
Would you like to try?
Get 14 Day Free Trial