HotelFriend — cloud-based management software for hotels
HotelFriend is a perfect all-in-one solution for hoteliers who want to increase direct room bookings, services and MICE sales, reduce the losses. Designed to attract new guests through the web marketplace or mobile application and make them regular customers of the hotel.
Keep in touch with your guests, easily track and manage their orders.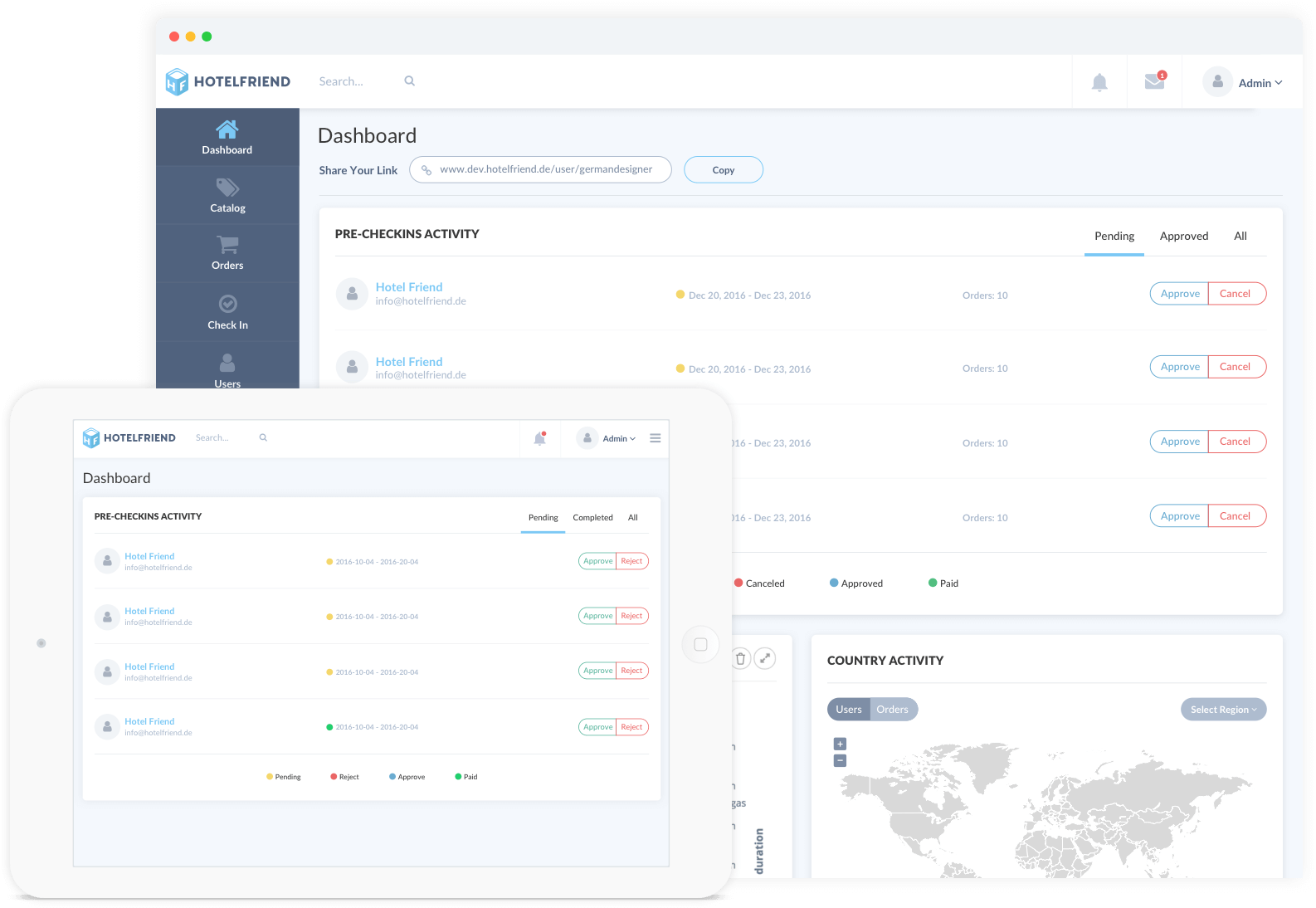 Covered traveller journey
HotelFriend is the first hospitality platform, which provides a solution for every step of the traveler's journey. The best tools for hotel management are implemented in one convenient program - HotelFriend cloud software. It covers the organization of hotel work, direct room & service sales, simplifies the processes of serving guests, making their stay at the hotel even more comfortable.
The user gets all necessary information about the hotel, its infrastructure, rooms, services, special offers & arrangements (deals) on the website or on the mobile application, and can quickly make an order, which is immediately received by the HotelFriend system for processing.
The hotel sees all the user's reservations in the cloud system, can view the details, comment, reject or approve orders.
Working principle of the system
Program key features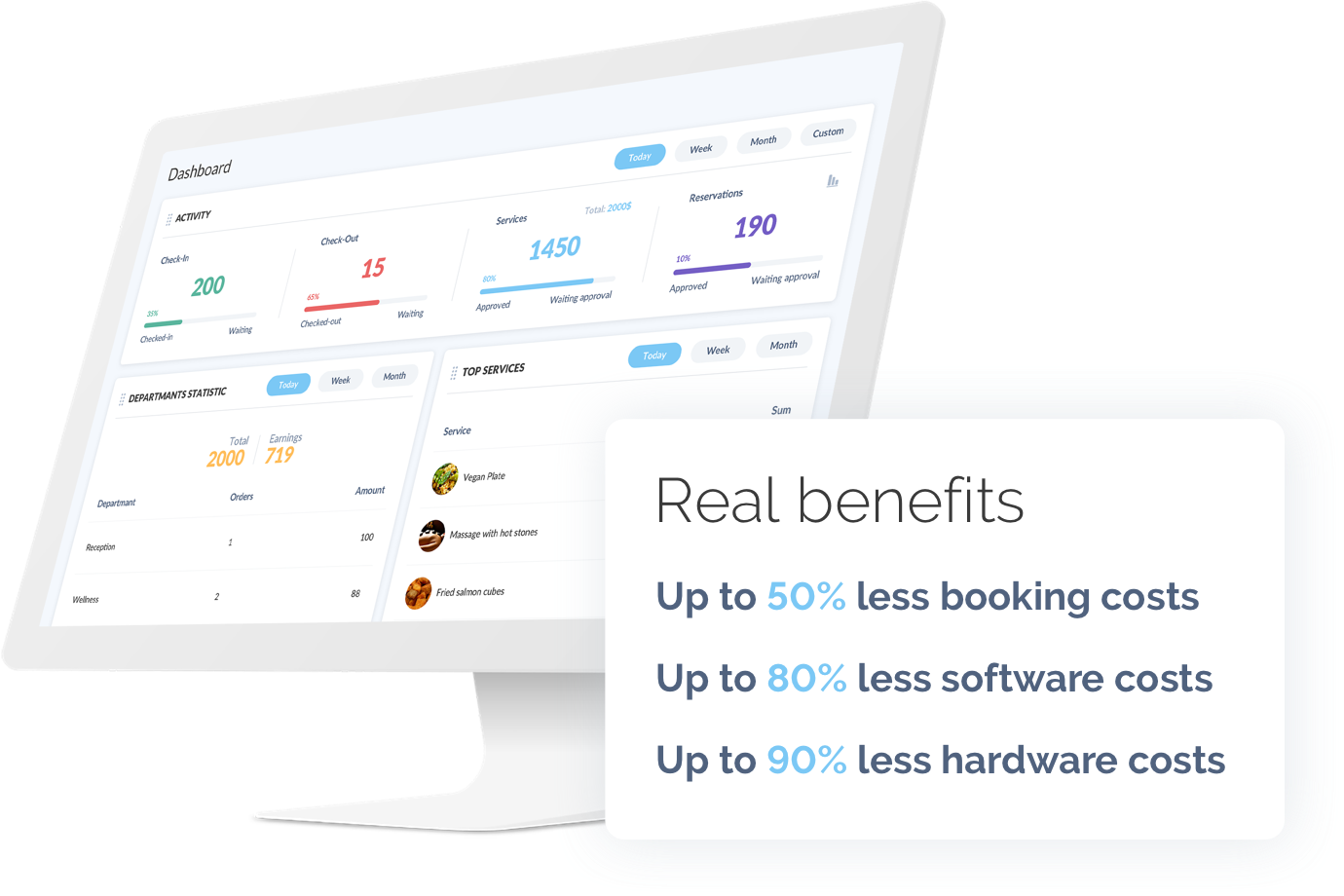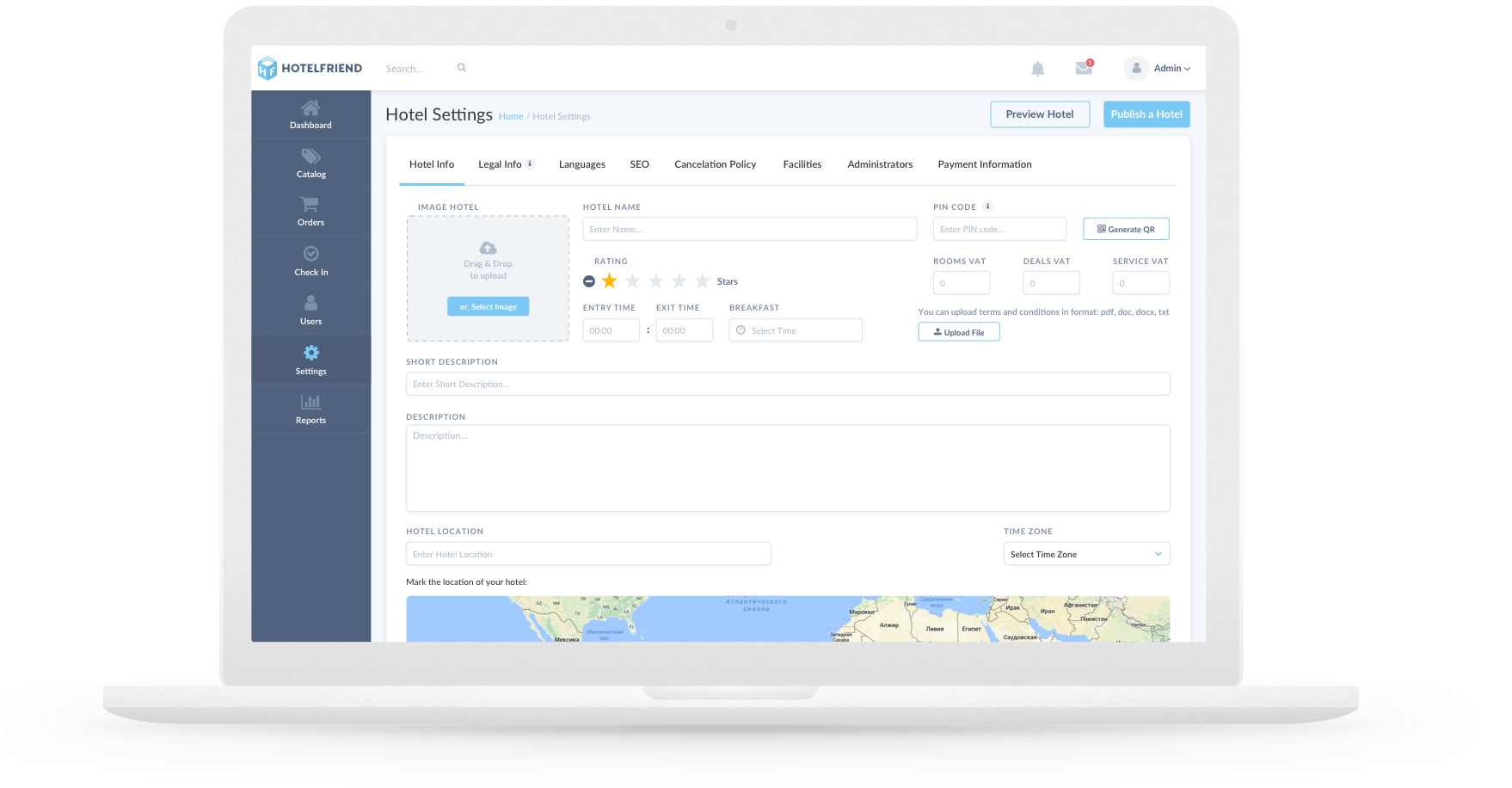 Work from everywhere
Cloud-based hotel management system works from any device with Internet access. Several hotels in a single chain, working with Instant Booking, as well as controlling the departmental workload, those are part of our basic package.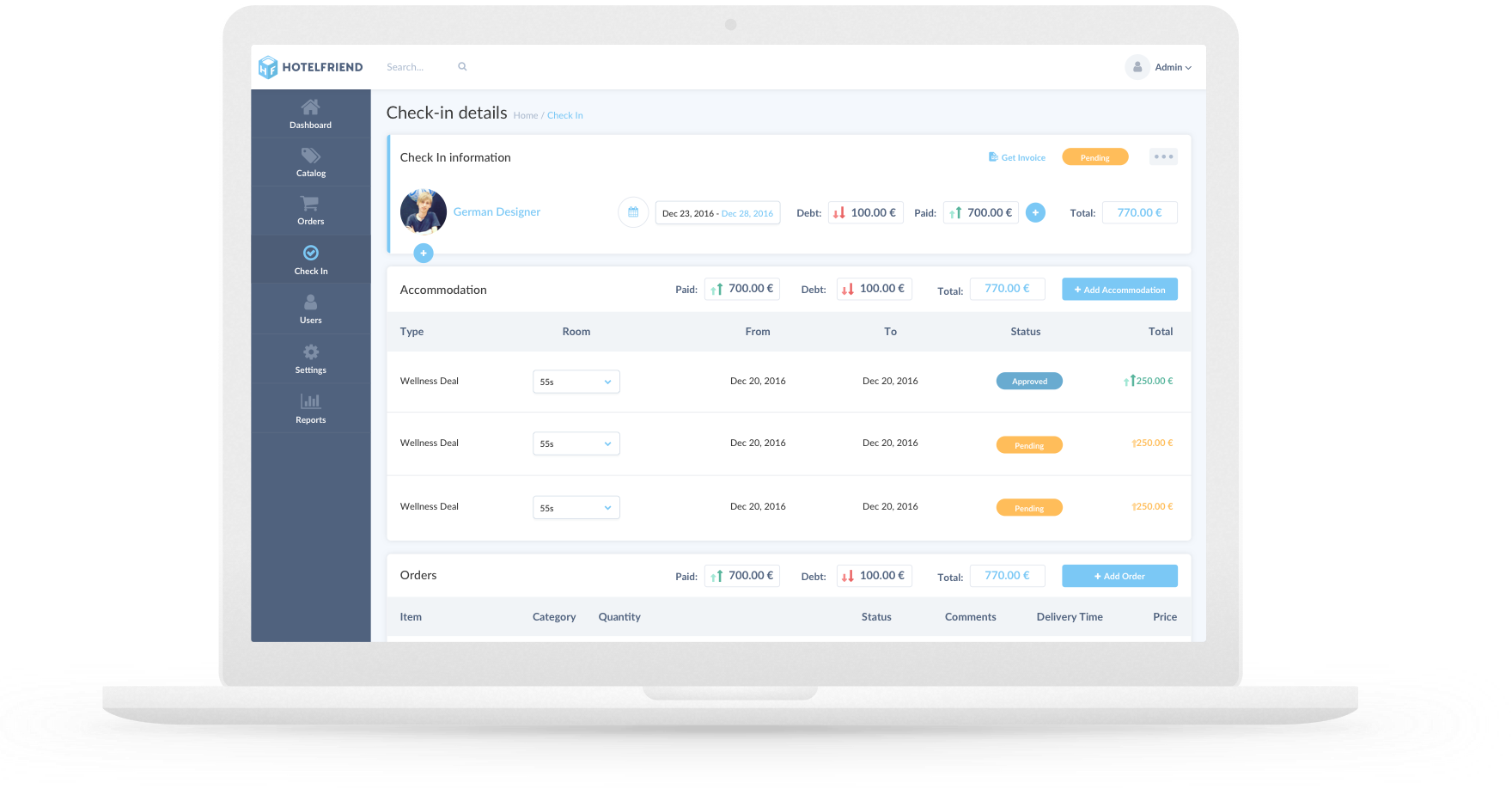 Lean Processes
Give your staff time to communicate with the guests, through optimized workflows. HotelFriend makes each guest more valuable and increases hotel service revenue.
Main advantages of the HotelFriend system
Our software covers the most important processes and processes of the hotel work environment. We have digitized and optimized best practice processes, redundant and duplicate tasks were avoided, with the aim of giving you more time for your guests. Staying at your hotel will be even more comfortable for your guests thanks to the mobile concierge. You can discreetly target guests with targeted offerings, increase revenue per guest, optimize departmental utilization, and automatically create analytics and reviews.
Hotel management & work planning. Internal organization

Direct booking. Managing all guest reservations in 1 place

Special offers. Best value deal making

Digitalisation. Full integration of everyday processes

Marketplace. Selling hotel items through web & mobile app

Cloud-based software. Available everywhere at any time from any device

Safety. Your data is secured

Guest segmentation. Receiving guest data for analysis
As a result you get a hotel management software that will save your time, increase sales and reduce depreciation costs.
Testimonials
Carolin Müller
Awesome app, easy to use, I love being able to see the statistics about our guests. Also possible to communicate with guests directly online which comes in handy.
Simon Schwarz
I have been using it for 2 months already and we were able to sell some of our special offers. We'll see how it goes. So far so good.
Lukas Schmidt
Very nice application. Helps to coordinate guest service. We now automate our processes and even changed the department structure, optimized the staff.
Hotels that use the system





We have tested our software system with more than 150 hotels, more than 10,000 rooms and a variety of associations and it has been confirmed by experts. You can test it yourself on heart and kidneys!
Increase your revenue with HotelFriend
We can bring the uniqueness of your hotel to the customer and distinguish it from the rest. Just add the most complete information about your hotel and services to the HotelFriend system.
Let the guests plan their vacation beforehand by booking your hotel rooms, services and deals anytime directly from their devices.
Do not doubt! Add your hotel to the system and start earning more! Try it now for free and start selling your hotel rooms and services efficiently.
Pricing
Our app is available for use at adjustable rates:
Platform Features
Sales Features
Verified User ID - Secure Buying
Premium Email Delivery
Web Marketplace
Al Sales Boost
Mobile App / Hotel Concierge
Recommendation System
Seo optimization
Web promotion - search results ranking
Social media activity - deals promotion
Services sales
Room sales
Deal sales
Perfect match search
Third party services sale
New Homepage sales boost
Multi-Hotelling Dashboard
Unlimit Department Access
Hotel Dashboard
Hotel Premium Statistics
CRM Guests / Stammgäste
Service Management
Deal Management
Room Management
Invoicing to Guest
Seasonal Pricing Room
Seasonal Pricing Deal
Order Management
Booking Overview
Instant Booking
Fast Check-In & Check-Out
Webinar Traning
FAQ Access
Video Tutorials
Data Import
Phone Support 10-18, Mo-Fr
24-7 Phone support
Sales Assistants
Premium Support
Live Coaching Event
Data Backup
Data Export
Integration with your website (Booking Button)
API to other existing systems
SSL Protection
Anti-virus Protection
SPAM Protection
Premium File Storage / Cloud access
Server in Germany
Cloud Software
HOT-DEAL
Matching
Push Up to the guests
Push Up HotelFriend-Members
Top Position
First Page
Top @ Hotels
Top @ Deals
Hotel Registration
Please fill in this form to proceed the registration