Feb 4, 2020 7:49 PM
Traditionally, hotels are regarded as a multi-touch person-to-person environment that requires face-to-face interactions and personalized services to meet guests' experience needs.
However, the coronavirus pandemic made significant adjustments to the hospitality sector. Customers are now experiencing a number of pain points, both existed before and newly created due to the COVID-19.
What's more, based on the Skift research, they appear at every step of the journey, namely during booking, check-in, and check-out processes. Below, we'll highlight some of these pain points:
● Pre-stay while exploring and booking: uncertainty regarding the safety of travel and cleanliness of the hotels.
● On-premise while arriving, checking in, and staying in the room: worries about the hygiene of surfaces, bathrooms, sheets, etc., in-person communication, and the health status of the hotel staff, as well as limited services and amenities that were taken away to reduce contact.
● Post-stay while leaving the hotel: fear of common areas like doors, lobbies, and safe check out and transportation to the airport.
Fortunately, all these concerns can be easily solved thanks to using the concierge mobile software. The latter has a range of advantages for guests allowing them to gain more control over their stay and engage directly with the staff while avoiding in-person interactions.
In this blog post, we will take a closer look at what hotel concierge software is, its key features that help overcome constraints related to COVID-19, as well as determine the best concierge app to start using today.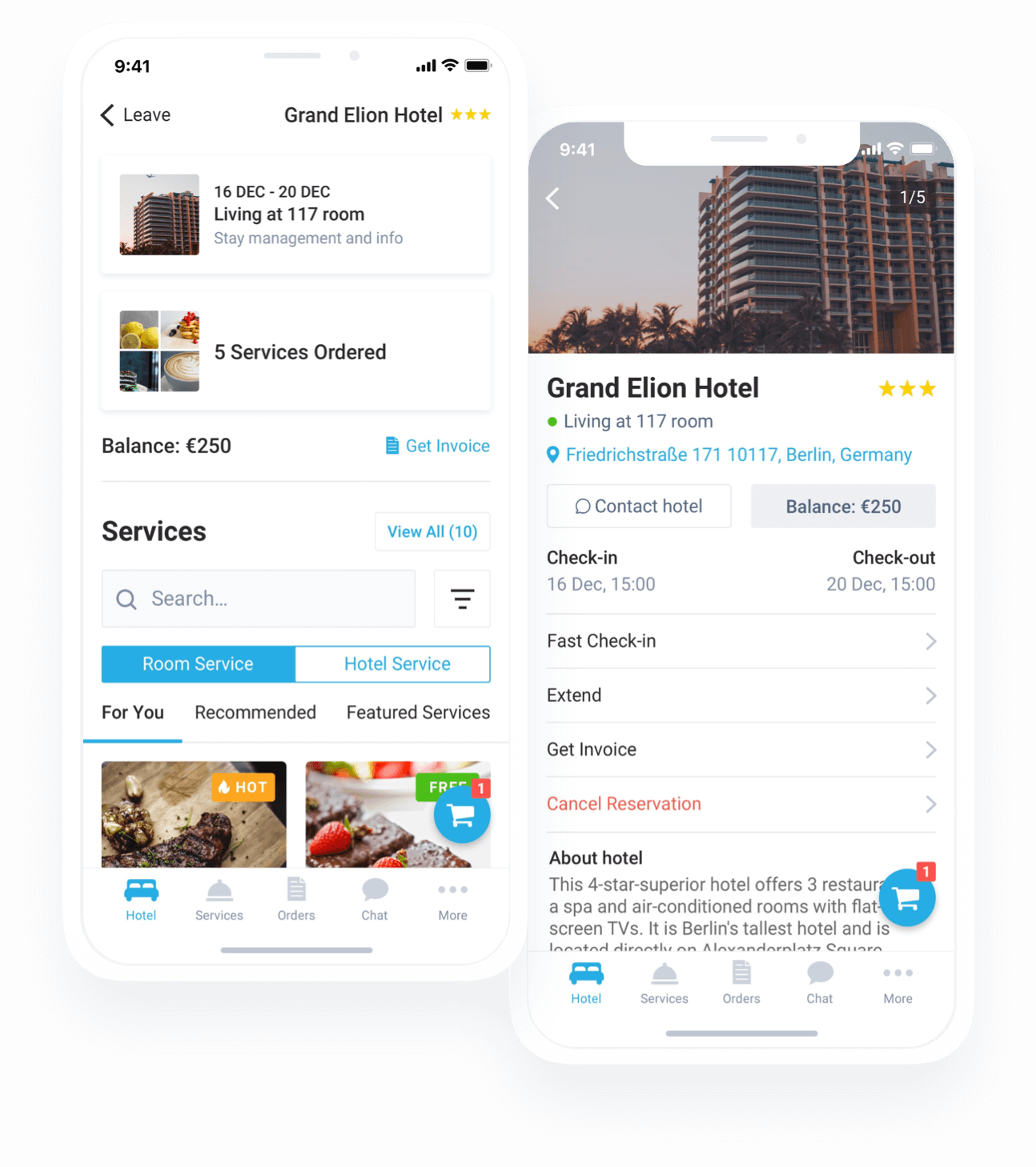 What is the Hotel Concierge Software?
Hotel concierge software empowers the hotel to meet guest expectations. It enables concierge and front desk staff to act as a team, managing all guest requests and guest communication with one system. The software helps create opportunities for upselling, get the payment, and improve the guest experience.
Whether guests choose the room, check-in, make a special request that is actually honored, use the phone as a key, communicate with the staff, order food or services, pay for them, and checkout, the hotel mobile app offers all these opportunities and more.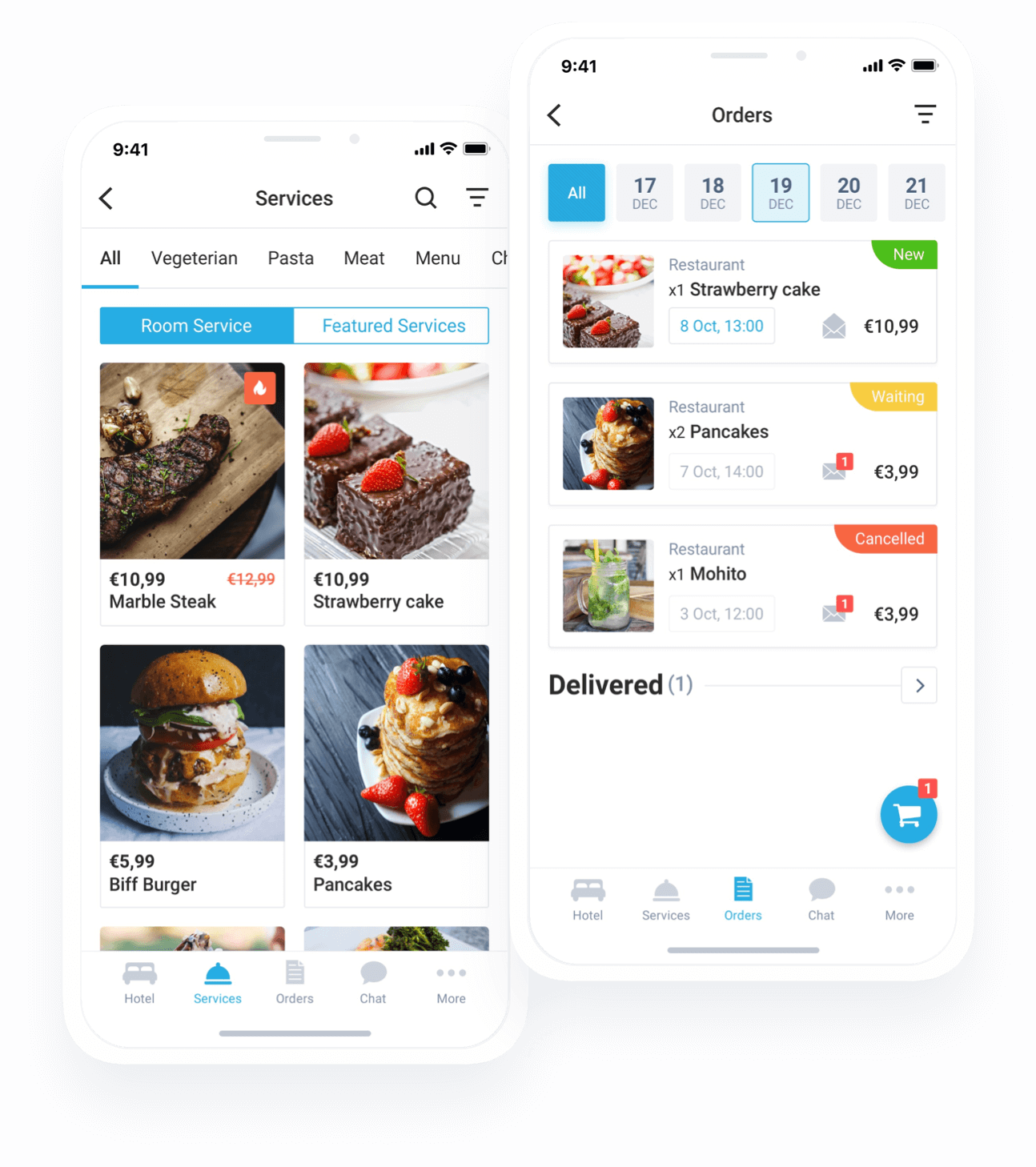 Why do hotels need Mobile Concierge?
Today, smartphones and tablets control almost every aspect of our lives with self-service claims becoming the currency of the present age. When it comes to the hospitality industry, both hotel staff and guests want to experience the same self-service alternatives.
Based on the McKinsey survey, such a positive experience can lead to a 20% improvement in customer satisfaction, a 20% lower cost to serve, a 15% increase in revenue through retention and acquisition, and a 30% increase in staff engagement.
In this respect, it is hard to overestimate the importance of hotel concierge apps. They provide the speed and extra functionality like price notifications that 79% of people appreciate.
In addition, Statista.com reported that 72% of revenue in the travel and tourism market will be generated through online sales by 2025. And apps make it possible to upsell ancillary services, gather customer analytics, launch loyalty programs, deals, and send targeted promotions to encourage repeat visits.
That said, going mobile allowed hospitality businesses to deliver a more engaging brand experience that makes Mobile Concierge beneficial to both sides:
● Guests. It's easier to use an app to check-in and out or contact the front desk, than staying in line or making a phone call. The concierge also helps avoid language issues. Plus, guests can open their room, order meals, room service, or book a spa through the app.
● Hotel staff. They have a digital record of the guest's request with, again, no language issues. Hoteliers also get a digital trail of guests' in-house activity like what services they looked for or tours they've booked and thus boost sales.
Besides improving customer service and increasing sales performance, concierge software can help a hotel to:
● Share knowledge across shifts. Leverage shared calendars, reminders, and internal notes to ensure the concierge team is aware of all guest requests. Concierge software provides transparency to the entire guest services team and an improved way to collaborate on guest requests.
● Maintain social distancing and minimize personal contacts. From planning the trip to post-stay, guests are able to interact fully with a hotel using an app and have a contactless self-service experience.
● Enhance the guest experience. By providing excellent organization and communication tools to a concierge, these apps are able to elevate the guest experience. Concierge software allows hotels to build a knowledge base of their valued guests that makes guest service even more personalized.
What are the key features of the Digital Concierge?
With experiences becoming increasingly important to guests and hoteliers, the concierge system should also have the key features, which are as follows:
● Fast Check-in/Check-out
● Contact-free keyless room entry
● Additional services and special offers provided by property object
● Calendar with orders
● Reservation notifications and order status change notifications sent to guests and hotels
● Immediate payments
● Real-time messaging including additional wishes and preferences with the order
We will focus on other important things to consider when selecting concierge software for the hotel:
● Text Messaging. Some guests may not want to download an app so communication with the hotel chat improves engagement.
● Hotel-branded documents. Branded letter confirmation, recommendations, or itineraries may elevate the guest experience making the hotel team look polished for guests.
● Personalized policies, taxes, fees, etc. Working in conjunction, they are best suited for the business.
● Reporting. It adds operational transparency and helps make decisions based on data instead of intuition.
● Package Management. It is possible to record, maintain, and easily access a log of incoming and outgoing packages without leaving the concierge system.
● PMS Integration. It allows hotel staff to access all guest information and requests associated with the booking.
To determine if the app can deliver high ROI for hotel business, it is good to ask the following four questions offered by McKinsey and Skift researchers:
1. Will we generate immediate revenue or cut costs?
Before applying any solutions, they should be measured and quantified to determine whether they can either generate more revenue or cut costs.
2. Will we improve the customer experience?
Here the focus is on customer lifetime value (CLV). Hoteliers should see it as growing or decreasing with every touchpoint, even prior to the booking.
3. Will we improve the employee experience?
Effective solutions allow hotel employees to focus on service delivery and customer touchpoints that are important rather than performing routine work functions that can be easily automated.
4. Will we leverage an "asset-light" solution?
To get started, it is good to target asset-light solutions or book a demo to calculate the benefit and the ROI in advance.
If the answer is yes to all these questions, then it is a high-ROI solution. In this respect, the Concierge app from HotelFriend – a leader in providing full-service solutions and products for the hospitality industry – incorporates all the features above, and even more.
HotelFriend Guest App: the best hotel concierge of 2021

HotelFriend Mobile Concierge is an innovative solution, which offers 360-degree interaction. This personal travel assistant app provides booking services and allows guests to get deals, special offers, and packages, as well as order and pay for hotel services from any device. Additionally, it offers a room key feature and other useful functions such as pre-registration, chats with the administrator, making an appointment, and more.
Website: hotelfriend.com
The software delivers a comprehensive VIP experience, which can be described as "the whole hotel in your guest's pocket".
In addition to great customer experience, HotelFriend Concierge App offers an array of features, which help hoteliers improve guest interaction, generate more revenue and a higher ROI:
● Faster mobile check-in/out and no need to fill in papers.
● Mobile keyless room entry.
● Facilitated data validation process with the COVID-19 test results sent along with registration forms to guarantee the compliance of social distancing.
● Instant service orders with payment and detailed reports.
● Direct access to the reservation and canceling a booking.
● Tracking the balance and managing the travel budget.
● Online payment solution for hotel services.
● Real-time chat with hotel staff.
● A portfolio where a guest may discover upcoming hotel events and view live entertainment schedules.
● Hotel digital service card generator.
● The guests' ability to extend the stay while the hotel may approve it through the app.
Software languages include German, English.
Furthermore, HotelFriend can offer white-label app options, which are as follows
● Basic functionality when we provide the template, everything that is left is only to change the logo and the colors of the app.
● Own custom design when we create the app that looks like the hotel's own one.
Thanks to implementing a mobile concierge app for contactless check-in/out, orders, and immediate payments, hoteliers can move toward providing even safer and better self-service experiences, and thus avoid unnecessary lines, speed up the registration process, maintain social distancing, offer extras, and much more.
To help open up new opportunities for progress and estimate all the benefits and the ROI HotelFriend Concierge app offers, hotel business owners can get a trial - It's totally free for 30 days!
Final Thoughts
Today's guests want and expect much more when it comes to their experience at hotels. According to Deloitte Analysis, there are 5 factors that lead to consistent guest satisfaction, namely listening, knowledge, engagement, empowerment, and surprising moments.
The above-mentioned factors are the reasons why hotels turn to concierge software. Thanks to technology, hoteliers may manage multiple channels, services, and control all aspects of the guest cycle and experience in a more personal way.
Taking the above into consideration, HotelFriend Concierge App is just such software. It can help deliver the next-generation guest experience and bridge the gap between guests and hoteliers.
We've highlighted the HotelFriend app features, which can help improve the way hotels interact with guests, and each can be put into place right now.
We've highlighted the HotelFriend app features, which can help improve the way your hotel interacts with guests, and each can be put into place right now. So what are you waiting for?
Author: