Nov 11, 2020 12:11 PM
HotelFriend CEO Denis Severyuk was invited to the Proven Principles Podcast to discuss with Adam Knight the most important questions regarding hotel tech and innovations to help hoteliers achieve desired business outcomes. This and more in the interview below.
💬 What are some of the issues with how most hotels approach technology?
- The answer depends on many factors but we have identified key issues the hospitality industry is facing:
● outdated solutions;
● paperwork routine;
● complexity of change - change to different solutions can be difficult;
● staff education;
● resistance to changes, even if it will improve the workflow;
● the volume of investment in current solutions;
● disruptive business models.
The more detailed answer here.
💬 What are hotel guests saying about their tech needs in a hotel?
- Today, tech is not "nice to have" but vital to have for hoteliers. Face-to-face interactions were the basis of communication between guests and staff. Now, the hotel stay is going to be much more personal and in many ways technical, as people are very conscious and thoughtful about how to maintain social distancing.
While travelers are seeking experiences, hoteliers are undergoing rapid transformation, which includes implementing new technologies and disruptive business models. As of now, customers interact with chatbots and robots to get information on-demand, open hotel room doors with mobile phones or facial recognition technology, and more. Hotel managers use a number of software and platforms simultaneously to check-in guests, organize their stay, and monitor new service orders, all at the same time.
You'll find more in our ultimate guest experience guide.
💬 Do good technological solutions drive more business to a hotel?
- Implementing a Central Reservation System (CRS) is a great way to boost your hotel revenues and create a much more proficient way of booking tracking. Due to the groundbreaking technologies, you can simplify the reservation process for your guests and staff. This is an excellent investment that will not only pay for itself but also significantly strengthen the conversion rates of your hotel, its position, and flexibility on the market.
Find out how CRS can boost your hotel efficiency.
💬 What should owners/managers be trying to solve with technology in their hotel?
- We've examined the case studies of major chains and small hotels thoroughly and developed several viable strategies, which are as follows:
● Invest in technology. Mobile check-ins, contactless orders, and payments are must-haves in hotels. Do not delay the implementation of innovations.
● Apply for grants and funding programs. Learn about all the grants, aids, and loans available in your area. In Germany, you can apply for the "Digital now" funding program. Thanks to that, you can get up to € 50,000 financing and almost 70% funding on the digitization expenditure.
● Reconsider marketing strategies. Make your hotel's hygiene concepts part of the marketing plan. Promote every hotel benefit across all channels, namely the website, emails, and social media channels (Facebook, Twitter, Instagram, etc).
● Develop your hotel's safety and cleanliness standards. Every respectful hotel has its own safety protocols in place. If you haven't established any yet, develop them immediately. You can learn more about them here.
● Do upgrades. It's high time to improve. Make a list of everything that needs to be repaired, do an inventory of maintenance supplies, upgrade old equipment, or invest in new equipment.
● Find additional revenue streams. Think of your additional offers that you can sell and advertise them. Adopt Mobile POS Systems as the fuel for a revenue boost.
● Build a new loyalty program. Create attractive deals and packages that combine as many offers as possible.
● Be creative. Do research, look at your hotel's area in more detail, and consider what else you can offer your guests. SWOT Analysis will be of great help.
In post-COVID-19 times, we see how exceptional customer experience and tech innovations help hotels rebuild guest confidence and protect their future revenues and growth. We hope that the case studies above will contribute to strengthening your business and staying positive in the future.
Successful recovery case studies: here.
Smart resilient hotels in times of coronavirus crisis: here.
💬 Why is it so hard to find tech solutions?
- It is not hard to find solutions. It is hard to make them all work together as one well-oiled mechanism.
We have made a detailed explanation on the funding program for hotels page, check it out.
💬 What are the main barriers/considerations when deciding on hotel technology (from an owner's perspective)?
- We investigated the technology implementation barriers in the hotel industry and discovered these major ones:
● cost and complexity;
● lack of knowledge;
● the relatively low level of IT awareness;
● limited IT expenditure;
● lack of IT leadership.
Clearly, the identification of potential barriers is vital. However, it is more important to decide on how hoteliers can overcome them. And we already have the solution. The "Digital Now" program, funded through HotelFriend partner AGL Activ Services GmbH can help advance the digitization of the hotel business and handle all the above barriers.
More by the link.
💬 What do you want hotel owners / GM's to know?
- It seems that POSITIVE THINKING will prevail for a long time to come. Yet, as there arises the crisis-related "digitization offensive", the factors below will be critical:
● Distribution of high digital standards, as well as the following:
● basic digital infrastructure
● use of digital tools;
● increased digital competence.
● Interconnected design of processes: as 100% digital is the standard, personal service can be tailored to your needs (smart service).
● Increased employee satisfaction.
● Digital education offensive through more online training.
● Innovative offer development for changing demand.
● New values ​​in partnership-based cooperation.
● Improved sustainability.
● More appreciation of social interaction.
● Contactless self-check-in, mobile ordering, and payment with HotelFriend Concierge App.
True, the current situation in the hospitality sector caused by the сorona pandemic is hard. Yet, actions and solutions above can help provide contactless services and processes despite physical distance, foster the digital transformation of hotel businesses, as well as better manage the corona crisis and its impact.
More by the link.
Final thoughts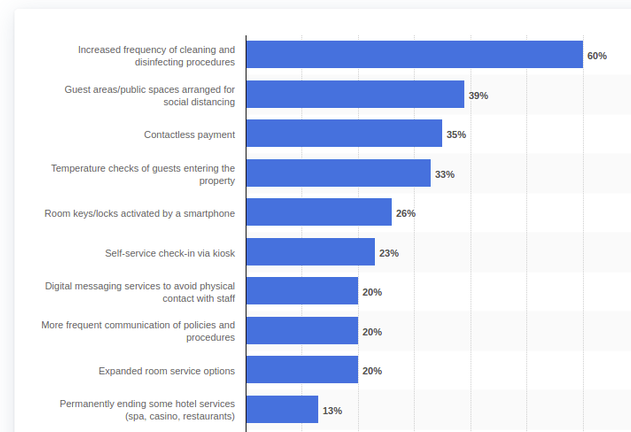 Source: statista.com
Before 2020, many hotel brands had created their markets mostly by basing on the number of properties and an outstanding service offering, while resisting technological advances. However, as a result of the coronavirus pandemic, travel behavior around the world has changed significantly.
Travelers expect a contactless payment, room keys activated by a smartphone, and self-service check-in as well as excellent guest experience, increased frequency of cleaning and disinfecting procedures, and public spaces arranged for social distancing.
It is clear that in today's post-COVID-19 and digital economy, a "wait and see" approach in regard to innovation doesn't work. The "new normal" requires taking active steps and adopting next-generation technology - not just to sharpen the competitive edge but to survive.
Now, the time seems right to capitalize on technology and find opportunities beyond the new normal. The tech solutions set out in a discussion between Denis Severyuk and Adam Knight can help hoteliers address these current challenges and evolve from being mere accommodation providers to suppliers of what guests really want and need.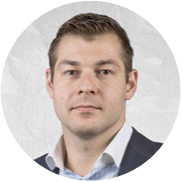 HorelFriend CEO
Denis Severyuk
Today more than ever, one must not fight the process of digitization, but must recognize and use it as a promising path.
You can find a full product overview here: https://hotelfriend.com/b/products.
Read company story: https://hotelfriend.com/company.
Make a partnership request: https://hotelfriend.com/b/partnership.
Have more questions? Contact us