Oct 2, 2020 1:45 PM
The impact of the coronavirus pandemic is huge and not yet predictable on the hospitality business. Fortunately, we see a slightly higher performance from the spring period. According to the STR, the recent September occupancy is at 48.5%, compared to 20% in April.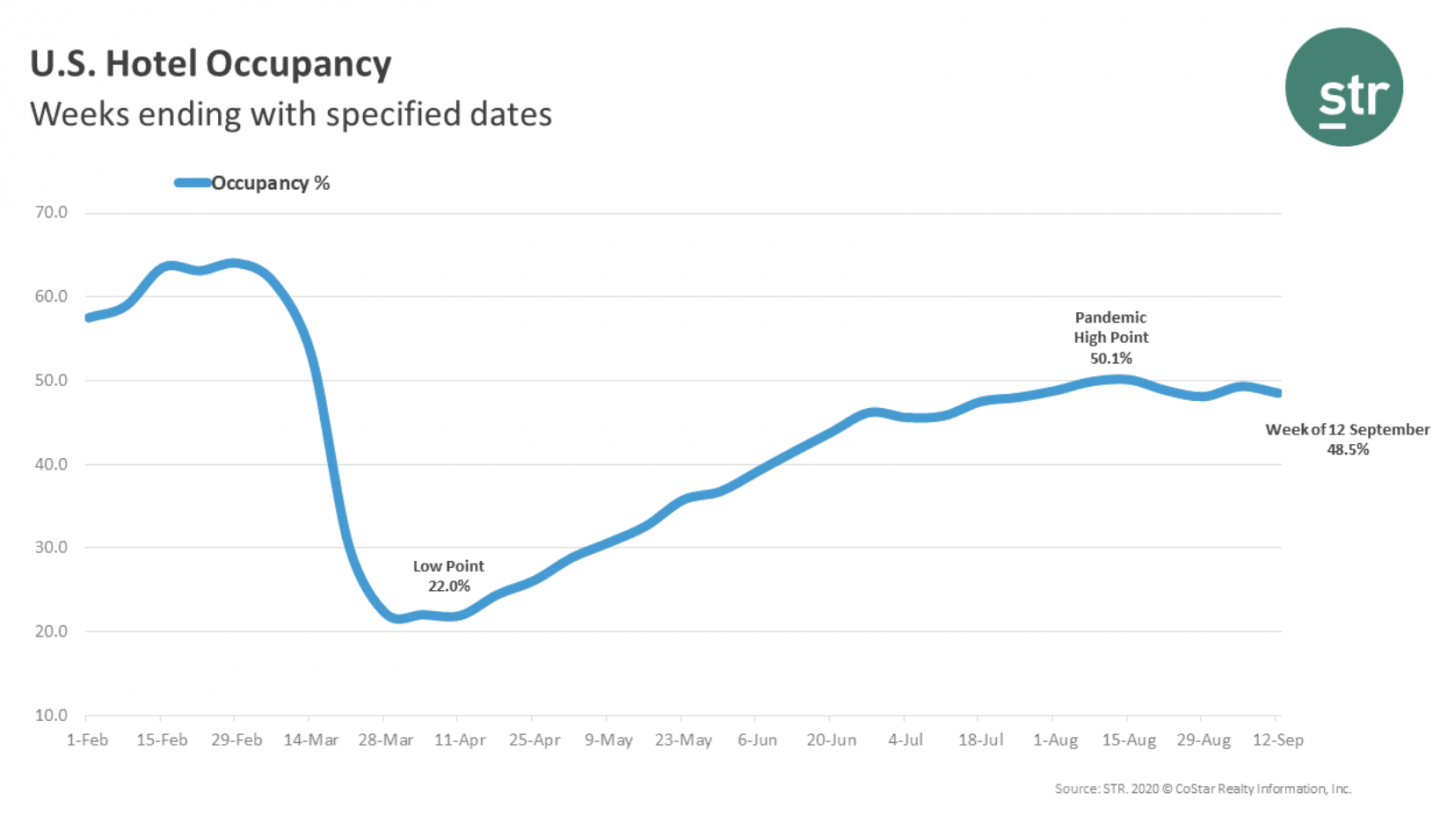 Source: str.com
However, performance increases are not so meaningful. For example, Hilton's second-quarter revenue per available room (RevPAR) decreased 81% on a currency-neutral basis for the second quarter from the same period a year ago, as the company swung to a net loss of $430 million from net income of $260 million.
Christopher Nassetta, President and CEO for Hilton Worldwide, said "Never in Hilton's 101-year history has our industry faced a global crisis that brings travel to a virtual standstill".
Meantime, the company focused on developing new strategies to return guests and ensure they could trust the entire brand. These strategies proved to be quite effective. According to the Hilton Reports Second Quarter Results, Adjusted EBITDA was $51 million, and Net Unit Growth was at 4.8%.
In many cases, COVID-19 speeded up the evolutionary process and became the starting point for many new trends, including work from home, safety and cleanliness standards, social distancing, new tech solution uses, and more. The ability to quickly ride these trends can help hotels become as strong as they were pre-pandemic.
In this article, we'll provide you with case studies and navigate through post-coronavirus scenarios and strategies that worked out for well-known and not-so-famous hotels.
Major hotel chains: building new loyalty
The hotel industry is beginning to plot a path to recovery. So we find it helpful to learn from the hoteliers that turned things around and managed to succeed. Let's take a look at the case studies on how chain hotels work in post-coronavirus time.
Marriott
Marriott has reopened 91% of its global hotels. The hotels' worldwide occupancy rates reached 34% in August. The company marked a significant jump in China from 10% occupancy in January to 55% in July. Marriott hopes the worst is over and expects to get back to 2019 levels of revenue as early as 2021.
Before the coronavirus pandemic, in Spring 2019, Marriott International launched a luxury "Airbnb-like' property lodging service, Marriott Homes & Villas. It offered customers a private residence alternative to hotel rooms. The properties in these programs have become highly sought-after as they had a number of advantages, including professional management by housing management companies.
Arne Sorenson, Marriott CEO, said, "What people are drawn to in terms of home-sharing particularly in a Covid-19 environment is, 'do you have a place where I can take everybody and where we can be on our own? ... I don't really want an apartment that somebody lives in regularly. I don't want the old style home sharing because I can't be certain about the cleanliness or comfort of that."
As a result, the company saw record performances in top booking days, up to 2x historical highs from May to August. This summer has been the highest in gross revenue since launch, with bookings up by 700% over last summer, and revenue increasing by more than 800%.
Marriott Homes & Villas business pays off for the hotel giant. The company names three major trends they benefited from, namely leisure, drive-to, and "whole home" preferences. Yet, there are other offerings that Marriott launched. It made investments in technology to survive in a tech-centric era. The hotel chain has a good loyalty program, 140 million-plus, and lots of data. Besides, Marriott International launched Global Cleanliness Council to tackle the realities of the coronavirus pandemic.
Hyatt group
The Hyatt group has 296 hotels in the pipeline across its 15 brands. Amid the coronavirus pandemic, the company had to put 38 projects on hold and cancel three ones. As of now, the company opened almost all of its hotels. Occupancy levels for Hyatt hotels in Greater China reached 65% in July. In the USA, occupancies are increasing on a steady basis, yet it's still 55% down from 2019.
"China serves as a great example that travel recovery is possible even without pharmaceutical treatments or a vaccine as long as proper, well-coordinated actions are taken to significantly reduce the spread of the virus," said Mark Hoplamazian, the CEO of Hyatt.
Overall, Hoplamazian is positive about the future and considers this crisis as a potential growth opportunity. The company is trying to create a calming and healthy environment, as well as come up with creative solutions. For example, the yoga class is conducted on the roof instead of sweating it out with others in a crowded fitness room. The Hyatt Regency Huntington Beach in California offers a socially distanced picnic basket dinner. Guests can take blankets onto the lawn, gaze out at the Pacific Ocean at sunset, and enjoy live music.
To protect guests, the hotel group announced a Global Care & Cleanliness Commitment that focuses on the safety and wellbeing of both staff and guests. In addition, the company reconsidered its loyalty program. First, they extended the cancellation policy and expanded the "Work From Hyatt" extended-stay package.
Furthermore, the group celebrated the official openings of several hotels in Autumn, 2020, including Hyatt Place Moncton-Downtown, Hyatt Place Sioux Falls, and Hyatt Place at Wichita State University.
Hilton
In July 2020, Hilton reopened 96% of its hotels. In the second quarter, the company opened 6,800 rooms, contributing to 5,500 net additional rooms in the system.
Chris Nassetta, Hilton president and CEO said, "We hit a low point of 10% global occupancy in April. We have now sort of clawed our way back. We're now running close to 50% occupancy around the world."
Today, the company is thinking hard on how to innovate its loyalty programs, as well as remove restrictions and cancellations to attract customers. Hilton announced a new strategic partnership with Country Garden to develop 1,000 Home2 Suites by Hilton in China, representing the first major extended stay offering for Hilton outside of North America.
Hilton invested in technology as well. Members of their loyalty program can check-in digitally, get to a room with a digital key, as well as choose the room they want to stay in. Besides, the chain understands that a hotel is not just a bed to sleep in. It can provide hybrid work environments, leaning into the local community and staycation customers.
Also, the hotel launched Hilton CleanStay. The new program is created in collaboration with RB, maker of Lysol and Dettol, and Mayo Clinic. It focuses on delivering an elevated standard of cleanliness and disinfection to properties worldwide. The hotel also developed the Hilton EventReady program aimed at providing cleanliness and customer service specific to meetings and events. All the initiatives above are parts of Hilton's promotional strategies.
Boutique and small hotels: seeking a way ahead
The coronavirus crisis hit smaller hotels differently, but it hurt just as much as larger chains, if not more, reaching remote locations as well. Even after restrictions were eased and enhanced cleaning procedures were implemented, businesses still needed to figure out how to operate in the new normal. Below, we'll provide some more case studies of smaller hotels to help you overcome the crisis, inspire ideas, and actions.
HayMax Capital LLC's HayMax Hotels
HayMax Capital LLC's HayMax Hotels include four boutique hotels in Aspen, Colorado & Sun Valley, Idaho. At the start of the COVID-19 outbreak, the company didn't attach importance to the pandemic as it seemed like it might affect the large cities, and smaller cities might be less impacted. Instead, ski resorts had to cease their operations as well.
HayMax Hotels' Bay tried to find ways to deal with the crisis while focusing on the guests' needs and responding to them quickly.
The first thing the company did was invest in technology. To help customers feel more safe and secure in the hotels, the managing director made the check-in process more efficient by letting guests access their room with a digital key.
"The public wanted many of these things for many years, but the hotel industry was slow to adopt them. The old days of checking in at the front desk and ringing the bell are kind of nostalgic," said Jeff Bay, managing director of HayMax Capital LLC's HayMax Hotels.
The guests appreciated this tech convenience. Implementing safety protocols also helped ease fears of infection.
Then, the company focused on the fact that people go to resort hotels to enjoy the area, not to stay at the lodge. The local community, government, and other area businesses focused on the same thing and came together to set up a lodging task force.
As a result, this strategy worked. There was an increase in demand and many 'within-stay' extensions at HayMax Hotels' Bay. Hotel guests stayed longer than originally planned. For instance, they booked for two nights but stayed for four.
Historic Smithton Inn
Historic Smithton Inn is a 257-year-old bed and breakfast, with seven rooms and a guesthouse in Ephrata, Penn., in Pennsylvania Dutch Country. When the pandemic began, Rebecca Gallagher, owner and innkeeper, realized that the old-school way of doing business when money came only in one way didn't work anymore. She needed to find new ways to survive.
First, Gallagher had to take on more responsibility to save money, starting from mowing the lawn by herself to doing the payroll.
Next, Rebecca looked at the crisis as an opportunity. She applied for every grant, aid program, and loan available to small businesses, and was approved for a Small Business Administration disaster loan. Thanks to this loan, Gallagher hardwired every room with Internet access and invested in smart TVs.
Also, she did the room upgrades, namely bought smaller individual coffee pots for each table in the dining area, plate covers and trays to deliver food to rooms for people who wanted social distancing. Now, the inn provides its guests with two electric-vehicle chargers for free.
Then, Gallagher focused on reconsidering inn's marketing strategies and acting quickly, as well as concentrated on creating new ways to make money. As Pennsylvania shut down liquor stores, she could sell alcoholic beverages from the Historic Smithton Inn's wine bar.
Finally, Gallagher created e-commerce sites with the help of point-of-sale technology to sell more than just wine. She sold branded sheets, candles, and soaps. This approach fostered different revenue streams to flow. She continued to spend on marketing as well.
All these upgrades helped attract a much younger audience. In the past, the inn appealed mainly to people in their 50s, 60s, and 70s. What's more, Gallagher noticed that now people are staying longer than it used to be.
Are you a hotelier from Germany looking to get funding for your business?
Right now you can get financing of up to 50K euros for 4 years with HotelFriend help!
Learn more
Bottom line: what can we learn from these case studies?
Recovery may prove challenging. Yet there's no challenge that hoteliers can't overcome. And we are witnessing now that both top hotel operators and small hospitality businesses found their ways out of the coronavirus crisis.
Based on the case studies above, we can develop several viable strategies, which are as follows:
● Invest in technology. Mobile check-ins, contactless orders, and payments are must-haves in hotels. Do not delay the implementation of innovations.
● Apply for grants and funding programs. Learn about all the grants, aids, and loans available in your area. In Germany, you can apply for the "Digital now" funding program. Thanks to it, you can get up to € 50,000 financing and almost 70% funding on the digitization expenditure.
● Reconsider marketing strategies. Make your hotel's hygiene concepts part of the marketing plan. Promote every hotel benefit across all channels, namely the website, emails, social media channels (Facebook, Twitter, Instagram, etc).
● Create your hotel's safety and cleanliness standards. Every respectful hotel has its own safety protocols in place. If you haven't made it yet, make it immediately. You can learn more about them here.
● Do upgrades. It's high time to improve. Make a list of everything that needs to be repaired, do an inventory of maintenance supplies, upgrade old equipment, or invest in a new one.
● Find additional revenue streams. Think of your additional offers that you can sell and advertise them. Adopt Mobile POS Systems as the fuel for a revenue boost.
● Build a new loyalty program. Create attractive deals and packages that combine as many offers as possible.
● Be creative. Do research, look at your hotel's area in more detail, and consider what else you can offer your guests. SWOT Analysis will be of great help.
In post-COVID-19 times, we see how exceptional customer experience and tech innovations help hotels rebuild guest confidence and protect their future revenues and growth. We hope that the case studies above will contribute to strengthening your business and staying positive in the future.
Would you like to try Hotel Management Solutions?
Get Free Trial
Author: