May 15, 2018 1:17 PM
The tourism industry in the EU has been rapidly growing since 2011, as the number of nights spent in all kinds of tourist accommodation, first of all in the hotels, has drastically increased from that time on. According to the data compiled and analyzed by Eurostat, the statistical office of the European Union, the popularity of tourist accommodation establishments has unexpectedly reached its peak in 2017 in almost all EU Member States, being reflected in 3,2 billion nights spent there by both EU residents and non-residents whether for leisure or business.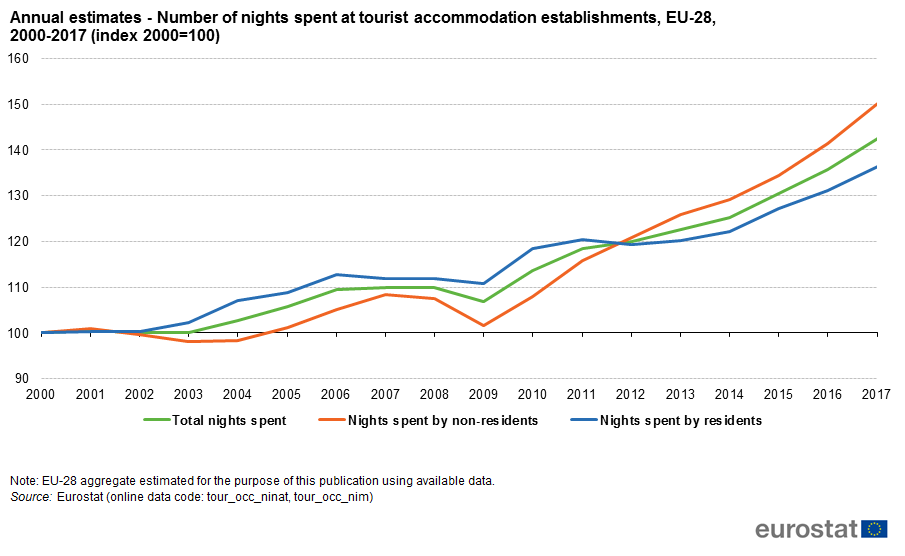 Figure 1
Comparing to 2016 the number of nights spent across the whole EU in 2017 has grown up by 5,1 %, which is mainly due to the incredibly high number of nights slept by non-residents (+6, 9%). Those slept by residents of the visited country are only the half of that (+3,5%).
The bar chart (figure 2) shows that Spain still takes the leading position as the tourist destination of the year 2017 with 471,4 mn nights. Remarkably, this year the non-residents slept at accommodation establishments of Spain twice as many nights as residents (307,3 mn and 164,1 mn respectively). Furthermore, the non-residents can be seen as an emerging engine of hospitality industry also in Croatia and Austria, where in absolute figures the hotel stay of non-residents in 2017 was several times as long as of respective residents.
Figure 2
In contrast to that, the number of nights slept by residents in Germany is almost four times higher as those by non-residents - 317,2 mn to 82,7 mn. In that regard Germany has built up its lead, being ahead of France (298,3 mn) and Italy (213,5 mn).
Analyzing the tourism development in such popular European countries like Austria, Germany, France, Spain and Italy, it would be of great interest to reveal, how and when the travellers number change throughout the year. The following bar chart reveals that the summer months are considered as the most attractive for making a trip in these countries. The only difference is a distribution of residents and non-residents: in Austria only the number of non-residents went significantly up - both in winter and summer. And in Germany and France, the nights spent in accommodations establishments grow and sink almost equally in respect of the residents and the foreign travellers.
Figure 3
The highest number were registered in summer during July and August.
These two months are seen worldwide as the most comfortable for traveling and sightseeing. Especially it concerns Germany where the warmest months of the year are always filled with numerous marvellous events, concerts of international music stars and traditional festivals which are visited by both tourists and Germans. Africa Festival in Würzburg, Harley Days in Dresden, Breminale in Bremen, Wacken Open Air in Wacken and Wasserfest in Leipzig - these are the most popular summer highlights that attract thousands of visitors every year.
Most holidaymakers plan their vacation with a purpose to go to a concert or other event just to relax or spend a great time with their kids. But to plan an unforgettable trip takes much time even regardless of its focus, and this process is inevitably connected with a lot of anxiety, nervousness and overthinking. An easy way to spare yourself all the fuss is to book a discount package deal. It usually includes a few nights in a hotel, some basic services and a number of specific arrangements: health or beauty procedures, tickets to various city attractions or museums, visiting of outstanding places or taking part in some activities like cycle and motorbike ride, hiking or parachuting. Such packages are reasonably priced and are very easy to book, and you can find lots of them on hotelfriend.com.
Choose a wellness deal for pure relax and pampering your body, or a family deal to enjoy the best holidays with your children! Book a desired travel package in advance with HotelFriend, get rid of unnecessary and boring pre-travel preparations and have more time for fun.
Statistics data were taken from site europa.eu.
Public relations: Stephanie Moench