Oct 8, 2021 12:22 PM
We rely on profit to assess success and performance and still agree on the theory offered by Milton Friedman, an American economist, where profit maximization for its owners is the primary goal of any business.
However, our world has changed and become a more complex place due to the COVID-19. Now businesses need to develop ever more complicated strategies that include not only plans for increasing sales revenue but also protecting employees and customers, as well as developing steps to come back stronger after the crisis.
Fortunately, in contrast to the beginning of the pandemic, we are already seeing signs of revenue and sales recovery in the hospitality business.
Based on Statista.com, revenue in the hotels segment is expected to reach more than $192M in 2021 and show an annual growth rate of 24.53%. The United States is projected to generate the most revenue, representing $50,570M in 2021.
STR measured the U.S. hotel performance and noted an increase of occupancy, which is 61.3%, average daily rate (ADR) - $132.94 (+9.4%), and revenue per available room (RevPAR) - $81.54 (+10.1%).
Source: str.com
Yet, Europe is not lagging behind. According to STR data and analysis, there were more than 50,000 hotel room openings in 2021 and this number is expected to hit an all-time high and grow to 100,000 total for the remainder of the year.
Robin Rossmann, STR's Managing Director, said, "The pandemic led to far more delays than deferred and abandoned projects in Europe—yes, performance has suffered during the pandemic, but many investors are still counting on the resilience of the sector".
That growth and improved hotel performance is driven by sales revenue which can be easily determined when doing the following calculation:
Sales Revenue = Number of Rooms Sold x Average Price
For example, to know sales for a month, 100 rooms sold last month x an average of $105 per room equals $10,500. So the sales for last month were $10,500.
In addition, a hotel can sell services. In this case, the formula is
Sales Revenue = Number of Customers x Average Price of Services
If a hotel had 100 customers and they ordered the service at an average of $50, Sales Revenue equals $5,000.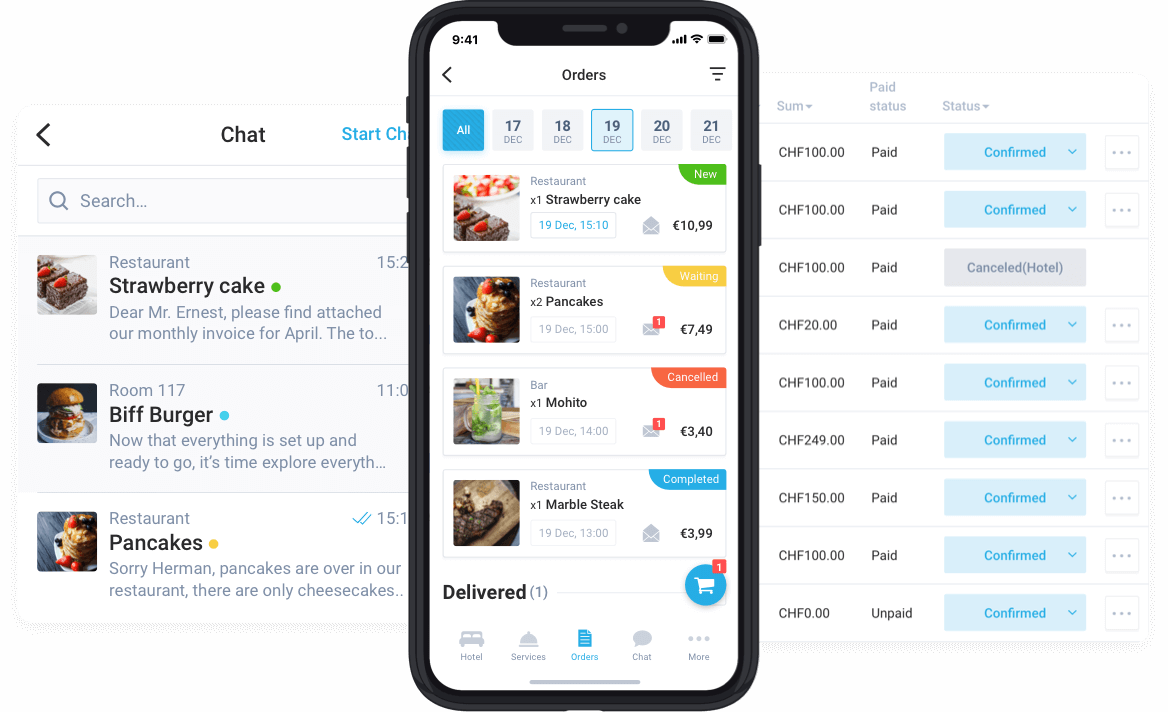 Service ordering by HotelFriend
It seems simple, right? However, there appear a number of challenges when it is difficult to calculate revenue. For instance, it can be manual revenue tracking that grows out of control or unexpected changes that affect revenue, namely business closures due to the coronavirus pandemic. So how to calculate and manage revenue properly?
Here yield and revenue management can help. These terms are linked and widely used among hotel managers as an important tool in their sales strategy. Let's dig deeper into what yield management and revenue management are, the difference between them, as well as other strategies that can drive sales.
What is Yield Management in the hospitality industry?
Yield Management is a pricing and selling strategy first offered by Robert Crandall, the chairman of American Airlines, and based on maximizing revenue through analytics-based inventory control. In the hospitality sector, the Marriott chain started using the concept for their 160,000 rooms and added more than $175 million to their sales.
Yield management is about selling the right room, to the right guest, at the right time, and at the highest price. To achieve this, hoteliers use past performance data and change their prices to convince guests to choose their hotel. There is a formula to calculate yield:
Yield formula: Revenue Achieved / Maximum Potential Revenue
For example, there are four comfort double rooms with a standard rate of $400 in the hotel. In this case, Maximum Potential Revenue will be a $400 rate multiplied by 4 rooms.
Maximum Potential Revenue = 400 x 4= $1,600
Last night, the hotel sold two rooms for $377 each
Revenue Achieved = $377 x 2 = $754
The yield is then $754 divided by $1,600, or 47%
This figure is interesting to know, yet we don't see the whole picture of all factors that impact demand. In addition, yield management concentrates on maximizing revenue solely from hotel rooms with Revenue per Available Room (RevPAR) as the major KPI to measure success.
In contrast, revenue management focuses on maximizing the overall sales generated by other hotel departments like spas or restaurants and uses several KPIs such as Total Revenue per Available Room (TRevPAR) that monitors all sources of income (outlets, Conference space, fitness club, etc.)
What is Revenue Management in the hotel industry?
Revenue management is a similar strategy that focuses on selling the right room to the right guest at the right time, and on the right channel. The concept aims at optimizing the revenue potential of a hotel through all market conditions so that business owners get the "big picture".
To implement the best tactics and build strategies, revenue managers often use data from different intelligence tools and adopt revenue management software. Here are some solutions that are worth considering:
● Hotel Management Software with a revenue management module can help build an accurate forecast of the demand and create pricing of hotel rooms that are based on actual data to maximize revenue and profitability.
● Central Reservation System allows to synchronize online distribution channels and manage all of the bookings from one place. Asa result, reservation administration risks are minimized, overbookings are eliminated, and accounting accuracy is maintained.
● Channel Manager helps manage multiple sales channels in real-time, sells rooms at flexible rates, customizes tariff plans for more profitable sales, and more.
● Hotel Dashboard for Business intelligence provides analytics and data visualizations that help make forecasts based on exact numbers and their fluctuations.
Revenue and yield management are usually used in conjunction despite the fact that they deal with a bit different things and metrics to measure performance. However, as we are now living in an unpredictable world, hotel managers should look for more ways to generate revenues.
Navigating through the crisis
The coronavirus outbreak has significantly affected our lives and challenged us to reorient the business and find new ways to respond to the crisis and changed consumer behavior.
According to McKinsey & Company, a global management consulting firm, pre-pandemic revenue management practices are no longer relevant. In this respect, Revenue Growth Management (RGM) will play a more important role in recovery. The company considers RGM as a working strategy to generate profits despite hard times and drive growth through the following core strategic choices: pricing, promotions, assortment and portfolio, and trade management.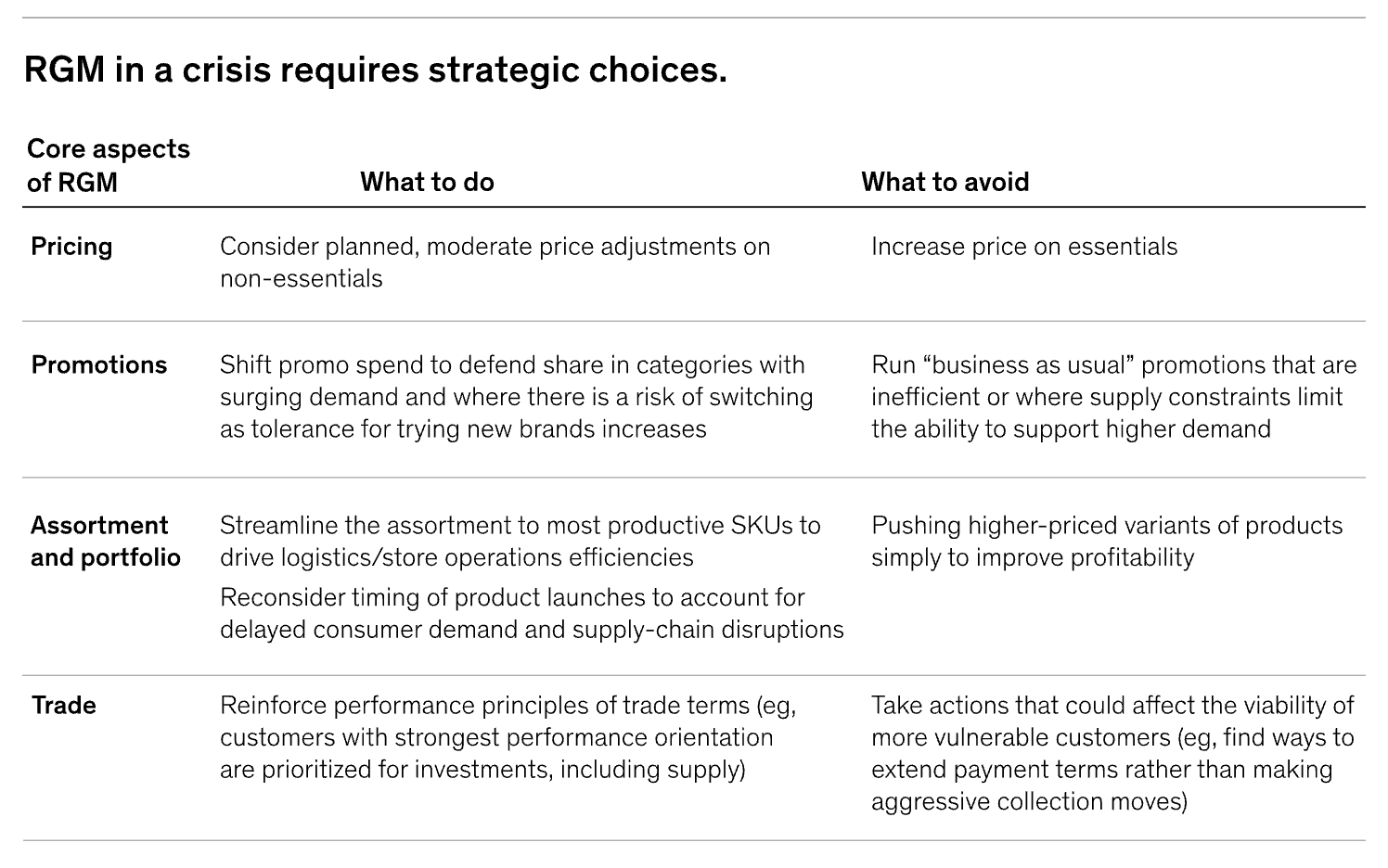 Source: https://www.mckinsey.com
In addition, McKinsey authors recommend implementing a SPRINT approach to react fast to changing consumer behavior. This approach includes the development of a six-part action plan which is aimed at building stronger relationships with customers.

Source: https://www.mckinsey.com
Here are the value-driving actions businesses can take to navigate the crisis:
1. Size revenue exposure. Make a deep-dive category review across guests, geographies, price tiers to diagnose their category and channel exposure. Such an assessment can help calculate the revenue and profit pools at stake, create the smart priorities roadmap, understand the level of exposure by category, and find extra opportunities.
2. Project demand. Forecast the post-crisis demand and actual consumption. To do it, it's good to use advanced analytic models such as point-of-sale data, online search trends, primary consumer research, social listening, etc.
3. Revamp the marketing plan. Update the marketing plans based on new data regarding reach, frequency, and ROI, changing consumption patterns, and consumer sentiment.
4. Integrate e-commerce. Take actions to optimize the e-commerce channel. Think of promotions and advertising spending, develop a revenue-driven website with an integrated Booking Engine for direct reservations and relevant content, implement new digital marketing opportunities.
5. Navigate RGM adjustments. Adjust pricing plans based on the three Ps: Pricing, promotions, and portfolio, as well as consider implementing analytics that anticipates consumer buying behavior and shifting preferences toward particular brands or channels.
6. Team up with guests and execute. Collaborate with customers, provide more support and self-service opportunities, implement technologies to improve selling techniques.
McKinsey authors are sure that the above-mentioned actions will help improve and manage performance during and after the crisis while HotelFriend can provide hospitality businesses with all the required digital tools.
Hoteliers work nonstop to stabilize their business and stay afloat. In this respect, the right practices, strategies, and thoughtful actions coupled with innovations and software solutions will be a roadmap to revenue growth.
Request a free consultation
Author: