Sep 10, 2021 12:59 PM
The pandemic with lockdown restrictions has prompted almost all types of organizations and industries across the globe to shift to remote work or create alternative and flexible workspaces. In turn, this resulted in the transformation of employee expectations regarding the way they work. According to the Work Trend Index survey conducted by Microsoft, 73% of workers want flexible remote work options to stay, while 67% would like more in-person time and collaboration with their teams.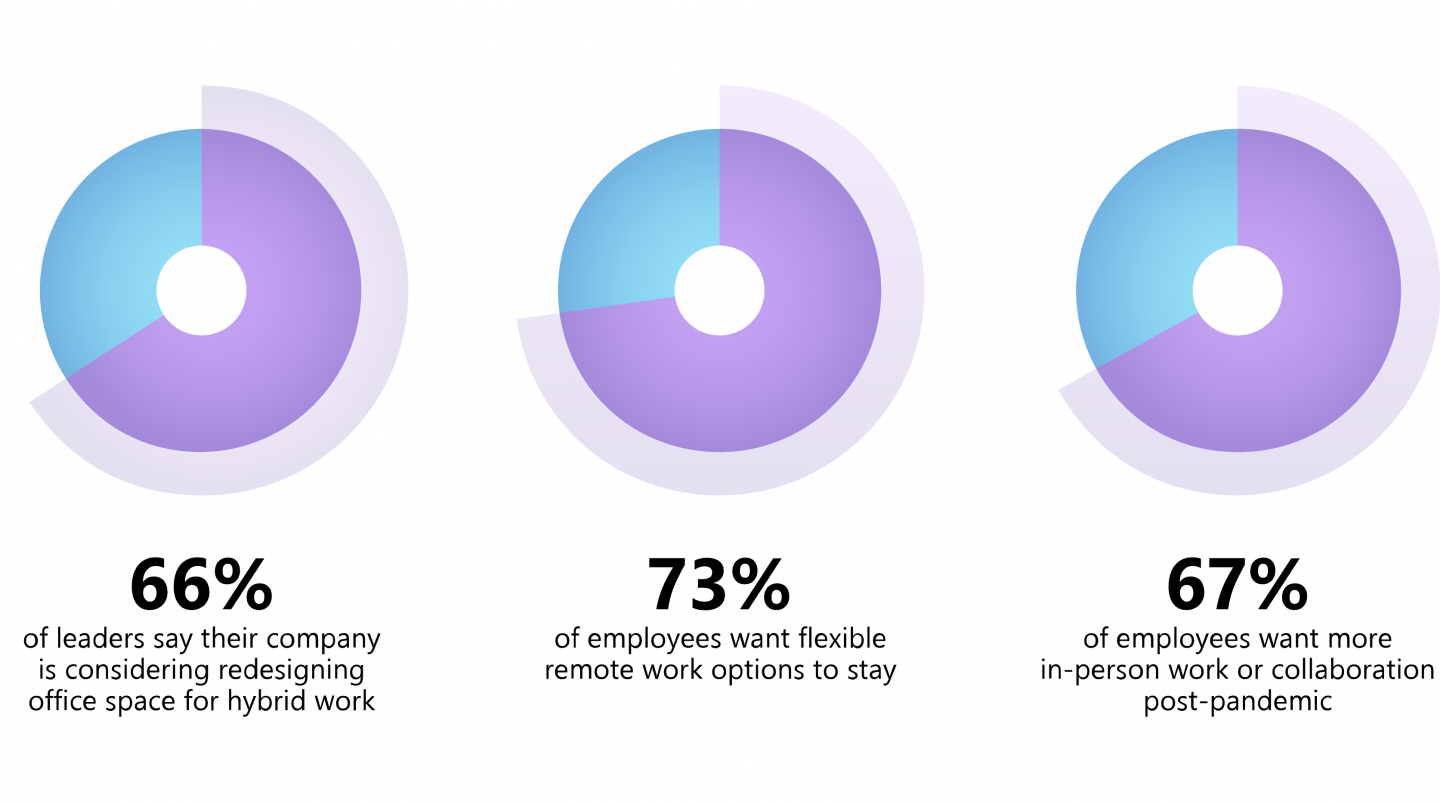 Source: https://www.microsoft.com
Consequently, business leaders now focus on changing and adapting their workplaces to hybrid work environments and designing flexible spaces.
However, in the hospitality industry, it almost seems unbelievable to run a hotel remotely. Everything changed with the Virtual Office – a solution that helps organize work flexibly and without being tied to a specific location. Let's see what a virtual office is, how to implement this workforce concept, as well as determine whether it's right for your hotel business.
What is a virtual office in hospitality and how can you benefit from it?
A virtual office at the hotel is a digital solution that enables hospitality business owners and staff to work remotely thanks to the automation and digitalization of most processes. It will be of great interest for all types of hotels, especially for small and medium-sized ones.
The solution allows to fulfill administrative, front desk, management, marketing tasks, and more without a direct presence in the hotel that guarantees 7/24 hours work. This mix of human-software interaction helps employees to complete the assigned tasks professionally and quickly, maintain social distance, while hoteliers save time and money. Other benefits include:
Become location-independent : you can select employees according to high qualification standards and recruit the best talent, no matter where they're located.
Receive guests even though there are no employees on-site: the seasonal nature of the hotel and the shortage of workers caused by the pandemic drives hotels to automate processes that used to be manual, such as check-in and check-out. This creates the flexibility to hire employees when and where they are most needed, as well as gives them an opportunity to work from home.
Prevent revenue declines in low seasons: correctly selected tools keep hotel operations running smoothly, no matter what season it is, at peak times, early, or mid-season. Employee absence at the place of work doesn't affect your hotel's productivity and revenue.
Provide guests with self-service opportunities: Your guests can book a room, check-in/out, order services, pay through their smartphone while you can confirm the booking and orders wherever you are.
Improve the service quality, save time, and money: All the information, changes, and updates are displayed automatically in the system. You know what guests want or order and create invoices within a minute. Your accounting is organized in compliance with GDPR.
For many hospitality businesses, a virtual office model of working brings with it a major positive change. From the booking stage and guests' arrival to the stay and the payment process, every step in the management process can be carried out remotely and automatically. Let's take a look at how virtual hotel operations will look without direct contact with guests, as well as explore tools that help you stay productive while working remotely.
| | |
| --- | --- |
| Guest Journey stage | Solution |
| 1. Booking. Guests can make reservations 24/7 from your hotel's website, OTAs like Booking.com, or Airbnb, and all these bookings are stored in one place. You can see them displayed in the system right after reservations were made and know where they came from. | |
| 2. Mobile Check-in. Guests create an account in an app, fill in a digital form with their data, upload their ID, and sign digitally without personal contact. Also, they can extend their stay through the app. They can discuss any question or concern with the staff via chats. They even don't have to get the keys and enter their room keyless using their phone. | |
| 3. Mid-stay. Guests can order food or service, select delivery time, and pay for them through the phone, and then pick up the food without any contact. Meanwhile, housekeepers will get the job done when there is no one in the room. Also, the app provides your guests with all the important information – from the wi-fi password to the location of the nearest bike rental. | |
| 4. Check-out. Guests can easily check out with their phones. After they leave, the room status changes to "dirty". When housekeepers have cleaned the room, they mark it as "Cleaned", and you can see it in real-time. Now you know which rooms are ready for the new guests. | |
| 5. Post-stay. Virtual office becomes your marketing assistant as well. For example, with the HotelFriend solution, you will be able to attract prospects to your accommodation with automated emails with reminders, Booking Offer, as well as outsource everything related to marketing to us like content creation, SMM, website development, and more. | |
The concept of a virtual office at a hotel may seem strange at first, However, in a world of social distancing, pandemic, and the associated restrictions, you should be prepared to solve many pain points. In this respect, an effective Virtual Office solution by HotelFriend can help employees do daily tasks remotely while you can reduce costs and minimize personal contact with guests.
Bottom line: Does a virtual office cover everything a hotelier needs
Last year, the need for remote work seemed to be yet another trend that would come and go. However, we are seeing now that we are no longer bound to traditional workplaces. Instead, we shift in the direction of flexibility, hybrid, and completely remote work. Thus, hospitality business leaders embraced recent challenges and turned all of their attention to process automation.
As a hotel owner, you need to consider how to equip all your employees with the tools for effective work from home, at the hotel, or on the go. HotelFriend Virtual Office in this regard is exactly that solution that creates a perfect remote collaboration and proves a smart way to boost hotel business. It ensures more efficient use of the accommodation facilities, helps adjust to peak and off-peak seasons, cuts costs, and makes your hotel more sustainable.
Rather than being limited to the traditional face-to-face relationships, your hotel can become more integrated and connected, while the processes to be optimized and more organized. Isn't it a win-win situation?
Request a free consultation
Author: