Oct 1, 2020 2:33 PM
If you are genuinely concerned with the growth of your business, you will always be searching for ways to maximize the revenue flow. For that, your main goal must be to develop a successful revenue management strategy. In our previous articles, we have already emphasized the importance of Key Performance Indicators in such a matter. They help to benchmark your hotel's level of success and be aware of your weak spots.
Such KPI as Occupancy has experienced a huge decline throughout the industry. After travel restrictions were implemented globally in the light of COVID-19, travelers have become more hesitant. Sure thing, in such unstable times, it is natural for them to change their mind and give up their plans at the last minute. The result of this wave of cancellations: hoteliers keep losing their money. According to Forbes, during the next year, annual hotel occupancy may decrease by 29%. The predicted losses count $75 billion.
If Occupancy is low, the full potential of the hotel cannot be realized. Canceled bookings mean that some of your rooms will be revenue losers. However, in this article, we are going to reveal some new solutions that may come to your rescue.
Using the overbooking strategy to your advantage
Overbooking is a wide-spread practice, which implies that the hotel confirms the number of rooms higher than its actual capacity. It may seem sort of a technical mistake, and, actually, in some situations, it is. However, if used correctly, overbooking increases your chances to sell more rooms and gain more profit.
At the same time, if you decide to go with the random approach, you may lose more than you win. Overbookings are always connected with "walking" – the necessity to refuse clients with confirmed bookings in a stay. Too many of these may result not only in excessive costs connected with finding new accommodation for your guests but also in negative reviews.
The customer comes to your hotel tired after the long flight, and the last thing they wish is to deal with transportation and check-in to a different place. This is a highly unpleasant situation for both sides and the way you handle it is crucial. If you are not able to find an optimal solution, prepare yourself for an array of negative comments in social media, on Tripadvisor, etc.
To avoid the mess of unintentional overbookings, we recommend you to use a smart solution that can be integrated into your PMS. Channel Manager will take care of online sales of your rooms across all OTAs. This software automates processes that you have to do manually, including updates on prices and room status. All you need to do is to add the information in your Property Management System, and it will automatically change through all connected distribution channels.
But if implemented consciously, overbooking may be a great tool for increasing income. This will be your backup in case of unexpected cancellations and no-shows. The most challenging part of that is finding a balance in the number of overbookings. On the one hand, you must make the most of this strategy to gain as much revenue as possible. On the other hand, if you walk more than two clients in a short timespan, this may severely harm your reputation for quite a long time.
Thus, before implementing this approach, you must gather as much information concerning your clients, bookings, and cancellations as possible. To accurately forecast the number of guests that will cancel their reservations, you need to scrutinize all of this data. If you use a PMS, getting and analyzing it will not be a problem at all. After you recognize the distinct pattern of no-shows and cancellations through each season, your approach will be more effective, as it will be grounded on the facts.
Analytics plays a crucial role in your research. Be curious and try to trace a link between cancellations and the type of room, the season, the day of the week, or certain festivals and events nearby.
Are you a hotelier from Germany looking to get funding for your business?
Right now you can get financing of up to 50K euros for 4 years with HotelFriend help!
Learn more
How to calculate a no-show rate
Now it is time to pass from theory to practice. To know how many overbookings you can allow, one of the parts of your research will be the calculation of the rate of no-shows. It gives you a new perspective on your business performance and shows if you have to do something to improve your occupancy level. The average no-show rate in the industry ranges between 8% and 15%.
To estimate the average percentage of no-shows specifically in your hotel, you have to find out the average number of daily no-shows first. The most efficient way will be tracking no-shows every day and calculating the average number in your monthly reports. Then, you should also find out the average number of bookings per day, and calculate the monthly number.
After that, you can proceed with this formula:
No-show rate (%) = Average of daily no-shows / Average number of daily bookings
To illustrate how it works, let's suppose that your average daily no-show index is 1, and usually, you have around 20 reservations per day.
In this case, no-show rate in your hotel will be: 1 / 20 = 0,05
Then, you multiply it by 100 and get 5. Now you know that the rate of no-shows in your hotel equals 5%. Of course, this is just one of the multiple calculations that should be used during the overall analysis. Another thing to keep in mind is that no-show does not necessarily mean lost revenue. If you have a well-developed no-show and cancellation policy, the negative financial consequences can be significantly alleviated.
Some tips on "walking" your guests
No matter what type of overbooking you are dealing with, you will sometimes have to turn away guests with confirmed reservations. There are many challenges connected to that, and you must be prepared. Before adopting an overbooking strategy, we advise developing a detailed plan of action. It must include the types of guests that you can "walk", where you will accommodate them, and acceptable costs.
There is a misconception that you should walk to another hotel those guests who are the "latecomers". However, there are plenty of things to consider before making a decision. Such factors as the length of stay, whether the client is regular or a newcomer, and the price of the room are crucial in your analysis.
In general, while choosing between guests, it will be wiser to walk those with a minimal length of stay and those who had never been at your hotel before. Walking the regular customer may lead to more unpleasant consequences since they expect more from your service.
Families and guests who paid bigger rates should also be protected in such situations. However, show your compassion to each of your clients, and try to find out who must be redirected to other property as early as you can. Notify them beforehand and provide them with everything you need: pay for the room, for transportation, and offer complimentary perks. Assure them that you created all necessary conditions for a comfortable stay and that the impact of this change will not interfere with their plans.
Last but not least, find a local hotel of your level or higher to partner with. This will save you a lot of time since you will already have an option. Moreover, you will be able to focus more on your clients and their needs. But mind the prices: if a person paid $200 for a stay, and you redirect them to the property which charges $400, you will get more losses than you can afford.
Preventing cancellations for keeping occupancy levels high
Last-minute cancellations and no-shows lead to diminished occupancy. And diminished occupancy leads to less amount of income. Therefore, you must think through all possible ways to prevent them and keep your occupancy percentage high. And here are some insights that may be useful to you:
Introduce a stricter Cancellation Policy
Your cancellation policy should protect your interests, as well as your clients'. However, there will be no use of it, if it will harm your business. Therefore, making it a little bit stricter may be wiser in some cases. This way, you will be able to avoid no-shows and fake reservations. If you decide to implement restrictions, such as a cancellation fee, be sure that your policy is clear and accessible for everyone.
Request their credit card details or ask for a retainer fee
Having the details of your guest's card means securing the payment. If you require this data and then ask for a small amount of prepayment and they agree, it will be even better. In this case, you will lessen the probability of cancellation, since your guests will not want to lose their money.
Set discounts for prepaid bookings
This approach is a great way both for reducing the number of cancellations and attracting more clients. It may sweeten the deal if the booking is non-refundable. Plus, people are always looking for discounts and this will help you to stand out from your competitors. You may also consider offering discounted packages and deals – upselling is both an efficient revenue booster for you and a good bargain for your guests.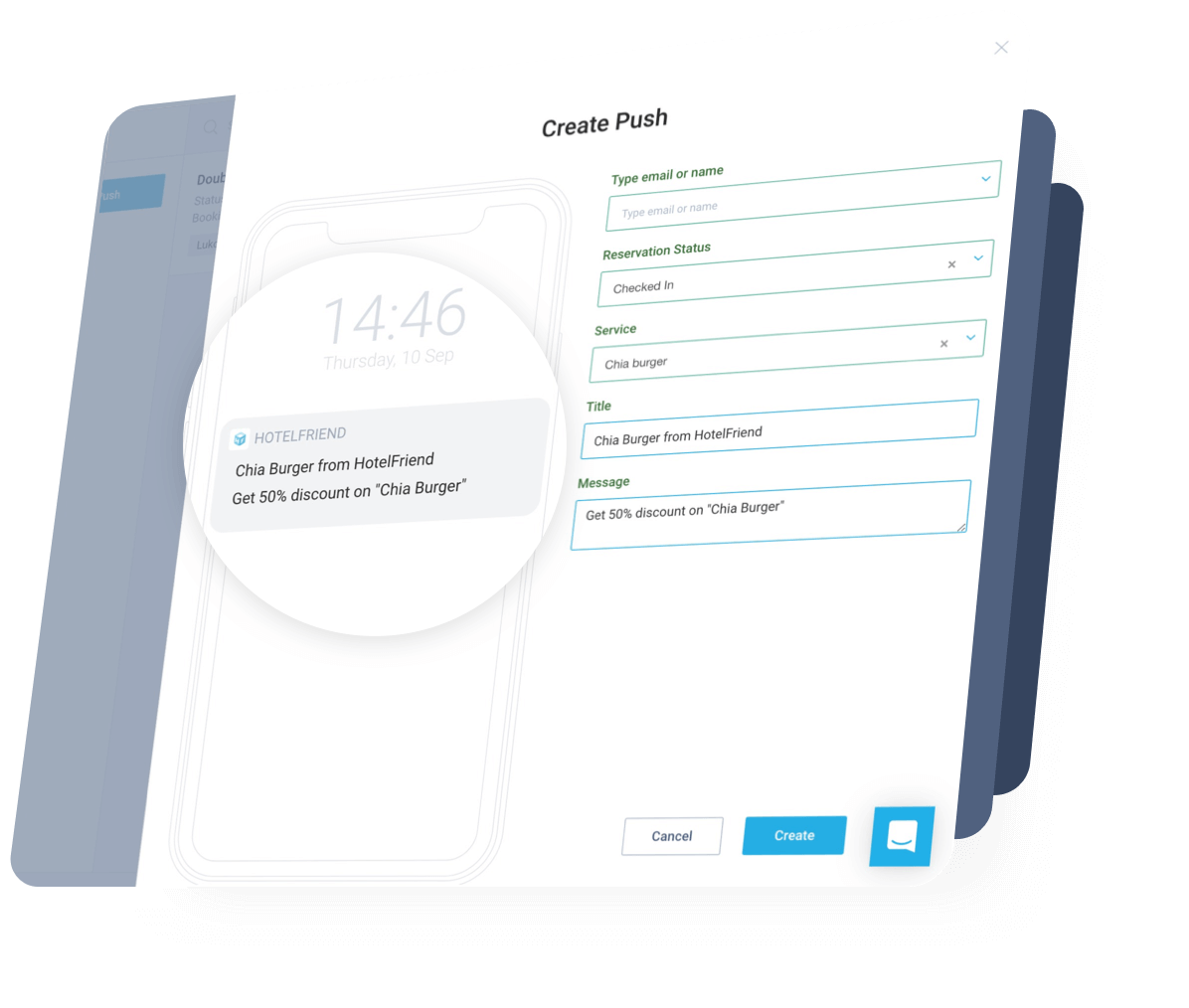 Remind your clients about their reservation
Keep in touch with those who decided to book with you and send personalized reminders about a reservation. Show that you care about them and are looking forward to their arrival. Remind your guests about cancellation deadlines to avoid misunderstanding. With the Hotel Guest Communications feature, you can send emails and push notifications with all the necessary information concerning their bookings. The push-ups about new offers and important events will be sent via the app. Such interaction is an important part of the customer experience since this ensures a smooth start of their journey.
Conclusion
Implementing an overbooking strategy requires serious data research and great attention to detail. If you act at random, you risk not only losing money and clients but also deteriorating your reputation. While this strategy is aimed at increasing income, it is always important to remember that customers are the most important people in your business.
Be attentive to their needs and do everything you can to make "walking" to another hotel the least stressful for them. Use our tips on cancellation policies and booking conditions to improve your hotel's occupancy rate. And do not forget that technology makes life much easier not only for hoteliers but also for their guests!
Public relations: Stephanie Moench
Would you like to try Hotel Management Solutions?
Get Free Trial