Jan 16, 2023 11:41 AM
In 2023, inflation is widely discussed across all industries. The turbulent times for hospitality has started back in 2020 when the first lockdowns restricted people from traveling. As a result, the whole industry experienced an unprecedented drop in demand.
But after the COVID-19 rules and the travel demand seemingly returned to normal, some other challenges came to the fore. Labor shortages, as well as growing food & energy costs inflicted by the Russian invasion of Ukraine, created new ground for instability.
The biggest problems hoteliers currently face include a lack of talent, supply constraints, and the overall impact of inflation that soars around the globe. Meeting ever-increasing guest expectations has become harder than ever! The good news is – there is a way out of this. In this article, we are going to reveal four effective strategies to help hospitality businesses combat inflation.
Inflation and the hospitality industry
Inflation is an increase in prices that leads to a decrease in consumer purchasing power. The higher the rate of inflation, the fewer goods and services people can buy. In this case, households tend to cut on non-essential spending, which sometimes includes traveling. According to Statista, as of May 2022, 40% of interviewed Spaniards changed their initial summer trip plans to look for cheaper alternatives.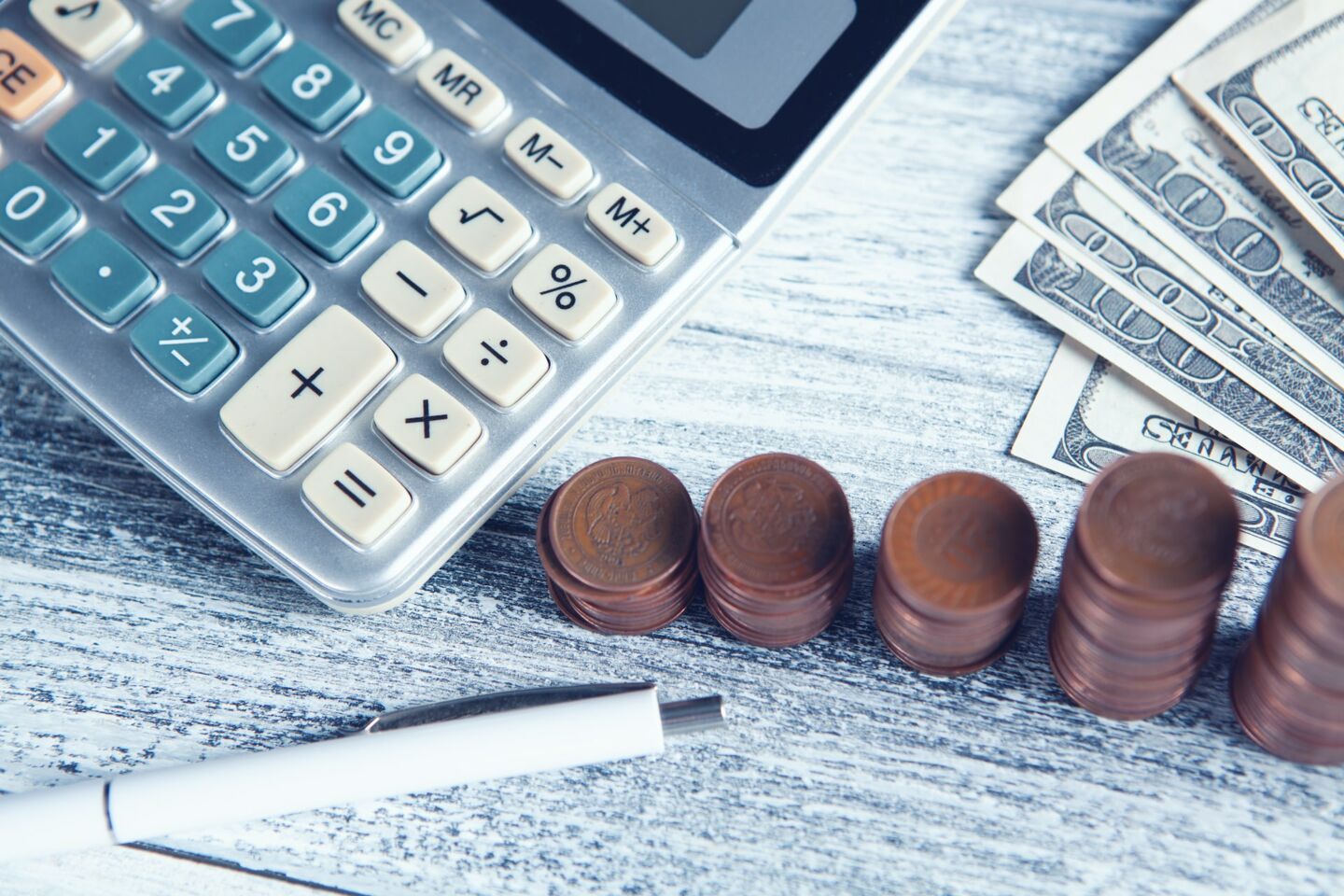 The hospitality industry is extremely susceptible to the influence of economic and socio-political factors. As of today, the average inflation rate in Germany, the biggest economy of the EU, is 11.3%, while in France it holds at 7.1% and in Italy 12.5% respectively. Though a little inflation can increase the pricing power of your hotel, when combined with high labor shortages, it poses a risk to travel businesses.
If the cost of labor in hotels rises relatively faster than in previous inflationary periods, the profitability of the hotel may reduce. In addition, when lacking filled vacancies, hotels can only maintain profits by compromising the quality of provided services.
Top-4 strategies to combat inflation in 2023
OTA Insight states that, despite any effects of inflation, the demand for hotels was quite high during the summer season and remains stable till now. At the same time, owners need to complete the difficult task of adjusting prices to higher levels without discouraging guests from traveling.
To achieve this in 2023, you will have to find a middle ground and consider refundable rates, flexible policies, and a wise approach to discounts. Additionally, these four strategies will help you beat inflation this year:
Strategy #1: Focus on profitability KPIs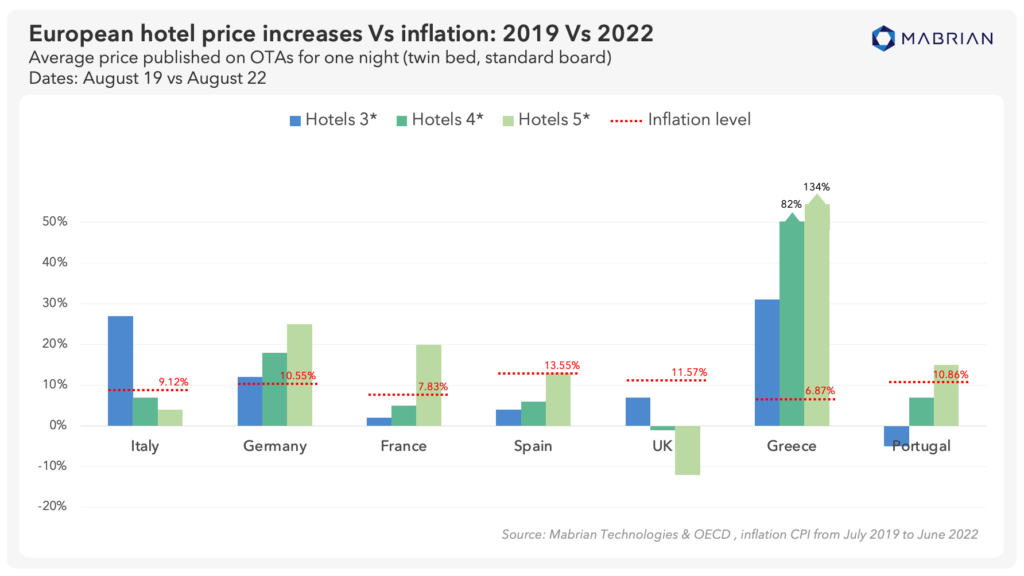 Source: mabrian.com
In August 2022, a leading travel analytics company, Mabrian, showed the results of its study on hotel prices in the main tourist destinations in Europe. During the analysis, the company took into account the local inflation rate and compared prices for 2022 and 2019. Turns out, despite the rapid increase in prices, the average hotel charges are still lower than in 2019!
For hoteliers, it means that comparing prices for different years can no longer lead to correct pricing decisions. Such levels of inflation are unusual for Europe and require a different approach. In the context of the current economic situation, prices and occupancy can no longer remain objective indicators of business success.
Instead, Mabrian suggests hoteliers focus on profitability metrics such as RevPar and GOPPAR. ADR turned out to be too susceptible to inflation and no longer shows an objective picture. For more information on different metrics and the ways to calculate them, check out our previous article: Hotel metrics and KPIs in a nutshell: how to measure your hotel's success.
Strategy #2: Find creative ways to cut costs
The main salvation in times of instability and inflation can only be found in cutting spending. A pragmatic approach to available resources will allow you to protect your margins. Striking the right balance isn't easy, but there are several things you can start doing right now:
●

The first step

can be as simple as replacing the light bulbs in your hotel with energy-efficient ones. Train your staff to check whether lights, TVs, and other appliances are off when the guest left. You may also consider switching from paper to a digital menu, to save you time and print costs for when you need to make changes to your list of daily specials
●

Your second step

will be switching to "Zero-based" budgeting. This approach to budgeting requires a solid justification of each expense to figure out which costs are essential. Managers that use this concept know exactly what they need to stock for the upcoming month and how much it will cost the hotel.
Those who overlook zero-based budgeting often end up buying more items than the business actually needs. This way, your hotel won't be able to operate effectively and the unjustified costs will throw your profit down the drain.
Strategy #3: Automate your hotel to navigate the labor shortage
Labor costs skyrocket due to the current staff shortage. According to the recent HOTREC report, there is between 10% to 20% of the workforce missing in hospitality in the EU compared to 2019 levels. An acute lack of talent resulted in more than 200.000 unfilled vacancies in France and 33.000 in Austria.
In such circumstances, automation is a lifesaver. It can help to get rid of routine tasks & allow fewer employees to work more efficiently. In some cases, removing unnecessary work may look like an additional option available to the guest, as an opt-out housekeeping.
It can also look like a cutting-edge Mobile Check-in feature! A fast and painless check-in app that allows contactless room access with a smartphone will create a wow effect for guests while reducing the amount of work for the staff.
The human touch cannot be replaced by automation, as a quality service requires communication. However, digitalization can be of great help to your team, especially if it's small. With hotel automation software, you can even tackle such routine and time-consuming tasks as sending confirmation emails and taking care of your online visibility.
Here are the main steps you will need to take to switch to automated hotel management:
● Look through all tasks your team does every day
● Find out what kind of work is meaningless or repetitive
● Automate it with suitable tools to help staff be much more effective.
Strategy #4: Create more offers for luxury guests
While some experts are concerned that a recession could weaken luxury hotel performance in 2023, that is unlikely to happen. Skift notes that the wealth of upmarket consumers has grown faster than inflation. Thus, hotels should not be afraid to charge higher prices for premium services and packages.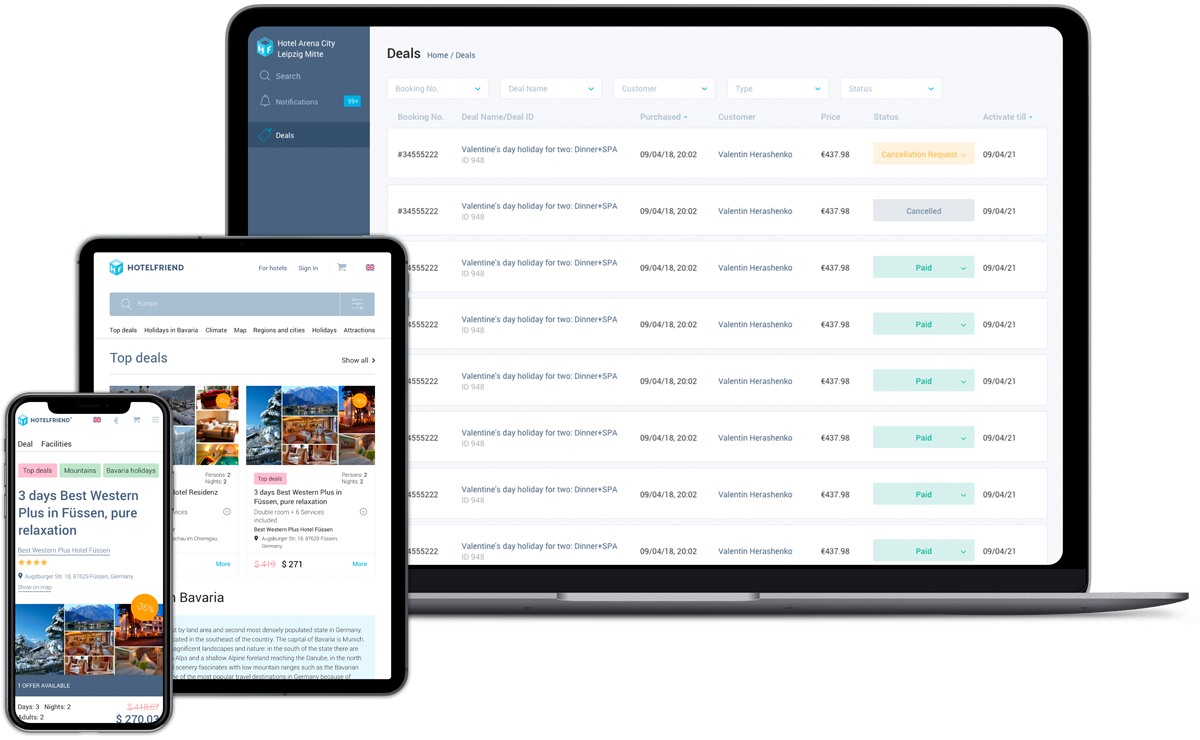 If you have a 5- or 4-star hotel, it's high time to brainstorm some options for wealthy clients! Seems like luxury hotels are going to save their margins in times of growing inflation. Moreover, their returns have increased in response to a strengthening dollar, so exchange rates work in their favor.
The deals that consumers like most include complimentary services and add-ons, such as discounts for early booking and complimentary hotel transfers. To cater to the luxury kind of customers, focus on wellness deals and thematic offers that are trendy now. Usually, they have a higher price and bring more revenue. You can easily create, edit and sell your packages with HotelFriend Deal Manager.
Navigate any crisis with technology
Inflation reduces the purchasing power of consumers, reducing the income of hoteliers. On the other hand, the industry is experiencing the highest travel demand since 2020. To protect their margins, hotel owners need to act right now. By focusing on profitability metrics and moving to a zero-based budget, hotels will be able to maintain a good parity of yields and expenses.
Here, hotel automation can help to overcome staff shortages while maintaining the quality of service. With the right software, teams will be able to remove complex tasks on the back end and improve their efficiency on the front.
Let HotelFriend become your reliable assistant and navigate any crisis with ease!
Author: