Aug 17, 2021 5:28 PM
The hospitality business was moving in the direction of adopting technology and digital innovations long before the pandemic. However, both employees and customers now want even more convenience, improved experience, and personalization that can help them shift to remote work and maintain social distancing. This requires the fast appearance of new processes and reconsidering the old ones to accommodate new circumstances.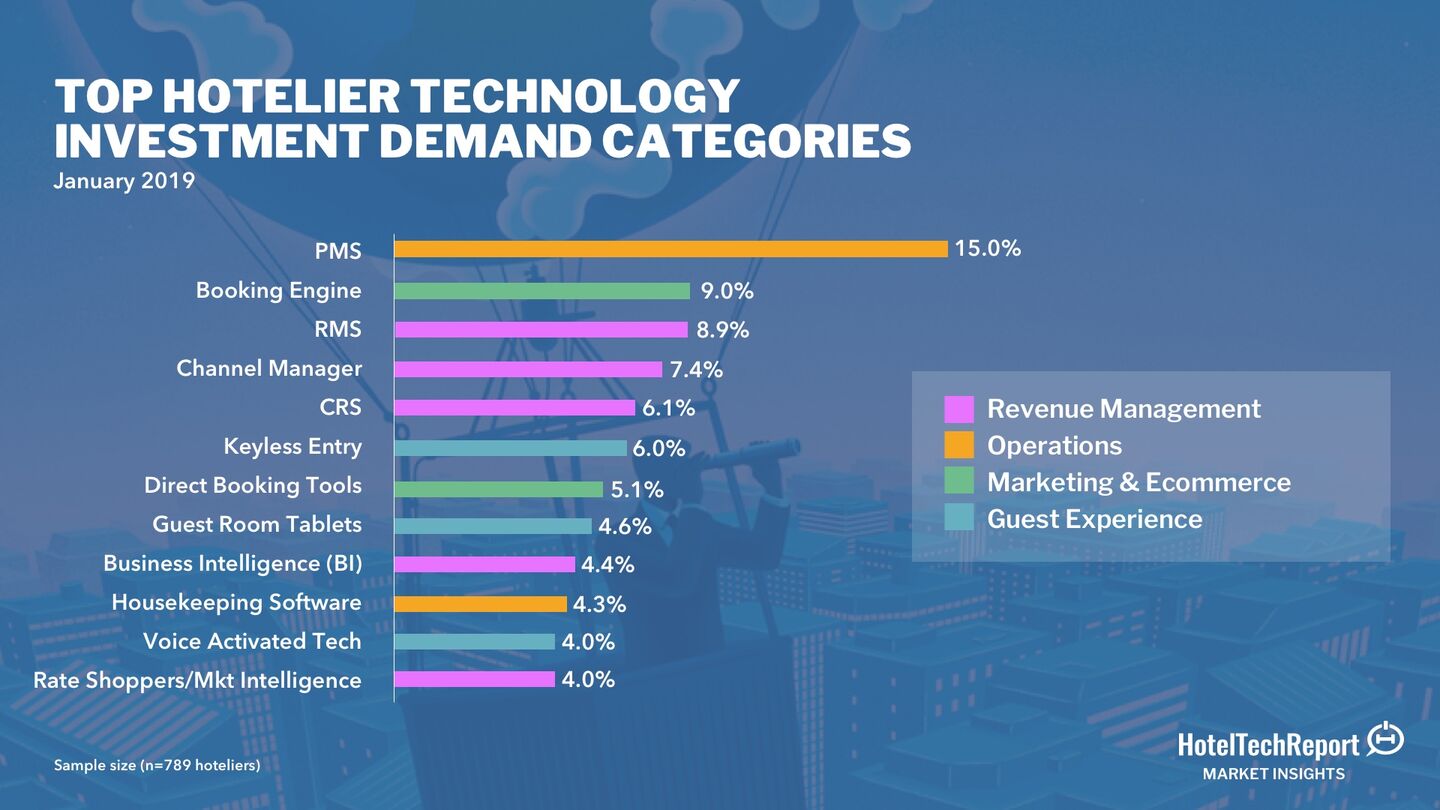 Source: hoteltechreport.com
That is exactly what we see in the hotel management sector. Digitalization has become a foundational element for business survival and the road to recovery. What's more, the PhocusWire researchers indicate that 86% of hospitality providers name operations automation as a top priority over the next three years. To remain competitive, hoteliers need multifunctional property management systems that are at the top of the list for investment (based on the HotelTech report survey).
Choosing an appropriate Property Management System is quite a challenging task nowadays. Cloud-based solutions have already won the leading positions and became even more popular in the times of the COVID-19 pandemic. The new work ethic for hoteliers includes a necessity to have conditions for remote business administration. And adopting the latest technologies has become the number one measure to guarantee social distancing on the premises.
The increase in demand for PMSs has led to the saturation of the market, and, consequently, to higher user expectations. As a result, the situation is the following: the vast majority of hoteliers have realized the need to go digital. They are looking for state-of-the-art software to meet all their needs by both automating the processes and safeguarding their guests. However, what is this "perfect software" in our "new normal"? And which characteristics should it have? Let's find out below.
12 must-have PMS features to meet hoteliers' major needs
We have compiled a checklist of must-have features, aimed to help you in your search. They are as follows.
1. It is cloud-based
This feature enables you to access data on the cloud servers from anywhere and at any time. The only thing you need to get the ball rolling is a stable Internet connection, and you are good to go! Apart from being convenient and trendy, this technology perfectly suits digital nomads. Thus, the shift to remote during the pandemic will be absolutely "painless", and there will be no interference with the usual workflow. This will help you to have all the necessary data at your fingertips. A cloud-based PMS enables fast and reliable work, securing all the information with automatic backups.
Sure, the system must be available on a PC, tablet, smartphone. All operations should be laid out clearly on the page, regardless of the device that you have chosen to work on. Effective hotel management is only possible when both you and the staff understand how to reach common goals and how to accomplish daily tasks with the help of PMS. The main sign of well-designed software is that it requires little or no additional training.
2. It can be seamlessly integrated with other software
It means the hotel software should be open to function with other apps and extensions. These can be responsible for particular aspects, such as marketing, data analysis, yield management, sales, apps for hotel guests, or reputation management.
It is even better if a Property Management System has a "modular" concept and consists of modules. It can be suitable both for small hotels and for large hotel chains. You can choose which modules you need and which you would not like to include in your system. Thus, small properties will save money on the modules that do not cater to them, and the large ones will be able to leave some parts of the old software. For instance, if you do not need a Housekeeping module or Department Manager, you can simply refrain from including them in your package!
All of that is very helpful for your work as a hotel operator. Moreover, our world continues its fast-paced, and with an open system, you will always be future-oriented. You will be able to integrate necessary applications into your PMS or add a required module at any time!
3. It offers a multifunctional Front Desk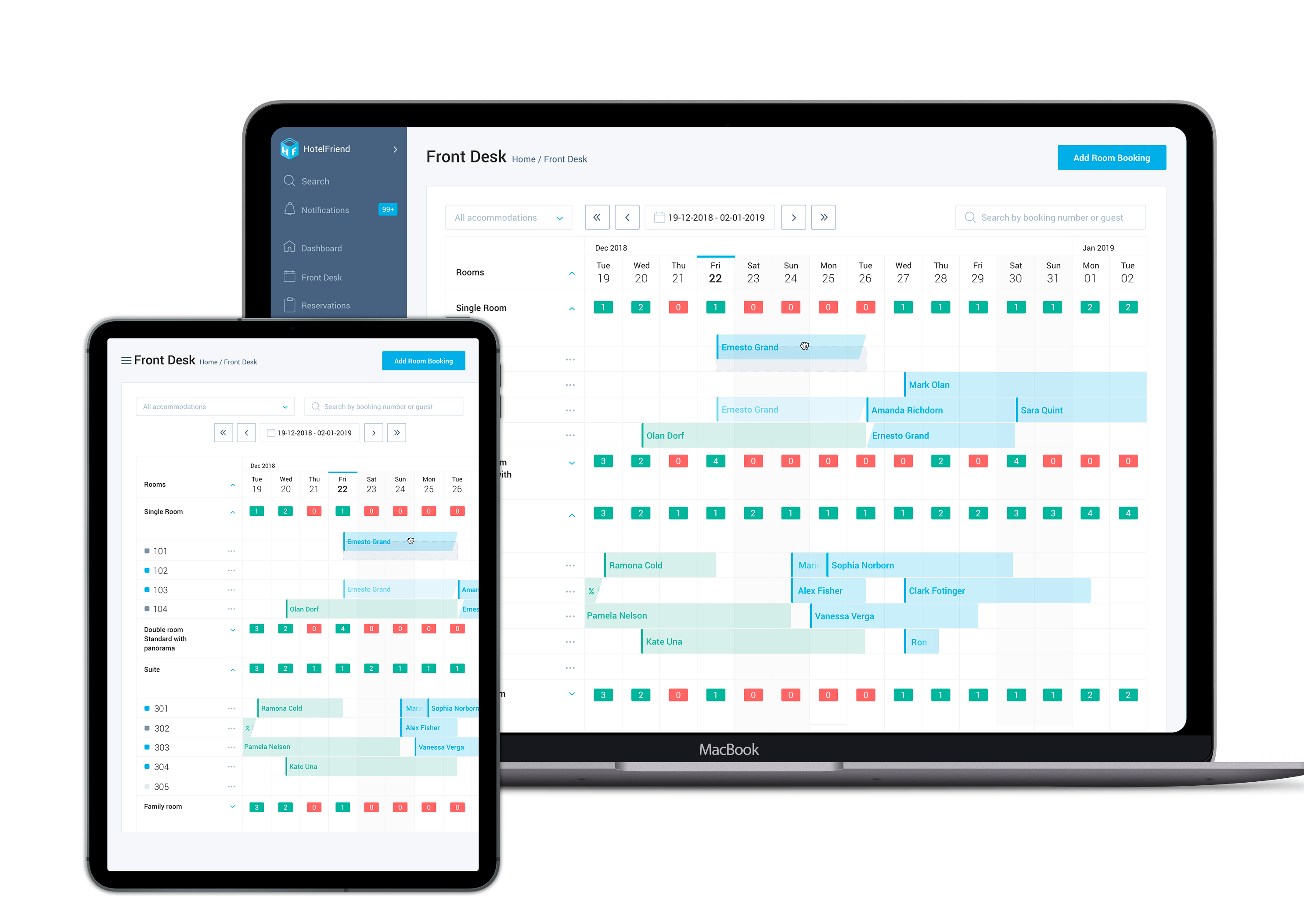 Smartly designed in the form of a calendar, it helps with faster navigation and better control of all bookings, prices, and room statuses. Here you can add or change reservations, customize room details, keep track of all check-ins, or extend the duration of the guest's stay in a single click. And if it has tools for cross-channel management, your possibilities will be truly unlimited, as you will be able to update data across all distribution channels directly from the Front Desk.
4. It helps organize and control hotel workflows with Task management
The Property Management System alone is not enough to successfully control all departments of a large or medium hotel. It is crucial to be able to assign new tasks, know the ongoing to-do's of your employees from different departments, send reminders, control and track the workload of the staff, etc. The best option will be to integrate the task management tool into your system.
This way, you can easily create and distribute tasks for different departments: front office, restaurant, maintenance, housekeeping, conference, etc. Just set the task title, description, date and time, and choose the responsible employee. Also, you can notify your colleagues about new chores via emails. When creating a task, you only need to tick the checkbox – and the employee will receive an automatic reminder. Constant communication will secure you from missing a single task and keep your staff up-to-date.
5. It includes a Guest App for self-service interactions
Nowadays, hoteliers sell more than just rooms. They aim to provide a unique experience of staying in a modern hotel by offering mobile check-in and out options, keyless room entry, food or service ordering via the guests' smartphones, as well as easy, convenient, contact-free, and secure ways to pay with Apple Pay and Google Pay.
To ensure the integrity of this experience, the PMS of your choice must be compatible with the special module for online orders. Thus, you will not only improve shopping in your property but also protect staff and guests from unnecessary face-to-face interactions. This condition is essential for maintaining a healthy environment in your hotel.
Besides, you will keep in touch with your customers in these harsh circumstances, warn your guests about any changes in their bookings, and offer seasonal promotions via notifications and emails.
To forge even deeper connections with your guests, you can send them a Booking Offer. It is a convenient way to introduce more room options in your hotel. An email with an offer contains all the essential details concerning room type and any special requirements. Provide the highest level of support with the least effort!
6. It makes your accounting go smoothly with Digital Cash Book
Accounting is an ever-changing and rather difficult process. As such, you should look for bookkeeping tools that can help both avoid being stuck with out-of-date software and stay in compliance with evolving regulations.
In this respect, HotelFriend Cash Book is an optimal solution for smart accounting specially designed for hotel businesses and professionals. It helps record cash receipts, monitor fee income, find any transaction in a second and forget about dozens of Excel spreadsheets. Not less important is that it fulfills all the principles for electronic accounting (GoBD) requirements.
7. It operates in conjunction with its original Booking Engine
Whether the guest will book with you or not, depends largely on the Booking Engine performance. The best results can be achieved if the PMS is perfectly compatible with it. The shorter the waiting time for reservation is, the less likely you are to lose a client. This feature empowers your potential customers by providing them with information concerning the type of the room, its availability, breakfast options, and so on. All they need to know should be displayed on the screen right after they press the booking button.
Wondering how Booking Engine will look like on your website?
Try the new HotelFriend Booking Button now
Live Demo
8. It ensures easy reservation and upselling processes
First, you will need the occupancy calendar that displays a layout of vacant rooms and relevant rates. Second, it should be easy for your guests to find a booking button on the website page. If the reservation process is smooth and trouble-free, the satisfaction level of your customers will likely increase. And then comes the time for your next move, which is upselling!
With this feature, you will be able to optimize your revenue management strategy and reach new milestones in the major KPIs. Linked to a Property Management System, the Channel Manager is a crucial component in this strategy. Collaborating with OTAs is the key to success, and with this software, you will be able to manage an unlimited number of online distribution channels simultaneously. As a result, you will receive more reservations, which creates favorable conditions for increasing Occupancy.
9. It can be connected to the constructor for creating deals and special offers
We have already mentioned the importance of upselling for the thriving of your business. To make sure that the process of creating deals will be fast and easy, check whether the PMS under consideration supports integration with the Deal Manager. If it does, you will be able to offer unique promotions to your customers. With this kind of software, all you need to do is set an attractive price on the room, add a certain service, and watch your revenue grow!
10. It supports classical and dynamic price models
The price calculations of modern revenue management methods are very convenient. However, for the fans of old pricing strategies, there should be an opportunity to choose their preferred method. Thus, the "perfect" PMS should also have a special tool for you to remain flexible while choosing a pricing approach. The Hotel Room Rates feature is indispensable for that, as it not only allows you to build your own pricing strategy but also provides valuable info about the customers' buying behavior.
11. It helps you to detect potential repeat customers
Another necessity is the availability of opportunities for effective Guest Management. With this option, you will be able to understand the preferences of your customers, as well as build a recommendation system and enhance the overall experience of your guests. In addition, you will get rid of queues at the reception, since all the data needed for check-in is already in the system!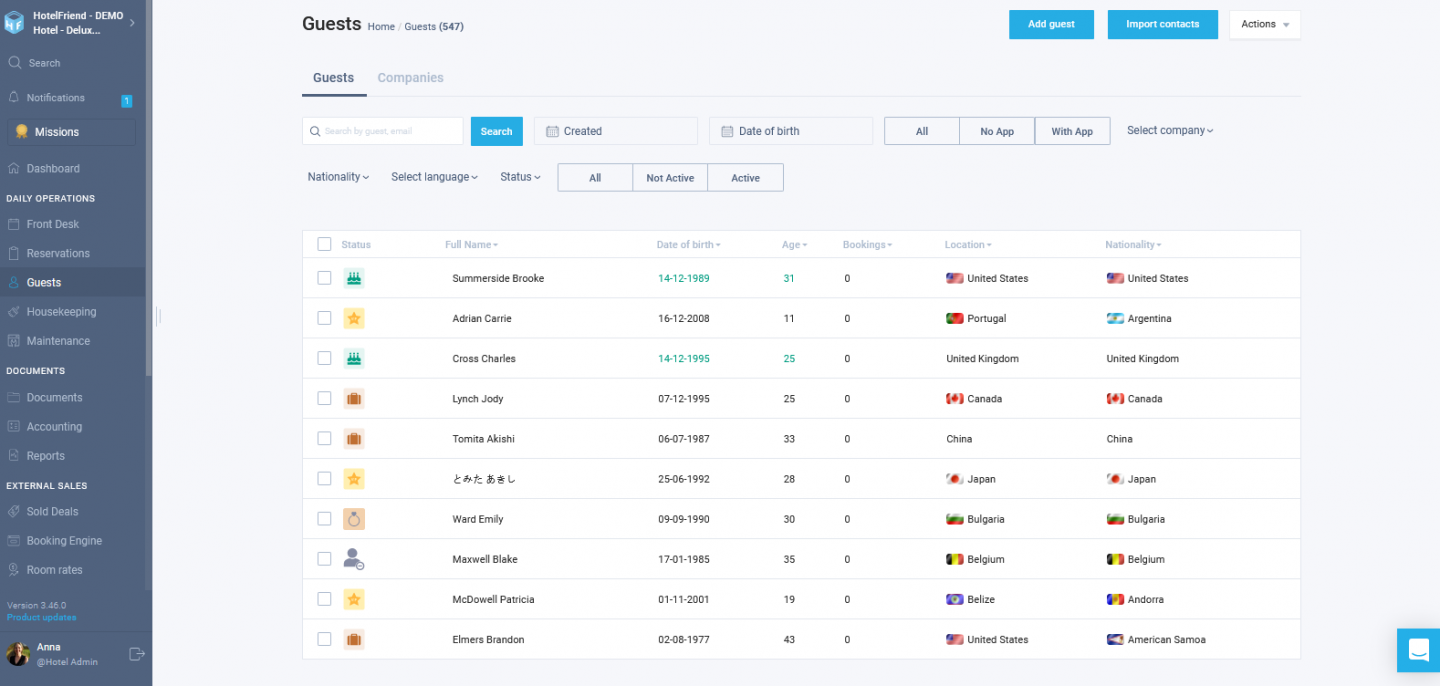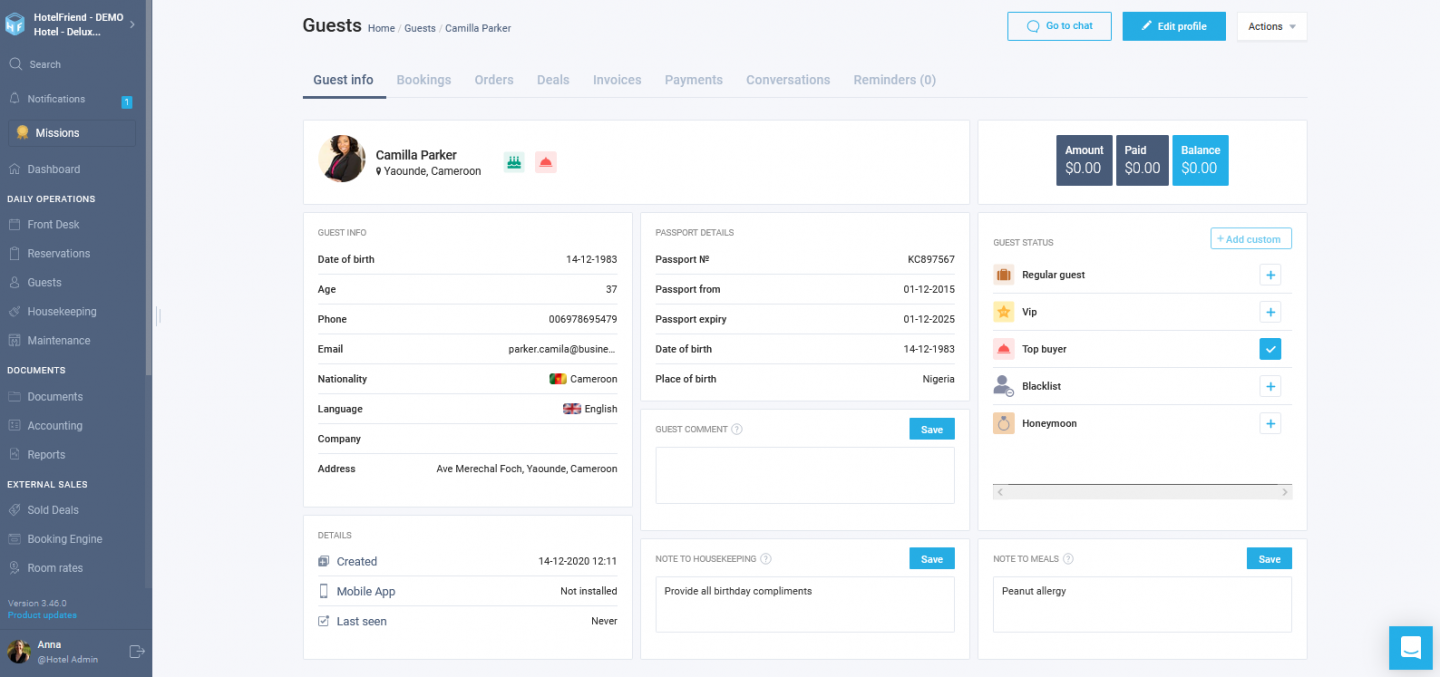 12. It simplifies and streamlines all day-to-day cleaning routines with the Housekeeping system
This PMS add-on is critical as it perfectly suits the hoteliers' needs. It provides a complete overview of room statuses and priorities and helps you get a full picture of all accommodation and food service activities.
With the system, you can do all repairs in time. When the housekeeping staff spots any maintenance issues, they can set the "Out-of-order" status to the room and provide details on whatever needs to be fixed before the guest's arrival. As a result, it improves service quality in your hotel.
Conclusion
Modern technologies for hospitality continue to conquer the market, and hoteliers can no longer resist digitalization. Not so long ago, the only option for running a hotel was using paper, pen, and on-premises software, but today that has changed. The future lies in the convenience and availability of cloud technologies.
Now businesses of any size can afford the latest tech novelties and enjoy the delights of automation. In addition, it has become a must-have invention to conduct business safely during the pandemic.
We hope that our article helped you to figure out what characteristics you should pay attention to when choosing PMS software. And what's even more exciting, Cloud Property Management System from HotelFriend offers all the options mentioned above and beyond.
If you want to check out how high-quality software adds value to your business and simplifies operations in your hotel — don't hesitate to get a 30-day free trial. Our responsive customer service is always available and ready to help. This way your business processes won't be disturbed by minor uncertainties and will run efficiently.
Would you like to try Hotel Management Solutions?
Get Free Trial
Autor: