Jul 6, 2020 3:58 PM
Whether you are already an experienced hotelier or a beginner in the hotel industry, you are definitely struggling against the problem of searching for new ways to promote your hotel. Nevertheless, we are glad to disclose to you some secrets of digital marketing that will help you to increase your hotel's performance. Since your hotel website and social networks have a crucial role to play in the advertising, we'll tell you some sure-fire strategies to optimize them and ensure more bookings.
The hospitality industry in the digital world
It doesn't require a detailed explanation that digital technologies are the main source of customer acquisition these days. You can have a magnificent interior and highly qualified staff, toiling day and night but without presence and activity on the Internet, your hotel won't be lucrative.
That said, the hotel's digital marketing offers a wide range of initiatives to maximize your hotel's online presence and increase direct sales.
According to Google Trends, 82% of all travel bookings in 2018 were made online via a mobile app or website without human interaction. Even though the website and its relevance play a significant role for the guests, you may overlook these methods. However, we would like to give the reasons why it is worth investing in.
Best strategies to promote your hotel online
SEM, an area of online marketing, encompasses numerous customer acquisition processes, including Search Engine Optimization (SEO), Search Engine Advertising (SEA), Social Media Optimization (SMO), and Social Media Marketing (SMM).
All of these processes serve to increase the traffic of search engines such as Google, Bing, Yahoo, etc. Digital marketing strategies for the hotel business should include search engine optimization and numerous paid and organic channels to give your hotel visibility.
Below, we would like to provide tips within the scope of all of these online marketing fields that can help you to generate a greater degree of customer interest in your services.
Search engine optimization for your hotel website
SEO refers both to the structure of the page, the technical characteristics of the resource, and the content. The following measures guarantee better positions for your hotel website:
● Use meta tags with the keywords to increase the relevance of your hotel website and positions in organic SERPs.
● Create high-quality content - articles, graphics, photos, videos, infographics, video tours around the hotel, etc. - it's highly appreciated by the guests and search engines.
● Focus on the local SEO - you need to hit the top 10 of Google search results in your region, and don't forget to connect all your activities to locations.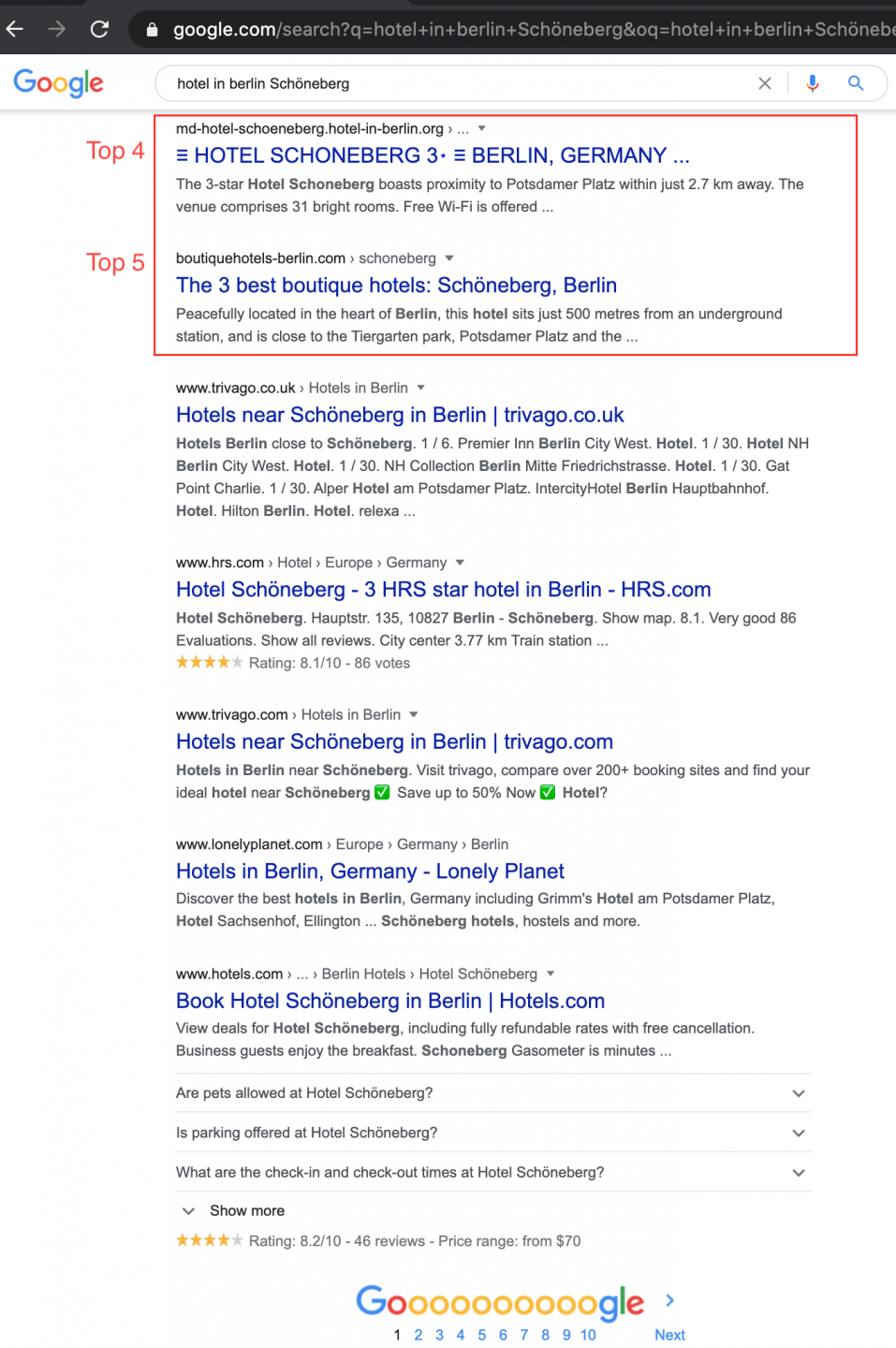 ● Apply some link building techniques: provide great content - like creating helpful blog-posts - that makes the visitors wish to share it with the link to your website; ask guests to write reviews; build bridges with other sites or medias; to expose yourself, sponsor local events and ask its managers to share your links, etc.
● Make sure that your site perfectly works on any mobile devices since Google launched mobile-first-indexing in 2019.


● Check the display quality of the website on different gadgets and in different browsers. Google/Phocuswright Travel Study has shown that 27-87% of customers (depending on the country) research, plan, and book an entire trip using their smartphone.
● Provide a handy interface so that customers are not put off by the long booking process.
● Ensure a clear call to action: use contrasting colors and fonts for good visibility and give clear guidelines for the booking process.
● Make sure to conduct the SEO audit, at least with free tools, since they enable you to solve many problems that concern the technical side of the website.
However, you should be aware that the results of SEO optimization only become visible over time. But people who are actually interested in your services and products will visit your hotel website.
Search engine advertising
In contrast to SEO, SEA allows to create sponsored advertising for a specific target group.
To implement those methods, you can use some services provided by Google.
● Use Google Ads. You can determine the criteria for the target group, namely the region of residence, keywords, age, language, etc. This tool has a pay-per-click option: you pay for the number of clicks on your website. The cost depends on the season, the region your audience lives in, the time of day, the level of competition in the niche, and some other important factors. A sponsored link can appear on either the Google Search Network or the Google Display Network.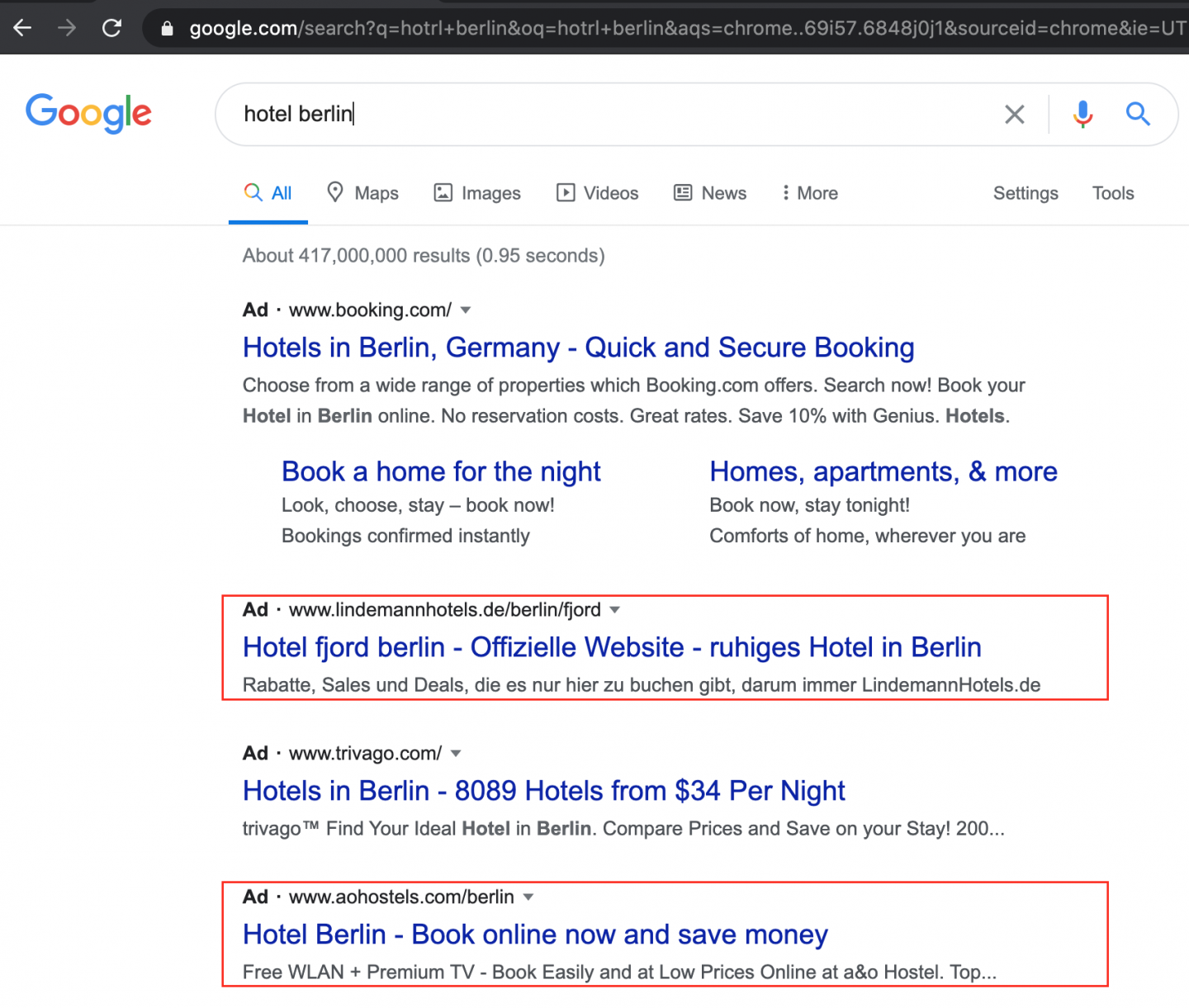 ● Increase direct traffic with Google Hotel Ads. You can publish the latest details about prices, availability, and room types on this metasearch platform so that potential guests who are looking for accommodation in Google Search or Google Maps can consider your offers. You can provide customers with the option of reserving a room either via Google or via a link to your website. You only pay if someone makes a booking using this platform.
True, SEA causes an immediate customer arrival. However, once you stop funding, you will no longer be visible. Besides, sometimes bots can follow the links, instead of potential customers. But you still have to pay for it.
Social media optimization
According to Forrester, 60% of guests use one or more social networking platforms during their searching, shopping, and buying process. It is therefore advisable to take SMO initiatives to advertise your hotel on social networks.
● Constantly update platforms like Facebook, Twitter, Google Plus, LinkedIn, YouTube, Instagram with the exciting content by posting the thematic video, audio, and photo content. On the hotel website, you can highlight the novelties from the tourism industry and events in the city or country, give useful tips, create travel guides with the main attractions, etc.
● Publish information via RSS and repost it to social networks.
● Leave links to your website in the posts on social networks, so that customers receive more information and could consider your offers.
● Provide easy adding of articles to social bookmarks.
● Give visitors the opportunity to express their opinions through comments, ping, and trackbacks.
Note that your hotel's new content on social networks should be produced regularly. If you have a page and are not active on it, this provokes distrust among customers.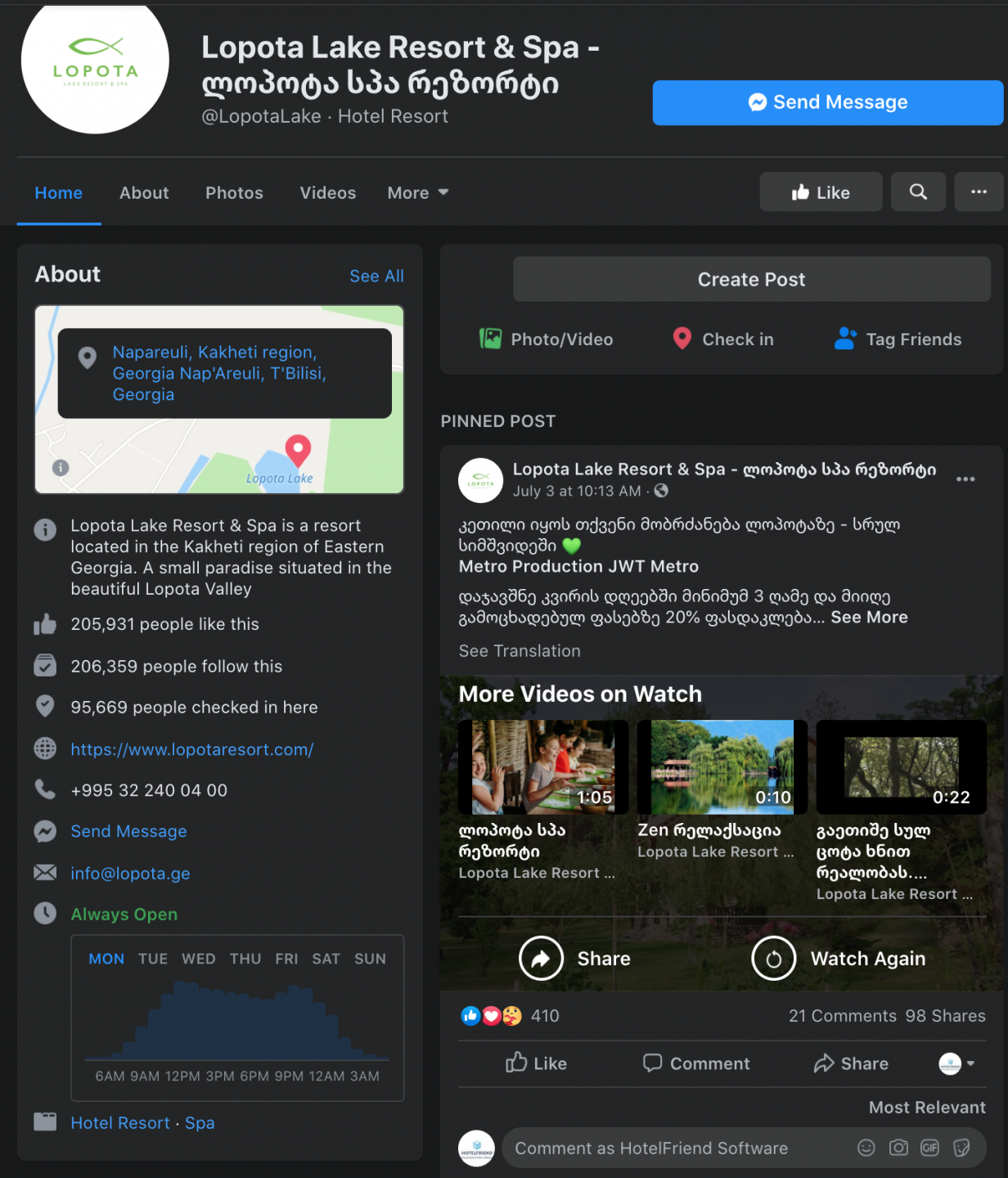 Social media marketing
With SMM, you can enjoy the benefits of live communication with existing or potential customers. The best and quickest way to develop your hotel is to take into account the feedback from your guests and to modernize some elements of your company. Thanks to the SMM strategies, you can also create the brand and company image and win the most devoted customers:
● Organize various giveaways (e.g. discounts on room reservations or package deals).
● Share relevant articles, lists, videos, give useful tips to customers. Your website should not only be perceived as a company with commercial offers but also as an informative resource. Customers can also share their favorite content with friends - word of mouth is an effective form of advertising as well.
● Benefit from immediate feedback from your customers on social networks. Communicate directly with your target group, react quickly to their comments and ratings.
● Use influencer marketing. You can contact influencers who affect other people's buying decisions. In the form of posts on Instagram or advertising integration on YouTube, e.g. travel bloggers can promote your hotel.
Direct bookings acquisition
Another moment we should highlight is the reservations acquisition. Besides SEA, you can use or already using OTA systems as well as metasearch platforms to reach more clients.
● OTA systems take a large fee. But they help attract guests to your hotel since they have lots of traffic. The most famous examples of OTAs are Booking, Expedia, Hotels.com, etc.
● Metasearch platforms (or "metas") constitute an aggregator that simply brings together all the offers from the Internet into one interface. In case of direct bookings with these platforms, you also need to pay a fee. OTA systems pay commission for the reservations that metas brought in as well. Examples of metasearch engines include Trivago, Tripadvisor, etc.
● There is also a possibility to engage in different kinds of affiliate advertising programs.
All of these digital marketing techniques refer to promotion for money and advertising activities. The question arises here, "How to fill up the hotel at the lowest possible amount of funding?" The truth is that you as a hotel owner may have no idea about how to go through this process. Very often, you may have a form with a request on your website. But if your hotel employees never check guests' email or respond to any inquiry, there's no point in doing any other marketing efforts.
The most suitable way is to turn to third-party service providers and do not worry about marketing strategies anymore. Instead, hoteliers should be ready to pay a fee of 30%.
First of all, you should improve your website by adding a Booking Engine. Here is an example of how it can look like.
Before any promotion and lead generation campaigns can begin, it provides customers with a simple and quick booking process becoming the key factor that determines whether guests make a purchase or not.
The Booking Engine actually looks like a small button on the homepage of your hotel but it solves many hotel marketing problems and increases direct bookings. As we all know, the key to success lies in the subtleties.
As an alternative way, you can request listing on HotelFriend Marketplace and be able to sell your hotel rooms, special offers, products and services directly to the customer, it's easy and free.
More selection, more tours, more deals, more discounts…
A richer experience with the HotelFriend Marketplace.
Request listing
How does the hotel booking system work?
The booking button enables guests to book directly with just a few clicks. Customers can select the dates, the room tariff, the room type, the size of the bed, the food, etc. If there are no free rooms for the selected dates, the management system shows other variants. The manager only needs to check and confirm the reservation.
Once you have installed the booking button tool on your site, you are able to choose its style, color, and size. Moreover, you can insert widgets, blocks with services, accommodations, and deals in all possible combinations. As you can see, this tool is designed to meet your individual needs.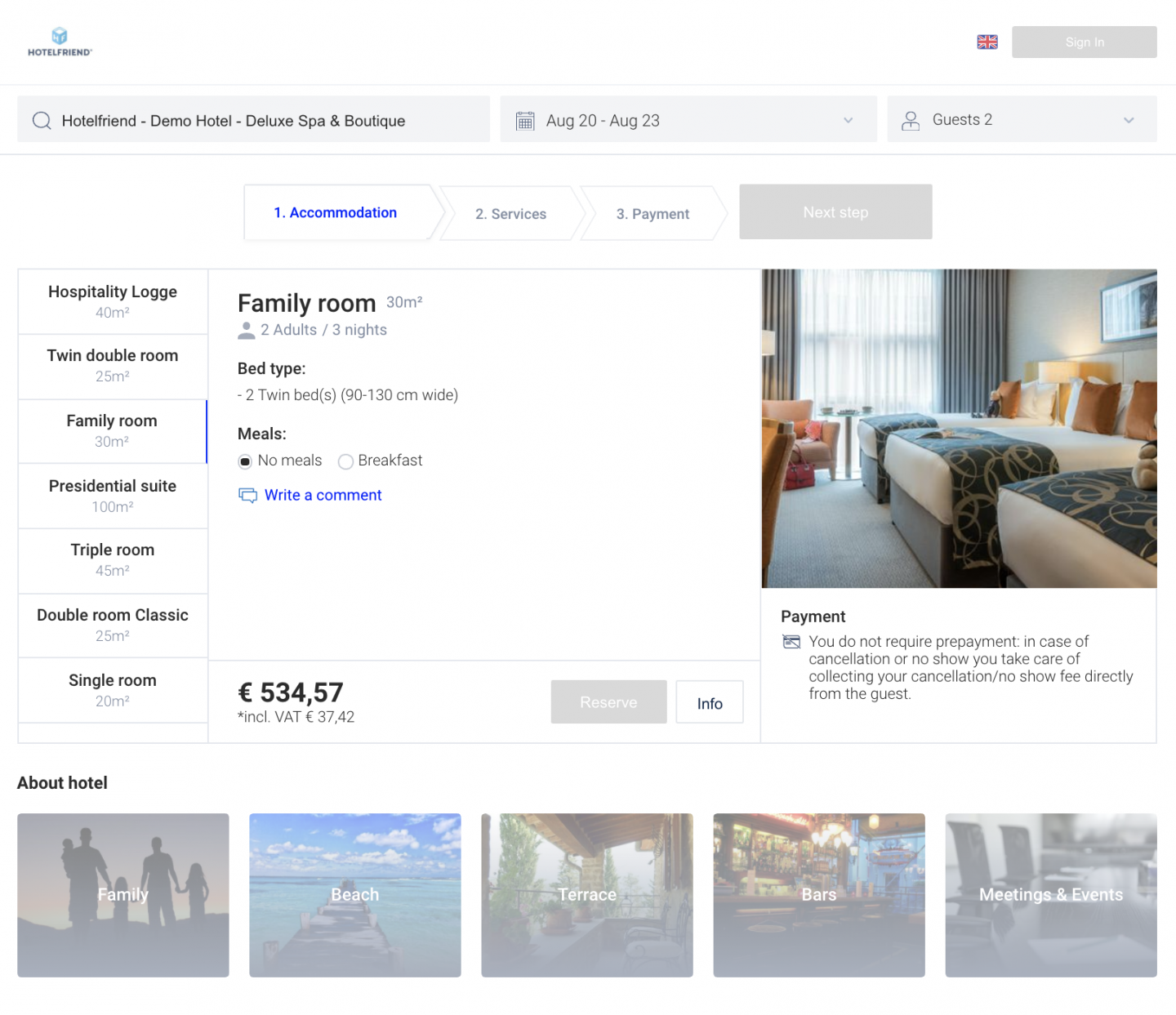 The advantages of the booking button
● direct bookings;
● time savings for you and your guests;
● increase in turnover by improving direct sales;
● nice design;
● integration with a PMS, without bugs;
● prices and room occupancy can be updated;
● suitable for beginners and industry experts.
To get additional information, make sure to visit our website.
Final thoughts
As a rule, all of these marketing efforts work in the complex. You can't do only one thing from above and hope for significant changes. So, it is essential to do the following:
● fill the website with useful information, juicy pictures, interesting articles, large actual gallery, 3D tours overview video, etc.;
● provide the quick and handy booking process so that customers could check the prices for the dates, select the room-type, pay online - it's extremely important and should be made professional;
● use high conversion keywords for advertising;
● regularly update the social networks (not all of them but those with high conversion), to organize giveaways and sales promotions - all these should be combined with high-quality content;
● conduct advertising campaigns, work on remarketing and attracting target audience which will be interested in your further promo activities;
● use services of OTA systems wisely and make sure you don't waste all of your marketing budget for their fees;
● strive to promote your website - so that at some point you could close at least 40% of the hotel occupancy on your own.
Today, having a well-defined marketing strategy is a core pillar of the hospitality business. According to the CoSchedule survey, you are 538% more likely to report success by using documented, clear, and repeatable strategies than those who don't. In addition, your website can also become a great distribution channel where your guests can both browse information and make direct bookings. By adding the Booking Engine to your website, you'll be able to simplify the reservation process and make it more comfortable for visitors.
How you see, search engine marketing is a vast topic. Yet, by implementing solid marketing strategies and adopting the right tools mentioned above, it will be much easier to bring your hotel digital marketing to a whole new level and compete in the times of eCommerce marketplaces.
Public relations: Stephanie Moench
Would you like to try Hotel Management Solutions?
Get 14 Day Free Trial