Jul 10, 2020 12:08 PM
The last few months of 2020 have been extremely challenging for businesses around the world due to the COVID-19 outbreak. The economic impact of the pandemic is devastating and usually compared with the Great Depression. How we see, the daily price swings behave much as in the 1929-1932 period.
That said, the hospitality and travel industries have been among the hardest hit by the shutdown from the coronavirus. According to the Statista survey, 45% of hospitality businesses in Germany had revenue losses between 10,000 to 50,000 euros.
Source: https://awealthofcommonsense.com Source: https://www.statista.com
U.S. hotel profits fell 117% according to the American Hotel and Lodging Association. There were more than 7.7 million hospitality and leisure jobs losses.
From international and domestic travel to hotel stays, any trips and weekend getaways were largely non-existent as long as government rules regarding the movement in public spaces, risk to personal health for employees, and travel restrictions within all countries in the world were present.
Fortunately, a massive recovery is on the other side of this. Hotels are reopening and occupancy levels are rising. According to the STR forecast, average occupancy levels for U.S. hotels rose up to almost 44%. Switzerland showed a 29% occupancy level, Germany and the Netherlands reached 23% occupancy.
Regardless of "when" or "if" a global COVID-19 pandemic finally ends, hoteliers can always benefit from early planning and use available surveys as an aid to making decisions in the face of uncertainty. Here is a deep dive into statistics and studies that present the state of the hotel industry in 2020 and beyond.
The impact of COVID-19 on the hospitality industry
The effect of coronavirus on the global tourism industry can be observed across the world. According to Hotelnewsresource.com, Asia and the Pacific were the worst-hit between January and April, with arrivals down 51% in that period, followed by Europe with a 44% drop for the same period, the Middle East (-40%), the Americas (-36%), and Africa (-35%).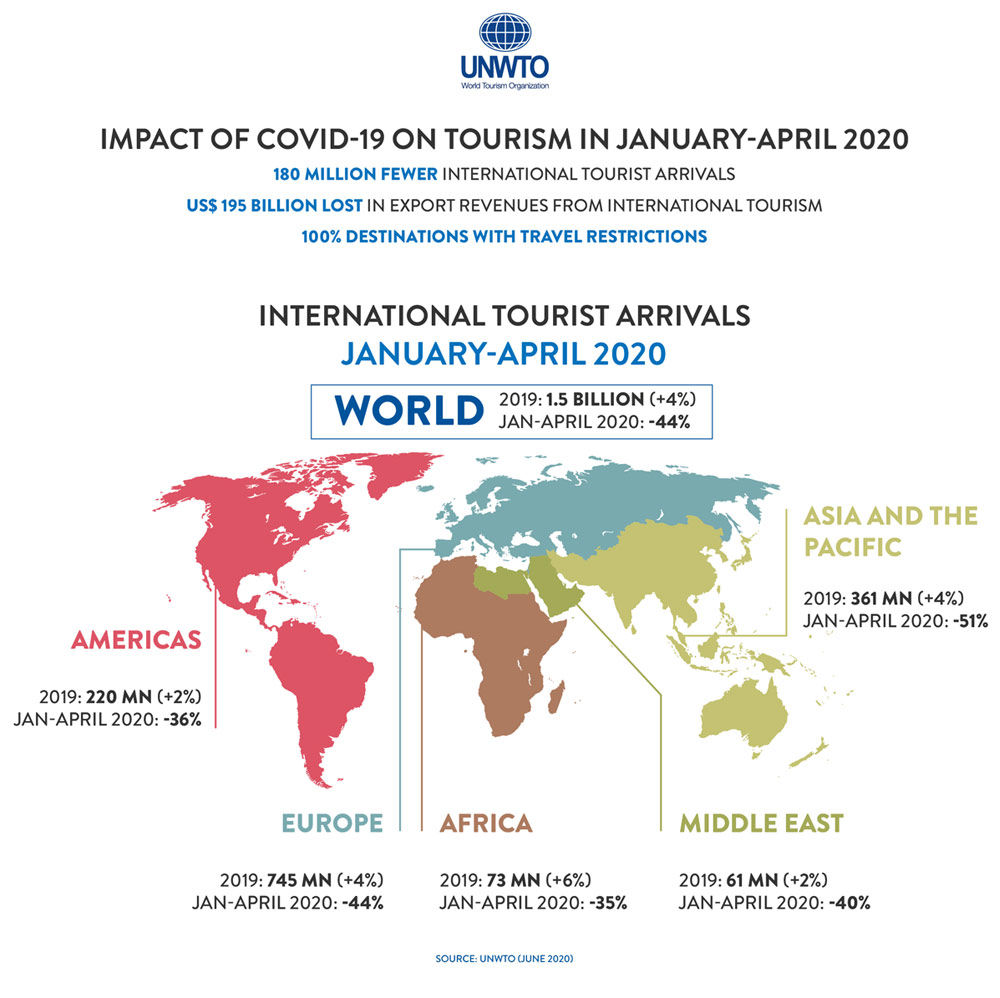 Source: https://www.unwto.org
To overcome the difficulties that coronavirus brought, hoteliers had to implement cost reduction strategies. According to the COVID-19 Hotelier Sentiment Study 2020, they included the following:
● Almost 65% of respondents cut marketing spend;
● Almost 65% of them closed unoccupied floors;
● Near 52% of respondents pursued staff layoffs;
● About 49% of them furloughed workers;
● Almost 45% of respondents reduced employee pay;
● About 36% of respondents' executive leadership forwent their own salary.
● 41% reduced spending on technology.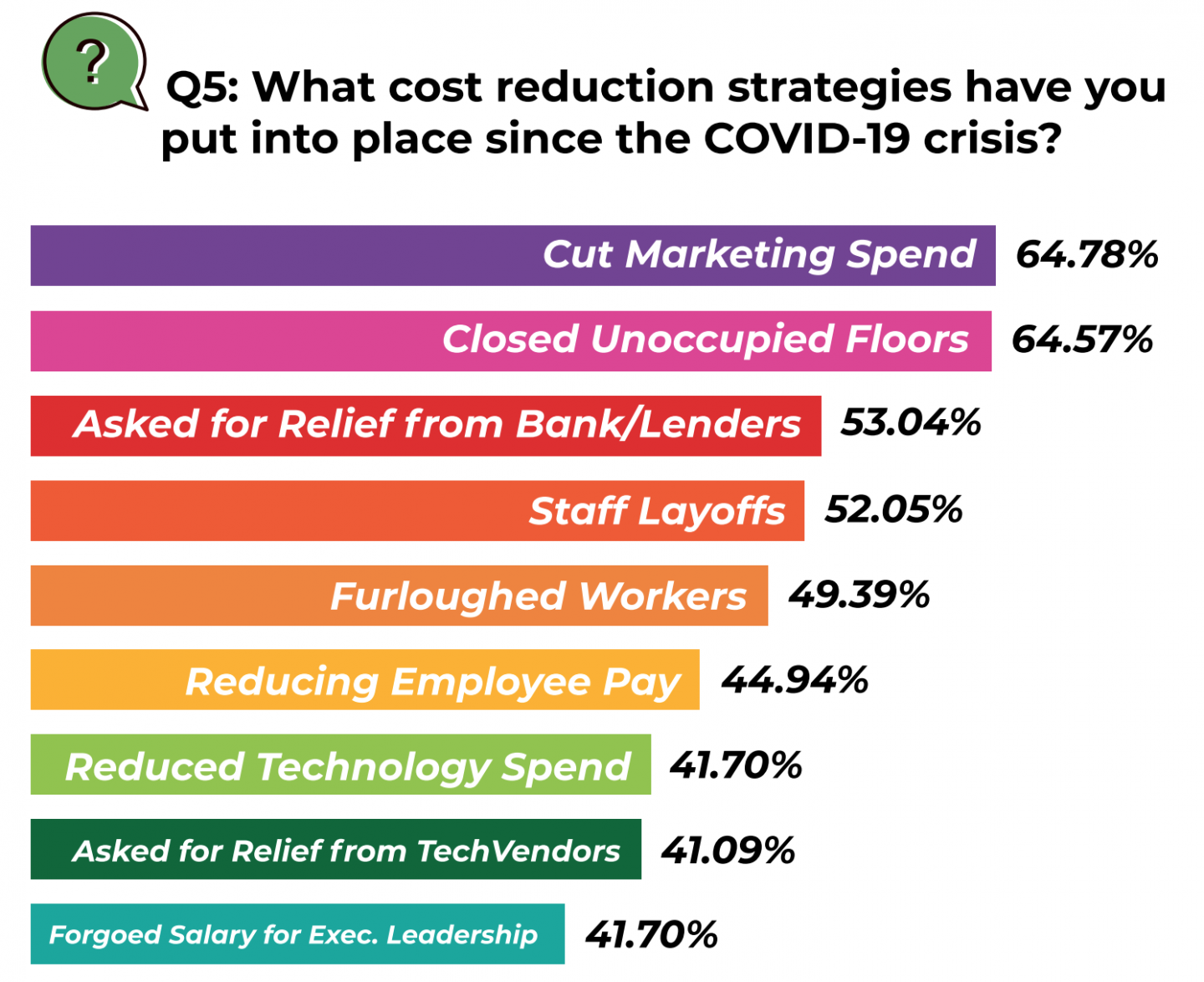 Source: https://www.fueltravel.com
Hotel owners consider the above-mentioned cost reduction strategies as a short-term economic necessity. Talking about long term ones, UNWTO introduced three possible scenarios for the tourism industry. They include enhanced safety and hygiene measures and policies, aimed at promoting domestic traveling.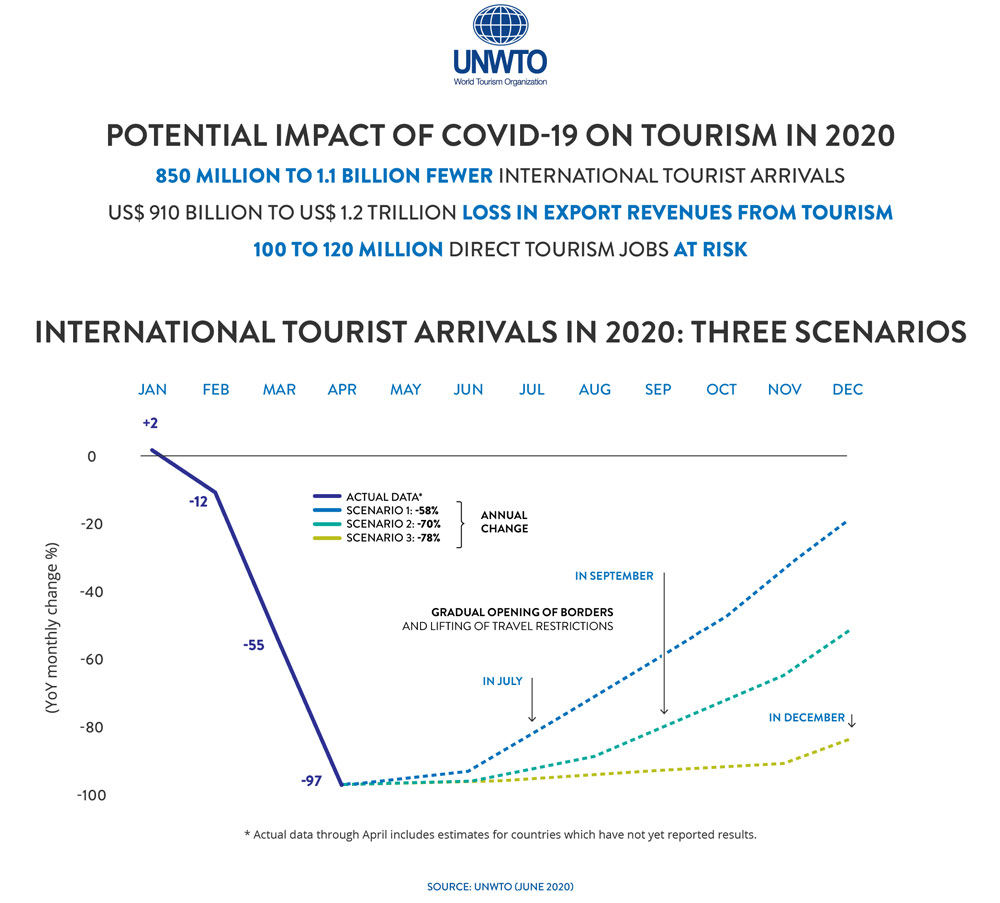 Source: https://www.unwto.org
That said, recovery strategies were not only limited to cost reduction and cleanliness measures. To better adapt to a post-pandemic environment, hoteliers reassessed their technology strategy. The COVID-19 outbreak has become a time for contactless tech solutions to enter the market and thrive. For example, Hilton offers guests to use their smartphone as a room key. Hong Kong hotel operator L'hotel Group uses robots to provide meals to guests. At Marriott's hotels, guests can check-in, access their rooms or make special requests via their phones. Such "touchless" services are becoming more and more sought-after, serving as one of the protective measures against coronavirus.
Looking ahead: how to prepare a hotel business for recovery?
Many hoteliers remain pessimistic about the length of time until their properties fully recover in occupancy and RevPar. 44% of them believe that it will take 1-2 years for their businesses to fully recover, followed by 28% of those who believe the recovery will take 6-12 months, and only 13% of respondents believe that the recovery will take less than six months.
Fortunately, 58% of respondents are still confident about their business' recovery, even if a full recovery may take months or years. Over 70% of respondents have a recovery plan in place.
Almost 74% of respondents are going to reassess internal policies and procedures in preparation for reopening. Major hospitality brands and authorities have combined effort to announce enhanced hotel cleaning practices and resources to meet new health and safety standards in light of COVID-19.
Employee training becomes a priority as well. 57% of respondents recommend their staff to attend industry webinars and 52% – educational programs. Many hoteliers are sure that it is advantageous for the remaining staff to be able to fill multiple roles. To achieve this, they should emphasize education and training, take advantage of educational offerings, and encourage cross-training. This will allow businesses to close any gaps left from layoffs or furloughs.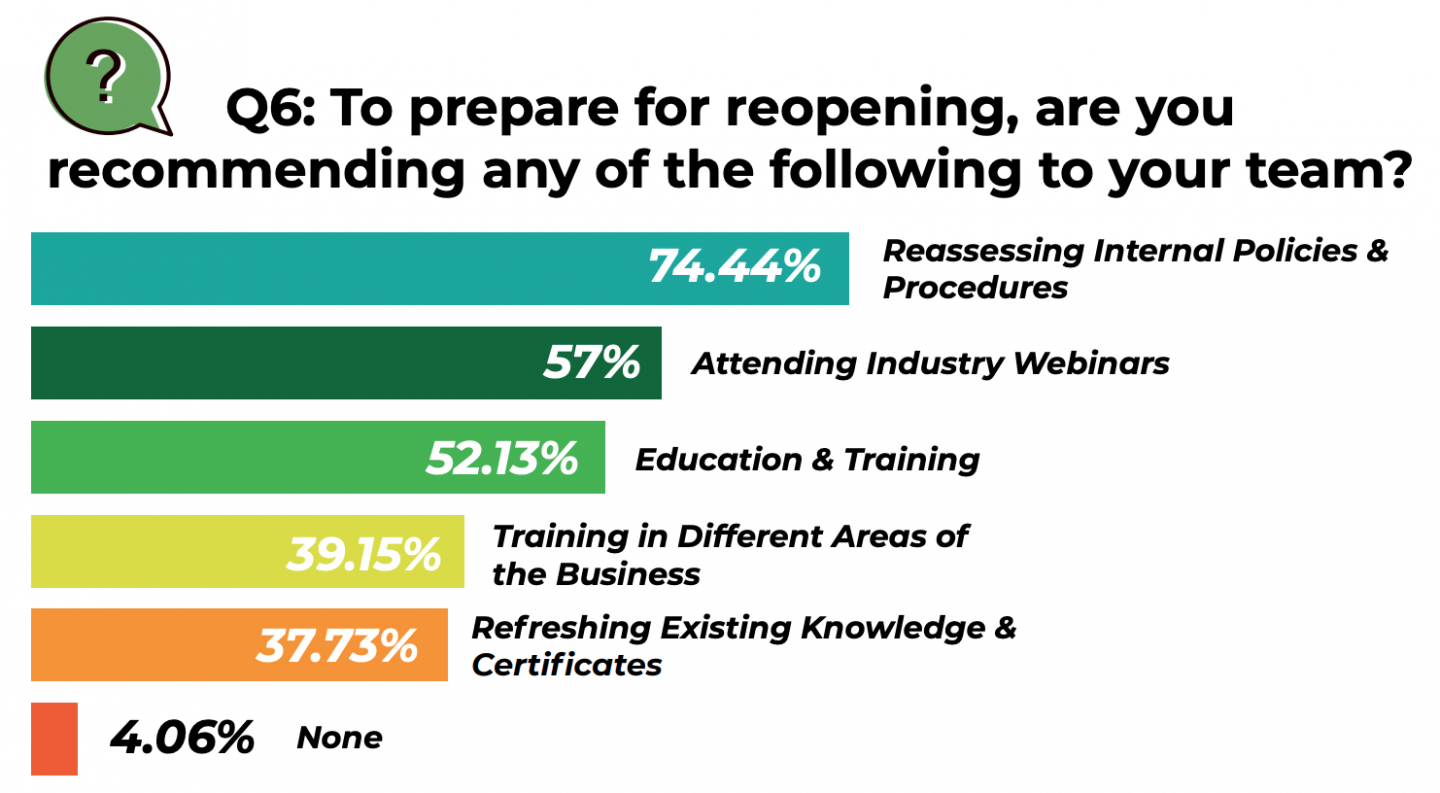 Source: https://www.fueltravel.com
In addition to staff training, hoteliers are thinking hard about the ways how to reassure guests and showcase their hotel in a positive light. McKinsey Consumer Leisure Travel Survey investigated the actions hospitality businesses could take to get tourists to travel again.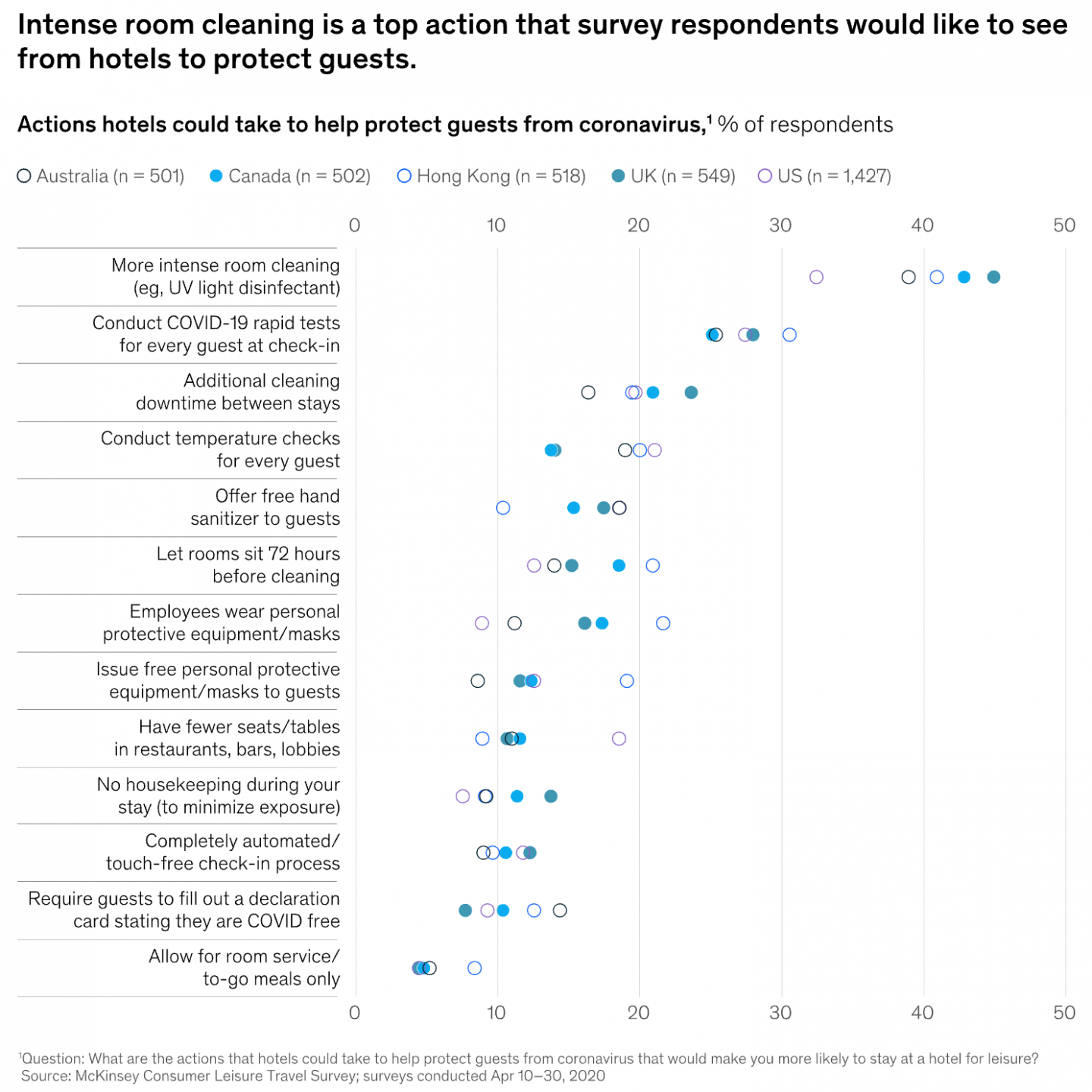 Source: https://www.mckinsey.com
On the consumer side, there is expected to be more intense room cleaning, COVID-19 rapid tests for every guest at check-in, additional cleaning downtime between stays, temperature checks for every guest, free sanitizers, room sit 72 hours before cleaning, personal protective equipment.masks for employees, and more.
Overall, hoteliers tend to prioritize guest-facing practices that can deliver the best results for the post-pandemic hotel business. The top-3 practices include enhanced housekeeping policies, increased common space cleaning, and updated Food and Beverage (F&B) policies and procedures.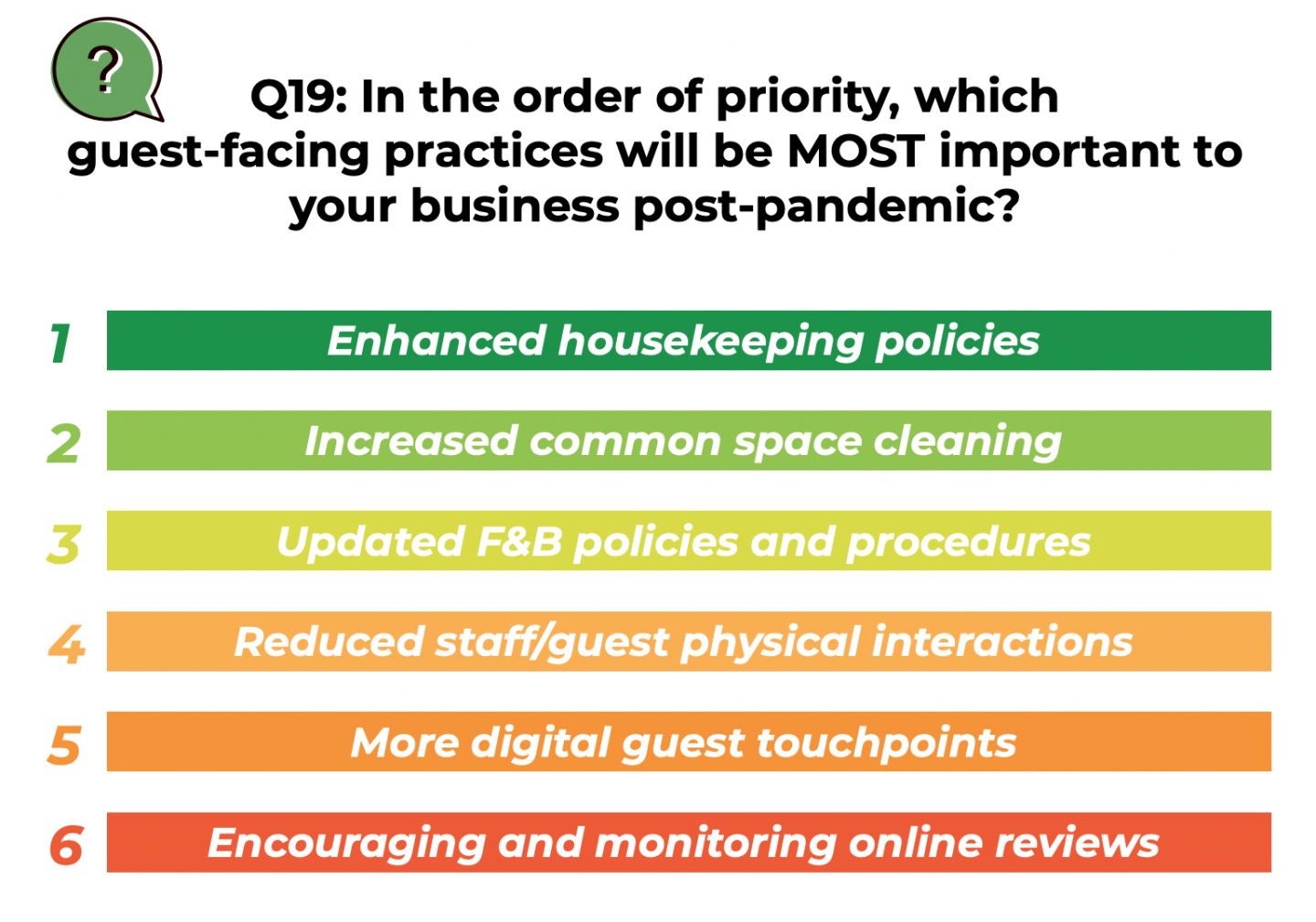 Source: https://www.fueltravel.com
Plotting a path to recovery, almost 39% of respondents will focus on more niche and local audiences. 37% of them are going to reduce the number of rooms available per day or close unoccupied floors as a leading cost reduction strategy. Yet, 28% of respondents will not make any changes to their distribution strategy.
Bottom line: a roadmap to recovery
True, the times are hard for hotels, as there is the prospect of a long recovery. Yet, relaunching business may mean bouncing forward, instead of going back. Luckily, even new hotels are on the heels of an opening celebration. For instance, the Wayfinder Hotel in Newport, Rhode Island opened during the COVID-19 outbreak. Another example is Quirk Hotel Charlottesville.
"Now is the perfect time to open a new hotel not to just survive, but to thrive. In fact, some guests may feel safer in a new and untouched hotel," said Matthew Brink, general manager of the Quirk Hotel Charlottesville, in a statement to Forbes.
That said, there is no one right response for everyone. Nevertheless, there are some guidelines applied universally, and they are as follows:
● Locals first. Commission-free e-Сommerce marketplaces can help hotels attract more guests and increase room booking.
● More value by offering deals, voucher sales, discounts. Hoteliers should create packages that combine as many offers as possible (e.g., dining and the hotel stay, tours and wellness offerings).
● Informative messaging. Hoteliers should communicate with customers before, during, and after their stay and provide them with all the information about the hotel, including the duty of care on new cleaning protocols and guest safety.
● Disposable single-use toiletries only. Hotels should have a sanitation plan in place and prepare a set of rules for both guests and staff.
● Focus on direct bookings. It will help hoteliers reduce dependency on OTA.
● Focus on hotel digital marketing to outpace the competition in the times of eCommerce marketplaces.
● Contactless tech solutions and digital interactions when every guest can check-in/out, order food and services, as well as pay for them without any personal contact.
We hope that the statistics and studies above will stimulate hoteliers' thinking and help find efficient solutions to return their business to the norm sooner.
Public relations: Stephanie Moench