Dec 6, 2021 1:50 PM
Today, it is recognized worldwide that the pandemic has affected every sphere of our lives, transforming people and their travel behavior, as well as modifying the way we do business. It also became the accelerant for the contactless economy to rise, differentiating this crisis from all others.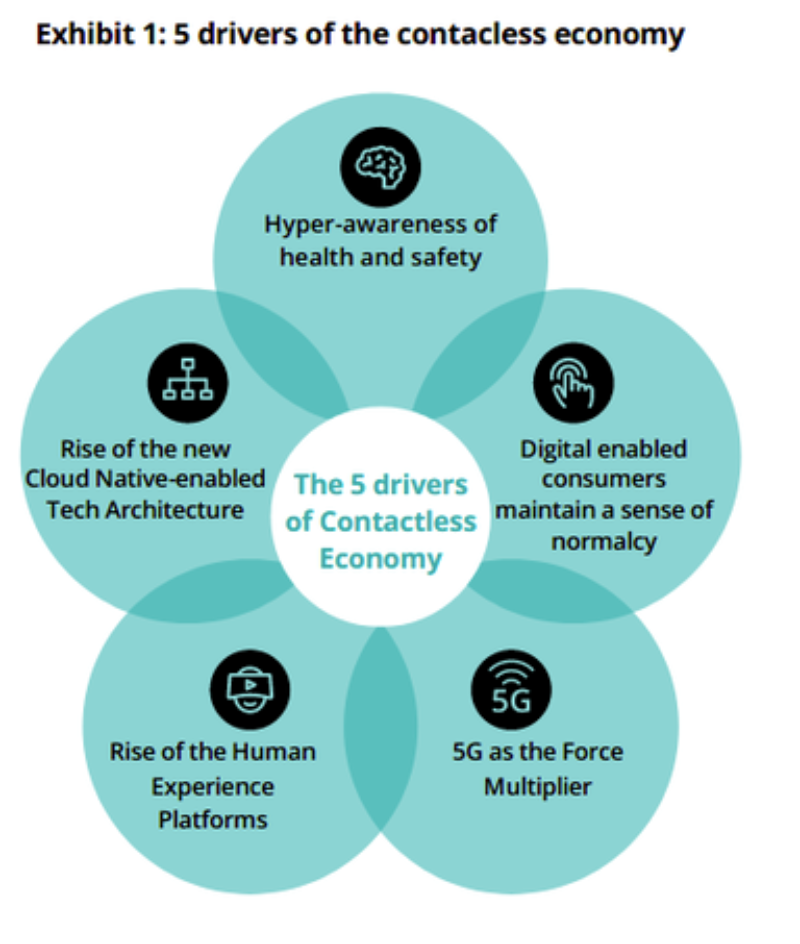 According to the report by Deloitte, there are several drivers that have made the contactless trend mainstream, namely supply-side (the digital technologies and innovations like cloud platforms, AI & Data analytics, 5G, etc.) and demand-side ones (the need for social distancing and convenience, fear and desire to avoid crowdedness, expectations for enhanced safety, etc.).
Sure, demand for contactless experiences among customers is growing and so is the need for more "human touch" in their digital experiences: 56% of respondents want it (based on a Deloitte survey). Hoteliers see this and tend to adopt technology widely and fast.
However, Deloitte experts warn about some complications that can hinder success. Let's focus on them below.
Complications hoteliers face
Most hoteliers agree on the fact that they should act fast in implementing contactless technologies to stay competitive. Yet, the following complications may delay the process of adoption:
● Customer segmentation: it became more difficult to manage and create new personas. The concepts of "at-home" and "outside-home" lives added even more complexity and dynamicity. Hoteliers need to know how to monitor the consumer shifts, how to maintain agility in the channels and offerings, and more.
● Legacy issues: hoteliers used to just explore and experiment with digital. But in the time of digital transformation, it's not enough. Now it became normal to be digital, old strategies need to be refreshed to stay afloat.
● Existing winners: many industry leaders have already offered contactless experiences before the pandemic. For small hotels and inns, it may create some barriers to entry. Yet, if hoteliers continue to wait and watch to minimize risks, they can miss out on the opportunity to establish tech partnerships.
● Privacy and security: hotel brands are building trust with their customers for years. Data privacy lapses can ruin this relationship and have implications for trust.
Three steps to solve issues of handling the new consumer needs
To solve these complications, Deloitte offers to take three steps to benefit from the contactless options:
1. Customer Behaviour Analysis: assess the evolution of customers' needs and behaviors and make the geography-specific segmentation exercise in the market using existing sales and marketing tools.
2. Market Specific Customer Segments: determine new customer segments that can be driven by contactless offerings, decide which segments to target, and define new value propositions for these segments.
3. Tech-enabled capability build-out: decide on the ways how to embrace data and analytics, what systems to use, and providers to work with.
It is clear that the sooner hoteliers can handle new consumer needs, the quicker they get ready for a fast-changing environment. In this respect, HotelFriend has a solution that can help meet all the guests expectations for self-service and contact-free options.
How to benefit from the contactless options using modern software solutions
As the #1 provider of software for the travel and hospitality sectors, HotelFriend helps hoteliers make physical operations touch-free. Our mobile Concierge App is a multifunctional travel assistant which shortens the distance between the guest and hotelier, as well as provides guests with exactly those contactless personalized experiences they expect from a hotel.
● Security
HotelFriend software is GDPR-compliant. There is no need to worry about fraud or data leakage. All sensitive data such as credit card numbers are protected with encryption.
Hotel guests want digital and low-touch options. According to McKinsey.com, there has been a 20% increase in preference for contactless operations in the U.S since the COVID-19 pandemic started. Digital touchless experiences are growing in popularity, and hotels that implemented innovation to serve their guests safely and effectively managed to establish a strong advantage.

● Contactless experiences
Nobody wants to stay at the reception in close contact with other guests and fill in papers after an exhausting flight. And nobody wants to see the line of fatigued or angry faces. With our contactless check-in/check-out" and room entry, the hotel's working process will be more effective and productive while guests will be more satisfied. Also, they can order food or services and pay for them right away via the HotelFriend App. Everything is fast, easy, safe, and clear.
● Satisfied guests
This statement is rather a result of the previous one: hoteliers solve the problem with queues of exhausted guests with heavy bags and receive fewer complaints about the service.
The staff understands and meets customers' requirements better thanks to the direct communication between the guest and the hotel via mobile live chat. Consequently, guests are more satisfied with their hotel stay.
● Safety
The mobile app becomes a COVID-resistant solution that creates a safe in-hotel environment. No person-to-person contacts, no unnecessary interactions with the staff. The only thing customers interact with is their own smartphones.
Your guests only have to upload the negative test and send the results together with check-in documents to the hotel.
● Faster workflow = higher income
By improving the check-in/check-out process and simplifying room access, hoteliers help their hotel to work faster, take in more guests and increase revenue. The staff will have more time for guests and their needs. And the hotelier can concentrate the energy on the organization and management of the hotel processes. Finally, guests who experienced first-class self-service opportunities equal to potential repeat customers.
● Upsell opportunities
HotelFriend Mobile Concierge allows to offer not only self-check-in/out options, mobile room key, digital ordering but also sell ancillary services via the app, create and promote deals or packages. Just a click away, and users can learn about hotel extras and try something new.
That said, hoteliers can get their own branded app as HotelFriend provides white-label app options. All that is left is to choose one option that suits best, namely basic functionality, own custom design, or full custom.

Digital tools and technology are created to address guests' needs and provide what they want. In the rapidly changing current environment, they are able to make a critical difference. There is no point in neglecting technology as innovating during this crisis and beyond helps adapt to new customer habits, build stronger relationships, and become more resilient.
Get Free Trial
Author: