Aug 12, 2022 4:47 PM
Times when free Wi-Fi was considered a luxury are long gone. Nowadays, customers expect to engage with mobile technologies, which can make their travel experience easier and more enjoyable. According to studies, 66% of millennials book their journey using a smartphone. Hence, it becomes essential for hotels to consider this customer's need and put everything online – from researching hotels to booking a room to check-in.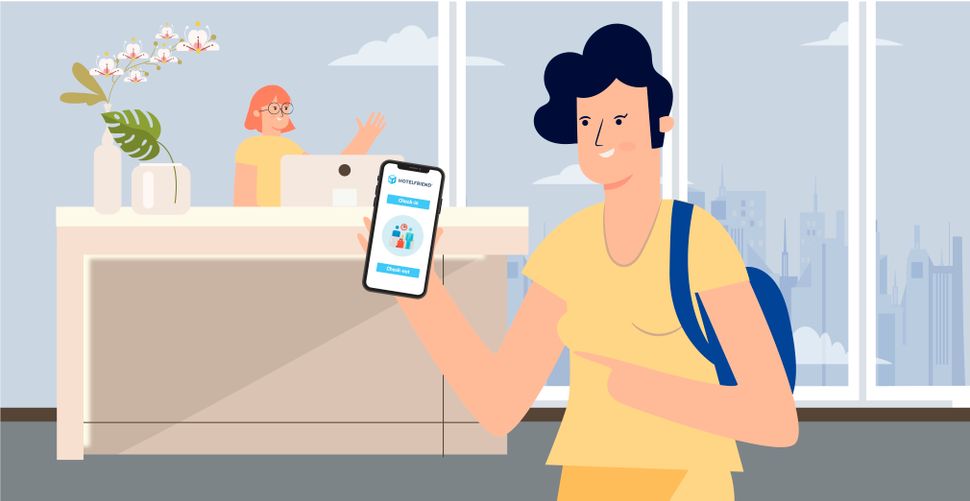 Aren't you tired of endless queues at the reception desk? And what about sheaves of forms printed every day and countless phone calls? How to cope with guests who want to check in earlier or to check out later? How not to confuse their requests and avoid conflicts? These are the most irritating routine things modern hoteliers have to do.
We have a solution to solve all these problems. The answer is: use the Concierge App by HotelFriend. It is a multifunctional travel assistant which shortens the distance between the guest and the hotelier.
Mobile check-in via the app: how does it work?
Contactless check-in is a self-service technology that helps guests to complete the registration and check-out process using their smartphones. This app allows them to select a room and finish the check-in process before they arrive at the hotel. Thanks to it, guests can skip any line at the front desk and access the room keyless with a mobile.
Here are two ways to check in/check out remotely:
Mobile check-in
Mobile check-in is an excellent solution that speeds up the check-in, making this process more comfortable and flexible. It allows guests to check in before their arrival, using the app or right from the web page.
Self-check-in kiosk
A self-check-in kiosk is a great tool to make a check-in process fast and seamless. This technology allows guests to check in using a tablet at the front desk. This process includes a few easy steps:
● Open a self-check-in tab on a tablet.
● Enter a reservation code received on the booking confirmation email.
● Fill in the form with the required information and put a digital signature to confirm it.
● Take a photo of an ID or another document.
● Make sure that the self-check-in request has been sent.
How does mobile Check-in/Check-out work for guests?
Let's figure out how it all works! After making a reservation, the guests receive an email or text message from the hotel. This message let them know that it's already possible to check in as their room is now available.
The guest clicks on the link within the email or message and downloads the app. Next, the guest must fill in a digital form with their data, upload an ID along with proof of a negative COVID-19 test (optionally), and sign digitally. The process takes a few minutes, and the app will save the information for future stays.
Here are a few easy steps to check in at hotels via the mobile app:
● Select a booking from the My Trips list.
● Enter the reservation info before arriving.
● Select the country from the drop-down list.
● Add check-in documents: take a photo of it or choose from the gallery.
● Add a digital signature.
Congrats! Now the booking request is created. Need more details? Learn more about mobile self check in here.
How does mobile Check-in/Check-out work for the hotel manager?
When the guest submits all the necessary data, you will receive a self-check-in request in notifications. You only need to review the documents, assign a room number, and confirm the request.
You can quickly approve the guest check-in within minutes:
Go to the notification section and find the booking you need. If needed, you can use the following filters: guests, check-in/check-out date, status, source, and verified status.
Specify the booking status as "check-in" in the menu under the column «Actions».
Check the room type, the number of adults and children, stay period, and a room. If needed, select another room in the field «Room No.»
Confirm the check-in by clicking on the «Confirm» button.
What are the advantages of using mobile check-in/check-out for guests?
Nowadays, hoteliers have an excellent opportunity to optimize and improve their services. It won't take much time; you need to implement specialized software into the hotel workflow. The Concierge App by HotelFriend is exactly what you need to provide your clients with the best services. Here are the problems the hoteliers can solve if their guests use the HotelFriend App.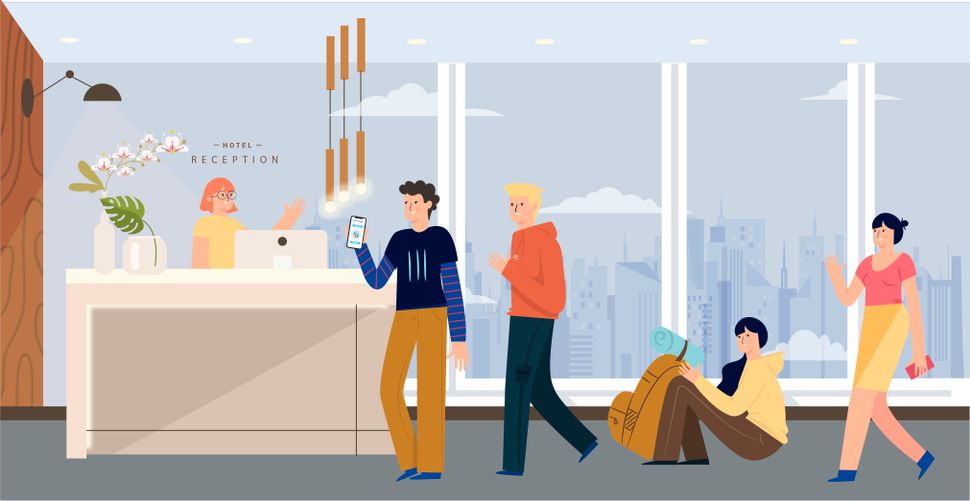 Forget about waiting in lines
Problem: The standard check-in time at your hotel is 2 pm, so by this time, there is usually a line of people queueing up in the lobby. To check all guests into their rooms, the front desk agent has to check each client's documents and fill up numerous registration forms. It takes too much time and is tiring for guests.
Solution: With HotelFriend, check-ins will be instant. Guest show their booking number at the reception desk and receive the keys. That's all. He doesn't have to wait at the reception desk to check out and pay for all used services. The guest can do it via the HotelFriend App. Everything is fast, easy, and transparent.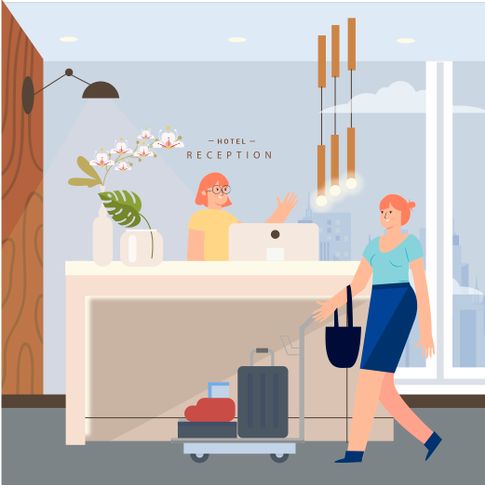 Fewer complaints, more happy clients
Problem: You've noticed the increasing amount of negative reviews on social media and Tripadvisor about the speed of your hotel's service. After a long and exhausting journey, your guests had no opportunity to rest, as they had to wait about an hour for check-in. This affects the hotel's rating and the number of bookings.
Solution: If you solve the problem with queues of exhausted guests with heavy bags, you will likely receive fewer complaints about the service. The staff will better understand and meet the client's requirements thanks to the direct communication between the guest and the hotel provided by HotelFriend. Consequently, your guests will be more satisfied with their hotel stay.
Maximize the efficiency of the process
Problem: If your guests' data is not being saved automatically, your customers will have to go through the same procedure of filling out the registration form each time. This reduces your chances to get more repeat clients.
Solution: Clients must create an account in our system and fill in a digital form with their personal information. The next step is to attach photos of their documents and add a digital signature. The app for check in will use this information every time the guest stays at the hotel.
This is a pretty useful option for clients as well as for the staff. Nobody wants to stay at the reception and fill in papers after an exhausting flight with a talkative neighbor. And nobody wants to see the line of exhausted or angry faces. Our "Fast check-in / check-out" will make your hotel's working process more effective and productive.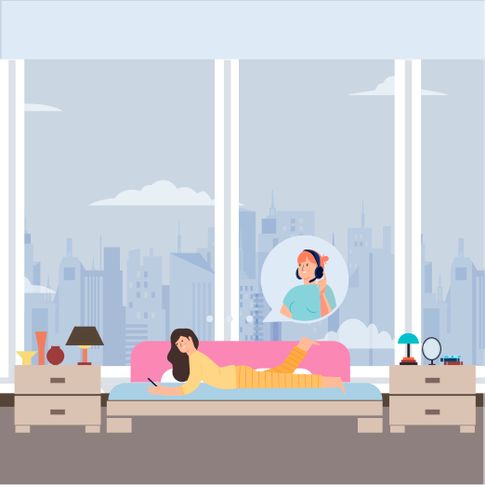 Flexibility is a key to success
Problem: Your customers want to get a quick response to their issues, but they need to spend time looking for an administrator or wait a long time for their request to be completed.
Solution: According to research conducted by eWeek, about three-quarters of consumers prefer texting over calling customer support. That's why we came up with the idea to provide a possibility of a direct chat between the hotel and the guest. Using the HotelFriend Concierge, your clients can communicate with the hotel's staff if they have some questions or problems. For example, if the guest wants to check in earlier or check out later, he can discuss it with the hotel's manager. Our flexible system allows us to extend the booking and order extra services. The client can order dinner or some beverages by sitting on a hotel room couch.
Faster workflow = higher income
Problem: Due to staff shortages and lack of automation, operational processes in your hotel are slow and inefficient. Your employees do not have enough time to pay attention to clients' requests and make them feel valued.
Solution: By improving the check-in / check-out processes, you help your hotel to work faster, take in more guests and increase revenue. The staff will have more time for guests and their needs. And the hotelier can focus on the organization and management of the hotel processes. Finally, satisfied guests who experienced a first-class service equal to potential repeat customers.
It might seem that remote check-in / check-out is just a tiny detail, and guests don't pay much attention to it. But what is the use of a soft bed in a cozy room if the guest has to waste a time in line to rest there? So, fast check-in / check-out and time flexibility are the first impression of the hotel and should be as comfortable as possible.
Easy check-in/check-out at any time
Problem: Your guest has a late flight and asks you for a late check-in. You want to provide guests with the best service but realize that hiring staff for the night shifts is expensive. At the same time, clients don't want to overpay for late check-in and may choose another hotel that offers this option for free.
Solution: No worries, it's a common problem for many hoteliers, and here is a solution! Now it's time to start working with the Concierge App from HotelFriend. Your guests will be able to do a self check in and out and get a contact-free keyless room entry via the app.
No more language barrier
Problem: To talk with your hotel staff, guests must go down to the lobby or call reception. This may not be very convenient for those who don't know the local language or aren't at ease speaking English. However, they still need to find an optimal way to communicate their needs or make changes to their stay.
Solution: With Concierge App, there will be no longer reason to worry about the language barrier. The guest can select a suitable language to fill out the hotel online check-in form. The front desk manager can do the same. So there will be less stress on the front desk, and the registration process will go fast and smooth.
The Concierge App is available in English, German, Italian, Greek, Arabic, Turkish, Ukrainian, Russian, Poland, Romanian, Dutch, Georgian, Estonian, and Gujarati. More languages will be added shortly.
Contactless services
Problem: As there is no alternative, guests and staff in your hotel have to communicate face-to-face, even if there is an increased risk of contracting COVID-19.
Solution: Due to the COVID-19 pandemic, contactless services have become a part of our daily life. Many businesses created them to stay afloat. As for travel services, the availability of no-contact options became a must. Dozens of hotels implemented digital check-in to keep both guests and employees safe. This technology revolutionized the hospitality industry.
During the pandemic, it was a necessity, and now contactless technologies give hoteliers a unique opportunity to set a new way of communicating and personalizing with their guests. Digital communication preferences will keep being an integral part of the hospitality industry. Hence, hoteliers that provide guests with a contactless experience will find themselves ahead of the curve.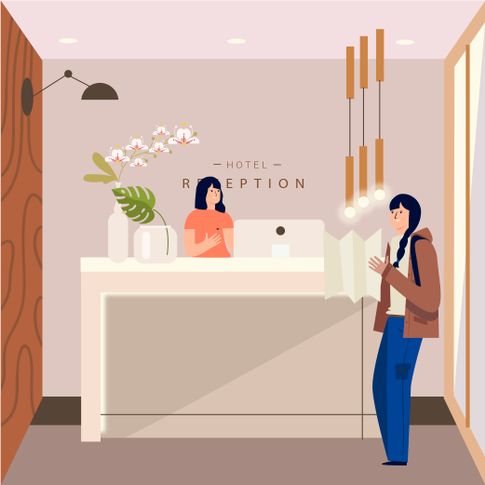 No stress at the front desk
Problem: You have a small hotel that you would like to run in a fully remote way, allowing your guests to check in on their own, but you don't have the right tools to do so.
Solution: Imagine the opportunity to adapt and move a front desk and concierge services to a hotel check-in app. Now it's a reality with a Concierge App by HotelFriend. The check-in app allows guests to do a mobile check-in, get a keyless entry, and many other services. As a result, guests receive more memorable experiences, offering unique individual touches that are parts of an unforgettable hotel stay.
Faster work = More sales
Problem: You want to speed up the hotel's operation and increase sales but don't know where to start.
Solution: Directing guests to Concierge App opens up many new opportunities for hotels. Here is the list of at last several of them:
● saving reception staff time,
● reducing operational costs,
● increasing the number of orders,
● optimizing guest data,
● speeding up check-in/check-out,
● driving ancillary revenue,
● maximizing sales.
Moreover, you can use a Concierge App by HotelFriend as a regular marketing tool to help guests discover more information about the hotel. The app allows capturing customer data that helps hotels grow their email lists. As a result, hotels can use it for future marketing activities to retain customers and attract new ones.
It's time to try Concierge App by HotelFriend
If you are still in doubt, let's clarify why you need to implement Concierge App by HotelFriend into your workflow. That's a win-win deal for both sides – clients and hoteliers. Concierge functionality within the hotel's mobile app allows guests to get a high-class service in a way the guests are familiar: with their mobile devices.
It's much easier to use a check-in app or send a message to the front desk than to stay in line or make a phone call. Another advantage, it helps to avoid any language issues. All the primary services are available at their fingertips: guests can open their room, order meals, room service, or book other services via the app.
There are a lot of benefits for hotel staff as well. The app gives the hotel team a digital record of the guest's requests and preferences. Hence, it's an excellent opportunity to upsell ancillary services, collect the data for customer analytics, launch loyalty programs, provide marketing campaigns, and retain customers. Check out this article to learn more about all the advantages of the Concierge App by HotelFriend.
How to implement Concierge App into hotel workflow
That's easier than you think! The whole process will take 5-10 minutes. Follow the instruction below, and you will handle the set-up process quickly:
Sign Up for a Concierge App by HotelFriend.
Go to the Settings and fill out the «Hotel Info» form:
- name of the hotel and its location;
- rating (corresponding star category);
- currency and VAT;
- hotel check-in/check-out time;
- Wi-Fi credentials.
Upload photos of your hotel (the first one should be the photo of the facade).
Click on the «Save» button.
Congrats! You added your hotel to the HotelFriend management system.
When the main info is added, fill in the other essential tabs.
● Legal info: in this form, you should type your bank details.
● Languages: select the available languages of the interface.
● Meals: add meals that are served in the hotel and when the meal is served.
● Children: specify if children are allowed and add the age range.
● Facilities: note all the services available in the hotel: sports, wellness, entertainment, parking, etc.
Ready to skyrocket your hotel business? Download the Concierge App by HotelFriend (iOS/Android) now and get a 30-day free trial.
Author: