Jun 15, 2021 3:45 PM
The previous year turned life on earth on its head when the COVID-19 began to spread. Many experts and researchers warned of its danger, symptoms, modes of transmission, and highly contagious nature. All that got the people to wear masks, stay home, reduce contacts, and wash their hands repeatedly.
After the researchers suggested that the virus could live for days on glass, plastic, paper, or stainless steel surfaces, and people could become infected when they touched them and then their eyes, nose, or mouth, there started mass cleaning campaigns.
For example, Facebook closed two of its offices for a "deep cleaning." Major chains and small hotels, including Accor Group, Hilton, Four Seasons, Munich Hotel Alliance, Holiday Inn, etc. introduced new cleanliness measures and rolled out reopening guidelines and recommendations.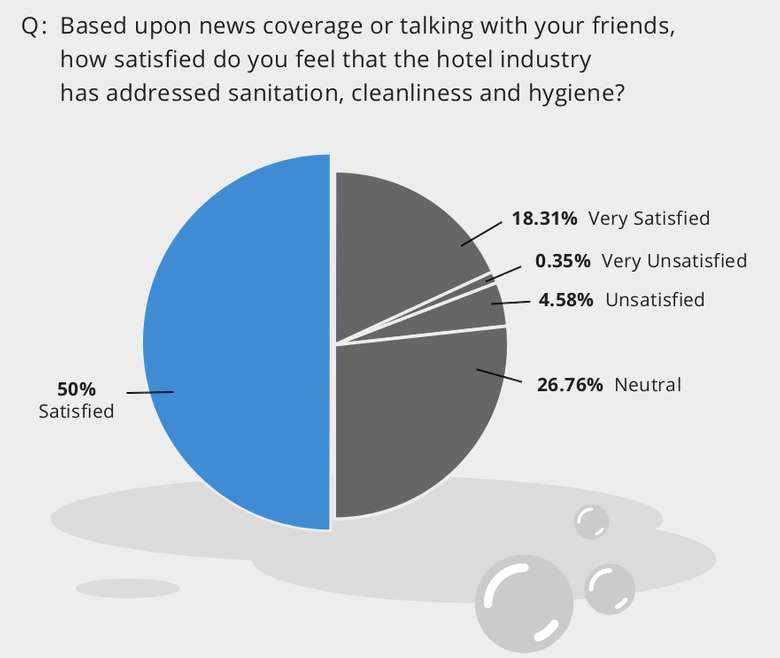 However, the Centers for Disease Control and Prevention (the CDC) recently updated its Cleaning and Disinfecting guidance noting that the risk of infection from touching a contaminated surface is no more than 1 in 10,000. Does it mean that the era of total sanitation and hygiene comes to an end? Most probably not.
In most cases, people want and expect to get evidence of surface cleaning to feel safer. According to The New Landscape of Housekeeping and Hygiene report, 50 % of hotel guests feel satisfied when the hotel industry has addressed sanitation, cleanliness, and hygiene.
Source: https://www.hospitalitynet.org/file/152008969.pdf
In this context, deep cleaning still makes sense for hotels as it becomes both a major requirement and an element of marketing strategy.
In this article, we'll focus on how guest expectations have changed as well as take a look at new data regarding cleaning and disinfecting practices we already have after a year of COVID-19.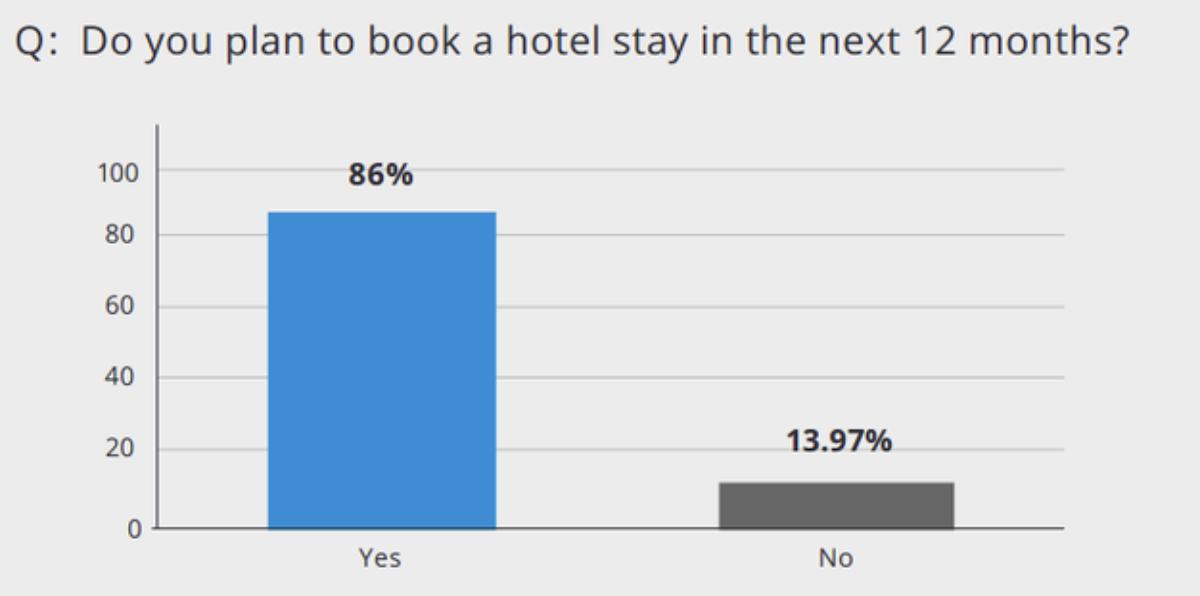 Meeting guest expectations
The good news is most researchers agree that the travel demand will return. The statistics confirm this tendency as more than 85% of people plan to book a hotel stay in the next 12 months.
Source: https://www.hospitalitynet.org/file/152008969.pdf
Those planning to travel expect an extensive and thorough sanitization of everything they may deal with. 79% of respondents are most concerned about room cleaning and sanitation. Elevators, restaurants, gyms, and doors are also of concern.
More than 80% of people who plan to travel are going to look at health and safety protocols before choosing a hotel. They expect the hotel to outline the safety measures and clearly communicate them as this will help to set accurate expectations for their travel experience.
Here's what guests want to see in the hotel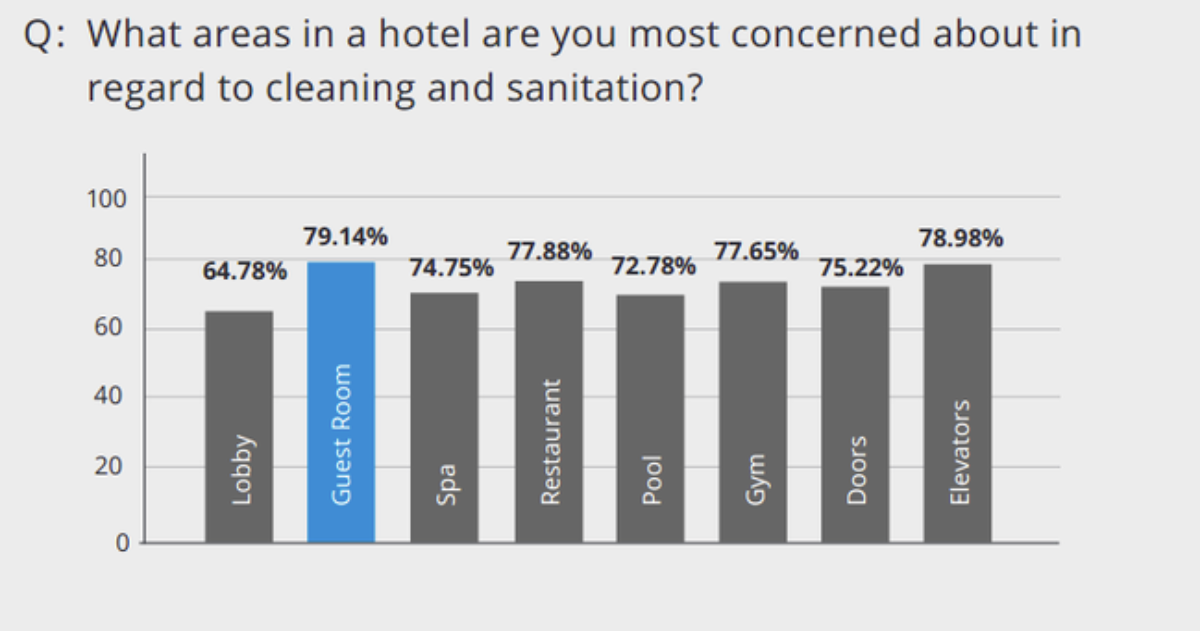 ● Contactless check-in and out, as well as reducing common physical touch-points
● The minimum of high-touch items in the hotel rooms
● Higher cleaning standards and dedicated housekeeping staff
● Regular intensive sanitization of common areas and hotel rooms
● Physical distancing guidelines
● Mandatory PPE (personal protective equipment) measures
Source: https://www.hospitalitynet.org/file/152008969.pdf
Better yet, there appeared newly reformed and updated best practices and guidelines like the already mentioned CDC Cleaning and Disinfecting guidance.
Based on the latter, routine cleaning should start from prioritizing high-touch surfaces, and then determining how often to clean them and if regular disinfection is needed. The guidance recommends that the housekeeping staff should clean high-touch surfaces at least once a day. If space is occupied by young children or it is a high traffic area, it can be more frequent.
Regular cleaning is often enough to remove the virus. Also, the staff should consider options for people with asthma as some washing and disinfection products can trigger asthma attacks. Air quality and investment in ventilation and filtration improvement should come to the fore.
While talking about disinfection, the staff may choose to disinfect after cleaning if certain conditions apply. The U.S. Environmental Protection Agency developed the List N that includes products and disinfectants to kill the coronavirus when used according to the label directions.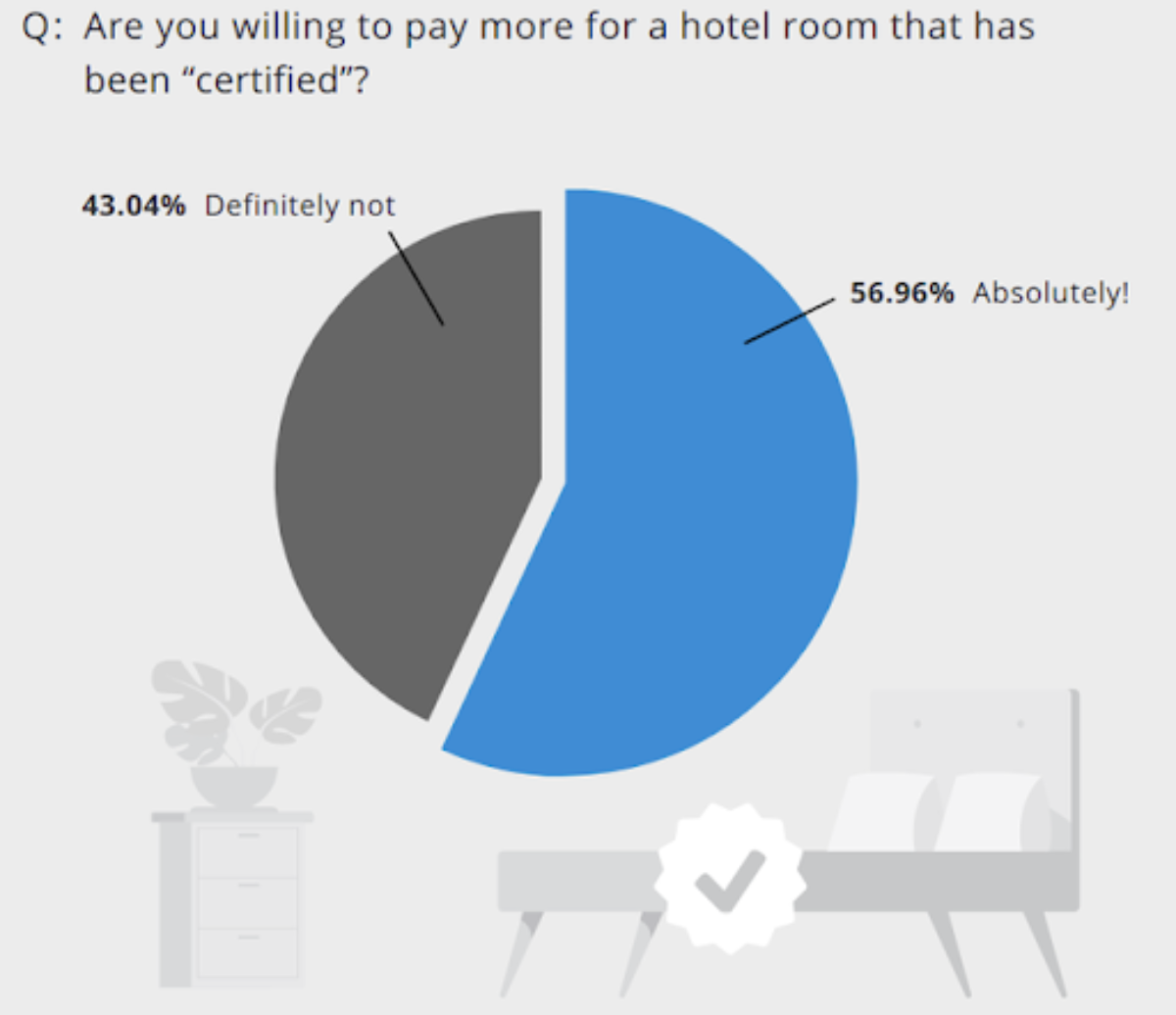 For many researchers, deep cleaning becomes not so critical from how it seemed before. However, in a post-pandemic world, guests want it. What's more, 58% of them are willing to pay more for a "certified clean" room.
In terms of guests' preferences for hotels to implement, the top-5 include
● Occupancy limits
● Greater reliance on technology that reduces human-to-human interaction
● Indoor and outdoor social distancing delineation
● Signs indicating regulations and cleaning measures taken
● Guests screening and temperature checks before entering
Source: https://www.hospitalitynet.org/file/152008969.pdf
In addition to the above-mentioned preferences, customers want hotels to be eco-conscious and sustainable. According to Think with Google research, 42% of tourism marketing experts name environmental responsibility as an increasing need. Because guests are becoming more concerned about the environment, hoteliers should be ready to provide them with eco-friendly experiences, sustainable practices, and services.
The way we see it, guests expect hotels to redefine personalized guest experiences through digital tools and contactless technology, as well as see the proof of safety or some kind of certificate.
Becoming a "Certified clean" hotel
As traveling returns, every day brings new challenges to hoteliers, starting from the need to rethink operations and redesign housekeeping practices by using technology, to finding ways how to ensure guests choose your hotel and come back for another stay.
To address these challenges, hotel business owners partner with health and innovation experts to build safety and hygiene attributes adapted to the new normal. The areas of focus include disinfecting high-touch surface areas, reducing person-to-person contact, removing or rearranging furniture, installing hand-sanitizing stations, and leveraging appropriate technology for safety.
In this environment, HotelFriend can help in the critical directions
● Marketing: hoteliers can take advantage of commission-free HotelFriend eCommerce Marketplace that allows to list not only rooms but also to promote your hotel, create and manage deals, tours, packages, leisure activities, day trips, and more.
● Hotel website development services: hoteliers can get the most from an intuitive and easy-to-navigate website with an already integrated Booking Engine. It will help introduce your hotel to the public, increase direct reservations, and compete with OTAs.
● The proof of safety: guests now want guaranteed security. With the COVID-19 Safety badge, hoteliers can easily and visually inform their customers that both location and hotel are safe, as well as make their efforts and measures visible.
● Social distancing: hoteliers can offer their guests a Concierge mobile app to check-in/out, access rooms, order food or services, and pay for them, everything to be delivered without contact.
● Enhanced cleaning process: hoteliers can streamline the performance of the cleaning staff and improve service quality thanks to the Housekeeping module. It allows to handle all operations effectively and in time, assign tasks and priorities, view room statuses, do all repairs faster, organize shifts in a smart way, etc.
● Environmental responsibility: hoteliers can go green by implementing eco-friendly tech solutions, such as mobile check-in/out, online ordering, payments through smartphones, digital accounting, and reporting. It will help both save on printing costs and reduce paper usage. Restaurants can use digital menus, instead of printed ones.
Now, more than ever before, there's nothing more desirable than a travel restart. Hoteliers work hard to win back the trust of their guests. People can't wait for the day they can travel again freely. The only thing that remains is to anticipate these desires and respond to them in time and by taking the right actions.
Get Free Trial
Author: