Jul 14, 2021 2:10 PM
Today's Hotel Management Software is so complicated and too complex to be understood right off the bat. Choosing the right provider isn't easy as well.
A set of tools that includes PMS, Channel Manager, and Booking Engine today is a must-have for efficient hotel operation to create a competitive advantage over rivals.
There are lots of expensive products with a long list of extra features or additional tools for managing data, records, and reporting that need further upgrades or third-party integrations with the wording "nice to have".
However, do you really need all that stack at your hotel? Let's find out below.
What to consider when choosing the right hotel software
Before you start evaluating the PMS provider, concentrate on the following points:
1. Define your hotel's type based on its size, location, services you provide, target markets, facilities, number of rooms, etc.
Put simply, you are an owner of a mid-sized hotel located in Europe. You have mostly 30-40+ rooms. Located mostly in the cities with good infrastructure.
2. Decide on your business priorities, what matters and what you need the most.
Ask yourself the questions, "What are you searching for and how to understand if the software provider is reliable?
We analyzed the most frequent requests we got and compiled a few HotelFriend solutions that solve urgent hotel problems to help you get clear insights about the challenges they face and expectations they set for the technology product function. We're sure our insights will ease decision-making and make the software selection process simple for you.
A) Perform basic functionality
Our most common offer is the "Grow License" package, which includes the most powerful tools for working with hotel routines, which are as follows: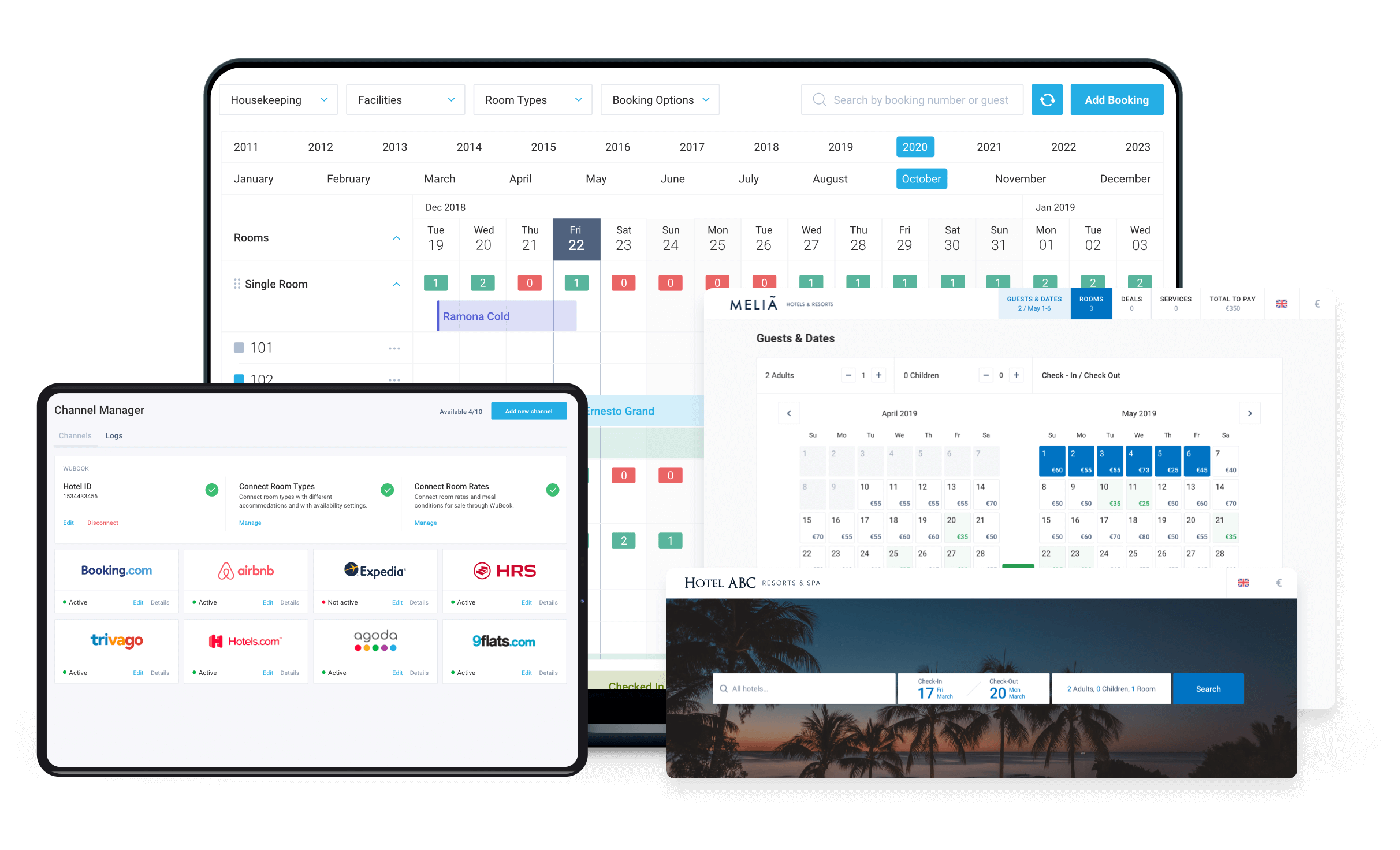 1. Cloud-based Property Management System (PMS) for hotel administration.
2. Channel Manager for online sales with minimized overbooking risk. 3 connections are included in the package: Booking.com for all types of reservations, Expedia for flight and hotel bookings, Hrs.de for business travelers.
3. The hotel website with integrated Booking Engine for direct reservations without any commissions to OTAs (for example Waldhotel Harz).
All these products are fully integrated into HotelFriend ecosystem and doesn't require any additional interfaces or extra costs. The software is ready to set up immediately to save your time and allows you to return to your daily hotel business routine.
In addition, the following solutions come as a part of the "Grow License" package:
a tool for day-to-day accounting, designed to help hoteliers record cash receipts, monitor fee income, find any transaction in a second, and forget about dozens of Excel spreadsheets.
● Full automation: guests get access to contactless check-in and -out, service or food ordering, immediate payments, and direct chat with the staff while hoteliers gain total control over their hotel business.
● Financial reporting from mobile phone: hoteliers can receive data from everywhere and know the status of the hotel right away.
● Payments: hoteliers can provide their guests with easy, convenient, contact-free, and secure ways to pay with Apple Pay and Google Pay.
Here is a short overview of the Hotel Management Software by HotelFriend:
B) Proceed with the scale and operations automation
To ensure that core hotel processes run smoothly, you should turn to process automation, especially in the next fields:
4. Fast check-in: everything is simplified to the max, you just send the deep-link to the guest to fill in the registration form.
5. Room access: after receiving the registration form, all you have to do is give the room key to the guest.
6. Integration with Cash Register: the POS turnover reconciliation with the banks is completed properly so that you can ease your payment processes and work in accordance with the legislation.
7. Integration with a Door Lock System: guests can unlock the door to their rooms with a mobile phone that is a contact-free and eco-friendly alternative to standard keys.
HotelFriend is the ONLY company that provides all three products for basic operations, namely PMS, Channel Manager, Booking Engine and additionally check-in and room access solutions, comprising five products in-house from one hand.
C) Implement a Hotel Mobile App
Besides the above-mentioned 5 products, there is the HotelFriend Mobile App with a room key feature and other useful functions such as pre-registration, chat with the administrator, ordering services, making an appointment, and more.
Check out 8 reasons why you should use HotelFriend Hotel Concierge Guest App.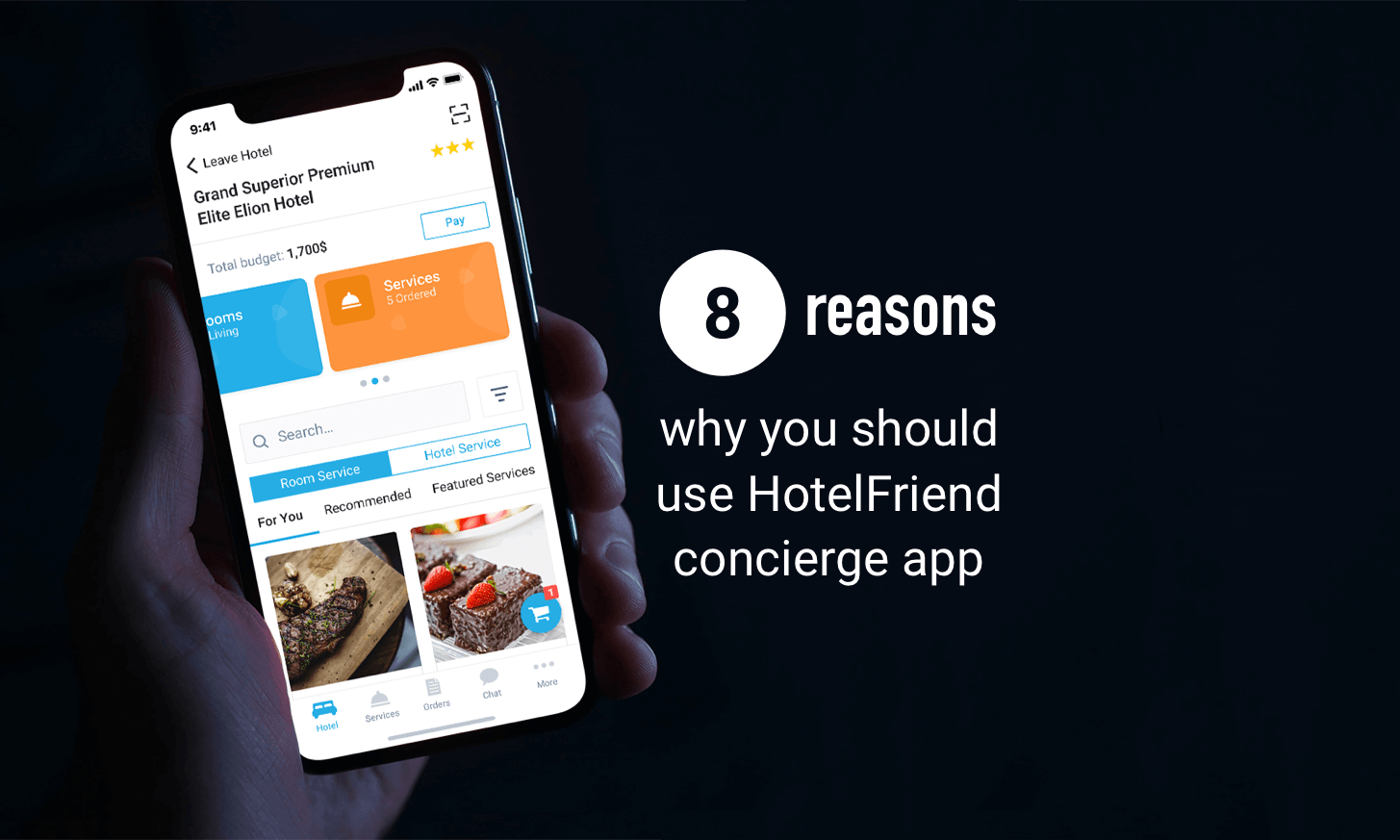 We can offer white-label app options:
1. Basic functionality: we provide the template where you just change the logo and the colors of the App.
2. Own custom design: we create the App that looks like your own.
3. Full custom: you'll be able to change the app as you want to.
Of the three options presented, our customers often choose the first two.
There is one more thing you need to pay attention to:
Old systems with FIAS protocol do not support using the mobile App while RFID systems require the presence of an App.
No one else but HotelFriend provides its own App with the possibility of adding mobile room keys.
There are additional services available on demand:
● HotelFriend Digital Guest Directory: have the App and CMS to get guaranteed easy content management.
● Access to interfaces and custom design: receive a specific management report or connect your cash register. Efforts should be assessed individually but they start at €500, and then you have to pay €50 per month for each customization of the interface.
● Marketing and SEO best practices for your hotel: improve your Google ranking thanks to attractive and interesting content about both your hotel and location, unique readable articles with keywords in two languages: English and German. In addition, your hotel will shine on the HotelFriend Marketplace and your deals will appear with the "Exclusive Offer" badge.
● More extended support for system customization: streamline your hotel software into a more up-to-date and complex technology suite with extended support. Plus, proficient training for staff is provided.
● Cloud TSE (Technical Security Device): access certified security of the POS systems and benefit from its cloud-connected proposition.
That's what you get with HotelFriend
In the hospitality industry, expectations for digital products and services are rising as digitalization ensures that productivity, speed, accuracy, as well as simplicity and convenience, are all achieved.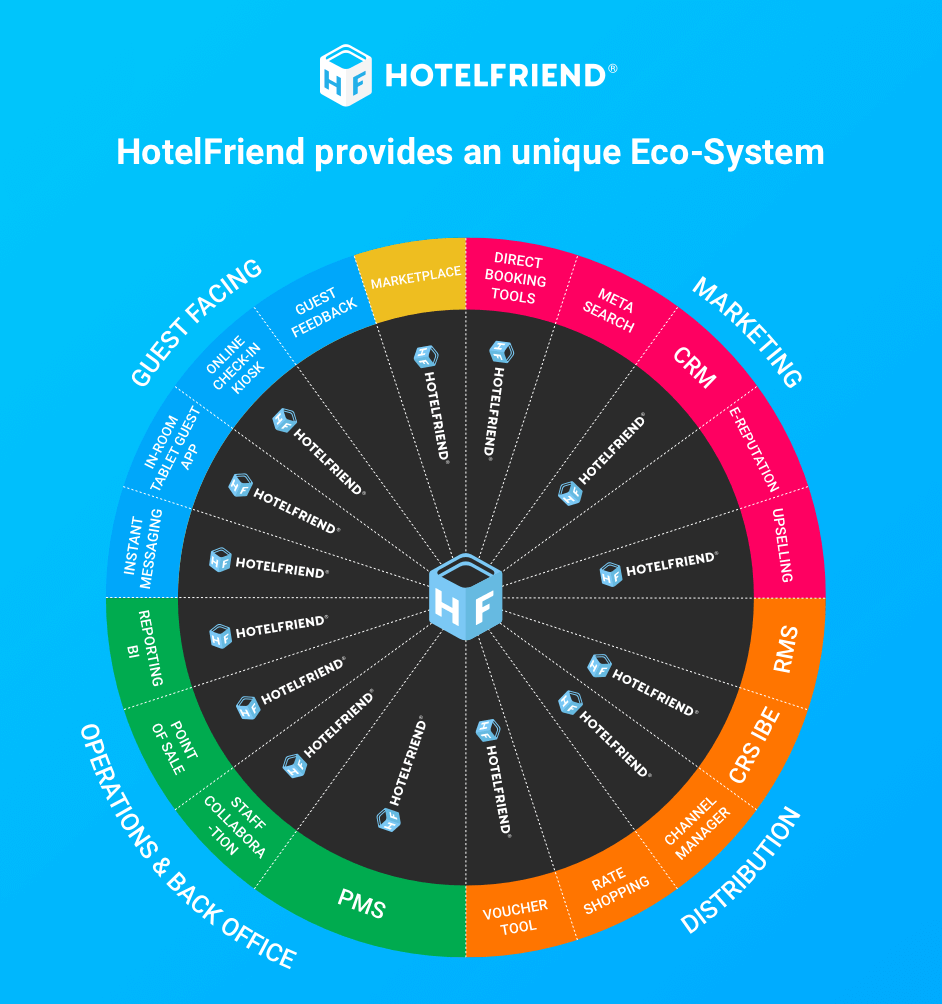 In this respect, HotelFriend offers exactly that sort of total digital experience where you can:
• Manage + increase sales + boost direct booking: you get access to the whole ecosystem from one hand - you would definitely want them all.
• Get rid of compatibility issues: we provide a perfect-match system with flawless sync between products.
• Reduce yearly IT costs by 40%: as mentioned above, you get all solutions from one provider that means you don't pay any additional fees to third parties.
• Adhere to social distancing while still enhancing the guest experience thanks to a cool App for contactless check-in/out, orders, and immediate payments: you can move toward providing even safer and better self-service experiences that help avoid unnecessary lines, speed up your hotel's check-in process, maintain social distancing, offer extras, and much more.
Whether you want to open up new opportunities for progress with HotelFriend or get more advice on how to get started, please don't hesitate to contact us and try it yourself - It's totally free for 30 days!
If you would like to get a personalized offer, please send us answers to the questions below:
1. How many rooms do you have?
2. Do you want to sell your room on booking platforms like booking.com? How many OTAs are you going to sync with the PMS?
3. Do you have your own website or would you like to use HotelFriend Booking Engine for commission-free bookings (for example)
4. Do you require additional integrations (door-lock systems, cash registers, etc.)?
5. When would you like to start?
6. Do you want us to set up your property (paid support service)?
Please send your answers to kontakt@hotelfriend.de. Once we receive your request, we will prepare and send a complete offer to you.
By keeping the points above in mind, you will reap all the benefits from implementing HotelFriend software. We hope our solutions will help you get the greatest amount of productivity for an affordable price.
Get Free Trial
Author: