Oct 26, 2020 3:04 PM
In the current era of technologies and digitalization, a properly designed website is crucial for the survival of your business. The Internet has become a huge marketplace where the hoteliers compete for the attention of their potential customers. And the customers have unlimited ability to compare prices in order to get the best possible bargain online.
Even though the hospitality industry has always been conservative when it comes to innovation, things have changed with the rise of OTAs. More and more hoteliers relied on them as on the adjunct channel for distribution. Soon, as the OTAs like Expedia and Booking became the household names of the industry, hoteliers turned out to be dependent on them.
Under such circumstances, promoting the hotel's own website is the only way to escape the rip-off which is the high commissions. And there are other important reasons to focus on direct bookings, such as getting more repeat customers. But to make this real, you need a convenient website that will support your brand image and warrant your online visibility.
Building one from scratch is quite a baffling task. However, if you already have a website, in our article you can find inspirations on how to ameliorate it and make it more user-friendly.
Here are 6 steps that will help you with that:
Step # 1: Set the right objectives
First thing first, you need to know the purpose of creating your website. If you want it to be really helpful and engaging, you need to stick to the right goals. Is it "getting more customers and revenue at any cost"? Then your objective is wrong.
Instead, try to ask yourself: "Will my customer be able to find all necessary information?" or "Will the guests understand everything concerning the terms and conditions of their stay?". The main idea is: your site must be user-centered. And you should put all effort into creating a useful product with a clear information layout.
Put your best rates on a Home page, and give a proper presentation of the room categories and available services. Add the description of Food and Beverage options and mention all amenities that you have. Try to look at your hotel's website from the guest's point of view. This will help you to understand what you do right and what should be changed. Remember: it is all about your customers. So make them feel welcome!
Step # 2: Create an ideal customer persona
You may not be familiar with this term, but it is quite simple. A customer persona is a generalized image of your main customers or target audience. You can imagine it as a sort of fictional character created on a base of your hotel's guest demographic.
Creating it can immensely improve the quality of your website's content since you will know who you are dealing with. If your main customers are the upmarket business travelers, the tone of your message will differ a lot from the message that is aimed at the budget leisure travelers. Delivering the right idea to your audience means more interest in your property, and the latter often leads to higher conversion rates.
Concentrate on such points as where your guests are from, how old they are, and what they expect. This will be your base, and you can get such information from Google Analytics. The demographic tab will show the data concerning the age, gender, country, and even preferences of your customers.
Another mine of information is Facebook and its Facebook Audience Insights, where you can get detailed information about the custom audience and those who subscribed to your page. Customer reviews on TripAdvisor will show you what guests liked the most about your hotel. And all these tolls brought together will give you valuable insights on how to optimize the content for each audience segment.
Step # 3: Pay attention to design and usability
After you have figured out the goals of your website and built a customer persona, it is time to pay attention to its structure. The Home page is the face of your business, so it must contain high-quality photos of your hotel's rooms and premises, and have convenient navigation. You need to create an idea of a certain lifestyle behind what you are selling and make it clear.
Poor design can harm your brand reputation and turn away most of your guests. That is why attention to detail is crucial. Thus, do not forget to develop both desktop and mobile versions to cater for all devices. According to PhocusWire, up to 30% of bookings are done via smartphones, and this percentage is about to grow.
To provide a pleasant user experience, place all necessary information, such as an address, contact information, and booking button in the upper part of the page and highlight it. Be sure that all images and pages load quickly – users usually do not have time to wait.
Step # 4: Optimize your content with SEO-tools
Even if your website is perfectly designed and filled with useful pieces of information, bad search engine ranking can ruin it all. To avoid such an unfortunate outcome, your website must be SE-optimized. Adding relevant keywords, especially those which include markers of your city or country combined with the type of your property, may help you to rank higher in search results.
However, the abusive usage of keyword combinations has absolutely different effects. Such text is extremely difficult to read and it does not have any value to your guests. In this case, you may even go down on the list, since Google may label your content as spam.
Another way to improve your ranking is by working with links. The more you are cited on the web, the more trustworthy you seem to the engine. You can also include links to some pages on your website in your own text – blogs are just great for that. Do not miss the opportunity to present your hotel more effectively by adding links to your unique offers and facilities. Find out more tips in our previous article about Search Engine Marketing strategy to adopt on your website.
Step # 5: Determine your unique selling points
Unique selling points are special features in your hotel that distinguish it from your competitors' properties. Your hotel may be small or lack fancy interior design, but it will always have something to give you an edge over the other ones in your area. This can be a location, special deals, and packages for a certain category of your customers, or an attractive loyalty program with a bonus system.
Do not limit your imagination when developing your USPs. The customer persona that you have already created may come to your rescue as well. If you know what guests like about your place most, you will be able to brainstorm something new based on this information. For instance, if your hotel is popular with families, you may create a special family package that includes transfer, complimentary services, and discounts on the kid's menu in your restaurant.
Add engaging information about tourist attractions near your hotel and collaborate with tourist guides. Create an identity for your property, make a logo, and hire a hotel or restaurant consultant. And, of course, provide a top-quality service, so that your guests could spread a good word of mouth.
Step # 6: Drive the customers to action
After you have improved the visuals and told customers about the all unique features that you can offer, it is time to encourage them to book! You have definitely seen the buttons with messages like "Buy now!" or "Subscribe!" on any site on the web. These messages are named "Call-to-action" and they push people to make an action that leads to the desired outcome.
The main button that should be always visible and easy-to-find is a Booking Button. Connected with the Booking Engine, it helps your customers to make direct reservations from your hotel's website with no extra effort. All they need to do is click it and start selecting a room according to their preferences.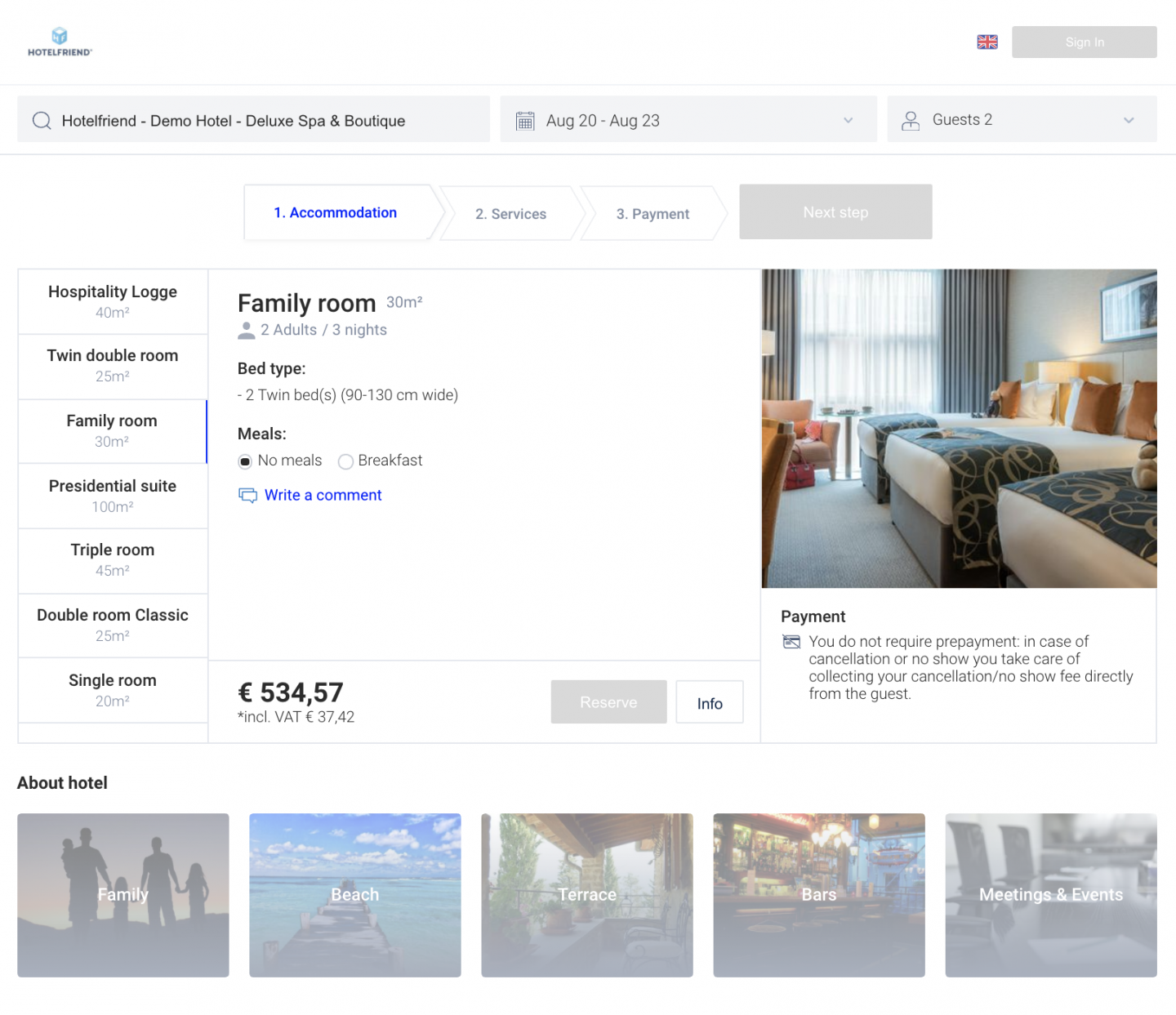 Firts of all you should improve your website by adding a Booking Engine. Here is an example of how it can look like.
Other great examples of this feature are the pop-up messages inviting to start a direct chat with the support group, or a sign-up field for a mailing list. Getting in touch with your guests is great, since this way you can improve their experience and start building trusting relationships with your clientele.
Conclusion
Whether you are building a website from scratch or planning to improve an existing one, the main condition of your success is keeping the guest's needs in mind. Your site should be designed for the customer, be informative and convenient. Easy navigation, responsive design, high-quality photos, and useful content are the conditions that will always work in your favor. Create a guest persona using Google or social media analytics, and offer your audience what they need. By following these steps, you can significantly improve your hotel website and engage more customers in the future.
Would you like to try Hotel Management Solutions?
Get Free Trial
Author: