Feb 18, 2021 10:19 AM
The challenges of 2020 turbocharged our lives and gave lessons in adaptability and resilience. The new normal, remote work, social distancing, changed public hygiene practices, and more. These new conditions produced the greatest possible strain upon us.
Yet, we all hope that positive changes are heading our way. McKinsey & Company identified 2021 as the year of transition. It is going to be the time for shaping our futures for any unforeseen events rather than just going back to the conditions that prevailed before the pandemic. From here on in, we have already adapted to extraordinary circumstances and are on the accelerated way out of the crisis.
In this article, we will look at some trends that will impact the hospitality and travel industry. Also, we'll make some predictions for 2021 and beyond to help you anticipate any changes, and stay relevant.
Hotel trends. What to expect in 2021?
In such a short span of time, the role of digitization in keeping business successful became more significant. According to Forrester, consumers are doubling down on technology usage, tech experiences, investment, operations, and products. The company predicts that every business will realize the value of innovations and embrace them this year. In the recently crafted 30 predictions report, Forrester provides us with a clear vision of what to expect in 2021. Let's look at it in regard to the hotel sector.
Based on the report, chief information officers (CIOs) will embrace cloud-first platform strategies and accelerate their spending on security and risk, networks, and mobility. Guests now expect mobile check-in and out, food and service ordering via an app on their smartphones. Cloud-based software and smart hotel management solutions are becoming even more essential.
For businesses, it's time to put customers at the center as never before. Chief marketing officers (CMOs) will control the full customer lifecycle and become the drivers of customer satisfaction at everything they do. We expect to see a 30% increase in spending on loyalty and retention marketing while spending in other areas will decline. Also, hospitality companies will need to prove they are safe. It is easier to do by adding the COVID safety place widget on the website. This widget helps visually inform guests that both the location and hotel are safe, as well as enhance trust and pique their interest.
As customers become more selective, hoteliers should provide them with unprecedented convenience, starting from contactless checkin-in and out, online service ordering, to instant processing of payments. In this respect, the HotelFriend Concierge App is a must as it offers all the above-mentioned conveniences and even more.
A rise of remote work, innovations and design transformations
Forrester predicts that there will be a rise of remote work up to 300% of pre-COVID-19 levels. Many employees search for work-from-anywhere tech and culture opportunities and decide to work from the quiet and well-equipped hotel room. According to Marriott International's consumer feedback investigation, 42% of U.S. business professionals would consider working from a hotel. To address these expectations, the company launched Work Anywhere with Marriott Bonvoy program.
This year, businesses will seek service partners and cooperate with innovative companies to preserve their liquidity. As having their own dedicated kitchen is defunct and expensive now, many hotels turn to the "ghost kitchens" business model for catering services. These kitchens provide quality grub and convenience items guests expect to get quickly and often offer extra bonuses and lower prices.
Also, we will continue to witness the transformation of hotel design as hoteliers had to adapt to both new hygiene requirements and the changing demands of guests. Let's focus on the changes that are going to become more important in 2021.
The main hospitality trends to focus on
● Greenery-filled surroundings and open-air spaces. The pandemic has accelerated the shifts in spatial design toward increasing outdoor spaces within a hotel. According to Forrester, a third of US and UK consumers reported that any video calls, social media, or texting have not made them feel as connected to friends and relatives as they had hoped. People want to stay at places with a biophilic design and reconnect with family in the open air.
● Enhanced cleanliness and safety while the aesthetic of the hotel is preserved. Hand sanitizing stations, social distancing reminders, hygiene and cleanliness equipment, screening devices, informational signs should be well-designed and attractive, visible and clearly identified, as well as don't shortchange the brand messaging. In addition, rapid testing becomes the norm. For example, Marriott's W South Beach has launched its own dedicated, on-site testing center for guests and staff. The company also plans to offer in-room testing.
● Retro-style motels. As people want to avoid touchpoints and contact while on the road, the demand for drive-up style rooms and exterior corridors is rising. Designers predict the revival of foundational design layouts and principles of motels with a modern twist.
● Reconsidered lobby spaces. Within these spaces, it is possible to organize many environments that facilitate social connections, starting from enjoying a drink to holding a hybrid meeting.
● Socially distanced fitness. Some customers prefer to avoid gatherings in fitness centers and want to work out in their own room. To address these needs, hotels can offer guests fitness equipment and accessory options. For example, Hilton developed the Five Feet to Fitness concept. Now their guests have access to more than eleven fitness equipment and accessory options to pursue fitness and wellbeing right in the hotel room.
Guests will return and travel will recover as soon as people feel confident. We're already seeing it in China, the first hit country. Domestic and high-end domestic travel in the country is almost back to 2019 levels. The effective use of technology, combined with implementing and promoting health and safety measures - that's what instills confidence in people and restores the traveling.
Travel trends. Leisure travel is returning?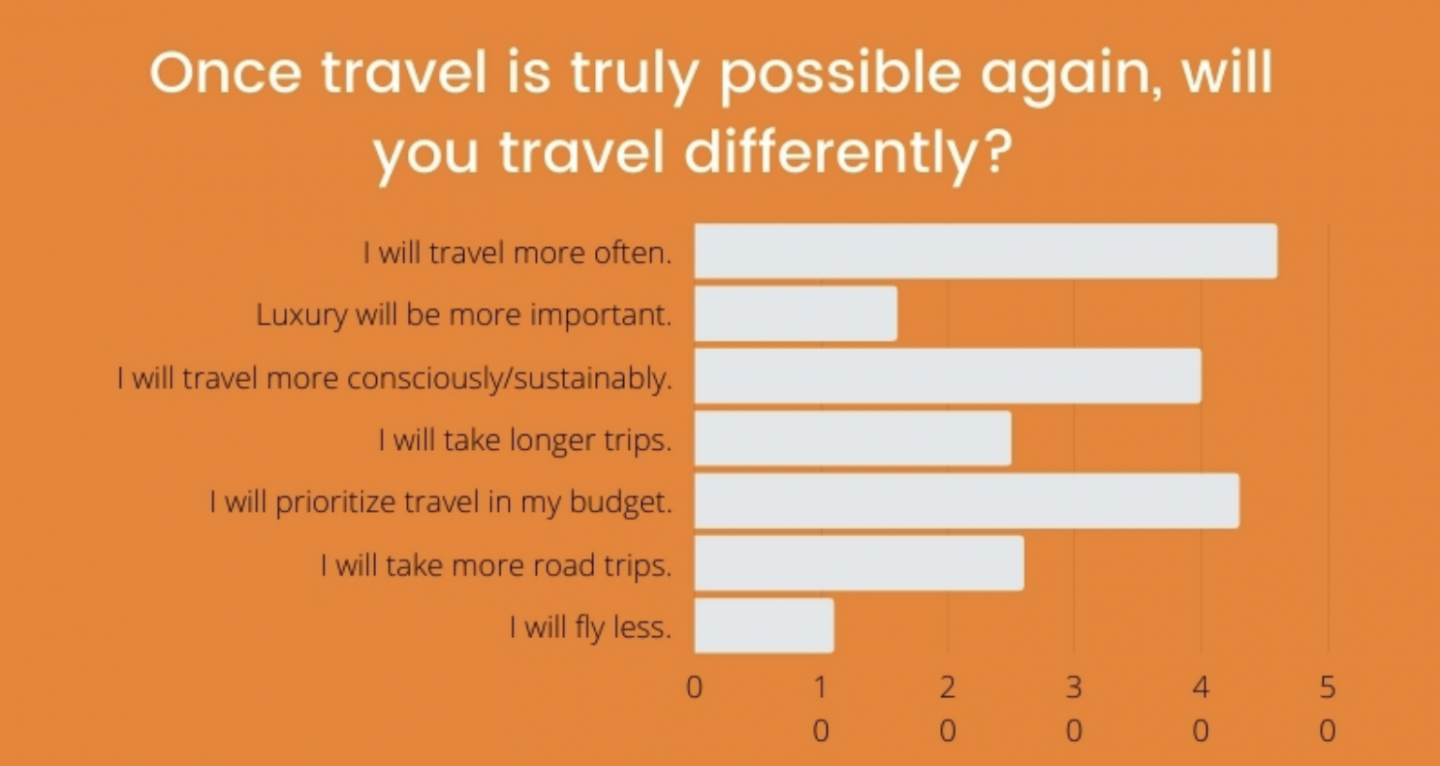 As hospitality and travel businesses have been quick to adapt to the new environments, tourists' confidence returns. According to the Amadeus surveys, 55% of travelers are going to travel for 14 days or more in 2021. Leisure travel is returning as people want to explore and enjoy. And the pandemic has not changed that. The statistics by Solo Travel shows that people are going to travel more often once it would be possible again.
Source: https://solotravelerworld.com
Revenge travel is becoming one of the major emerging trends we're seeing. People whose holidays were canceled in 2020 will go all out for the next adventure and unique experiences. There are other trends you should know about, which are as follows:
● Solo traveling. It is fueling the revenge travel trend with 50% of women traveling on their own according to Solo Travel statistics. Based on Grand Circle Corp., about 60% of travelers are headed to Europe.
● Family traveling and private experiences. Many of us were separated from each other for a long period of time. Now we want to reconnect with family and friends and look for private tours. So there appeared bubble travel for small-group travel designed to minimize the contact of groups and families with other travelers and public transport, as well as provide the opportunity to explore the destination at their own pace.
● Conscious and sustainable travel. The pandemic has given travelers the time to rethink how they move around the planet. People want to do good and be more conscientious. 68% of respondents want the money they spend on travel to go back to the host destination. Also, they want to travel with an impact leaving as light a footprint as possible. So travelers prefer eco-friendly hotels that implement green practices, starting from using solar energy to replacing paper menus with digital ones.
Sure, trends come and go. However, one thing is clear: hoteliers are looking forward to finally have their guests back while travelers are eager to catch up on missed holiday opportunities once the crisis ends. How you see, business needs match customers' desires and wants. It's just time to leverage all the data and resources available to recharge and begin again.
Would you like to try Hotel Management Solutions?
Get Free Trial
Author: