Nov 20, 2020 3:06 PM
The increase in new coronavirus cases worldwide is forcing leaders to put new lockdown measures in place. As of November 20 2020, an interactive dashboard from the Center for Systems Science and Engineering (CSSE) at Johns Hopkins University (JHU) shows there have been 56,957,514 global confirmed cases.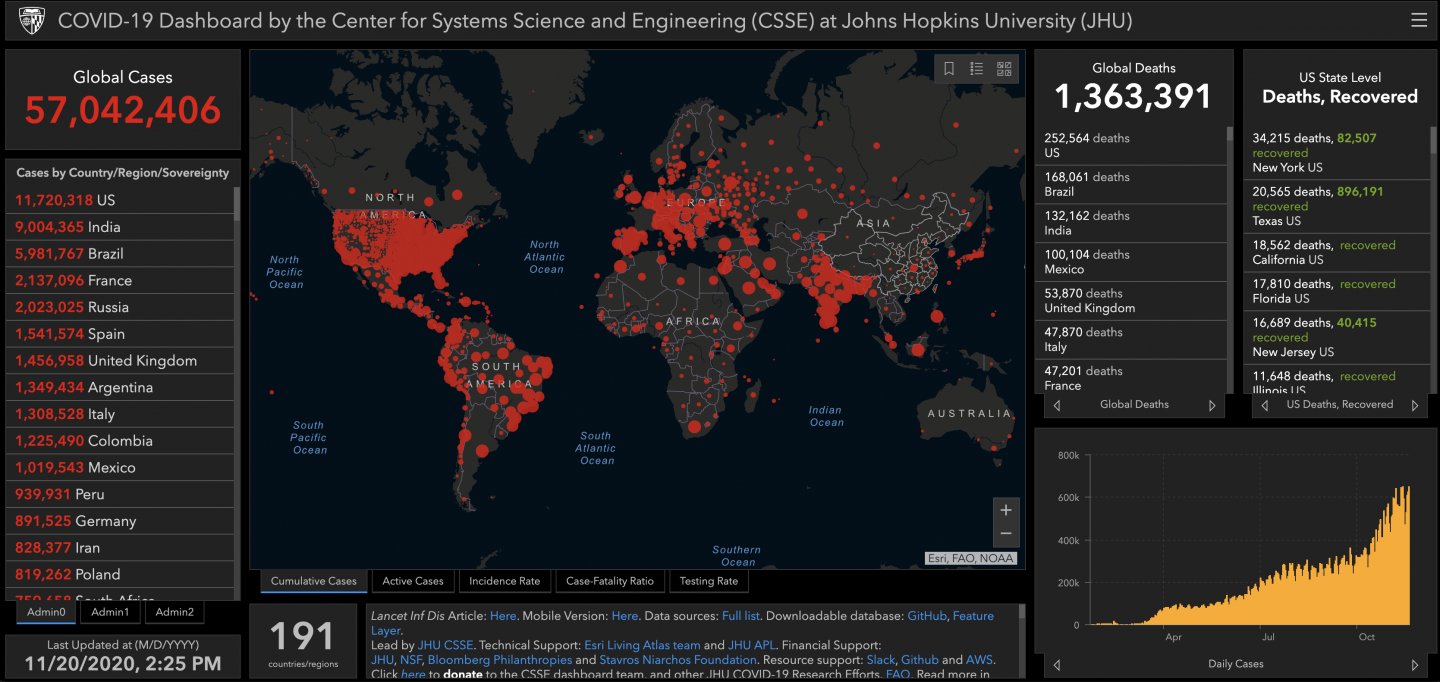 Source: coronavirus.jhu.edu
We see that the second wave is hitting the world hard. In some countries, governments are asking people to stay at home and minimize interactions, while in others they are back in a national lockdown.
As the measures vary across the world, it is worthwhile to explore what can and can't be done under new rules. Also, with the new year approaching fast, all of us are wondering what's ahead. Below, we'll present some of the safety measurements around the world and make predictions for 2021.
New lockdowns across the world
Since November, many countries have announced new restrictions as coronavirus cases surge. Ireland became the first European country to reimpose a national lockdown, followed by the UK, and France.
As the Republic of Ireland moved the country to the highest level of coronavirus restrictions, there is a penalty for travel beyond 5km (3 miles) of people's homes, with exemptions for essential work and essential purposes. Pubs, restaurants, and cafes as well as hair and beauty salons have closed their doors to sit-in customers. Elite sporting events can take place.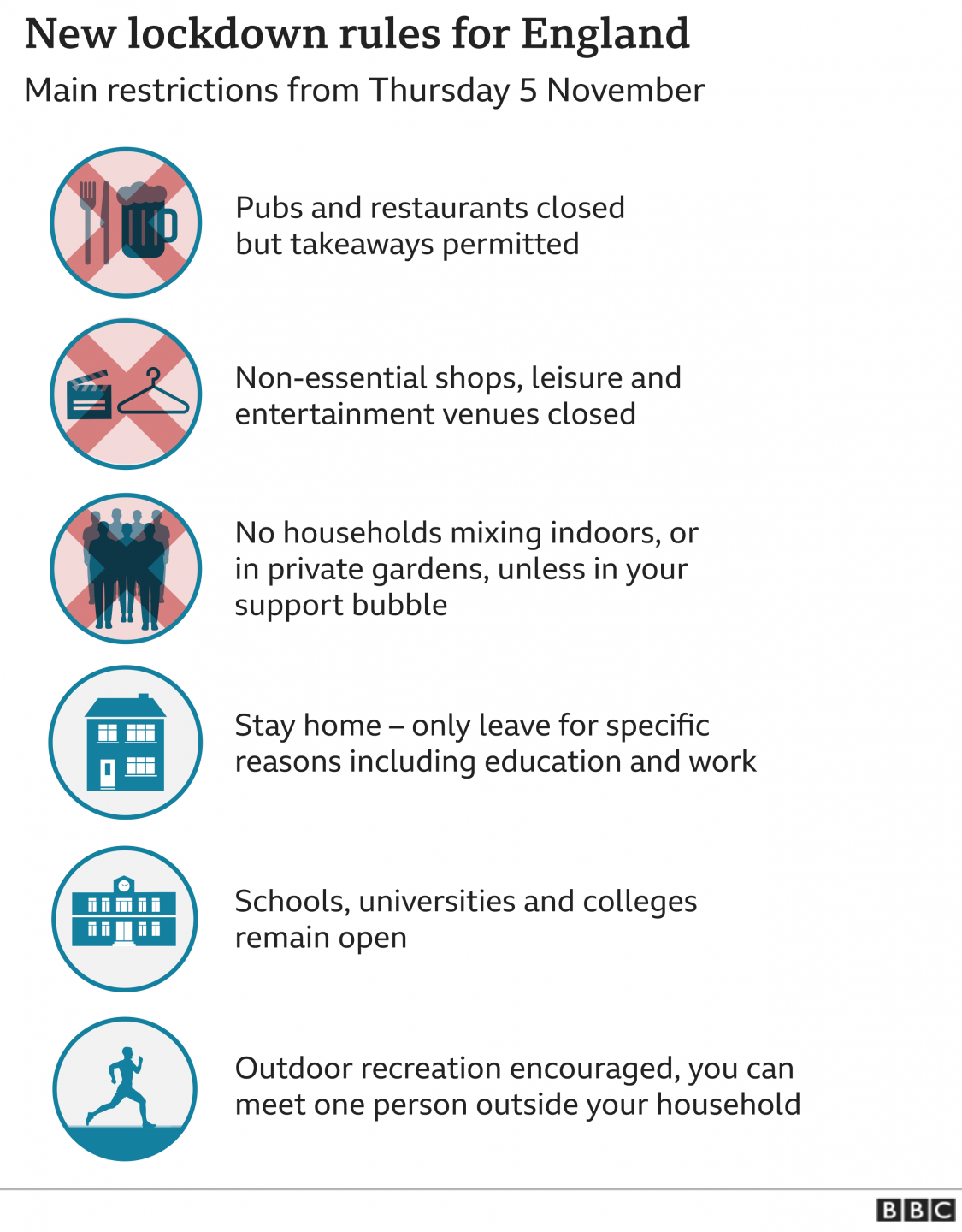 Source: bbc.com
To slow the spread of the virus, the UK made the lockdown rules stricter to prevent a "medical and moral disaster", as Prime Minister Boris Johnson said.
Leisure facilities (golf courses, gyms, swimming pools, theme parks, soft play facilities, climbing walls, etc.), hospitality locations, non-essential shops, and accommodation providers have closed again. In contrast to spring, schools, colleges, and universities can stay open.
Pubs, restaurants, and cafes have closed to dine-in customers but can still provide takeaway and delivery services, including selling takeaway alcohol if it is pre-ordered by phone or online.
People are recommended to avoid traveling out of their local areas. Yet, they can still travel for work purposes. Overnight stays and holidays away from domestic areas are not allowed, including holidays abroad and in the UK. Hotels, hostels, and other accommodations are opened for those who travel for work purposes.
France has reimposed a nationwide lockdown until at least December 1. Movement outside one's home is limited to going to work, buying essential goods, seeking medical help, or exercising for one hour a day. Transport services remain open. Travel between regions is banned.
Supermarkets, bakeries, greengrocers, butchers, fish shops, car repair shops, newsagents, computer and phone repair shops, dry cleaners, hotels, and open-air markets remain open.
Germany has announced a partial lockdown. According to its rules, social contacts are limited to two households with a maximum of 10 people. Overnight leisure stays in hotels and non-essential travel are strongly discouraged. Leisure and sports facilities (cinemas, theatres, gyms, pools, saunas) are closed. Restaurants and bars only work for takeaways. Schools, shops, and hairdressers are open.
Greece, Italy, Spain, Belgium, Portugal are all under a nationwide curfew. There are restrictions that only allow people to leave home for work, school, or essential tasks.
The U.S. is shattering the coronavirus case record. Most states are at a "breaking point" and have reinstated the most restrictive statewide measures, namely putting limits on social gatherings, restricting business hours of operation, adding states to travel quarantine lists, wearing face masks, and encouraging residents to stay at home.
California and Oklahoma have announced a curfew. Gov. Gina Raimondo expects that Rhode Island is "moving toward another lockdown."
Washington State, California, and Oregon have issued a travel advisory, discouraging non-essential travel and requesting people to quarantine post-travel.
As Thanksgiving approaches on November 26, there are concerns that the outbreak will worsen. That is exactly what had happened a month earlier across the border in Canada when people celebrated Thanksgiving.
While other countries of the world are struggling to control COVID-19, China has managed to control the pandemic effectively and contain the spread of the coronavirus within the country. However, it continues to record imported cases. So, all people arriving in China are required to undergo two weeks of quarantine. Also, Chinese officials are suspending entry for most foreign nationals.
Coronavirus cases in Japan declined after July and are now holding steady. The country recently lowered travel restrictions for China, Republic of Korea, Australia, Brunei, New Zealand, Singapore, Vietnam, Taiwan, and Thailand. Hotels in Japan are working, instituting good health practices, including wearing masks, using hand sanitizer, social distancing, and taking temperature when guests check-in. In fact, the country has got the latter down to a science.
That said, whether the world will be in lockdown at Christmas is currently unknown. Yet, all we understand is that this year's festive period will not be completely normal. We expect that there will be an insignificant easing of the rules in December to allow families to gather on holidays and the economy to recover. The BBC's Laura Foster tried to show how Christmas is going to happen this year in an interview with Santa Clause.
Experts predict that celebrations will happen via Zoom calls, gifts will be ordered online, and very few in-person events will be held.
However, what will the new year bring for the hotel industry? Let's try to answer this question below.
What's next for hospitality? Strategic predictions for 2021 and beyond
2020 has been a rough year for hoteliers. Fortunately, hospitality businesses considered this time as a challenge and adapted to most issues that emerged due to the COVID-19 pandemic.
This year, every hotelier learned that digitization is important in attracting guests and keeping business successful. Forrester predicts that in 2021, every company will double down on digitally savvy and tech experiences, operations, products, and ecosystems.
In addition, the company crafted 30 predictions report to provide businesses with a clear vision of what's to come to help them gain a competitive edge and thrive. Let's have a quick peek at it in regard to the hotel industry.
● Remote work or a hybrid model. According to Forrester forecast, there will be a rise of remote work up to 300% of pre-COVID-19 levels. Most employees will expect work-from-anywhere tech and culture. For example, Marriott International gathered consumer feedback and found that 42% of U.S. business professionals would consider working from a hotel. To address their guests' needs, the company launched Work Anywhere with Marriott Bonvoy program.
● The customer is at the center of everything. Chief marketing officers (CMOs) will control the full customer lifecycle and become the drivers of customer satisfaction at everything they do. There will be a 30% increase in spending on loyalty and retention marketing while spending in other areas will decline. Hoteliers can deliver even better customer experience with the HotelFriend Concierge App, as it provides guests with unprecedented convenience, starting from contactless checkin-in and out, ordering services, to instant processing of payments.
● Cloud-first platforms, speed, mobility, and adaptiveness. Chief information officers (CIOs) will embrace cloud-first platform strategies and accelerate their spending on security and risk, networks, and mobility. Guests now choose hotels that offer online booking, mobile check-in and out, food and service ordering via an app on their smartphones. To keep pace with these expectations, cloud-based software and smart hotel management solutions are a must.
● Co-innovation partnership and value exchange support. Businesses can get the most out of partnerships. 2021 is the year to seek service and co-innovation partners. For example, HotelFriend AG has launched an all-inclusive package for hotels in cooperation with AGL Activ Services GmbH. Thanks to that, the hospitality businesses can get solid financing from AGL Activ Services GmbH which will help them both advance the digitization of the processes and preserve their liquidity.
In 2020, hotel businesses have made huge sacrifices to live within the new restrictions, rules, and measures. Yet, they have also learned some lessons in adaptability, creativity, and resilience. With the above strategic steps set out in Forrester's predictions report, we hope hoteliers will go through new changes and come out even stronger in the new year.
Would you like to try Hotel Management Solutions?
Get Free Trial
Autor: