Feb 3, 2022 6:08 PM
Until the outbreak of COVID-19, mostly the largest hotel chains added digitalization into their strategic plans while smaller hotels recognized technology slowly and were not familiar enough with how to use digital tools.
According to the Statista.com survey, only 26% of respondents were "quite confident" about their ability to meet the company's digital objectives. Many travel and hospitality companies didn't have knowledge of what cloud computing is, with 48% indicating that they were "somewhat familiar" with the idea of it.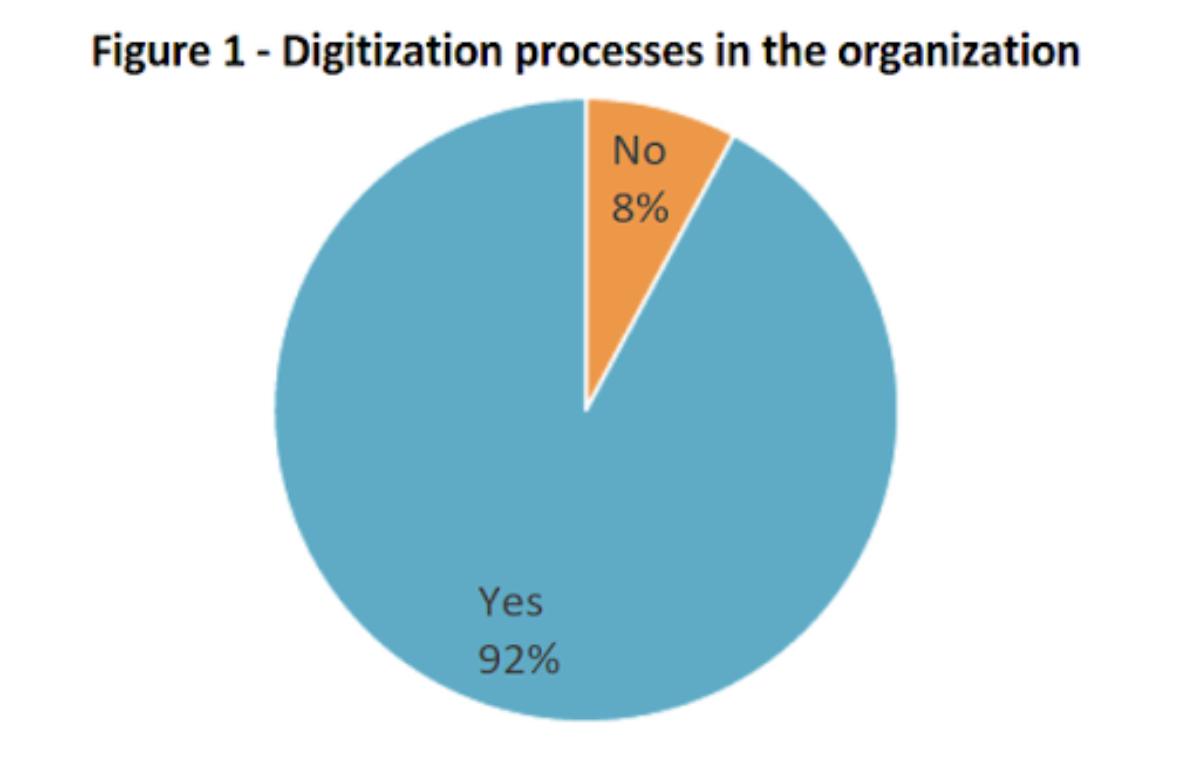 Source: researchgate.net
Now things have changed. The pandemic and restrictions imposed by it have led many hoteliers to speed up their digital transformation. Based on the ResearchGate survey, 92% of hotel organizations agreed that coronavirus promoted some of their digitalization processes.
The same survey showed that hospitality businesses started to implement technology that they didn't use before, namely tools for team management (80%), project and task management (20%), data analysis, and visualization (25%).
With that said, digitalization has become one of the enablers for a faster return to normal life. Since 2020, the major business priority for 50% of travel and hospitality executives has been adopting "new technology to better serve customers and/or suppliers"
Here at HotelFriend, we clearly see how digitalization helps our customers in their daily work, allows to increase market penetration and direct bookings. In addition, digital tools provide guests with personalized contactless experiences before and during their stay.
As the benefits of digitalization are quite obvious, let's focus on how to digitize the hotel in a more efficient and sustainable way with HotelFriend's all-in-one software.
Two main areas of hotel digitalization
In the new normal, people and technology are going hand in hand. With this in mind, more and more hotels adopt digital tools and products to automate management processes and generate efficiency gains and savings
As a rule, digitalization in the hospitality industry happens in two areas: the digitalization of guest experiences and the digitalization of background processes. Let's take a closer look at them below.
1. Automated hotel processes
In addition to the digitalization of guest experiences, hoteliers can get many visible benefits from the digitalization of internal processes, namely reservation, distribution, performance, task management, maintenance, and more.
Digital transformation is able to create a fully virtual office when hotel staff can work even from home. We will show how to organize an effective virtual hotel with HotelFriend: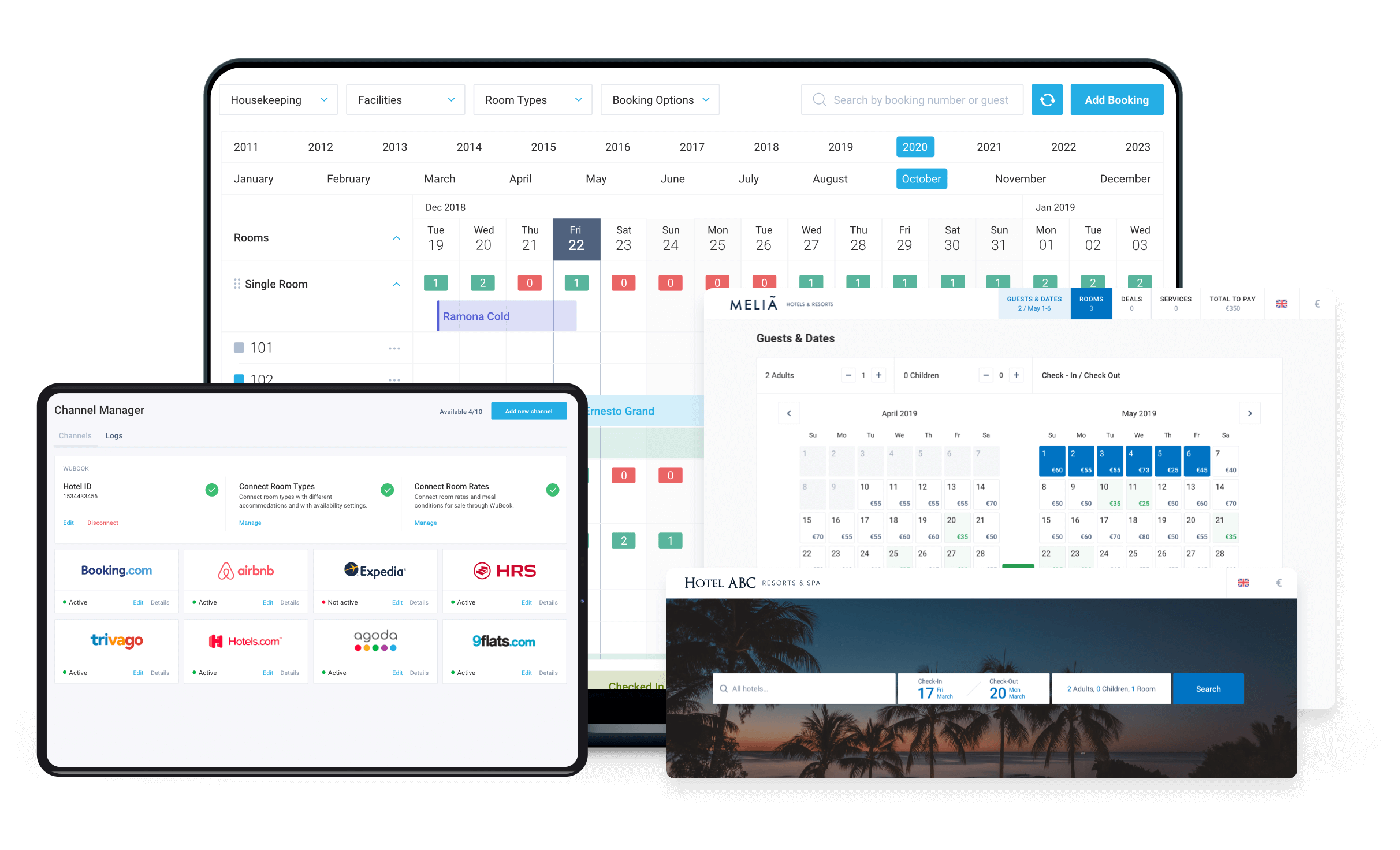 ● HotelFriend Hotel Management System (HMS). It is a cloud-based PMS that allows hoteliers to manage and control all operations from anywhere at any time. Whether it is the Front Desk or housekeeping department, finance or accounting, every stage of hotel management is streamlined and organized. Our HMS comes integrated with Channel Manager and Booking Engine. This means that managers can automate online sales processes, increase both direct bookings and the ones from third-party channels, see changes happen in real-time.
● Hotel website development services. We build mobile-optimized websites with an already integrated Booking Engine. The latter allows guests to easily book not only rooms via the website but also order food and services in advance, find out everything they want to know straight away, including deals and special offers, or leave a comment. As a result, guests see a responsive hotel that recognizes their expectations and provides experiences that meet their needs.
● Completely automated online sales processes integrated into the hotel software. Hoteliers can attract prospects to the accommodation with automated emails with reminders or send the Booking Offer with personalized special offers. The system automatically notifies guests about any order status changes.
The positive effects of digitalization and automation are present and palpable. Guests want digital tools for self-check-in and out, contactless room access, online ordering to feel safer. Hotel staff needs process management tools to work remotely. The focus on these two areas, namely guest experience and automated hotel processes, gives hope for a faster return to normal in the future. The positive effect on the environment by switching paper processes to digital ones is also worth mentioning.
2. Digitalized guest experiences
Hoteliers who want to stay afloat today are actively looking to streamline their services by digitalizing. The need for social distancing and maintaining hygiene measures has also helped speed up the adoption of digital tools. We can see examples of how hoteliers expanded their catering services to online ordering and delivery or started to offer contactless self-service options.
What's more, customers' behaviors have also changed. For instance, guests who used to reject mobile check-in, now demand it. Statista.com provides us with more data regarding customers' expectations:
● 73% of people believe that hotels should use the latest technologies to make travelers feel safer.
● 48% of guests are more likely to go to a hotel restaurant if they can order food via the app.
● 47% of guests are more likely to order room service if they can order it via the app.
● 73% of hotel guests prefer to use an app to open the door of their room.
True, the pandemic led to high demand for the above-mentioned options to avoid health risks when traveling. And HotelFriend software includes all the tools and services guests want now. They are as follows:
● Mobile check-in/out. Guests can easily complete the registration procedure prior to their arrival by filling in a digital form with their data, uploading their ID along with proof of a negative COVID-19 test without having to interact with the staff.
● HotelFriend Concierge Remote Reception. It is designed for customers who want to make a self-check-in request at the hotel reception without any personal contact with the staff. Guests use the tablet installed in the public area of ​​the hotel to send a request for Self Check-in. Once the Self Check-in request has been sent, they see a confirmation notification on the device screen and can go to their room.
● HotelFriend mobile Concierge App. It is a multifunctional travel assistant that provides guests with all the contactless personalized experiences they expect from a hotel, including keyless room access, online food or service orders, and instant payments via guests' smartphones.
In fact, the digitalization of guest-related processes does not replace people. Yet, it makes hotel routine work easier, creates time and freedom for creating more personalized relationships, relieves hotel staff of time-consuming processes, and more. Now let's move on to the digitalization of hotel management.
In sum, HotelFriend's all-in-one solution is designed to meet the needs of both guests and hotel staff as it helps transform hotels from high-touch spaces into high-tech self-service accommodations. It's high time to digitize your hotel!
Get 30-day free trial
Author: