Jan 12, 2022 8:32 AM
Competition in the hospitality industry is traditionally fierce. So, clearly, one of the ways to stand out and leave the competition behind is to offer something that makes the difference. Here arises a question of what exactly to do to effectively achieve this goal?
The quick answer here is that it is the technology that can bring the change and improve things while the right software vendor with a proven record can serve as a starting point for developing an innovative and personalized hotel business.
Following its search for such an established provider, A&A Liegenschaften-group approached HotelFriend as we are the only company that offers an all-in-one solution including its own white label application with the possibility of adding mobile room keys to exceed guests' expectations.
Let's take a look at how our solutions already helped A&A Liegenschaften-group achieve greater effectiveness and fulfill its potential.
Adopting an all-in-one solution for operational efficiency, service quality increase, and better guest experience
A&A Liegenschaften-group runs a modern ski area apartment complex located in Engelberg, in the canton of Obwalden in Switzerland. The natural environment and the weather conditions of the destination are the perfect combinations for the practice of skiing, thrills, walking along the cliff on Mount Titlis, glacier excursion, and more.
Centrally located not far from Main Street and a few minutes' walk from cable cars, A&A apartments become a great alternative to hotels. They are cozy, clean, nicely decorated, and comfortable, providing all the amenities needed for a fabulous vacation.
And, more recently, the apartment complex has become digital as well. Today, their guests use the A&A Concierge white label application to check in and out, pay immediately for the services, and book a room. What's more, they can conveniently open the room door or fridge with their mobile phone.
The A&A apartments team is now able to accommodate the guests' need for both social distancing and personalized service. Meanwhile, staff gain flexibility as they can manage flats on site while assisting guests elsewhere, running the bar and managing operations remotely from anywhere.
Thanks to the partnership with HotelFriend in providing outstanding Hotel management tools and developing the white label mobile app, A&A Liegenschaften-group has created additional touchpoints with their guests throughout their entire stay and removed some of the friction and challenges they used to face, namely the lack of communication and clear tracking of reservations and special requests, which used to lead to various breaks and delays.
As of now, A&A guests have access to all the information on the leisure activities and other contents in Engelberg depending on the season (summer/winter). For even more convenience, the activities are listed in separate groups like family activities (baby hiking trails, playgrounds, etc.), sports and recreational activities (swimming, sports, etc.), couple activities (carriage rides, etc.), and more.
The communication between staff and guests significantly improved as there is the option of contacting the concierge via live chat for any question regarding the selected activities, no matter where they are.
Lengthy operations made simple, automatic, and fast
Given the right tools, all the operations can become surprisingly easy and bring lots of benefits. From A&A Liegenschaften-group's perspective, cost reduction, improved productivity, flexibility, and performance, as well as enhanced communication are powerful arguments for adopting HotelFriend solutions.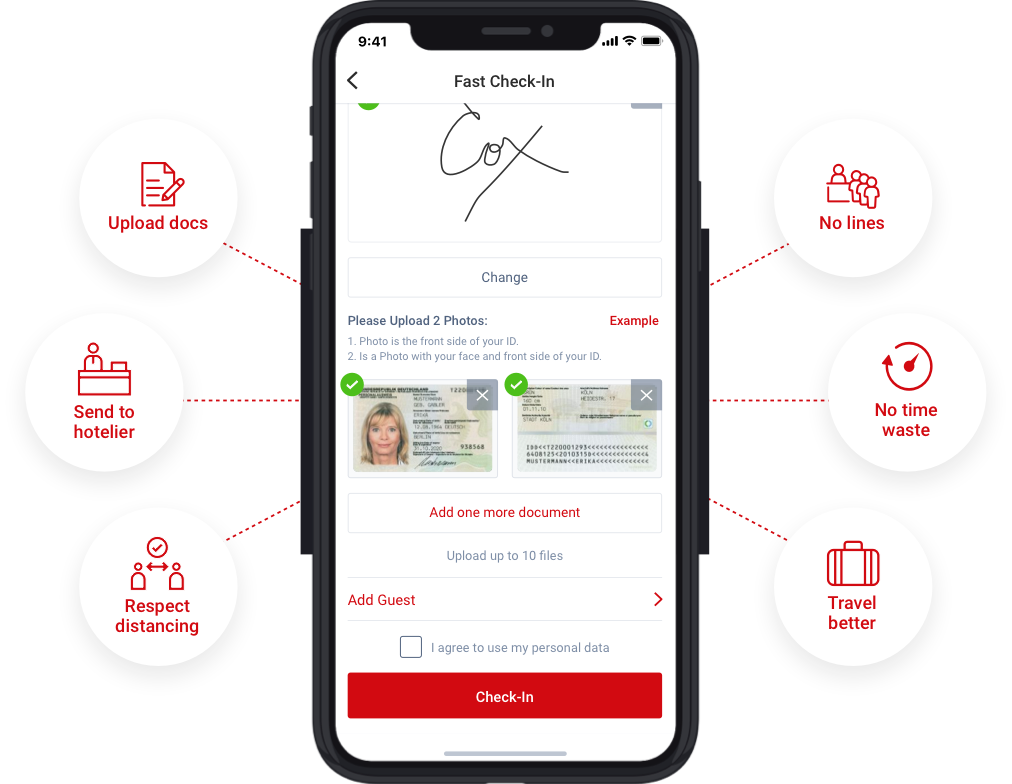 With the A&A app, the apartment complex managed to
● Reorganize their work, standardize both jobs and key activities.
● Simplify monitoring of key activities and KPIs through automatic prioritization of work, the introduction of checklists for different tasks, and automatic tracking of KPIs.
● Reduce costs and increase resource utilization through more flexible check out.
Introduce more diverse engagement and more flexible business models to respond to seasonal changes easier in terms of the number of guests.
● Increase personalization of experience while staying in Alpapartments and loyalty of guests.
● Develop new channels for direct communication with customers.
● Create and maintain a client database.
In considering what digital tools to use better and how to apply them, it's important to look at the outcomes obtained by the industry leaders. We'll provide some guidelines regarding how implementing HotelFriend products can help to succeed.
Looking ahead: Welcome to the experiences of the future
HotelFriend is proud to bring a standard of excellence in solving major hotelier challenges and providing strong solutions with quick implementations.
The value of the above tools comes from the way they helped A&A Liegenschaften-group address the challenges they face to provide an even better guest experience and improve operational efficiency.
These improvements include
● Lower price for guests and good quality food through diversification of offers for breakfast and dinner in cooperation with partners from the local community.
● Less food waste.
● Controlled frequency and time of cleaning services.
● Easily accessible service and reservation management.
● Late check out.
● Smart service and improved communication between guests and employees.
● Damages and repairs tracking.
● Automated prioritization process.
● Support for standardization and time management of cleaning staff.
● Task management to ensure adequate and timely fulfillment of all the required tasks.
Going digital helps to knock down communication barriers and leads to even better collaboration. A&A Liegenschaften-group recognized the need for next-generation solutions and partnered HotelFriend to drive their hospitality business forward in the digital age.
Start using HotelFriend solutions today and you'll see how your business grows.
Get 30-day free trial