11th April 6:30 PM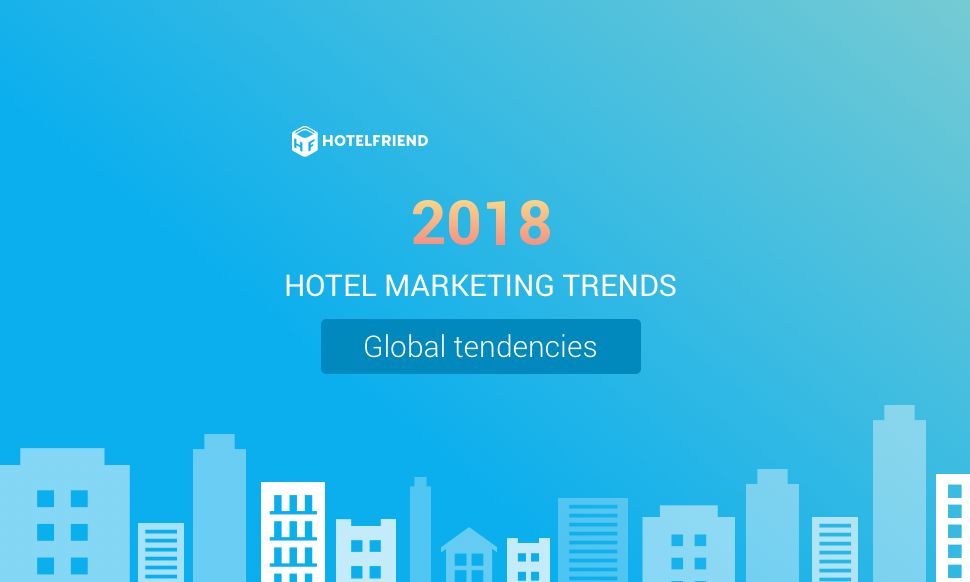 HotelFriend analyzed all the marketing trends of 2018 and prepared an infographic with detailed description below. We hope it will help you to prioritize and focus on the most perspective directions of the promo campaign.

Global tendencies
Mobile first
Mobile traffic already exceeds desktop traffic, and a growing number of people uses phone search. That's why Google launched the transition to mobile first search index. Now to rank high in search results you should have a perfect mobile version or adaptive design. That means that all the elements should be optimized specifically for the smartphone: pictures, content, menu, loading speed and so on.
Since 2015 the mobile conversion increased by 123% and continues to grow.
Considering the support provided by such services as PayPal and Google/Apple Pay, which makes the booking process through a mobile device much easier, mobile e-commerce matters even more.
The hoteliers should also take the smartphone users into consideration while running an advertising campaign, and not forget about the audience segmentation by the operating system (iOS or Android) or by the device (iPhone X or Google Pixel). It is worth knowing that the best conversion rate is one of the Apple, but the difference is on the decrease (220% in 2016, 140% in 2017).
Voice search
The second biggest trend is a voice search. So, everyone who wants to keep up to date should further refine the SEO-strategy. Back in the 2016 Google stated, that the voice search constitutes 20% of the entire search rate. It is expected that in the 2020 more than 50% of the search queries will be done by voice. The voice search services are not limited to Google, there are more - Siri, Alexa, Cortana and others, and the number is increasing, and more and more people use it.
Nowadays more than 40% of adults use smart devices at least once a day.
The voice search isn't like a keyboard search: the voice search queries are longer and more detailed. For example, you can say: "A popular hotel in Berlin for 100 Euro per night". If a GPS is on, you will be able to search for such a hotel next to you. Mobile voice search queries are more local, that's why local search and smartphone optimization is a key.
You should definitely invest into the voice assist (such as Amazon and Google Home) - it will provide a huge database about the habits, interests, purchases of the users, what will open up new opportunities for marketing.
Original content
In 2018 content remains relevant. But it's structure is gradually changing. Since the voice search queries are not only longer, but also more conversational, the authors should also adjust their manner of writing.
Besides, the experts recommend developing (if you haven't done it yet) such sections as FAQ with the answers to cover all the possible issues and questions of the clients.
We cannot ignore the fact that 30-40% of all the hotel income from the organic traffic amount is a part of content strategy.
That's why you should go beyond the standard description of the hotel, try to be original and highlight the hotel's best features, and find a niche to develop as well as content presentation manner.
Video
While developing a strategy, remember: 4 times more people prefer to learn a new information from the video. A professionally made, aesthetically-pleasing video content will bring a better result, but live-streams are also worth using. Almost every social network offers the possibility of the live broadcast, what creates a feeling of the personal presence.
For the advertising campaigns, we recommend using short (5 sec) videos. If you have one hotel promo, you should think about cut it into short videos wich will demonstrate one of the hotel's offerings and benefits.
Social networks
Despite the Facebook scandal, this social network still remains a powerful source of the hotel leads. 34,7% of the clients visit a hotel Facebook page before making a reservation there. You should prove your future customers, that they have chosen the right hotel. Besides, modern users often skip search through the engine and just go straight to the social network to find the information they need. That's why you should use keywords correctly and develop a content strategy similar to the described above. You can run a time-targeted and radius-targeted rush-hour advertising campaign for Instagram/Facebook. When the limit on some services is mentioned, the anxiety factor comes into play, and the consumers hurry to book a "limited unique offer".
The customers also continue using social network while being on vacation to share their experience in your hotel. You should satisfy their needs by offering a fast wi-fi and enchanting scenery so they can share the photos on Instagram.
Instagram is now developing a function similar to the Facebook-shop, where the hoteliers can share and offer their services. But it is still under development, so use the mobile concierge as an alternative.
Chatbots
The most huge and important trend of the 2018 is a Chatbot. More than 2,5 billion people use different messengers (WhatsApp and Facebook are the most popular). It is projected by the Active consulting company that in the 2018 the number of messenger users will increase to 3,6 billion. It is like a new social network! But how to use it? There are numerous options, for example, you can gather information about your guests and offer them exactly what they like. Chatbots also increase customer engagement and make their stay better as well as their impressions about your hotel from the moment of reservation to their checkout (or even after).
But the most important is that the bots can be a new relevant channel for making a reservation. A user can send a message describing the desired place to spend a vacation (it's like texting with a friend), and a bot can find the best option on your website. Moreover, the customers can even make a reservation without leaving the chat!
It is a technology of the future, and this future is now!
But what does it mean to the hotels? Here are a few HotelFriend recommendations you should focus on.
What should hotels consider using in the promo strategy 2018
Provide an availability - in 2018 all offerings should become as accessible as possible. Travelers in the 21st century can't afford to waste their time on tricky websites trying to find room prices or hotel facilities. Same goes for tour and activities packages. Some hotel websites still use technologies from the Jurassic age: 55% of the tour and activity providers do not use a reservation system and those who use it use 67% email or calendar to manage bookings. Most providers confirm their reservations manually, which is risky as it takes a long time. (Phocuswright, 2017).
Create special offers - a unique and authentic experience with special offers and destinations will be trendy in 2018 - and the hoteliers should jump at the opportunity. The travelers want to choose a package at a reasonable price that will fulfill all their expectations. So hoteliers should choose a few services, coincide them with some holiday, wrap it and present as a curated individualized offering on a very detailed level.
45% of travellers consider special offers important to booking
Create an online-rating: no one wants to purchase something without knowing the quality of the product, and people tend to rely more on the reviews and comments, and online-rating systems lend credibility to the hotel. Same with the user feedback - this allows the insight into the experience of other guests, and makes the hotel to stand out. Besides, the sites with the online-ratings are more likely to be found by the SEO-spiders, what therefore will increase the conversion rate of your page.
Implement user-generated content: due to the machine learning, Google search engine changes its algorithms, and what was important a few months ago, now becomes irrelevant.
- conversational content - not for customers, but for friends
- do not overload the content with keywords
- user experience is key!
- use Google autocomplete to find the right keywords
- go check what your competitors have to offer - and maybe borrow a few ideas
Focus on search experience, and provide only relevant information that might help visitors find answers to their questions. Do not concentrate on keywords, focus rather on what information you can offer your visitors so that they become your customers.
Prevent the direct booking abandonment: - two-step booking engine to prevent abandoned direct bookings that will make booking process fast and easy. The conversion rate on the hospitality and booking websites is 2%. Most of the visitors use the websites for research, to compare prices or view the destination information. Once they got what they needed, they leave webpage. And no bookings happen. So in the interest of hoteliers is to make the process of trips showcasing and selling illustrative and simple. So, use a mobile-responsive website to improve user experience, the safe and secure way of booking and don't forget to capture the interest of visitors with personalized content.
Invest in the Online Travel Agencies: an increasing number of people use Online Travel Agencies to book and plan their vacation. No one likes to waste time, and modern technologies made a long way to help customers organize their time wisely and save money. OTA offers several possibilities of designing your vacation seamlessly, and in recent years those agencies expanded a lot. They allow presenting multiple activities offerings. Those guys know how to put hotel's offers in the best light, even if the hotel itself isn't capable of it.
Become digital. Use innovative hotel software: to manage everyday processes effectively, automate and speed up the work of in-house and third-party departments, receive orders from your guests through the chat and in real-time, use possibilities to create unique offers and sell your "hidden" services online.
Public relations: Stephanie Moench