Mar 10, 2021 1:06 PM
The COVID-19 pandemic has forced us to focus on immediate concerns, starting from defeating the virus to supporting the economy. But it also turned our attention to what the coronavirus means for climate change.
The economic shutdown, reduction in industrial production, air and railway traffic brought down emissions globally. For example, we can see a substantial drop in nitrogen dioxide (NO2) over China.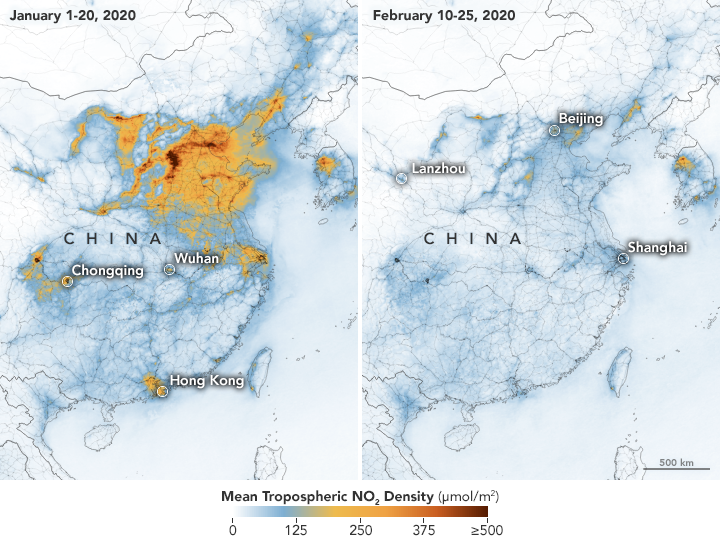 Source: https://earthobservatory.nasa.gov
Coming out of the COVID-19 crisis, governments and businesses reconsider their growth strategy to make it "cleaner and greener". To that end, they committed to the Paris Climate Agreement, an action plan to put the brakes on climate change.
Adopted in December 2015, the Agreement is nothing new. Yet, the public attention is focused on it after the U.S. officially rejoined the Paris Agreement on February 19, 2021. Below, we'll take a closer look at this climate plan and its role in our future, as well as key solutions hoteliers can adopt for faster recovery.
The Paris Agreement as a new course to combat global climate change
The Paris Agreement, also known as Paris Climate Agreement or COP21, is an international accord that was adopted by 196 parties to address the climate crisis. The COP21 calls for countries to make their pledges to reduce greenhouse gas emissions, which are called nationally determined contributions (NDCs).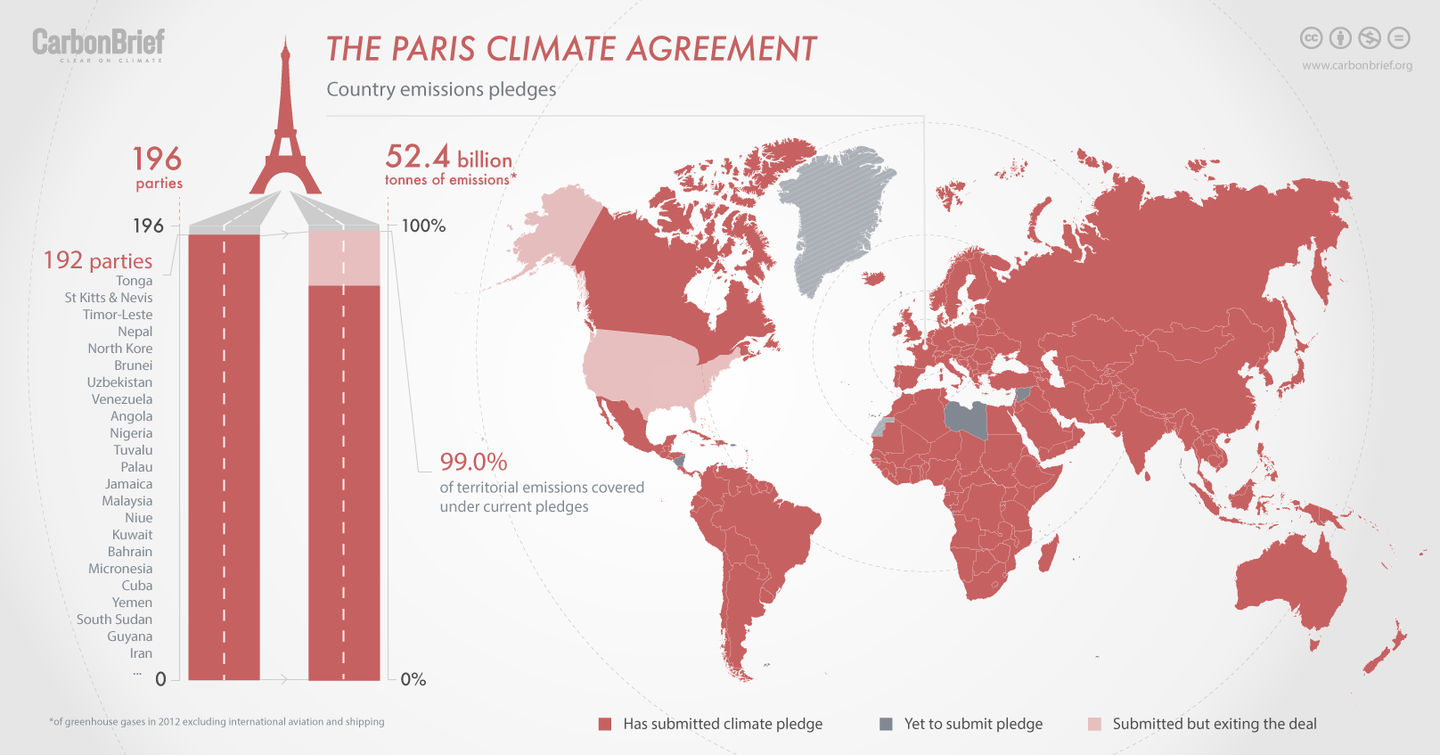 Infographic: Who has pledged an INDC so far, and what percentage of the world's emissions are covered.
Credit: Rosamund Pearce, Carbon Brief, based on EU data. Only UN parties have been included in the emissions total. Greenland is an autonomous territory of Denmark, not covered by the EU's INDC. It is not a UN party. Taiwan is also not a UN party.
Source: https://www.carbonbrief.org
Since the adoption, progress has been made on almost every front, starting from improving urban life by building climate resilience to the public's growing demand for climate action. The Climate Change in the American Mind report shows that 66% of respondents are at least "somewhat worried" about global warming.
Hospitality businesses comitted to reducing their emmission footprint
More than 1K big companies, and hospitality businesses, in particular, pledged major emissions reductions. For example, Marriott International has recognized its global responsibility and set ambitious targets. By 2025, the company is going to reduce water usage by 15%, carbon by 30%, waste to landfill by 45%, and food waste by 50%. Also, Marriott wants to achieve a minimum of 30% renewable electricity use and to analyze the opportunity to set a science-based carbon target.
Even more ambitious plans of action were announced at the Climate Ambition Summit 2020 which took place online in December to mark five years since the adoption of the Paris Agreement. The COP26 President Alok Sharma said in his closing speech at the Summit, "By COP26, we need every country to have stepped up, with Nationally Determined Contributions and Long-Term Strategies that put us on track to 1.5 degrees, plotting a course to net zero, that is fair for all".
Before the summit, 25 countries and the European Union had adopted net-zero goals to achieve by 2050. Nearly 100 others had stated their intent to do the same. If these countries manage to achieve net-zero emissions, it may result in limiting global warming to below 2˚ C by 2100.
The "Green Premium" concept
The world can develop strategies to tackle the climate crisis together. However, taking urgent action from the whole of society is more important than just planning. In addition, we need to know how to do it and whether we can. Bill Gates began to wonder "what the difference in cost between a product that involves emitting carbon and an alternative that doesn't". This question became the central idea in his book about climate change and the basis for introducing the "Green Premium" concept for better understanding clean energy and climate change. This concept can be defined as the additional cost difference between a product that is made with a greater amount of greenhouse gases and its low-carbon alternative.
Source: eurelectric.org
Bill Gates gives an example of the Green Premium for electricity amounts that shows why the concept is useful. Electricity generation is responsible for 25% of all greenhouse gas emissions. And this number is growing every day.
With a switch to clean alternatives, the electricity would cost an extra $18 a month for a typical household in the U.S. For low-income people, it may become a substantial premium. Yet, it can encourage people to generate most of their electricity carbon-free for the cost of a few cups of coffee each month. Here, Green Premium acts as a roadmap, telling us the route we need to take to get to zero.
Sure, not every individual or even company can afford these premiums. In this respect, innovation can help. Gates says, "Without innovation, we will not solve climate change. We won't even come close".
The importance of tackling climate change is quite clear. But what priorities should the hospitality industry put in place to address this rising demand? Let's try to find out below.
Resiliency and sustainability as the way forward in hospitality
The hotel sector is now focused primarily on recovery, resilience, recalibration, and bouncing back. To future-proof our industry, experts develop advice and strategic guidelines. Prof. Dr. Willy Legrand, Professor of Hospitality Management at the IUBH International University and co-chair HospitalityNet Sustainability in Hospitality Panel presented a summary of recommendations from industry professionals and academic researchers in the form of a Tree Map with 14 themes: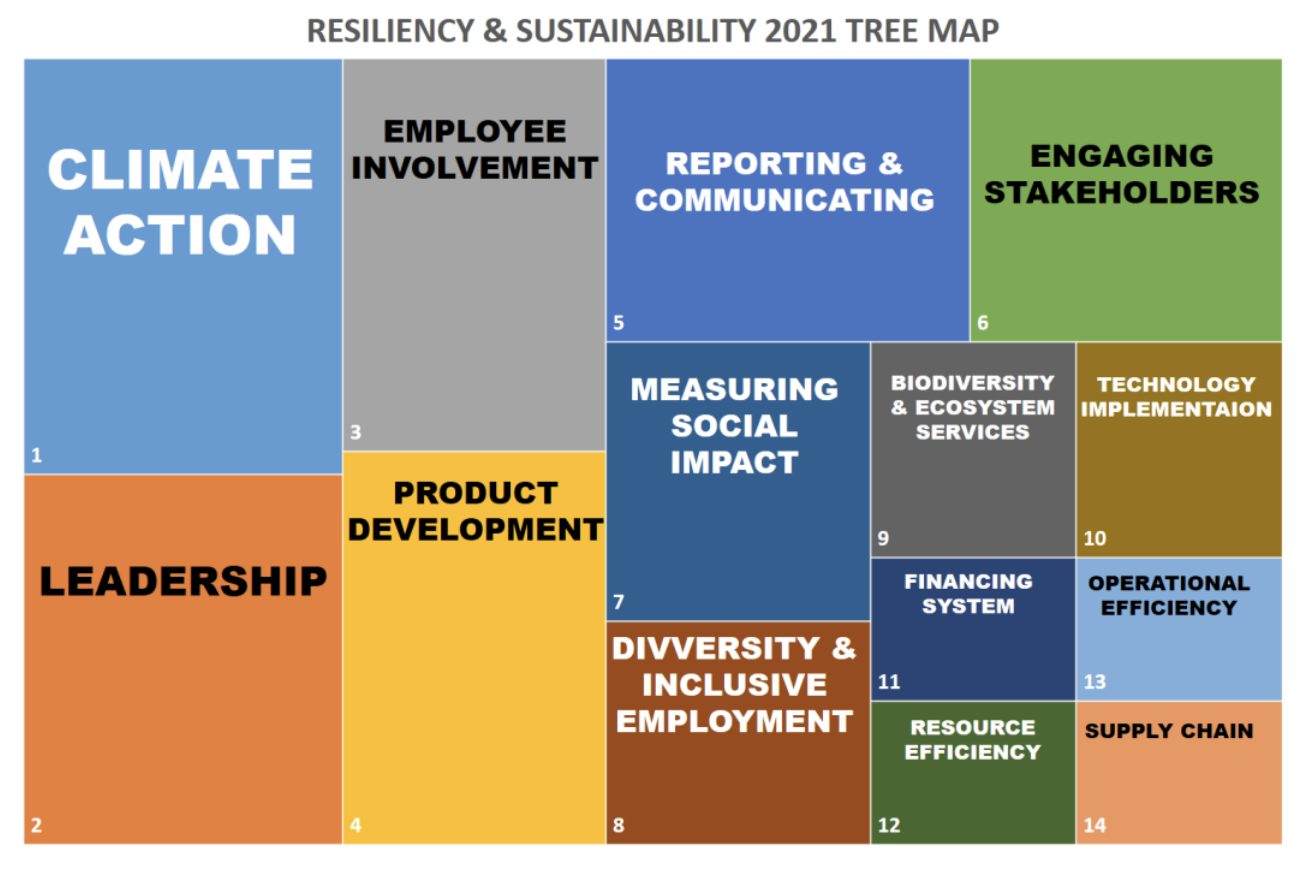 Source: https://www.researchgate.net
The key outcomes and hospitality tech solutions for faster recovery
Here are key outcomes from the summary, as well as tech solutions hoteliers may need for faster recovery:
Climate, Emissions, Resource Usage
- To achieve deep cuts in rising greenhouse-gas emissions, hoteliers should start by establishing a Carbon Reduction Plan. Such climate policies should be in place with the right incentives. Hoteliers can contribute to tackling climate change by implementing environmentally-friendly tech solutions, such as mobile check-in/out, online food and services ordering, payments through smartphones. Also, it is possible to save up to 30% on print costs by reducing paper usage and switching to digital accounting and reporting. Restaurants can offer their visitors digital menus, instead of printed ones.

Contactless food and services ordering Mobile check-in Digital menu
Social Impact, Performance, Communication
- Reporting, disclosures, and communication received a lot of attention from experts, second after climate action. Here, safety has a useful element of promotion and an essential pillar of client communication. In order to visually inform guests that both the location and hotel are secure and covid-free, the hospitality companies can add the HotelFriend COVID safety place widget on the website. It can both enhance trust and attract new customers.
Diversity, Employment, Employees, Leadership
- Employees and communities were affected by the pandemic. With it, these communities are the cornerstone of recovery plans. Hotels play a central role in the local ecosystems, namely local spending, sourcing, employment, providing a place for people to do business. Both a local community and employees are a source of resilience. In this context, the Smart Resilient Hotel concept is used heavily by researchers to describe a high degree of digitization and therefore capable of surviving stressful, threatening (life) situations without persistent damage. There are a number of positive effects of smart services, starting from less physical contact between staff and other people in the front office, service areas, catering trade, etc., to improved guest experience, which is still comprehensive, warm, and personalized.
Regeneration, Biodiversity, Nature
- Regeneration now comes in multiple spheres from 'regenerative climate protection, regenerative technology, and regenerative humanity'. The value of biodiversity was recognized decades ago. It is also one of the key policy areas of the European Green Deal. Biodiversity is not an abstract concept but the main source of inspiration for guests. Many people are missing 'nature escapes', which is resulted in nature-deficit disorder. In this respect, hotels can give their visitors this so needed dose of nature.
Stakeholders, Product, Development
- Today, growth is possible with a focus on quality over quantity. To provide better service, businesses should seek service and co-innovation partners. Another focus is on change in consumer behavior. It is time for slow tourism with fewer vacations, for a longer time, which is becoming one of the major emerging trends along with solo or sustainable travel.
Conclusion
2021 is considered a year for action on tackling climate change. United Nations Secretary-General Antonio Guterres said in his State of the Planet speech in December, "Covid and climate have brought us to a threshold." Also, it is the year that marks an endpoint for the Paris Agreement.
Fortunately, we're seeing collective leadership and strong determination among governments, local communities, businesses, and individuals that bring positive outcomes. Major hotel brands, including Hilton and Marriott, have already established the Hotel Carbon Measurement Initiative for measuring the carbon footprint of individual hotel locations.
That said, people now search for a hospitality environment with nature and digital interactions at the center of guest experiences. So, there is a very strong business case for hotels to adopt technology and invest in a cleaner environmental future.
Would you like to try Hotel Management Solutions?
Get Free Trial
Author: