Dec 8, 2020 1:59 PM
Gone are the days when hotels were places for travelers to spend the night. In the post-corona time, we're seeing a creation of a new category "bleisure" — a blend of business and leisure.
People are increasingly tired of working from home and need a change of scene. They want to work alone and look for a place to spend a few hours in peace and quiet. To meet the customers' demand, hoteliers are launching new initiatives and programs like "Working from the Hotel" (WFH), already introduced by Accor, Hilton, and Marriott.
In today's environment, identifying and applying new business strategies and intelligent solutions have become a top priority for hoteliers. In this article, we will deep-dive into these new sources of revenue to address the current concerns of the hotel industry and help find some income ideas.
Sources of revenue in the new normal
The global COVID-19 pandemic has brought a dramatic shift in guests' needs and wants. In this uncertain context, hoteliers who react to these changing demands faster will be able to cement themselves as market leaders within the hospitality industry and accelerate recovery. Below, we will go through the ways how to drive new revenues despite the COVID-19 crisis.
Attract business travelers and remote workers
Millions of people now work away from an office, and experts expect that hybrid models of remote work will remain after the coronavirus passes. According to the NABE survey, nearly 80% of people said their companies had adopted some form of remote work post-crisis. It is already known that Google will keep its employees home until the summer of 2021 while Facebook and Twitter allowed their staff to work remotely permanently.
As many people are tired of working in the same place day in and day out, they started using hotels as day offices or even living there for weeks and more while working. If accommodation providers adapt to remote workers' needs, they will be able to compensate for the loss of income due to the decline in leisure travelers and short-stay guests. Here is how to achieve this.
As many people are tired of working in the same place day in and day out, they started using hotels as day offices or even living there for weeks and more while working. If accommodation providers adapt to remote workers' needs, they will be able to compensate for the loss of income due to the decline in leisure travelers and short-stay guests. Here is how to achieve this.
Turn to day-use bookings and sell WFH packages
Day-use bookings are nothing new in the hotel industry. Yet, the coronavirus pandemic propelled it to a whole new level. To recoup the lost income, almost all large hotel brands, including Accor, Hilton, Marriott, and Hyatt are now turning to the Work from the Hotel (WFH) strategy to counter the slump in travel by attracting remote workers.
The WFH concept has a number of benefits for business people as working from home is not always appropriate for them, while the comfort and the calm of a hotel room can fill the need for a suitable working environment. For example, Marriott offers packages for a day, for multiple overnight stays, and for multiple overnight stays including family. In addition to the room, WFH guests get access to all amenities (pools, gym, etc.).
Also, hotels adapt their room equipment to meet the needs and the requirement of the remote worker. The Waldorf Hilton Hotel, for instance, has partnered with Herman Miller, a luxury furniture design company, to offer guests 'Work from The Waldorf' package featuring a dedicated, private, interconnecting luxury office space with a full HD monitor, keyboard, mouse, microphone, premium WIFI, flip chart, and full stationery, etc.
Organize meetings spaces for hybrid virtual and in-person conferences and events
Every meeting that happens today is either virtual or calling by phone and on Skype. In fact, each physical event has an online component as there are gathering limits. Virtual and hybrid events become the norm and are expected to have long-term effects.
Jim Alderman, Radisson CEO of the Americas, said at the New York University International Hospitality Industry Investment Conference, "That's a good way to do it, but it's also quite a big waste of space. It's not the new normal, it's the current normal. But I do believe we will get back to these large group meetings. The pent-up demand is incredible right now."
Push coworking spaces
Coworking is in demand in post-COVID-19 time. So hoteliers try to capture some of that demand and reimagine their spaces and services for a slice of this market. To address the workspitality trend, Accor is creating lively, flexible, and community-based coworking spaces with accessible equipment. Also, the chain promotes cross-selling through its loyalty program. It provides guests with the opportunity to work at any of the affiliated Accor partner hotels.
Offer ancillary services
Besides day-use bookings, hotels can sell day-use services. Local travelers may spend a day at the swimming pool, visit a fitness room or spa. Traditionally, there are at least several extra services accommodation providers can offer to open a new range of potential revenue. The survey confirms that ancillary services can contribute around 20% to a hotel's bottom line. Hospitality business owners can sell services through packages, create attractive deals, and make services available to all guests easily with Hotel Guest App.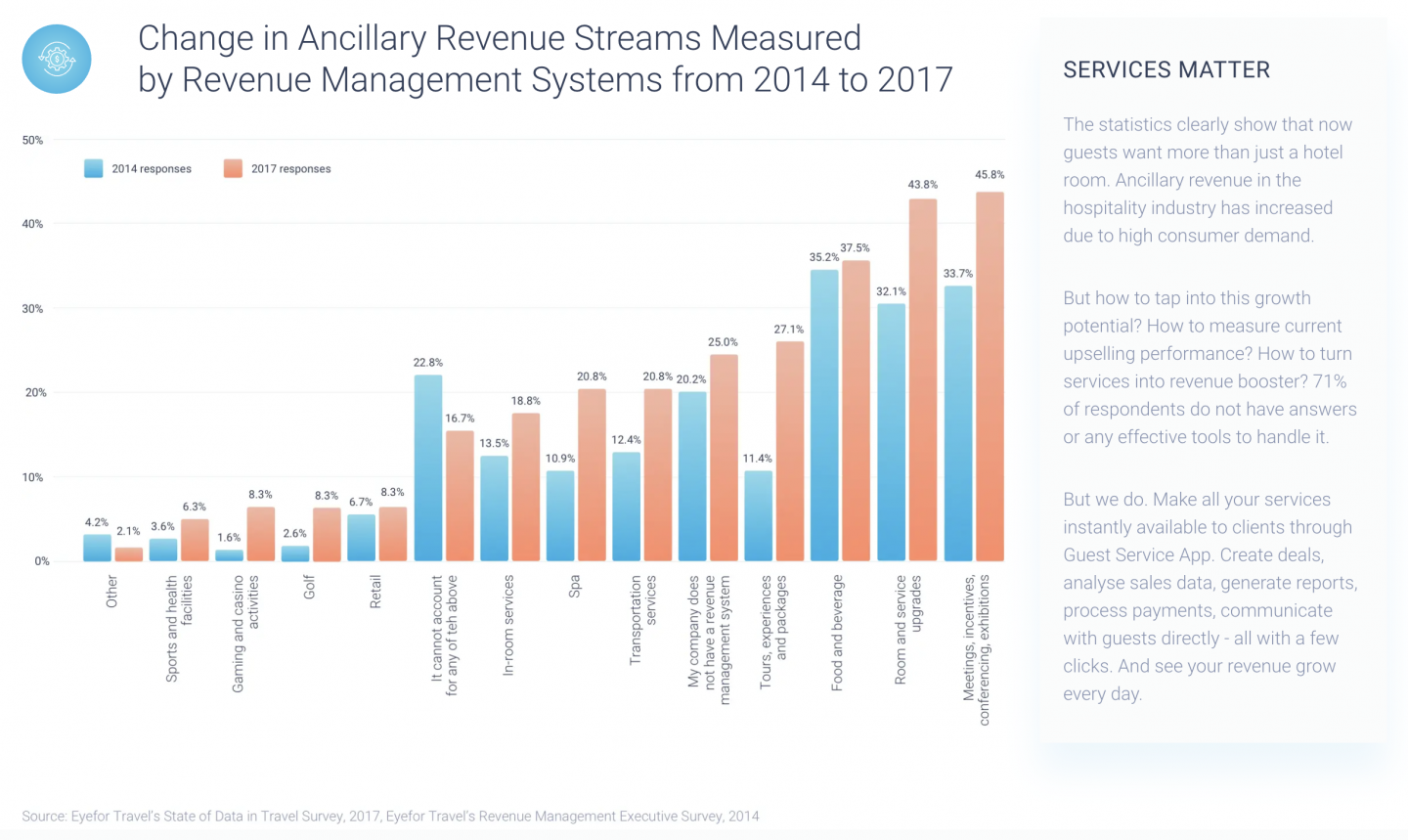 Leverage contactless ordering and payment technology
Today's guest has new priorities, and one of the highest is safety. Adopting contactless ordering and payment technology in the hotel does more than just keeping the doors open in the time of social distancing. It gives both employees and guests additional layers of security, as well as delivers enhanced customer experience, streamlines operations, and increases throughput. Now more than ever, customers expect seamless and a fully contactless experience. Nearly 53% of customers have downloaded and are using more apps to reduce interaction and contact with on-site staff. And the demand for such options will only rise. 73% of respondents admit that their experience is improved thanks to contactless technology.
Sell all rooms online on 200+ channels with flexible pricing
The coronavirus pandemic has ripped through the hospitality industry emptying hotels and causing closures, layoffs, and cuts of revenue. To recover, hoteliers need to find more ways to encourage and facilitate rebookings, increase their discoverability, availability, and "bookability". However, of the 15 million accommodations worldwide, 93% are not available to book online in real-time, which leads to limited visibility and discoverability. To survive in the new normal, hoteliers must adopt hotel reservation software as keeping in step with the times is a necessary condition for hotel businesses who want to be more visible to customers, stay relevant, and grow.
Rethink the position of the hotel restaurant in new normal
Hoteliers can't count on indoor dining only. It's time to turn a restaurant into another source of revenue if it hasn't been done yet. The following steps can help:
Collaborate with small businesses in the area
Hoteliers adapt to a post-coronavirus world by supporting local small businesses. For example, Hyatt hotels introduced the Hyatt Loves Local initiative which is aimed at enriching the travel experience and helping strengthen local communities that have need impacted by COVID-19. Since October, the Hyatt's Hotel Revival Baltimore has bought all its toilet paper only from West Baltimore-based, female-owned Lor Tush. In such a way, it kills two birds with one stone: makes its operations more resilient by providing sustainable toilet paper made of 100% bamboo and supports local business.
We see how major and well-known hotels adapt to the new reality within their sector. All of them take action to keep on generating revenue and remain relevant. However, there is always something there that can be missed.
Moving forward
The COVID-19 crisis has brought change for all of us, and we can be either spectators or drivers of that change. Sure, we can use the ideas above to provide the best possible guest experience and focus on driving revenue right now. Yet, it is important to mention one more thing. Today's customer expects environmentally-friendly tech solutions and digital interactions so he chooses those hotels that have and promote mobile check-in/out, food or services orders, and payments through smartphones, and other technology-driven services.
That said, HotelFriend is trying to make life easier for hoteliers. In partnership with AGL Activ Services GmbH, we have developed an all-inclusive digitalization program that can help hotel businesses both advance the digitization of the processes and preserve their liquidity. Every company in the hospitality industry can double down on tech experiences and lease the HotelFriend software package, including all services and guarantees, at stable monthly rates, whereby the first three months are free of installments ("Test + Corona Bonus").
We are certain that the hotel industry will recover soon becoming even more innovative, adaptive, versatile, and resilient to tackle the future.
Would you like to try Hotel Management Solutions?
Get Free Trial
Autor: