Sep 16, 2022 10:37 AM
What comes to your mind when you think of the hospitality industry of 2025? Probably, lots of innovation and a level of customer service never seen before. The new research study conducted by Oracle Hospitality in partnership with Skift shed some light on what exactly we may see in the next three years.
Entitled "Hospitality in 2025: Automated, Intelligent… and More Personal", this report shows how consumer demands have changed during the pandemic. Based on that, it provides insights into the future demands of travelers and the ways hoteliers are adapting. Oracle and Skift surveyed more than 600 hoteliers and 5,000 travelers from all around the world, who shared their opinions and expectations.
Turns out, the hotels that are most technologically advanced and offer tailored services will be the winners. It is certain that the majority of guests want to be in control of their experience using mobile devices. What other technologies do they view as a "must-have"? How can hoteliers use innovations to navigate staffing shortages? Read on to find out more about the main hospitality trends of the future.
1. Contactless check-ins & check-outs are here to stay and persist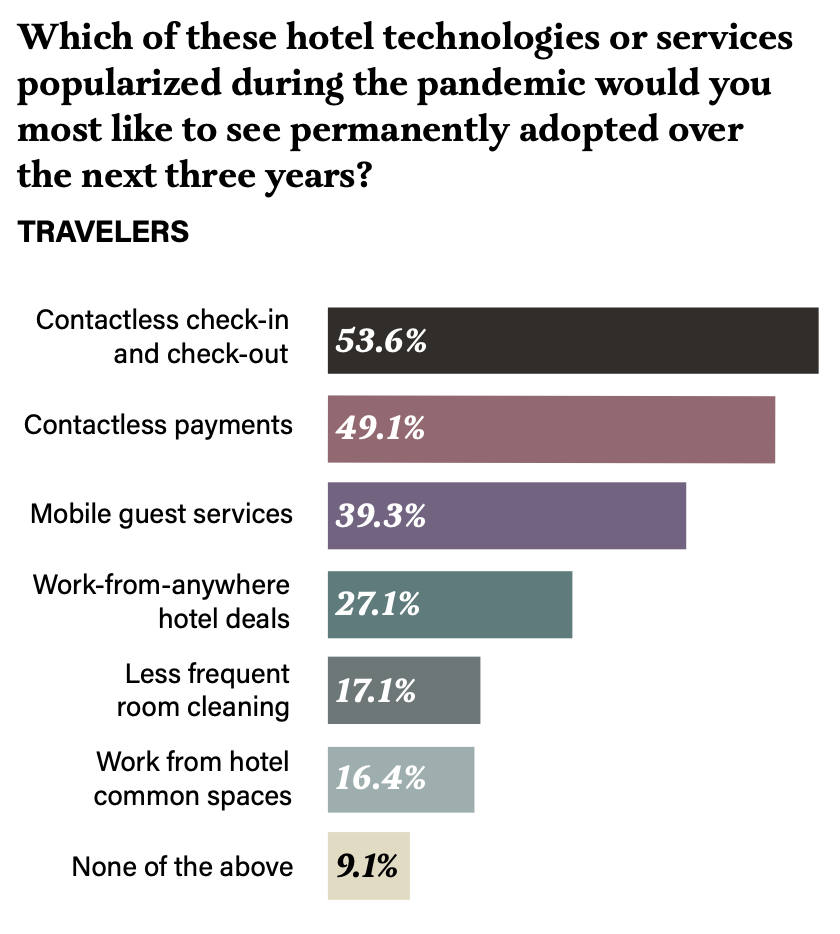 Contactless technology has become a new norm in hospitality in the last two years. And it seems like guests got used to it very quickly. The study found that 53.6% of travelers would like to see check-ins and check-outs permanently adopted by 2025. Contactless payments are in second place among the main important features, with 49.1% of travelers expecting them to remain in hotels.
Having a no-touch experience with contactless transactions, mobile guest service, and digital room keys is an absolutely desired scenario for most guests. And more than 60% of hoteliers from all over the world said that they will make it a reality true in the next three years.
Such eagerness on the part of the hoteliers may be explained by the fact that most of them already have a clear roadmap for adopting such solutions. Over 34% of executives said that they have already invested in these innovations, and another 26.6% are in the early stages of implementation.
Judging by this data, we can say that consumers want innovations that can contribute to a better experience. It means that it makes sense to invest in contactless technology starting from now. Here are some more reasons why you should do this:
● It can help you to respond to rising consumer demand;
● It protects guests and employees from the new strains of COVID;
● And it allows you to stay competitive when technology is gaining more weight.
Implementing contactless Check-in & Check-out is no longer a complex and time-consuming process. You can learn more about how to do this and solve many problems in your hotel in our guide on mobile hotel check-in.
2. Guests want to have access to on-demand entertainment at any time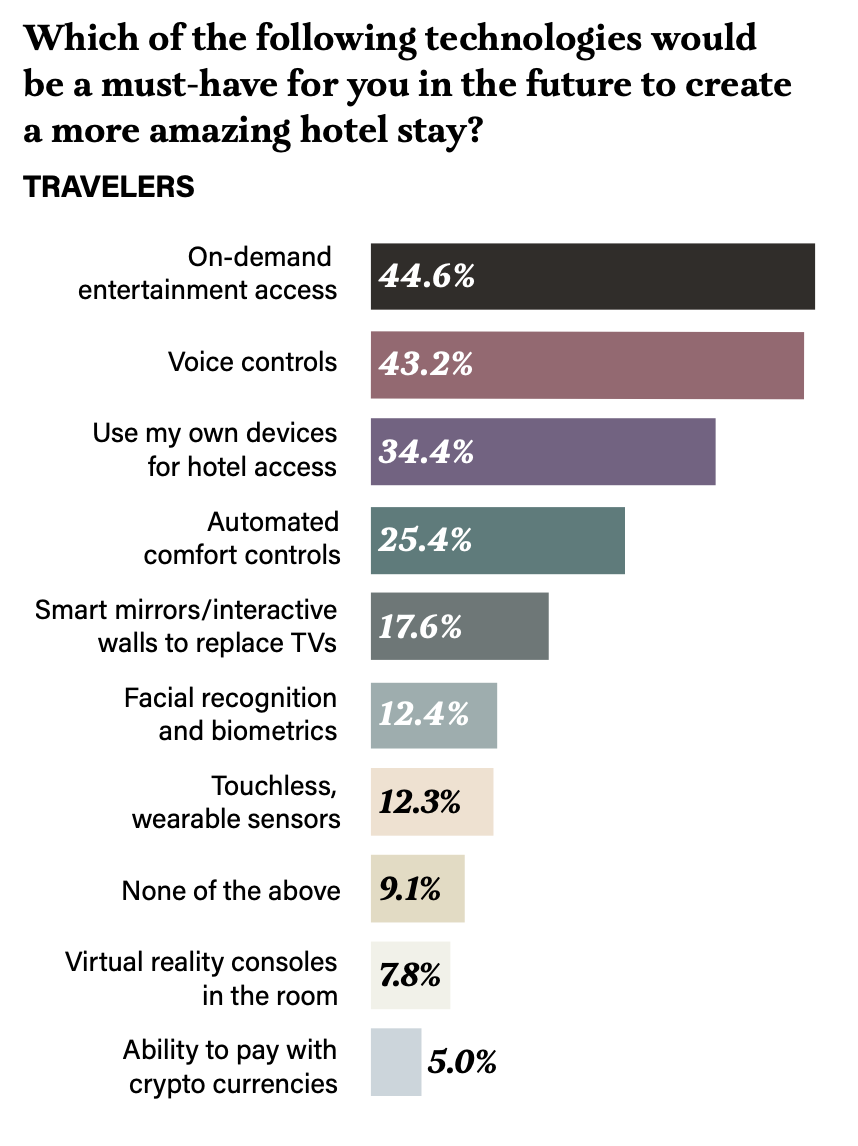 On-demand access to entertainment turned out to be another must-have feature for travelers with 44.6% of respondents voting in its favor. In the study, it was defined as "an in-room entertainment set-up that allows users to seamlessly access personal streaming or gaming accounts". Thus, we can conclude that guests want to get as close as possible to the feeling of home in their hotel rooms and vacation rentals.
In order to ensure maximum comfort for your clients, you can also give them control over their stay. This is easy to do, as now everyone has a smartphone that serves as a centralized "control panel" for entertainment access. The ease of booking an Airbnb apartment or ordering a taxi from one's smartphone has changed the psychology of a modern traveler.
Now they rely on their mobile phones to save time and effort wherever they are. This applies to in-hotel entertainment as well. In addition, they want to get more autonomy, as evidenced by votes in favor of automated voice controls (43.2%) and the usage of their own devices for hotel access (34.4%).
In fact, all these technologies are nothing new to the hotel industry. There are many successful cases of their implementation at minimum cost. By and large, giving guests access to entertainment and digital room keys can be done via a single Concierge app. This all-in-one solution includes all the main features that modern travelers want to have: from contactless check-in to remote service ordering.
3. Guests expect zero interaction with the hotel staff and other people during their stay
The survey found that nearly 26% of guests "strongly agree" they would rather stay at a hotel offering self-service tech to reduce the number of contacts on the premises. In total, 73% of travelers want to use their mobile device to manage their hotel experience. They also expressed interest in automated messaging and chatbots to provide customer support, with 29.3% of respondents being "very interested" in this feature.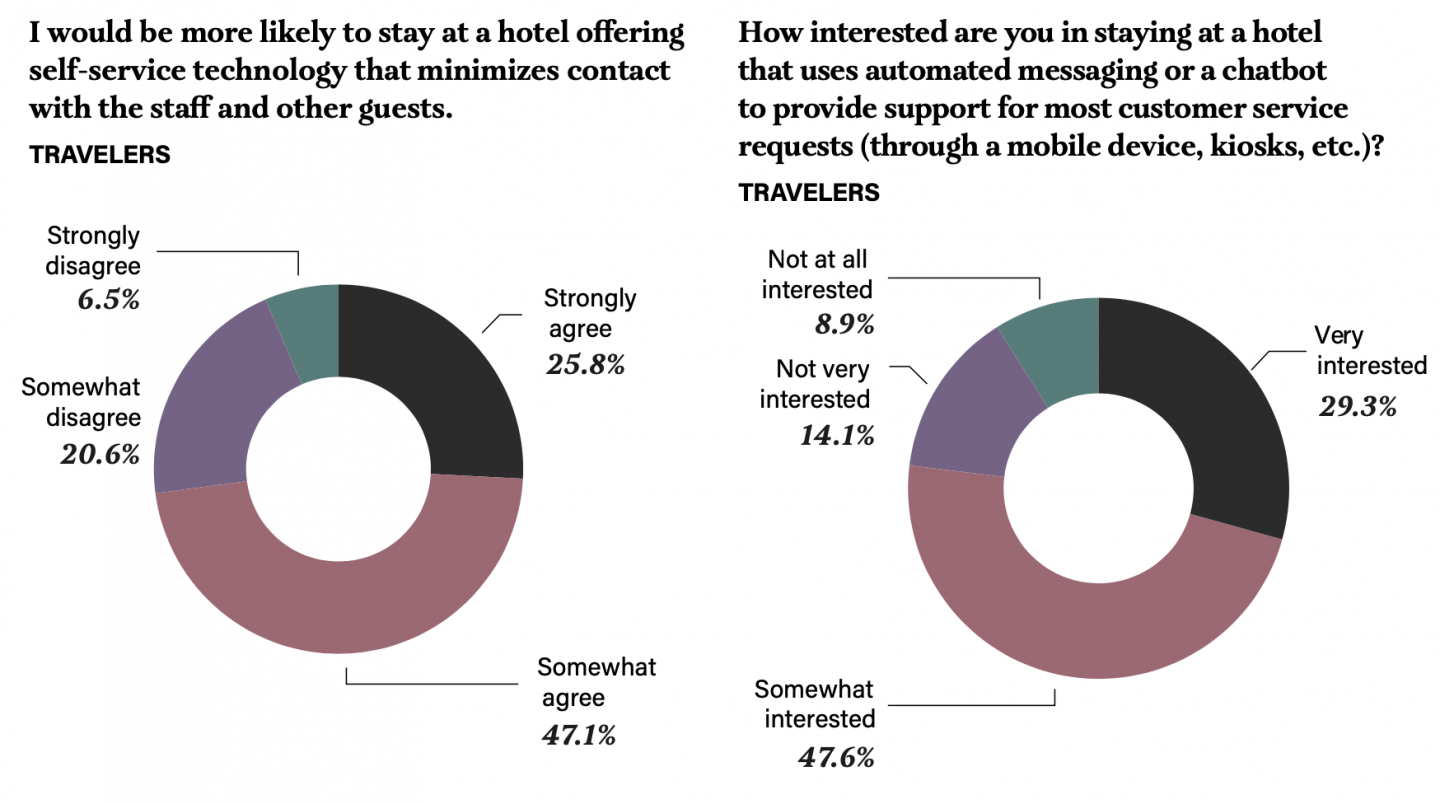 However, we cannot affirm that the same works for all guests. Human interaction is still an integral part of hospitality, so 47.1% of respondents indicated that they liked the self-service model, but would also be happy to receive a personal greeting from time to time.
In general, guests want to get an effective solution to the problems that most often bother them, without looking for staff. A third of surveyed guests indicated that most of their complaints regarding hotel service were due to a lack of employees.
For instance, they had to stand in queues for hours to complete check-in, a problem that can easily be solved with a check-in kiosk. They want to get simple and efficient solutions to such problems – something that technology can easily give them.
4. Hotel technology will not replace staff but can help them to serve guests better
Although the increasing adoption of technologies lets guests complete most of the tasks by themselves, hotels still need to do everything they can to provide top-notch service. For this, they must have intuitive solutions for employees which do not require a lot of training.
Employee efficiency has become the focus of hoteliers in the world of staff shortages. And mobile technology gives more mobility to employees by helping them move freely around the hotel. Thus, they have the opportunity to serve more people with less effort.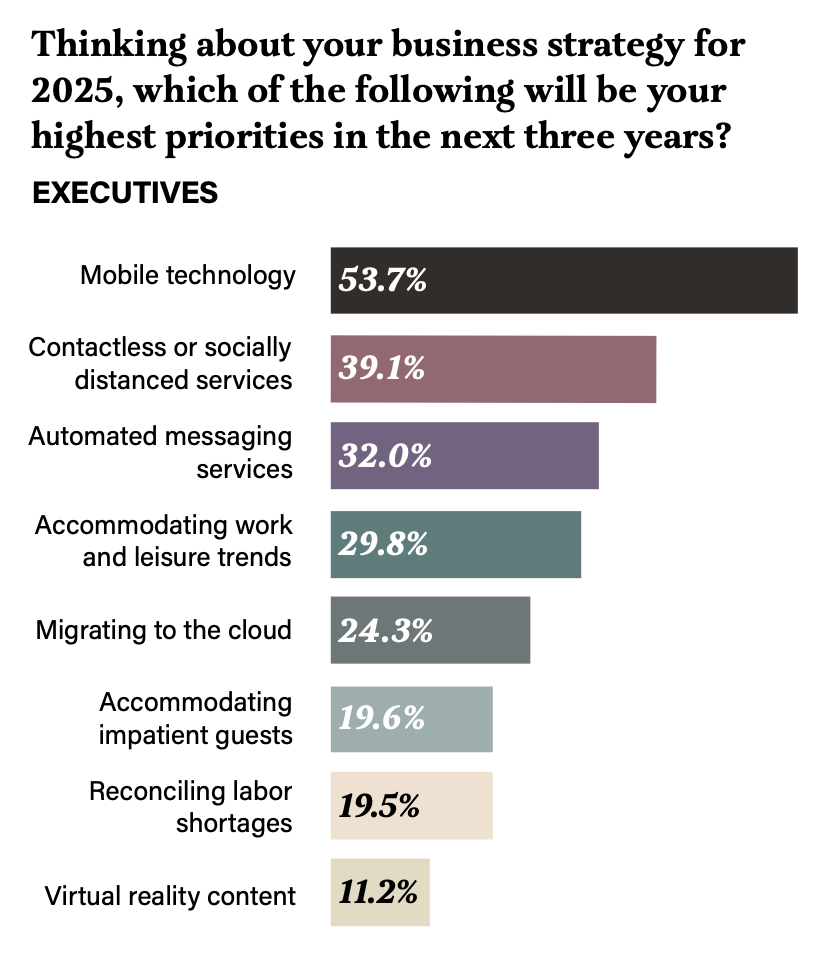 Approximately 54% of executives said that mobile technologies will be on their list for implementation. Next in their rankings are contactless services (39.1%) and automated messaging (32.0%). All this will allow hoteliers to avoid the consequences of labor shortages and create an enhanced service model.
A great example of tech that can help hotel teams provide better service is a Housekeeping system that shows staff free rooms ready to be cleaned. It is easy to use, available on mobile devices, and it improves team productivity. This contributes to creating well-established processes and helps attract new employees. And good working conditions help to retain those who already work for you.
5. More and more travelers want to visit a hotel virtually before they book
Recently, everyone has been talking about the metaverse in different contexts. This discussion has not bypassed the hospitality industry. According to the survey, more than a third of respondents (33.5%) said they were "very interested" in using virtual reality or metaverse experience to explore a hotel before booking.
And hoteliers have taken it seriously. About half of the respondents are planning or have already started developing VR maps for their hotel, and this is just "a warmup" before entering the metaverse. Why so? Well, that's because this kind of technology is getting more and more popular at conferences and events. Nearly half of consumers, namely business travelers, said that they were "very interested" in attending such events remotely in the metaverse.
While the potential of this innovation took over the minds of many, creating spaces for VR that are accessible and safe is a challenging task. Apart from that, even though travelers claimed that they were interested in it, only 7.8% of guests said that a VR console is a "must-have". And only 4.0% of executives indicated that they are going to invest in these in the next 3 years, while only 11.2% are considering metaverse.
However, the desire of guests to visit the hotel virtually can be satisfied in a much easier way. Although plenty of hotels have their own websites, really good websites are still rare. If you have one, you will be able to present your property in a favorable light to your future visitors, even creating an immersive experience.
Talking about good websites, the information about your services and amenities should be accessible without any issues. The built-in Booking Engine should help your guests quickly create a booking and pay for it online. Fortunately, creating a great website for your hotel is no longer a problem. Now you can leave it to professionals and get a great result for a fair price.
6. The usage of AI and analytics will open the path to true personalization
Such innovations as AI and analytics are also about to become the part of the future of hospitality. Travelers love personalized experience, but getting it right requires deep analysis of guest data. It will allow you to set up tailored advertising and create special offers that can not leave any prospect indifferent.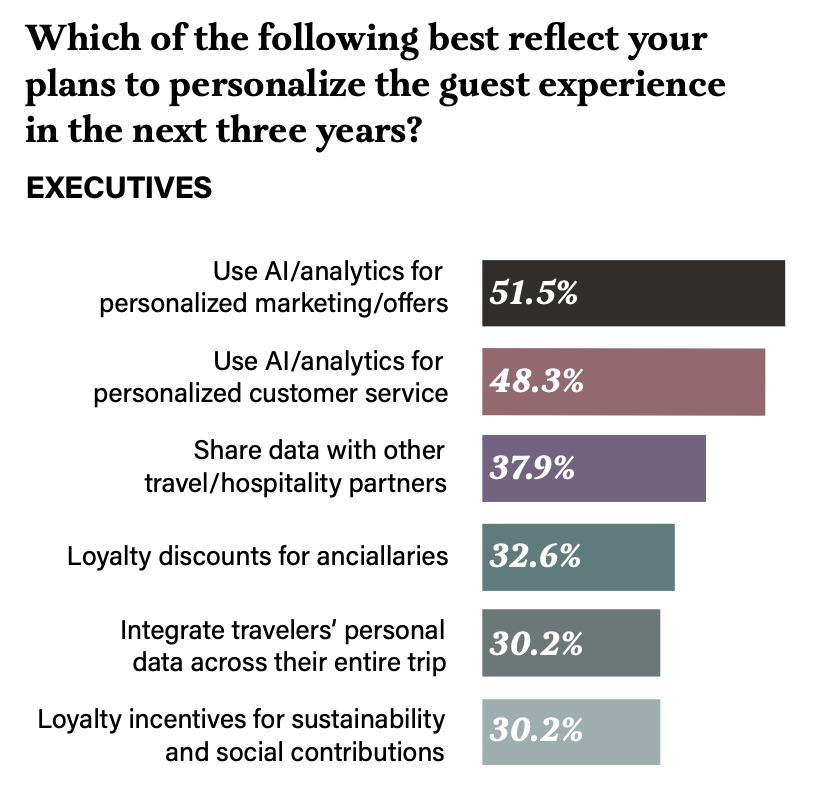 AI is great at collecting and analyzing huge amounts of information for its further use for business purposes. Hoteliers are aware of this, which is why in the pursuit of a better guest experience, about half of those surveyed are going to use artificial intelligence and analytics to offer more personalized marketing (51.5%), as well as optimized customer service at every stage of a guest's journey (48.3%).
While the future is all about personalized approach, the usage of this tech requires access to sensitive data. This may cause some concerns among guests. Thus, 55.6% of the travelers surveyed indicated that they are "somewhat concerned" about the privacy and security of the personal data that they provide to hotels, while 19.5% said that they are "very concerned".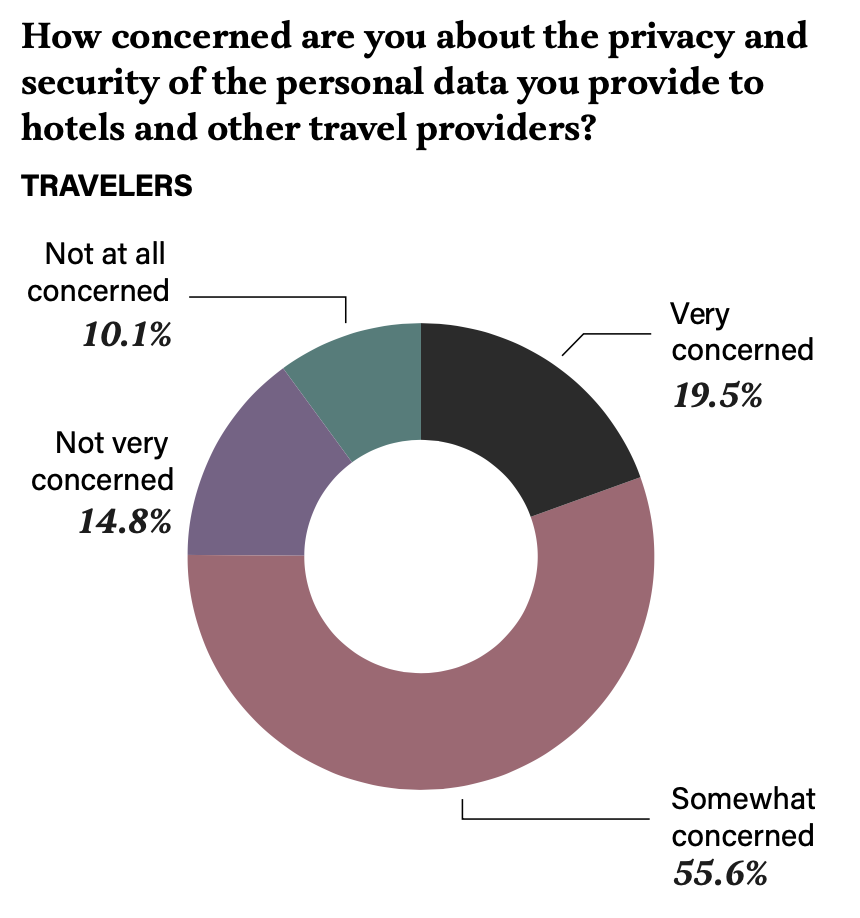 In the meantime, guests still do not mind using artificial intelligence to receive targeted advertising and quality service. So, about 30% of guests are very interested in this and are ready to share data to elevate their experience, and about 45% are interested but want to give access to information analysis only at their will.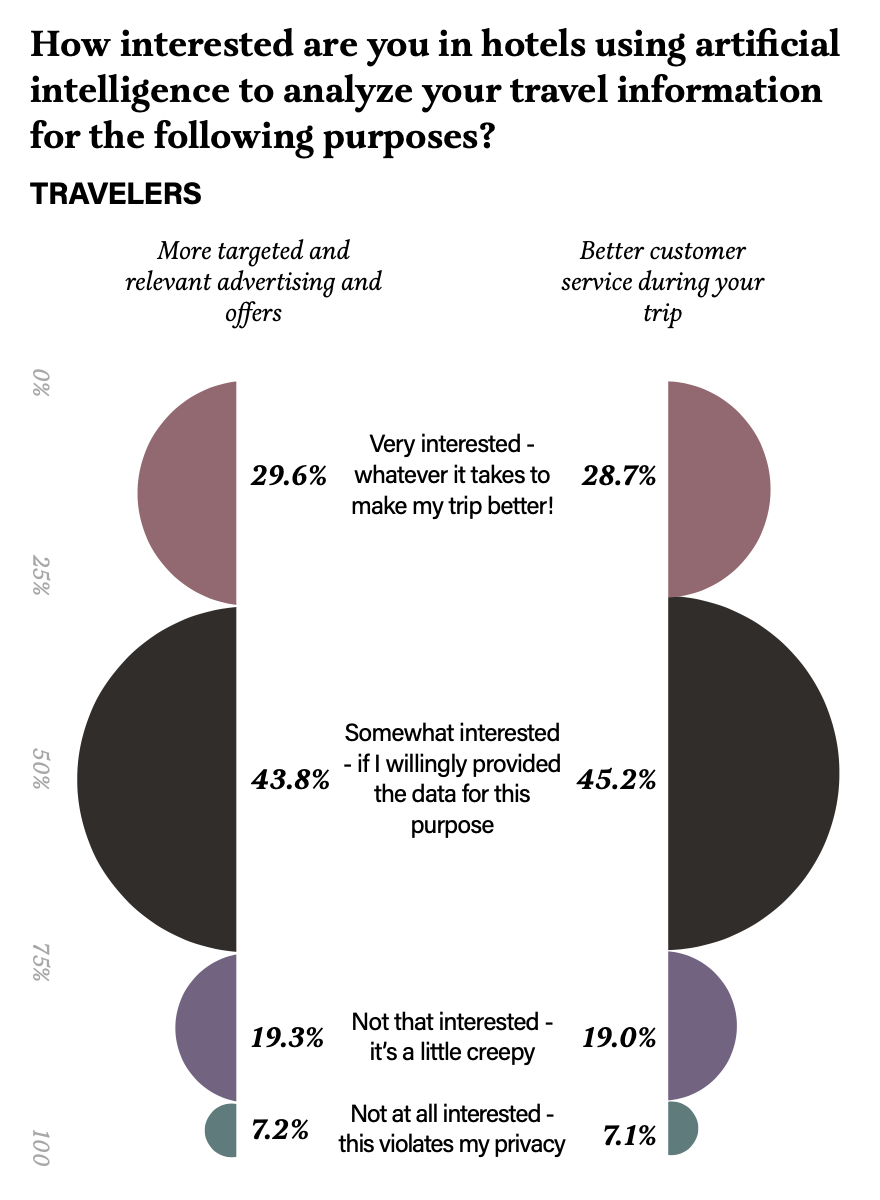 Thus, consumers were generally positive about giving away their personal data if they were confident that hotels would use it responsibly and for their benefit. The main thing – it is absolutely necessary to conduct a transparent policy. People are less anxious when they understand how everything works.
If adopting artificial intelligence is not yet available to you, you can start with software for hotel analytics. In order to deeply understand guest preferences, perfect integration between all software components is absolutely necessary. For example, a connection between PMS, analytics module and a guest application. Thus, by choosing a cloud-based PMS with built-in data collection and analysis solutions, you can get all the benefits of technology quickly and easily.
7. Unbundling is inevitable as guests only want to pay for services they actually need
In times of rising prices, rather non-obvious marketing strategies come to the fore. For example, such as unbundling. Previously, packages that included a room, access to the pool, and breakfast worked best for stable revenue flow. But now a different trend is steadily gaining popularity.
Unbundling is a form of upselling in which products or services that were previously sold together are now offered individually. Thus, you give guests the opportunity to personalize their stay by choosing services that suit them best. They won't have to overpay for amenities that they are not going to use.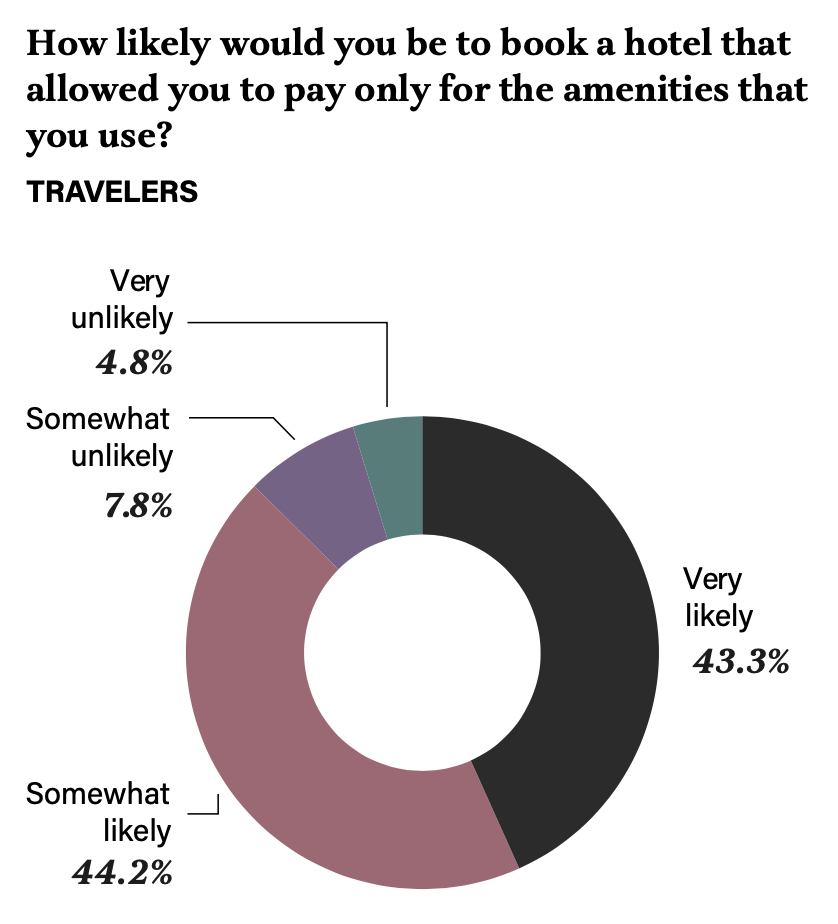 At the moment, there is considerable consumer demand for such approach. So, according to the survey, about 90% of consumers are open to this form of service consumption. Thus, 43.3% of travelers said they are "very likely" to book a hotel that only allows them to pay for the amenities they use, while 44.2% are "somewhat likely" to do this.
Proper use of this tactic requires a good understanding of your guests and upselling itself. This is a great way to consistently earn additional income. Upselling works best when offers are shown to your guests while they are making a booking or scrolling through your mobile App.
With HotelFriend, you can offer additional services both during the booking stage and after guest's arrival. Our system automatically selects suitable options based on guest preferences. This way, you will be able to provide a top-notch guest experience.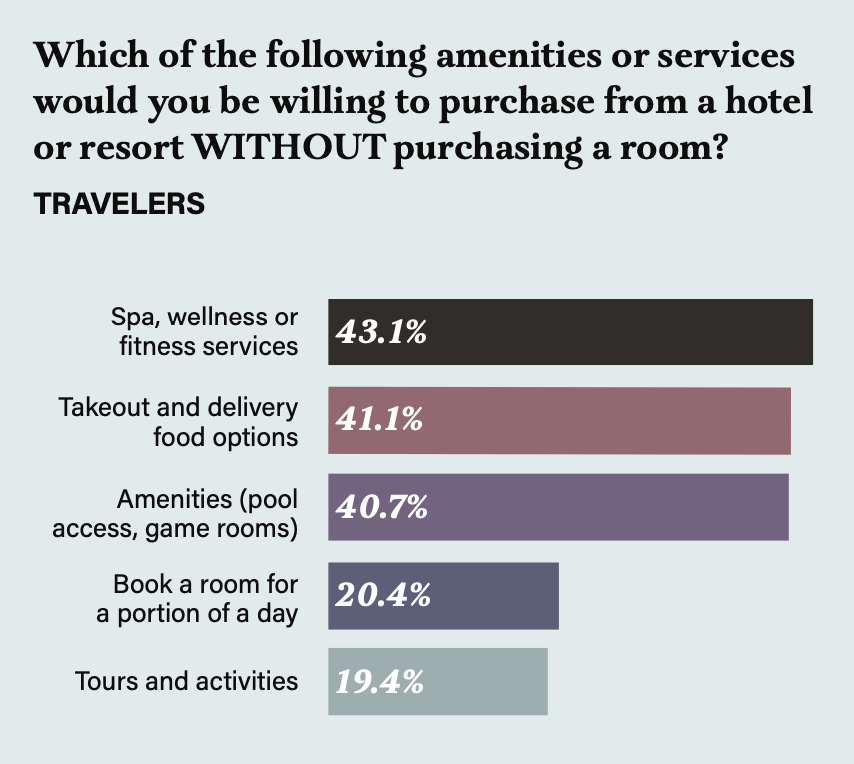 In addition, to create a stable source of income, it makes sense to open your services for sale to the guests who are not staying at your hotel. After all, the survey showed that this would lead you to gain 43.1% of clients who would be happy to use your spa service, 41.1% of those who would order delivery, and 40.7% of those who would use other amenities.
Conclusion
The hospitality industry is constantly evolving. Despite being very slow about adopting new technologies, the industry has changed since the pandemic. Now contactless technology is a new norm, and in the next three years we will see more "must-have" innovations. And HotelFriend will help you to keep up with the times!
Author: