Nov 15, 2022 12:44 PM
Did you know that the average attention span of your customer is only 8 seconds? People stay connected 24/7, constantly bombarded with news and ads. No wonder our attention spans are decreasing and it's becoming more challenging to keep prospects engaged. With that said, it's easy to assume that hoteliers have less than 10 seconds to cater to today's audience.
But great thing is – there is no need to shrink all your content to tiny bits. We're able to maintain a long-time focus on relevant and interesting things. Creating a truly immersive hotel experience guarantees capturing guests' attention and increasing sales. In this article, we will show you how hospitality tech solutions can help you with that.
How to grab your customer's attention
To start with, you need to establish an emotional connection with your guests. There are five secret ingredients that can fuel a consumer's interest in your hotel and evoke emotion:
●

Personalization

. This is one of the core approaches that make your property always relevant to your guests. A personal greeting, a welcome gift, or a special offer tailored to your client's preferences – all that makes them feel taken care of. It also creates a sense of going through a vibrant hotel experience that is unique to your brand.
●

Interactivity

. Your guest journey must be exciting. So make it interactive! People like creative and stimulant content. Static longreads about local attractions are no longer of use to your guests. Now it's time to offer a new kind of stay, where customers can make changes to it through digital space. While boosting guest engagement, interactivity can help you improve results in lead generation and revenue.
●

Visual appeal

. Creating tons of beautiful and quality imagery is absolutely necessary for awakening customers' desire. Since we get most of the information about the world around us mainly through vision, this is an effective way to attract the client's attention. A good photo is sometimes worth a thousand words! And the more photos you can share, the better.
●

Communication

. Here, two things matter most. First, always be there for your guests. Second, be excited about your hotel and the products that you want to promote. Good communications always propel your target audience to action.
●

Immediacy

. Help your customers see the results of their actions immediately. Answer their questions in a timely manner and give them the opportunity to order services in one click. Modern technological solutions for hotels have great potential for boosting instant gratification.
All these five ways to attract and hold guests' attention can fuel their urge to make a purchase. And they have one thing in common. It's quite easy to make use of them with the help of modern hotel technology.
Mapping your guest's journey with technology
What you need to do is to create a multi-channel experience and establish clear communication. If used right, technology can become the key to your guests' attention. Here is how you can apply it to guide your customers through their stay and drive sales at the same time:
Beginning of the journey
● Boost brand awareness with the hotel website
The interactive guest journey starts at the time of booking. When prospects are looking for accommodation online, they will be able to learn more about your brand from various sources. But the prime goal here is to make a hotel's own website the main source of information.
With your own site, you can tell your unique story and establish a continuity of communication across the channels. It will help you to guide consumers from one purchase to another. Creating a website may seem a complicated and expensive undertaking. Fortunately, you can always hire professionals and get a tailored website with a Booking Engine at an attractive price.
● Sweeten the arrival with mobile convenience
The next step in guiding your guest through their stay is letting them interact with your property via a mobile app. The hotel app is a true magic wand that helps consumers to get what they want quickly and with no effort.
It plays a role of a digital directory that contains all the information about the hotel and its facilities. Through the app, you can show guests how to use amenities in their rooms or share insights into the local area. But the interactive experience begins when the customer starts their journey with mobile check-in. This process, unlike a traditional check-in procedure, takes only a few minutes. It is intuitive and can be done anytime, whenever it's convenient for your client.
● Take advantage of self-service via tablet
When it comes to check-in, a self-service kiosk placed in a lobby can be a great alternative. The best thing is – there is no need to buy pricey and bulk hardware. HotelFriend provides a simple solution that you can run on an iPad or any other tablet and let your guests check in on their own. This registration method allows you to speed up hotel registration and give guests the opportunity to take control of their stay.
In-stay experience
● Create a strong impression with digital hotel signage
The lobby is the first place where your guest meets your brand. So it's crucial to make the most out of this first encounter. Using digital signage in the lobby will make guests anticipate a technologically advanced stay right from the start.
Public displays have a lot of potential for boosting guest engagement. Smart TVs placed in your hotel lobby can both inform and entertain. Our integration partner Zafiro TV enables you to display information on hotel services and amenities, room tariffs, show them a cafeteria menu board, or any other essential customizable content. As a result, you get better at upselling and can present important info to a wide pool of consumers.
● Wow your customers with digital room keys & service
Next, your guests can get a digital key to actually access their rooms with a mobile phone. This advanced functionality of the HotelFriend's app allows you to grant digital keys to your guests in a booking confirmation letter. This way, they will be able to unlock rooms with smart digital locks.
After the wow effect of mobile room access, your customers will discover other advanced features. One of these is guest communications, which brings your hotel staff closer to your guests. They will always be one tap away from talking to people who are ready to assist with any problems they've stumbled upon.
Another way for your customers to interact with your hotel in a digital space is to make instant orders in the App. Here, they will be able to learn more about each of your available dishes, tours, or services. Whether you have a spa, massage services, or thai food delivery, all the resources of your property can be easily promoted and upsold.
● Use smart TVs as in-room entertainment
What else can make a customer journey more interesting? The in-room entertainment offered by smart TV! Today, many guests expect to see such amenity as a Smart TV with a Wi-Fi connection in their rooms. You can go even further by introducing a hotel TV mode like it's possible with Zafiro TV.
How does it work? After your guests turn on the TV, they will see a personalized welcome and all the relevant hotel information. Here, you can tell them how to connect to Wi-Fi or give instructions on how to order evening snacks from your restaurant. The interactive experience of your customers can also be enhanced with instant messaging and express checkout!
● Reduce hassle with QR codes
Using QR codes is always a game-changer. Scanning it only takes a minute, but this action drives your guests closer to an enhanced stay. Such technology is beneficial both for your customers and your staff, as it saves their time and streamlines daily operations.
QR code is easy to generate, print and place wherever you need. It works like a medium that enhances any real-life experience by adding a digital dimension to it. For instance, this technology can help you replace a large paper menu with a digital one. Here are some other ideas on where you can use QR codes in your hotel:
✔️Let your guests download the check-in form
✔️Promote events and services in guest rooms
✔️Collect payments at checkout
End of stay
● Make check-out a breeze with the hotel app
With a hotel app, your customer can submit a self-check-out request, get an invoice, and pay instantly. In addition, if they had accessed a guest room with a digital key, they don't even need to go down to the reception! Here, an interactive experience and increased comfort are combined, granting the client more freedom in scheduling their own time.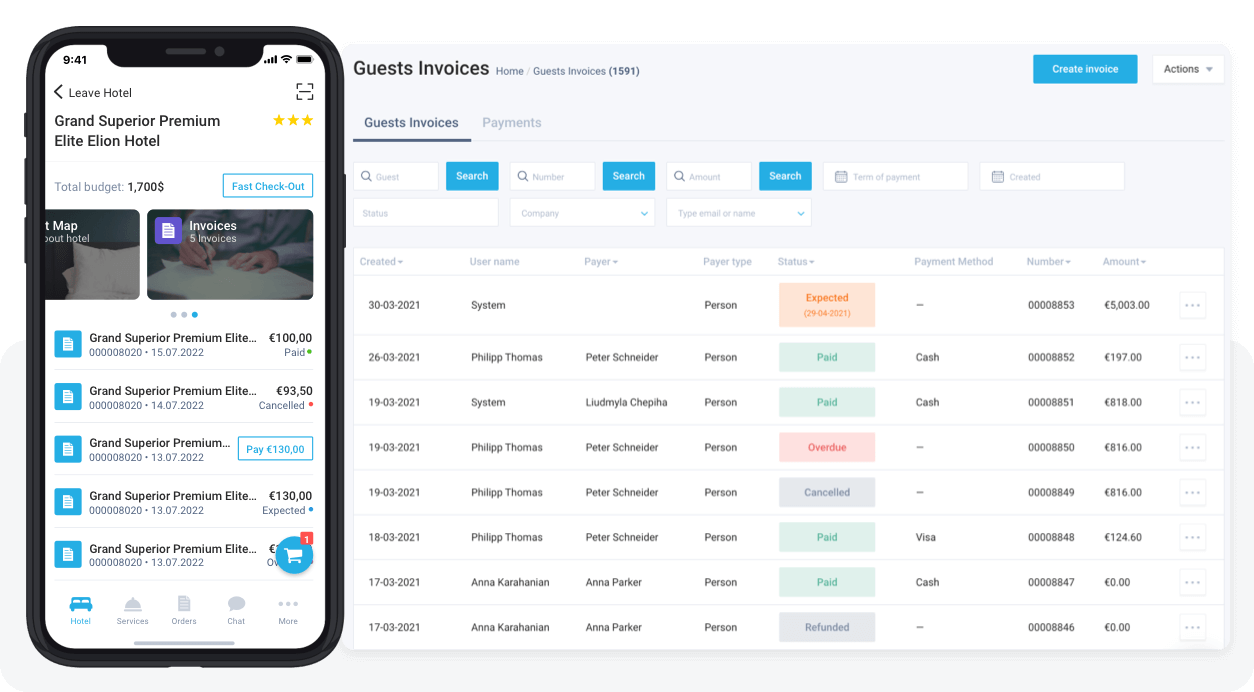 ● Send the final bill directly to the guest's smartphone
While you can invite guests to check in with their phones, you can send the final bill through the app as well. This will help you speed up the checkout and give your customer more time to verify if all the charges are correct. In addition, your guest will not have to waste their precious time lingering in the lobby before departure. Let them pay the usual way online with Google Pay, Apple Pay, or via bank transfer.
● Let customers pay the usual way
At the end of the stay, your guests need to pay for all the services provided. The fastest and most convenient option for everyone is contactless payment. Reduce friction at the checkout by enabling your customers to pay faster with Google Pay, Apple Pay, or bank transfer. It's convenient, quick, and relieves the burden on the front desk.
Become the top of customer's mind with HotelFriend
Pay attention to your customer's problems and they will pay you back with more of their dedicated attention. This is what we believe in at HotelFriend, and our products were created with this concept in mind. Our digital solutions solve common pains that any guest encounters during their stay.
The Grow package includes all the tools to connect with a guest and make them your regular customer. From your own website to a mobile application, you'll get a full tech stack that is destined to convert. Let us help you manage your guest journey and get the following results:
✔️Faster average sales cycle
✔️Higher cross-sell and up-sell revenue
✔️Better return on marketing investment
Conclusion
Keeping guests engaged all the time may seem challenging at first. But with HotelFriend's tech stack you can capture attention of those who use their digital devices for everything. You will be able to interact with your guests through multiple communication channels, such as website, mobile app, or smart TV. This guest map strategy can influence your guest's behavior, keeping them engaged throughout their booking journey. Create an emotional connection with clients and start converting your guests the right way!
Would you like to try Hotel Management Solutions?
Author: